Abstract
Introduction
Management options for large-scale contaminated sediment remediation projects can be challenging with regard to competing stakeholder interests. This has become apparent during the Oslofjord sediment remediation project (2005–2009) which caused considerable public discussion.
Background
To learn from this project, the 'Sediment and society' project was initiated to develop a collaborative approach that will incorporate local and scientific knowledge in order to achieve mutual gains, win-win outcomes for the stakeholders, in the management of contaminated marine sediments.
Method development
The project focuses on two Norwegian harbours: Oslo Harbour and Bergen Harbour. The Oslo Harbour case has been analysed ex-post, using elements of risk governance: participation, communication, information/knowledge and risk perception. The Bergen Harbour case is focused on the establishment of a citizens' jury as well as a stakeholder panel in Bergen Harbour.
Preliminary results and observations
Thus far, the results suggest three important commonalities or challenges for stakeholder involvement: (1) how to include people who have important management information and local knowledge, but not much influence in the decision-making process; (2) how to secure resources to ensure participation and (3) how to engage and motivate stakeholders to participate early in the sediment remediation planning process.
This is a preview of subscription content, log in to check access.
Access options
Buy single article
Instant access to the full article PDF.
US$ 39.95
Price includes VAT for USA
Subscribe to journal
Immediate online access to all issues from 2019. Subscription will auto renew annually.
US$ 199
This is the net price. Taxes to be calculated in checkout.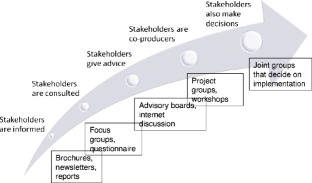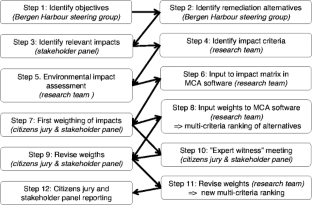 References
Barton DN, Navrud S, Bjørkeslett H, Lilleby I (2009) Economic benefits of large-scale remediation of contaminated marine sediments—a literature review and an application to the Grenland Fjords in Norway. J Soils Sediments. doi:10.1007/s11368-009-0158-x

Bateman IJ, Carson RT, Day B, Hanemann M, Hanely N, Hett T, Jones-Lee M, Loomes G, Mourato S, Özdemiroglu E, Pearce DW, Sugden R, Swanson J (2002) Economic valuation with stated preference techniques. A manual. Department for Transport, Edward Elgar, Cheltenham

Chambers R (1997) Whose reality counts? Putting the first last. ITP, London

Cornelissen G, Harp HPH, Hauge A, Breedveld GD (2008) Assessing PAH and PCB emissions from the relocation of harbour sediments using equilibrium passive samplers. Chemosphere 72:1581–1587

Edelenbos J (2005) Process in shape. Lemma, Utrecht

Edelenbos J, Schie van N, Gerrits LM (2009) Organizing interfaces between government institutions and interactive governance. Policy Sci 1–22

Ellen GJ, Gerrits L, Slob AFL (2006) Risk perception and risk communication. In: Heise S (ed) Sediment risk management and communication. Elsevier, Amsterdam

Ellen GJ, Duijn M, Sparrevik M (2009) Sediment & Society. Report on Work package 1: Oslo harbour sediment remediation project. TNO report TNO-034-DTM-2009-02922

Gerrits L, Edelenbos J (2004) Management of sediments through stakeholder involvement. J Soils Sediments SS 4:239–246

Healey P (1997) Collaborative planning. Shaping places in fragmented societies. Macmillan, London

Heise S (2007) Sustainable management of sediment resources: sediment risk management and communication. Elsevier, The Netherlands

Heise S, Apitz SE, Babut M, Bergmann H, den Besten P, Ellen GJ, Joziasse J, Katsiri A, Maaß V, Oen A, Slob A, White S (2004) Sediment risk management and communication. Synthesis of the SedNet work package 5 outcomes. J Soils Sediments 4:233–235

Hommes S, Vinke-de Kruijf J, Otter HS, Bouma G (2009) Knowledge and perceptions in participatory policy processes: lessons from the Delta-Region in the Netherlands. Water Res Manage 23:1641–1663

Joziasse J, Heise S, Oen A, Ellen GJ, Gerrits L (2006) Sediment management objectives and risk indicators. In: Heise S (ed) Sediment risk management and communication. Elsevier, Amsterdam

Kasperson JX, Kasperson RE (2005) The social contours of risk. Earthscan, London

Kiker GA, Bridges TS, Kim J (2008) Integrating comparative risk assessment with multi-criteria decision analysis to manage contaminated sediments: an example for the new York/New Jersey harbor. Human Ecol Risk Assess 14:495–511

Laws D (2004) Building consensus on policy choices. In: Laws D, Podziba S (eds) Negotiation and mediation—workshop reader

Linkov I, Satterstrom FK, Yatsalo B, Tkachuk A, Kiker GA, Kim J, Bridges TS, Seager TP, Gardner K (2007) Comparative assessment of several multi-criteria decision analysis tools for management of contaminated sediments. In: Linkov I, Kiker G, Wenning R (eds) Environmental security in harbors and coastal areas—management using comparative risk assessment and multi-criteria decision analysis. Springer, Dordrecht, pp 195–215

Magnussen K, Bergland O (1996) Valuation of contaminants in water (in Norwegian). Stiftelsen Østfoldforskning. Report OR 51–96

Murray M, Greer J (2002) Participatory planning as dialogue: the Northern Ireland Regional Strategic Framework and its public examination process. Policy Studies 23:191–209

Navrud S, Barton DN (2006) Benefit-cost analysis of 'Project Clean Fjord'. Report to Project Clean Fjord Remediation plan for contaminated sediments in Telemark—Phase 2 (in Norwegian). Telemark County Commisioner

NRC (1997) Contaminated sediments in ports and waterways: cleanup strategies and technologies. National Academy Press, Washington, DC

Oen AMP, Cornelissen G, Breedveld GD (2006) Relation between PAH and black carbon contents in size fractions of Norwegian harbour sediments. Environ Poll 141:370–380

Pretty J, Guijt I, Scoones I, Thompson J (1995) A trainer's guide for participatory learning and action. International Institute for Environment and Development, London

Renn O (2008) Risk governance: coping with uncertainty in a complex world. Earthscan, London

Renn O, Webler T, Wiedemann P (1995) Fairness and competence in citizen participation. Evaluating models for environmental discourse. Kluwer Academic, Dordrecht

SFT (2000) Contaminated sediments i Norwegian fjords, levels of ambition and strategy for further work (in Norwegian). SFT report 1774/2000. Norwegian Pollution Control Authority, Oslo

Slob AFL, Eenhoorn J, Ellen GJ, Gómezc CM, Kindd J, van der Vlies J (2007) Costs and benefits of sediment management. In: Owens P (ed) Sediment management at the river basin scale. Elsevier, Amsterdam

Slob A, Gerrits L, Ellen GJ (2008) Sediment management and stakeholder involvement. In: Owens P (ed) Sediment management at the river basin scale. Elsevier, Amsterdam

Soldal O, Oen A, Kibsgaard A, Uriansrud F, Lindholm O, Godøy O, Jartun M, Ottesen RT (2005) Feasibility study for Bergen Harbour, Phase II (in Norwegian). COWI report 114863

Soma K (2010) Framing participation with multicriteria evaluations to support the management of complex environmental issues. Environmental Policy and Governance (submitted)

Stern PC, Fineberg HV (1996) Understanding risk: informing decisions in a democratic society. National Academy Press, Washington, DC

Suedel BC, Kim J, Clarke DG, Linkov I (2008) A risk-informed decision framework for setting environmental windows for dredging projects. Sci Total Environ 403:1–11

Syme GJ, Sadler BS (1994) Evaluation of public involvement in water resources planning: a researcher-practitioner dialogue. Evaluation Rev 18:523–542

Yatsalo BI, Kiker GA, Kim J, Bridges TS, Seager TP, Gardner K, Satterstrom FK, Linkov I (2007) Application of multicriteria decision analysis tools to two contaminated sediment case studies. Integr Enviro Assess Manage 3:223–233

Yin RK (2003) Case study research-design and methods, 3rd edn. SAGE publications, Thousand Oaks
Acknowledgements
We kindly acknowledge the Norwegian Research Council as project funding is provided through their 'The Oceans and Coastal Areas (HAVKYST)' research programme. For the Bergen Harbour case, we are particularly grateful for the assistance we have received from Per Vikse (Bergen kommune) and Haakon Kryvi (Hordaland County).
Additional information
Responsible editor: Gijs D. Breedveld
About this article
Cite this article
Oen, A.M.P., Sparrevik, M., Barton, D.N. et al. Sediment and society: an approach for assessing management of contaminated sediments and stakeholder involvement in Norway. J Soils Sediments 10, 202–208 (2010). https://doi.org/10.1007/s11368-009-0182-x
Received:

Accepted:

Published:

Issue Date:
Keywords
Contaminated sediments

Multi-criteria analysis

Sediment management

Stakeholder participation