Abstract
Introduction
A Norwegian system for classification of environmental quality of contaminated marine sediments has been in force since 1997 and was revised in 2007.
Discussion
The 1997 classification had five quality classes based on the statistical distribution of levels of the contaminants in sediments along the Norwegian coast.Class I represents background and classes II-V describe four intervals of concentrations mainly from a percentile division of the total distribution. The revised classification is based on toxicity of the contaminants. It covers 43 compounds against 28 in the 1997 version. It is based on European Union systems for defining environmental quality standards and performing risk assessment. Five classes are retained. Class I is kept as the background range. The upper limits for class II and class III are the Predicted No Effect Concentrations (PNEC) for chronic respectively acute (intermittent) exposure from the compound. The upper limit of class IV is 2-5 × PNEC intermittent depending on compound, and class V is everything above this. The border between class II and class III is most significant as it separates no-effects sediments from those for which sediment remediation may be needed.
Conclusion
The classification has been changed from concentration based to effects based and is in harmony with the Norwegian guideline for risk assessment of sediments. The classification system should be intermittently revised to include new or improved environmental quality standards as they are approved by the European Commission.
This is a preview of subscription content, log in to check access.
Access options
Buy single article
Instant access to the full article PDF.
US$ 39.95
Price includes VAT for USA
Subscribe to journal
Immediate online access to all issues from 2019. Subscription will auto renew annually.
US$ 199
This is the net price. Taxes to be calculated in checkout.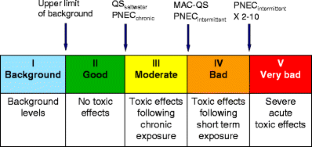 References
Bakke T, Breedveld G, Källqvist T, Oen A, Eek E, Ruus A, Kibsgaard A, Helland A, Hylland K (2007). Veileder for risikovurdering av forurenset sediment (guideline for risk assessment of contaminated sediment; in Norwegian). Norwegian Pollution Control Authority SFT TA-2230/2007

Crommentuijn T, Polder MD, van der Plassche EJ (1997) Maximum permissible concentrations and negligible concentrations for metals, taking background concentrations into account. RIVM Report No 601501 001, The Netherlands

European Commission (2003) Technical Guidance Document on Risk Assessment in support of commission directive 93/67 on risk assessment for new notified substances, commission regulation (EC) no 1488/94 on risk assessment for existing substances and Directive 98/8/EC of the Parliament and of the Council concerning the placing of biocidal products on the market. ISBN 92-827-8011-2

Fjeld E, Schlabach M, Berge JA, Green N, Eggen T, Snilsberg P, Vogelsang C, Rognerud S, Kjellberg G, Enge EK, Dye CA, Gundersen H (2005) Kartlegging av utvalgte nye organiske miljøgifter 2004. Bromerte flammehemmere, perfluoralkylstoffer, irgarol, diuron, BHT og dicofol. (Mapping of selected organic contaminants 2004. Brominated flame retardants, perfluoroalkylated compounds, irgarol, diuron, BHT og dicofol). Norwegian Institute for Water Research NIVA Report No 5011-2005 (in Norwegian)

Lepper P (2005) Manual on the methodological framework to derive environmental quality standards for priority substances in accordance with Article 16 of the water framework directive (2000/60/EC). Fraunhofer-Institute Molecular Biology and Applied Ecology, Smallenberg

MacDonald DD, Ingersoll CG, Berger TA (2000) Development and evaluation of consensus-based sediment quality guidelines for freshwater ecosystems. Arch Environ Contam Toxicol 39:20–31

Molvær J, Knutzen J, Magnusson J, Rygg B, Skei J, Sørensen J (1997) Klassifisering av miljøkvalitet i fjorder og kystfarvann (Classification of environmental quality in fjords and coastal areas). Norwegian Pollution Control Authority SFT TA-1467/1997 (in Norwegian)

OSPAR (2005a) Agreement on background concentrations for contaminants in seawater, biota and sediment (OSPAR Agreement 2005-2006)

OSPAR (2005b) 2005 assessment of data collected under the Co-ordinated Environmental Monitoring Programme (CEMP). OSPAR Commission Publication No 2005/235

SFT (2007a) Veileder for klassifisering av miljøkvalitet i fjorder og kystfarvann. Revidering av klassifisering av metaller og organiske miljøgifter i vann og sedimenter (Guidelines for classification of environmental quality in fjords and coastal areas. Revision of classification of metals and organic contaminants in water and sediment). Norwegian Pollution Control Authority SFT TA-2229/2007 (in Norwegian)

SFT (2007b) Bakgrunnsdokument Del B for: Veileder for klassifisering av miljøkvalitet i fjorder og kystfarvann: og Veileder for risikovurdering av forurenset sediment (Background document Part B for: Guidelines for classification of environmental quality in fjords and coastal areas: classification of metals and organic contaminants in water and sediment and Guideline for risk assessment of contaminated sediment). Norwegian Pollution Control Authority SFT TA-2231/2007 (in Norwegian)
Additional information
Responsible editor: Gijs D. Breedveld
About this article
Cite this article
Bakke, T., Källqvist, T., Ruus, A. et al. Development of sediment quality criteria in Norway. J Soils Sediments 10, 172–178 (2010). https://doi.org/10.1007/s11368-009-0173-y
Received:

Accepted:

Published:

Issue Date:
Keywords
Classification

Contaminants

Environmental Quality Standards (EQS)

Marine sediments

Risk assessment