Abstract
Background, aim and scope
Forest fires can result in severe economic and environmental consequences, and little is known about the ecological patterns and processes that may lead to the recovery of burnt areas. In the last decades, Portugal has been the Southern European country with the highest number of fire events and with the highest burnt area per hectare. With this work, we proposed to study the effect of a forest fire on the terrestrial ecosystem. More specifically, this work intended to evaluate the short-term recovery of several soil chemical, biochemical (microbial enzymatic activities) and biological (edaphic macro-arthropod community) variables in a burnt pine tree forest area.
Methodology
Soil and macro-arthropod sampling was carried out in a burnt area (transects BI, BII and BIII) and in a neighbouring unburnt area (U) 3 and 8 months after the fire, coinciding with autumn and spring. Soil was collected for the determination of physical (pH and conductivity) and chemical parameters (moisture and organic matter) and soil enzymes (cellulase, acid phosphatase and nitrogen mineralisation rate). Edaphic macro-fauna was captured using pitfall traps.
Results
Univariate and multivariate statistics revealed, overall, that burnt sites displayed lower acid phosphatase and cellulase activities and higher conductivity and pH values than the unburnt area. There was a recovery in the measured soil parameters between autumn and spring in the most interior parts of the burnt areas (BII and BIII), but the outer transect (BI, close to a road) still displayed considerable differences to the remaining burnt transects as well as to the unburnt area. A total of 47 macro-arthropod taxa were captured in both seasons, with Linyphiidae spiders (20.2%) and insect families Formicidae (13.4%) and Staphylinidae (11.9%) being the most abundant. Dominance by some taxa was overall stronger in the burnt than in the unburnt area, although dominant taxa varied between seasons. In autumn, the burnt area was dominated by ants and had also a high abundance of scavengers, carrion feeders and some ground active hunters. In spring, there was a general increase in taxa diversity, richness, and total catches; in the burnt area, there was a re-colonisation by several organisms sensitive to litter quality, such as isopods and pseudoscorpions, particularly in the outer transect (closest to the unburnt area).
Discussion
Differences in soil parameters between burnt and unburnt areas were most likely due to the deposition of nutrient-rich alkaline ashes. However, low cellulase activity in the outer part of the burnt area (BI) indicated compromised microbial activity in both sampling seasons. Recovery of soil functional parameters was delayed in the outer zone of the burnt area because of (i) fire intensity in that area or (ii) proximity to the road (enhancing erosion and exposure to contaminants). The pattern of arthropod re-colonisation of the burnt area followed the inverse recovery pattern (from the outer zone to the inner zone), stressing the primary role of the adjacent unburnt area as a source of potentially colonizing organisms.
Conclusions
Direct and indirect effects of fire on soil parameters (soil alkalinisation and nutrient enrichment) and edaphic fauna had a short-term persistence in the burnt area, and signs of recovery were evident 8 months after the fire (spring). The adjacent unburnt area seemed to act as an important source of arthropod colonisers.
Recommendations and perspectives
More prolonged studies on the recovery of soil functional parameters and arthropod community structure are required to understand long-term re-colonisation patterns. Researchers and authorities should also endeavour in the implementation of measures that favour and protect survivors and new indigenous colonisers (microbes, plants and animals) after a forest fire.
This is a preview of subscription content, log in to check access.
Access options
Buy single article
Instant access to the full article PDF.
US$ 39.95
Price includes VAT for USA
Subscribe to journal
Immediate online access to all issues from 2019. Subscription will auto renew annually.
US$ 199
This is the net price. Taxes to be calculated in checkout.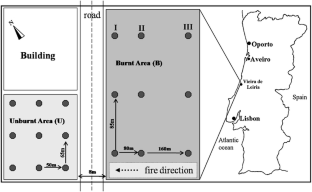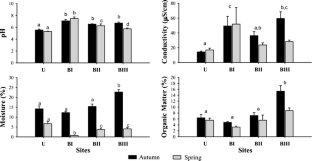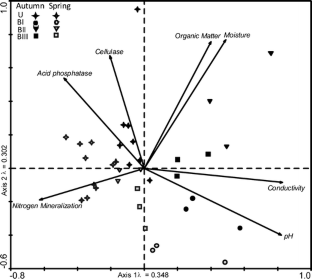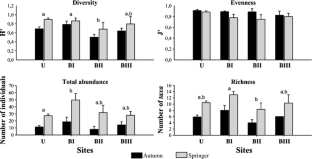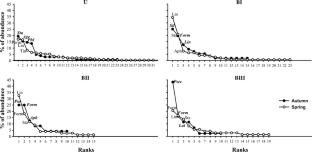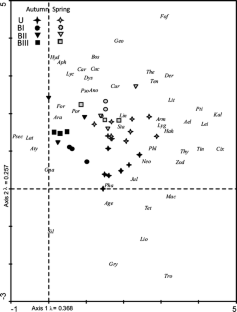 References
Aguiar A, Almeida MH, Borralho N (2003) Genetic control of growth, wood density and stem characteristics of Pinus pinaster in Portugal. Silva Lusit 11(2):131–139

Andersen AN, Müller WJ (2000) Arthropod responses to experimental fire regimes in an Australian tropical savannah: ordinal level analysis. Austral Ecol 25:199–209

Arnan X, Rodrigo A, Retan J (2006) Post-fire recovery of Mediterranean ground ant communities follows vegetation and dryness gradients. J Biogeogr 33:1246–1258

Barrientos JA (1988) Bases para un curso práctico de Entomologia. Associación Española de Entomologia, Dep. de Biologia Animal–Facultad de Biología Animal, Salamanca

Bess EC, Parmenter RR, McCoy S, Molles MC Jr (2002) Responses of a riparian forest-floor arthropod community to wildfire in the middle Rio Grande Valley, New Mexico. Environ Entomol 31(5):774–784

Bland RE, Jacques HE (1978) The pictured key nature series, 2nd edn. Brown, Dubuque, IA

Carta de Solos (1978) Unidades Pedológicas segundo o 1:1000000—Atlas de Ambiente. Comissão Nacional do Ambiente, Portugal

Chinery M (1998) Collins guide to the insects of Britain and Western Europe. Harper Collins, London

Coelho CDOA, Ferreira AJD, Boulet AK, Keizer JJ (2004) Overland flow generation processes, erosion yields and solute loss following different intensity fires. Q J Eng Geol Hydrogeol 37:233–240

Coy R (1994) The impact of fire on soil invertebrates in E. regnans forest at Powelltown, Victoria. In: Proceedings of the conference 'Fire and biodiversity: the effects and effectiveness of fire management. Victorian National Parks Association, Melbourne, paper no 15

DeBano LF, Neary DG, Ffolliott PF (1998) Fire's effects on ecosystems. Wiley, New York

European Comission (2005) Forest Fires in Europe 2004. Official publication of the European Commission S.P.I.05.147., European Communities

FAOUN (1984) Food and Agriculture Organization of the United Nations. Physical and chemical methods of soil and water analysis. Soils Bull 10:1–275

Fernandéz Fernandéz M, Salgado Costas JM (2002) Recolonization of a burnt pine tree forest (Pinus pinaster) by edaphic coleoptera. Entomol Gen 26(1):17–28

Ferreira AD, Coelho COA, Boulet AK, Leighton-Boyce G, Keizer JJ, Rietsema CJ (2005) Influences of burning intensity on water repellency and hydrological processes at forest and shrub sites in Portugal. Aust J Soil Res 43(3):327–336

Friend G (1994) Fire ecology of invertebrates—implications for nature conservation, fire management and future research. In: Proceedings of the conference 'Fire and biodiversity: the effects and effectiveness of fire management. Victorian National Parks Association, Melbourne, paper no 13

Garcia JA, Ena V, Mediavilla G, Tarrega R (1995) Explotación post-fuego por hormigas (Hymenoptera, Formicidae) en ecosistemas de Quercus pyrenaica. Avances en Entomologia Iberica, pp 91–100

Garcia-Villanueva JA, Ena V, Tarrega R, Mediavilla G (1998) Recolonization of two burnt Quercus pyrenaica ecosystems by coleoptera. Int J Wildland Fire 8(1):21–27

Hall RG (1994) The effects of fuel reduction burning on forest soils. In: Proceedings of the conference Fire and biodiversity: the effects and effectiveness of fire management. Victorian National Parks Association, Melbourne, paper no 16

Hossain AK, Raison RJ, Khanna PK (1995) Effects of fertilizer application and fire regime on soil microbial biomass carbon and nitrogen, and nitrogen mineralization in an Australian subalpine eucalypt forest. Biol Fert Soils 19:246–252

Jones D (1985) Guia de campo de los aracnidos de España y de Europa. Ediciones Omega S.A., Barcelona

Lambshead PJD, Platt HM, Shaw KM (1983) The detection of differences among assemblages of marine benthic species based on an assessment of dominance and diversity. J Nat Hist 17:859–874

Macadam A (1989) Effects of prescribed fire on forest soils. B.C. Min. For. Research Report 89001-PR, Victoria, Australia

Miralles I, Ortega R, Sánchez-Marañón M, Leirós MC, Trasar-Cepeda C, Gil-Stores F (2007) Biochemical proporties of range and forest soils in Mediterranean mountain environments. Biol. Fertil Soils 43:721–729

Moretti M, Conedera M, Duelli P, Edwards PJ (2002) The effects of wildfire on ground-active spiders in deciduous forests on the Swiss southern slope of the Alps. J Appl Ecol 39:321–336

Neville PJ (1999) The effects of prescribed burning and wildfire on epigaeic invertebrates of the Dandenong Ranges National Park, Victoria, Australia. In: Lunt I, Green DG, Lord B, editors. Conference Proceedings of the Australian Bushfire Conference 'Bushfire 99', Albury, pp 291–297

Nielsen MN, Winding A (2002) Microorganisms as indicators of soils health. National Environmental Research Institute, Denmark. Technical Report No 388

Niwa CG, Peck RW (2002) Influence of prescribed fire on carabid beetle (Carabidae) and spider (Araneae) assemblages in forest litter in southwestern Oregon. Environ Entomol 31(5):785–796

Norris P, Conroy B (1999) Fire ecology of soil and leaf litter invertebrates. In: Lunt I, Green DG, Lord B (eds), Conference Proceedings of the Australian Bushfire Conference 'Bushfire 99', Albury, pp 299–306

Panzer R (2003) Importance of in-situ survival, recolonization, and habitat gaps in the postfire recovery of fire-sensitive prairie insect species. Nat Area J 23(1):14–21

Páscoa F, Martins F, González RS, João C (2004) Estabelecimento simultâneo de equações de biomassa para o pinheiro bravo. In: II Latin American Symposium on Forest Management and Economics, Barcelona

Pereira JMC, Carreiras JMB, Silva JMN, Vasconcelos MJ (2006) Alguns conceitos básicos sobre os fogos rurais em Portugal. In: Pereira JS, Pereira JMC, Rego FC, Silva JMN, Silva TP (eds) Incêndios florestais em Portugal—Caracterização, impactes e prevenção. ISA Press, Lisbon, pp 133–161

Pereira R, Marques SM, Antunes SC, Marques C, Abrantes N, Pestana JL, Gonçalves F (2008) Comparison of Portuguese soils from different geographical regions using physicochemical, biological and biochemical parameters. J Soil Sediments 8(2):106–115

Prieto-Fernandez A, Villar MC, Carballas M, Carballa T (1993) Short-term effects of a wildfire on the nitrogen status and its mineralization kinetics in an Atlantic forest soil. Soil Biol Biochem 25(12):1657–1664

Radea C, Arianoutsou M (2000) Cellulose decomposition rates and soil arthropod community in a Pinus halenpensis Mill. forest of Greece after a wildfire. Eur J Soil Biol 36:57–64

Raw F (1967) Arthropoda (except Acari and Collembola). In: Burges A, Raw F (eds) Soil biology. Academic, London, pp 323–362

Schinner F, Kandeler E, Öhlinger R, Margesin R (1996) Methods in soil biology. Springer, Germany

Sinsabaugh RL (1994) Enzymic analysis of microbial pattern and process. Biol Fert Soils 17:69–74

Staddon WJ, Duchesne LC, Trevors JT (1998) Acid phosphatase, alkaline phosphatase and arylsulfatase activities in soils from a jack pine (Pinus banksiana Lamb.) ecosystem after clear cutting, prescribed burning, and scarification. Biol Fertil Soils 27:1–4

Tabatabai MA (1994) Soil Enzymes. In: Weaver RW, Angle S, Bottomley P (eds) Methods of soil analysis, Part 2—Microbiological and biochemical properties, Chap. 37. Soil Sciences Society of America, Wisconsin

ter Braak CJF, Smilaeur P (1998) CANOCO reference manual and user's guide to Canoco for Windows: Software for Canonical Community Ordination (version 4). Microcomputer Power, Ithaca, NY, USA, p 352

ter Braak CJF, Verdonschot PFM (1995) Canonical correspondence analysis and related multivariate methods in aquatic ecology. Aquat Sci 57:255–289

Thomas AD, Walsh RPD, Shakesby RA (1999) Nutrient losses in eroded sediment after fire in eucalyptus and pine forests in the wet Mediterranean environment of northern Portugal. Catena 36(4):283–302

Tolhurst KG, Flinn DW, Loyn RH, Wilson AAG, Foletta I (1992) Ecological effects of fuel reduction burning in a dry sclerophyll forest—a summary of principal research findings and their management implications. Forest Research Centre, Department of Conservation And Environment, Melbourne

Wichmann H, Schmidt-Nädler C, Bahadir M (1999) Fast elemental analysis to assess dioxin contamination: a new tool for the investigation of damages caused by fire. Umweltwiss Schadst Forsch 11(1):33–37

Wikars L-O, Schimmel J (2001) Immediate effects of fire-severity on soil invertebrates in cut and uncut pine forests. Forest Ecol Manag 141:189–200
Acknowledgements
The authors wish to thank Dr. P.J. van Helsdingen from the National Museum of Natural History/Naturalis (The Netherlands), for helping in spider identification.
Additional information
Responsible editor: Scott Chang
About this article
Cite this article
Antunes, S.C., Curado, N., Castro, B.B. et al. Short-term recovery of soil functional parameters and edaphic macro-arthropod community after a forest fire. J Soils Sediments 9, 267–278 (2009). https://doi.org/10.1007/s11368-009-0076-y
Received:

Accepted:

Published:

Issue Date:
Keywords
Edaphic macro-arthropods

Forest fire

Pinus pinaster

Re-colonisation

Soil functional parameters