Abstract
Purpose
A basic principle for Type I ecolabels is to consider the whole product life cycle in order to avoid transferring impacts from one life cycle phase or environmental medium to another. By using the example of the Blue Angel, this paper provides an overview of the typical criteria over the product life cycle established in ecolabels for different product categories. Further, the paper provides details about two selected issues that are of particular concern in the current debate within product policy: the longevity of products and the coverage of social aspects.
Methods
The presented results are based on desk research, which included the creation of product and criteria categories and a complete analysis of all existing Blue Angel criteria sets for products.
Results and discussion
The coverage of different life cycle phases with criteria is very diverse, as expected, and varies across product categories. A focus of the Blue Angel is on the use phase. While longevity criteria are present in half of the Blue Angel criteria sets, they are in most cases not too comprehensive. The current discussion on adequate methodologies with regard to reparability and longevity, in general, is however speeding up at EU level, and this will also influence ecolabels. Social criteria are still rare in the Blue Angel, especially when it comes to social aspects during raw material extraction. There is, however, the intention to elaborate a more systematic basis for social criteria within the Blue Angel.
Conclusions
While the ongoing debates on longevity and social criteria will most likely result in such criteria being applied to more product groups in Type I ecolabels, ecolabels always have to find a compromise between coverage of ideally all relevant life cycle impacts for which an improvement potential exists on the one hand, and feasibility for licensees to comply with the criteria and provide the according verification on the other.
This is a preview of subscription content, log in to check access.
Access options
Buy single article
Instant access to the full article PDF.
US$ 39.95
Price includes VAT for USA
Subscribe to journal
Immediate online access to all issues from 2019. Subscription will auto renew annually.
US$ 99
This is the net price. Taxes to be calculated in checkout.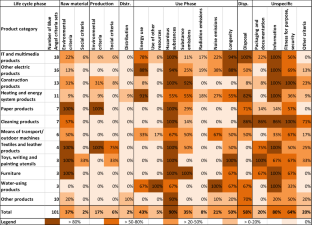 Notes
1.

"Criteria set" in this article refers to the document containing all criteria for one product group or service for which the Blue Angel can be awarded.

2.

Examples from the Blue Angel include criteria limiting emissions of CO2 equivalents within a certain life cycle phase or toxicity of the product for aquatic organisms expressed as critical dilution volume.

3.

The Ecodesign Directive contains a more comprehensive list with criteria (see Annex I, part 1, no. 1.3), including, for instance, also the use of recycled material and indicators for the reusability, recyclability and product life time, which does, however, not cover all relevant aspects (e.g. noise and radiation emissions). The Ecolabel Regulation mentions only a limited number of rather broad categories of criteria in article 6 (par. 3).

4.

Cf. Suikkanen and Nissinen (2017) for a similar analysis on the EU and the Nordic ecolabels.

5.

The exact wording of the requirement is that information must be provided 'about the typical service life span or use intensity (e.g. in printed pages), which the device is designed for in its default configuration assuming typical user behaviour' (RAL 2017a). This wording has, unfortunately, been interpreted so far by licensees in a way that they provide information on the recommended maximum number of printed pages per month, which was not the intention of adopting this requirement.

6.

Note that the actual environmental impact of warranty/legal guarantee rules is an intensely debated topic currently between the repair sector, environmental, and consumer protection groups, as it is claimed that longer guarantees may even lead to destroying products taken back by the manufacturer or seller instead of repair. The evidence base with regard to this subject is, however, very limited, as our own research has shown us.

7.

'Exchange parts' are defined as 'parts that are expected to need replacement during the supposed service life under typical conditions of use (e.g. ink absorber, excess toner reservoir, paper feed)', as opposed to spare parts, which are defined as 'components or assemblies that can potentially fail within the service life of the products' including e.g. 'hinges of casing parts, paper trays etc. as well as cable connections and electronic components which might be damaged by over-heating' (RAL 2017a).

8.

For shoes, a new version of the criteria exists which is not yet uploaded to the Blue Angel Website at the time of writing this paper but was submitted for decision by the Blue Angel ecolabel board (the 'Jury Umweltzeichen').

9.

Note that there are sporadic ISO conventions that cover such aspects, e. g. Convention no. 107 "Indigenous and Tribal Populations Convention" from 1957 (ILO 2018), but the main focus of the ILO conventions are workers' rights, of course.

10.

At the time of writing this paper, a first interim report on the scoring system is available, which also discusses in detail further available assessment methods (cf. JRC 2018).

11.

A research project on the integration of social aspects into Blue Angel criteria on behalf of the German Federal Environment Agency is currently in preparation.
References
Boulos S, Sousanoglou A, Evans L et al (2015) The durability of products – standard assessment for the circular economy under the eco-innovation action plan. Report on behalf of DG Environment, https://publications.europa.eu/en/publication-detail/-/publication/6c325b55-7352-11e5-86db-01aa75ed71a1/language-en Accessed June 2018

Bratt C, Hallstedt S, Broman G, Robèrt KH, Oldmark J (2011) Assessment of eco-labelling criteria: development from a strategic sustainability perspective. J Clean Prod 19(14):1631–1638

DIN (2002) DIN EN ISO 14020:2002; environmental labels and declarations – general principles. Deutsches Institut für Normung (German version EN ISO 14020:2001)

DIN (2018) DIN EN ISO 14024:2018; environmental labels and declarations – type I environmental labelling – principles and procedures. Deutsches Institut für Normung (German and English version)

EC (2013) Commission recommendation of 9 April 2013 on the use of common methods to measure and communicate the life cycle environmental performance of products and organisations, 2013/179/EU

EC (2015) M/543 – commission implementing decision of 17.12.2015 on a standardisation request to the European standardisation organisations as regards ecodesign requirements on material efficiency aspects for energy-related products in support of the implementation of directive 2009/125/EC of the European Parliament and of the council. European Commission, Brussels, 17.12.2015 C(2015) 9096 final

EC (2018) Circular economy: implementation of the circular economy action plan. European Commission Website, http://ec.europa.eu/environment/circular-economy/index_en.htm Accessed June 2018

EEA (2018) Waste prevention in Europe – policies, status and trends in reuse in 2017. European Environment Agency, EEA Report No. 4/2018 https://www.eea.europa.eu/publications/waste-prevention-in-europe-2017/ Accessed June 2018

Green Electronics Council (2018) Updated computer and display EPEAT category coming November 2018. http://greenelectronicscouncil.org/wp-content/uploads/2018/06/EPEAT-Computer-and-Display-2018-Update-Info-for-Purchasers.pdf. Accessed June 2018

Greenpeace (2017) How repairable is your mobile device? A product guide to best-selling smartphones, tablets and laptops. https://www.rethink-it.org/. Accessed June 2018

Horne RE (2009) Limits to labels: the role of eco-labels in the assessment of product sustainability and routes to sustainable consumption. Int J Consum Stud 33:175–182

Ifixit (2018) Website on device reparability scores, https://wwwifixitcom/Info/Repairability#Section_Overview Accessed June 2018

ILO (2018) Website listing all ILO conventions. International Labour Organization. http://www.ilo.org/dyn/normlex/en/f?p=NORMLEXPUB:12000:0::NO. Accessed June 2018

Iraldo F, Facheris C, Nucci B (2017) Is product durability better for environment and for economic efficiency? A comparative assessment applying LCA and LCC to two energy-intensive products. J Clean Prod 140:1353–1364

JRC (2018) Analysis and development of a scoring system for repair and upgrade of products – draft version 1, June 2018. European Commission Joint Research Centre. http://susproc.jrc.ec.europa.eu/ScoringSystemOnReparability/index.html. Accessed June 2018

Jury Umweltzeichen (2011) Grundsätze zur Vergabe des Umweltzeichens Blauer Engel [available only in German]. Berlin, March 2011. https://www.blauer-engel.de/sites/default/files/pages/downloads/unser-zeichen-fuer-die-umwelt/vergabegrundsaetze-maerz2011.pdf. Accessed June 2018

Lavallée S, Plouffe S (2004) The ecolabel and sustainable development. Int J Life Cycle Assess 9(6):349–354

Maitre-Ekern E, Dalhammar C (2016) Regulating planned obsolescence: a review of legal approaches to increase product durability and reparability in Europe. Rev Eur Commun Int Environ Law 25(3):378–394

Monier V, Tinetti B, Mitsios A, De Prado Trigo A, Ax C, Medhurst J (2016) Study on socioeconomic impacts of increased reparability – final report. Prepared for the European Commission, DG Environment. https://publications.europa.eu/en/publication-detail/-/publication/c6865b39-2628-11e6-86d0-01aa75ed71a1/language-en. Accessed June 2018

Montalvo C, Peck D, Rietveld E (2016) A longer lifetime for products: benefits for consumers and companies. Study on behalf of the committee on internal market and consumer protection (IMCO) of the European Parliament. http://www.europarl.europa.eu/RegData/etudes/STUD/2016/579000/IPOL_STU(2016)579000_EN.pdf. Accessed June 2018

OECD (2016) OECD due diligence guidance for responsible supply chains of minerals from conflict-affected and high-risk areas, Third edn. OECD Publishing, Paris. https://doi.org/10.1787/9789264252479-en

Prakash S, Liu R, Schischke K, Stobbe L (2012) Timely replacement of a notebook under consideration of environmental aspects. Umweltbundesamt Texte 45/2012, https://www.umweltbundesamt.de/sites/default/files/medien/461/publikationen/4317.pdf. Accessed June 2018

Prakash S, Dehoust G, Gsell M, Schleicher T, Stamminger R (2016) Einfluss der Nutzungsdauer von Produkten auf ihre Umweltwirkung: Schaffung einer Informationsgrundlage und Entwicklung von Strategien gegen "Obsoleszenz". Umweltbundesamt Texte 11/2016. https://www.umweltbundesamt.de/publikationen/einfluss-der-nutzungsdauer-von-produkten-auf-ihre-1. Accessed June 2018

RAL (2017a) Basic criteria for award of the environmental label – office equipment with printing function (printers and multifunction devices), RAL-UZ 205, Edition January 2017 Version 1.0, https://www.blauer-engel.de/en/products/electric-devices/drucker-und-multifunktionsgeraete. Accessed June 2018

RAL (2017b) Basic criteria for award of the environmental label – toys, RAL-UZ 207, January 2017 Version 1. https://www.blauer-engel.de/en/products/home-living/spielzeug. Accessed June 2018

RAL (2017c) Blue angel – the environmental label, Mobile phones DE-UZ 106 basic award criteria, Edition July 2017. Version 1, https://www.blauer-engel.de/en/products/electric-devices/mobiltelefone-135. Accessed June 2018

Suikkanen J, Nissinen A (2017) Do ecolabels extend product service times? An analysis of the product group specific criteria of the European Union and Nordic ecolabels. PLATE 2017 conference proceedings, pp 387–390. https://doi.org/10.3233/978-1-61499-820-4-387

Talens Peiró L, Ardente F, Mathieux F (2016) Analysis of material efficiency of energy related product for the development of EU ecolabel criteria – analysis of product groups: personal computers and electronic displays. Joint Research Centre Technical Report, EUR 27793 EN. https://doi.org/10.2788/642541

TCO (2018) Website of the TCO label on TCO criteria. TCO development. http://tcocertifiedcom/criteria-overview/. Accessed June 2018

UNEP (2009) Guidelines for social life cycle assessment of products
Acknowledgements
The research underlying this paper was performed within a project on the development of Blue Angel criteria funded by the German Federal Environment Agency (UBA). The views expressed in this paper are those of the authors and do not necessarily reflect the opinion of the Federal Environment Agency.
Additional information
Publisher's note
Springer Nature remains neutral with regard to jurisdictional claims in published maps and institutional affiliations.
Responsible editor: Fabio Iraldo
About this article
Cite this article
Spengler, L., Jepsen, D., Zimmermann, T. et al. Product sustainability criteria in ecolabels: a complete analysis of the Blue Angel with focus on longevity and social criteria. Int J Life Cycle Assess (2019). https://doi.org/10.1007/s11367-019-01642-6
Received:

Accepted:

Published:
Keywords
Blue Angel

Durability

Ecolabel criteria

Ecolabels

Environmental product policy

Longevity

Reparability

Social criteria