Abstract
Purpose
This paper seeks to identify the most environmental friendly way of conducting a refurbishment of Broendby Strand, with focus on PCB remediation. The actual identification is conducted by comparing four remediation techniques using urban metabolism fused with life cycle assessment (UM-LCA) in combination with information relating to cost and efficiency of the compared techniques. The methodological goal of our paper is to test UM-LCA as a decision support tool and discuss application of the method in relation to large refurbishment projects.
Methods
To assess the environmental performance of PCB-remediation techniques, the UM-LCA method was applied. By combining UM and LCA methodologies, the total environmental impact potentials of the remediation techniques were calculated. To build an inventory for each technique, we contacted and interviewed experts and studied existing literature, cases, and projects in order to compile information on practical details of the techniques. To process the collected inventory data, we used the simplified product system modeling software Quantis Suite 2.0 (QS2.0). In order to validate the results from the simplified software, we carried out the exact same analysis using a more complex tool—OpenLCA 1.5. Based on the assessment results, we compared the remediation techniques and identified the techniques with the smallest and largest environmental impact potentials.
Results and discussion
The results obtained are presented, and the technique with the smallest impact identified. A comparison between the two software tools applied is made, and differences between the two are discussed in detail. Further discussed is how possible inventory errors affect the results and if any assumptions should be considered as critical for the final results. Furthermore, are the remediation efficiencies of each technique and the cost of each method considered and compared. Finally, UM-LCA's ability to work as a tool for decision support is discussed and possible ways of implementing the method in sustainable decision-making is considered.
Conclusions
In this study, it is found that the most environmental friendly PCB-remediation technique is thermal desorption, whereas the technique with the largest environmental impact potential is sand blasting, due to the environmental impacts induced in relation to disposal of the building waste. It is concluded that the UM-LCA method can be applied as a tool for decision support, and if economic aspects are incorporated, the UM-LCA approach could be an essential approach for designing sustainable buildings.
This is a preview of subscription content, log in to check access.
Access options
Buy single article
Instant access to the full article PDF.
US$ 39.95
Price includes VAT for USA
Subscribe to journal
Immediate online access to all issues from 2019. Subscription will auto renew annually.
US$ 99
This is the net price. Taxes to be calculated in checkout.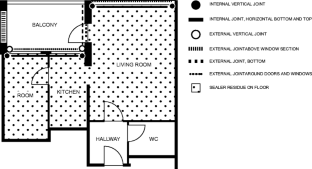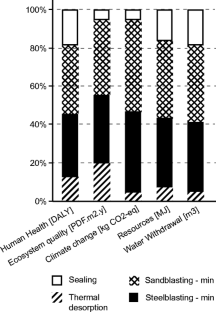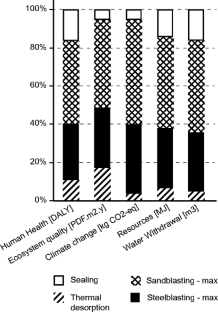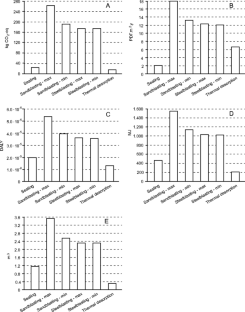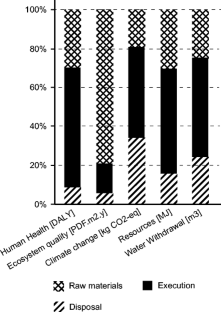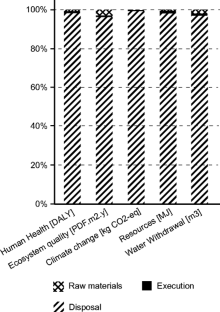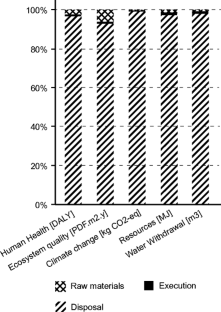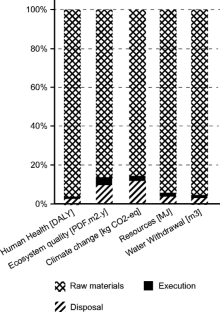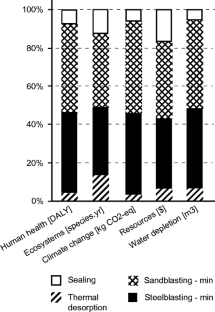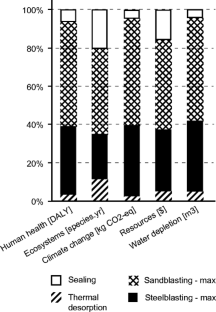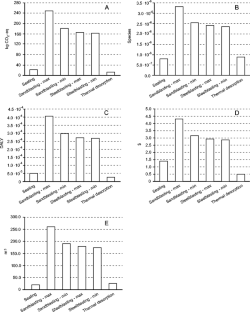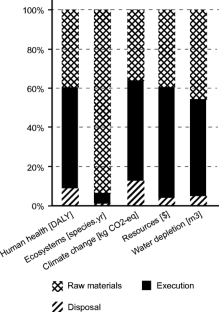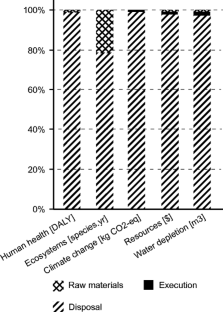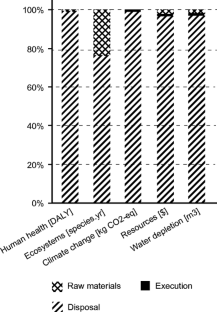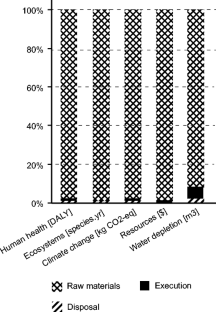 References
Andersen U (2013) Giftige fuger: Fem højhuse skal renoveres for over en halv milliard kr. Retrieved August 11, 2016, from https://ing.dk/artikel/giftige-fuger-fem-hoejhuse-skal-renoveres-over-en-halv-milliard-kr-156810

Dansk asbestforening (2010) PCB Vejledning

Ellgaard L (2018) Brøndby Strands historie. Retrieved August 12, 2016, from http://forstadsmuseet.dk/historien-om/broendby-strands-historie/

Goldstein B, Birkved M, Quitzau M-B, Hauschild M (2013) Quantification of urban metabolism through coupling with the life cycle assessment framework: concept development and case study. Environ Res Lett 8(3):35024. https://doi.org/10.1088/1748-9326/8/3/035024

Green Building Council Denmark (2016) Bæredygtigt byggeri, markedsundersøgelse

Gudmand J (2015) Fem højhuse skal have fjernet PCB. Retrieved December 7, 2016, from http://sn.dk/Sydkysten/Fem-hoejhuse-skal-have-fjernet-PCB/artikel/463208

Huang YQ, Wong CKC, Zheng JS, Bouwman H, Barra R, Wahlström B, Neretin L, Wong MH (2012) Bisphenol A (BPA) in China: a review of sources, environmental levels, and potential human health impacts. Environ Int 42:91–99

Humbert S, de Schryver A, Bengoa X, Margni M, Jolliet O (2012) IMPACT 2002 +: User Guide (Vol. Q2.21). Retrieved from http://www.pre-sustainability.com/download/DatabaseManualMethods.pdf

Interview: Flemming Correll Frank (2016) Retrieved December 2, 2016, from https://www.dropbox.com/sh/1m7u9qpvoq4leop/AAAi2Nl4qH5gxHuBPv_WcnKCa?dl=0

Interview: Kathrine Birkemark Olsen and Lene Dalvang (2016) Retrieved from https://www.dropbox.com/sh/1m7u9qpvoq4leop/AAAi2Nl4qH5gxHuBPv_WcnKCa?dl=0

Interview: Kim Østergaard J Jensen A/S (2016) Retrieved December 2, 2016, from https://www.dropbox.com/sh/1m7u9qpvoq4leop/AAAi2Nl4qH5gxHuBPv_WcnKCa?dl=0

Jolliet O, Saadé-Sbeih M, Shaked S, Jolliet A (2016) Environmental Life Cycle Assessment. CRC Press, 302 pp

Koch AP, Nielsen PA, Statens Byggeforskningsinstitut (2013) Renovering af bygninger med PCB

Olsen KB, Nerum Olesen M (2015) Metoder til fjernelse af miljøproblematiske stoffer

Sparvath M, Trap N (2014) Pilotprojekt Brøndby Strand, PCB sanering Brøndby Strand. Golder Associates A/S

Sundhedsstyrelsen, Trafik- og Byggestyrelsen, Miljø- og Fødevareministeriet, Arbejdstilsynet, & Udlændinge-, I. B (2014) PCB-guiden, fakta om PCB. Retrieved August 19, 2016, from http://pcb-guiden.dk/fakta-om-pcb

Teknologisk Institut (2009) Krydsfiner. Retrieved December 4, 2016, from http://www.trae.dk/leksikon/krydsfiner/

Timm H (2018) Sandblæsning. Retrieved December 2, 2016, from http://simpelenergi.dk/sandblaesning/

Wolman A (1965) The metabolism of cities. Sci Am 213:179–190

World Green Building Council (2013) The Business Case for Green Building, 124. Retrieved from http://www.worldgbc.org/activities/business-case/

Worm AS, Poulin H, Østergaard FC, Birgisdottir H, Madsen SS, Rasmussen FN (2016) Branchevejledning i LCA ved renovering
Additional information
Responsible editor: Giuseppe Ioppolo
About this article
Cite this article
Ohms, P., Andersen, C., Landgren, M. et al. Decision support for large-scale remediation strategies by fused urban metabolism and life cycle assessment. Int J Life Cycle Assess 24, 1254–1268 (2019). https://doi.org/10.1007/s11367-018-1445-9
Received:

Accepted:

Published:

Issue Date:
Keywords
Decision support

Hazardous building materials

PCBs

Remediation techniques

Renovation

UM-LCA