Abstract
Purpose
In the agro-food industry, related to the horticultural sector, promising products are the ones called "ready to eat", "ready to use". Fresh processed vegetables, belonging to the "fresh cut" products, are considered barely treated and potentially more sustainable than frozen ones. The principal aim of this study is assessing the environmental impact of nursery step for seedlings production, commonly included in the vegetable chain production in Italy and other countries. Four different kinds of salad have been assessed: Cichorium endivia var. crispum (curly endive), Cicorium endivia var. latifolium (escarole), Cichorium intybus var. foliosum (red chicory) and Cichorium intybus var. foliosum (sugarloaf chicory).
Methods
The study was conducted following ISO standards on life cycle assessment (14,040, 14,044) with a "cradle to nursery gate" approach. The functional unit (FU) selected was one small plant in polystyrene tray (170 holes); this choice is due to a requirement of repeatability and comparability of the analysis outcomes. Data for inventory analysis have been detected throughout surveys, questionnaires and direct measurements. In more details, materials used for structures, energy and mass flows have been considered. Calculation method selected is the CML 2 baseline 2000 v. 2.05 with the related impact categories.
Results and discussion
Results show that the four species have a comparable environmental load. Differences among the different impact categories are lower than the 30% excluding eutrophication for escarole (−56%) with respect to sugarloaf chicory. Specie that presents the lowest impact is Escarole. This is due to the shorter cultivation cycle. Thermoplastic and plastic materials and their production, substrates extraction and direct emissions from fertilizers and pesticides are the main contributors affecting the environmental sustainability of seedlings production.
Conclusions
Consistently with other studies on similar research topic, energy consumption, such as electricity, gives a load of little relevance. Taking into account only the category of global warming, the absolute average load of one seedling produced is 2.53e-3 kg CO2 eq. Further studies regarding the evaluation of alternative production system with a lower use of plastics and thermoplastics will be useful.
This is a preview of subscription content, log in to check access.
Access options
Buy single article
Instant access to the full article PDF.
US$ 39.95
Price includes VAT for USA
Subscribe to journal
Immediate online access to all issues from 2019. Subscription will auto renew annually.
US$ 99
This is the net price. Taxes to be calculated in checkout.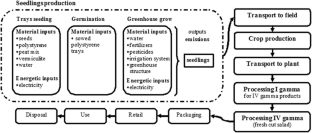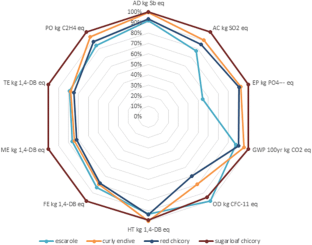 References
Aldentun Y (2002) Life cycle inventory of forest seedling production—from seed to regeneration site. J Clean Prod 10(1):47–55

Antón A (2004) Utilización del Análisis del ciclo de vida en la evaluación del impacto ambiental del cultivo bajo invernadero mediterráneo. Dissertation, Universitat Politècnica de Catalunya

Antón A, Torrellas M, Núñez M, Sevigné E, Amores MJ, Muñoz P, Montero JI (2014) Improvement of agricultural life cycle assessment studies through spatial differentiation and new impact categories: case study on greenhouse tomato production. Environ Sci Technol 48(16):9454–9462

Bacenetti J, Duca D, Negri M, Fusi A, Fiala M (2015) Mitigation strategies in the agro-food sector: the anaerobic digestion of tomato purée by-products. An Italian case study. Sci Total Environ 526:88–97

Bailey D, Dick Bir B (1999) Water considerations for container production of plants. Horticulture Information Leaflet 557

Beccaro GL, Cerutti AK, Vandecasteele I, Bonvegna L, Donno D, Bounous G (2014) Assessing environmental impacts of nursery production: methodological issues and results from a case study in Italy. J Clean Prod 80:159–169

Cambria D, Pierangeli D (2011) A life cycle assessment case study for walnut tree (Juglans regia L.) seedlings production. Int J Life Cycle Assess 16(9):859–868

CML2 baseline 2000 (2000) Centre of Environmental Science, Leiden University, the Netherlands

European Commission (2014) Horizon 2020, Food Security, Sustainable Agriculture and Forestry, Marine, Maritime and Inland Water Research and the Bioeconomy. https://ec.europa.eu/programmes/horizon2020/en/h2020-section/food-security-sustainable-agriculture-and-forestry-marine-maritime-and-inland-water. Accessed 1 June 2016

FAOSTAT (2016) Food and Agriculture Organization of the United Nations - Statistics Division

Foteinis S, Chatzisymeon E (2016) Life cycle assessment of organic versus conventional agriculture. A case study of lettuce cultivation in Greece. J Clean Prod 112:2462–2471

Frischknecht R, Althaus HJ, Bauer C, Doka G, Heck T, Jungbluth N, Kellenberger D, Nemecek T (2007) The environmental relevance of capital goods in life cycle assessments of products and services. Int J Life Cycle Assess 12(1):7–17

Fusi A, Castellani V, Bacenetti J, Cocetta G, Fiala M, Guidetti R (2016) The environmental impact of the production of fresh cut salad: a case study in Italy. Int J Life Cycle Assess 21(2):162–175

Gunady MGA, Biswas W, Solah VA, James AP (2012) Evaluating the global warming potential of the fresh produce supply chain for strawberries, romaine/cos lettuces (Lactuca sativa), and button mushrooms (Agaricus bisporus) in Western Australia using life cycle assessment (LCA). J Clean Prod 28:81–87

Hasler K, Bröring S, Omta SWF, Olfs HW (2015) Life cycle assessment (LCA) of different fertilizer product types. Eur J Agron 69:41–51

Herrera F, Castillo JE, Chica AF, López Bellido L (2008) Use of municipal solid waste compost (MSWC) as a growing medium in the nursery production of tomato plants. Bioresour Technol 99(2):287–296

Hospido A, Milà I, Canals L, McLaren S, Truninger M, Edwards-Jones G, Clift R (2009) The role of seasonality in lettuce consumption: a case study of environmental and social aspects. Int J Life Cycle Assess 14(5):381–391

Ilari A, Duca D, Foppa Pedretti E, Toscano G (2016) Energy and environmental analysis of chains for horticultural products belonging to I, III, IV gamma. JAE volume XLVII(s1)

Ingram DL (2013) Life cycle assessment to study the carbon footprint of system components for colorado blue spruce field production and use. J Am Soc Hortic Sci 138(1):3–11

ISO, International Organization for Standardization (2006a) ISO 14040:2006 - Environmental management - Life cycle assessment - Principles and framework

ISO, International Organization for Standardization (2006b) ISO 14044:2006 - Environmental management - Life cycle assessment - Requirements and guidelines

ISTAT (2016) Istituto Nazionale di Statistica

Ito T (1992) Present state of transplant production practices in Japanese horticultural industry. Transplant Production Systems: Proceedings of the International Symposium on Transplant Production Systems, Yokohama, Japan, 21–26 July 1992. K. Kurata and T. Kozai. Dordrecht, Springer Netherlands, pp 65–82

Kendall A, Gregory McPherson E (2012) A life cycle greenhouse gas inventory of a tree production system. Int J Life Cycle Assess 17(4):444–452

Lazzerini G, Lucchetti S, Nicese FP (2014) Analysis of greenhouse gas emissions from ornamental plant production: a nursery level approach. Urban For Urban Gree 13(3):517–525

Lazzerini G, Lucchetti S, Nicese FP (2016) Green house gases (GHG) emissions from the ornamental plant nursery industry: a life cycle assessment(LCA) approach in a nursery district in central Italy. J Clean Prod 112(Part 5):4022–4030

Marche region (2014) PSR, Programma di Sviluppo Rurale. Priorità 5

Margni M, Rossier D, Crettaz P, Jolliet O (2002) Life cycle impact assessment of pesticides on human health and ecosystems. Agric Ecosyst Environ 93(1–3):379–392

Markus EN (2003) Cradle-to-gate life cycle inventory: Canadian and US steel production by mill type

Martínez-Blanco J, Antón A, Rieradevall J, Castellari M, Muñoz P (2011) Comparing nutritional value and yield as functional units in the environmental assessment of horticultural production with organic or mineral fertilization: the case of Mediterranean cauliflower production. Int J Life Cycle Assess 16(1):12–26

Muñoz P, Antón A, Nuñez M, Paranjpe A, Ariño J, Castells X, Montera JI, Rieradevall J (2008) Comparing the environmental impacts of greenhouse versus open-field tomato production in the Mediterranean region. Acta Hortic 801(PART 2):1591–1596

Pagani M, Vittuari M, Falasconi L (2015) Does packaging matter? Energy consumption of pre-packed salads. Brit Food J 117(7):1961–1980

Riva G, Pedretti EF, Toscano G, Duca D, Pizzi A, Saltari S, Mengarelli C, Gardiman M, Flamini R (2013) Sustainability of grape-ethanol energy chain. J Agr Eng 44:595–599

Romero-Gámez M, Antón A, Soriano T, Suárez-Rey EM, Castilla N (2009) Environmental impact of greenbean cultivation: comparison of screen greenhouses vs. open field. J Food, Agric Environ 7(3–4):754–760

Romero-Gamez M, Audsley E, Suarez-Rey EM (2014) Life cycle assessment of cultivating lettuce and escarole in Spain. J Clean Prod 73:193–203

Russo G, De Lucia ZB (2008) Environmental evaluation by means of LCA regarding the ornamental nursery production in rose and sowbread greenhouse cultivation. Acta Hortic 801(PART 2):1597–1604

Saarinen M, Kurppa S, Virtanen Y, Usva K, Mäkelä J, Nissinen A (2012) Life cycle assessment approach to the impact of home-made, ready-to-eat and school lunches on climate and eutrophication. J Clean Prod 28:177–186

Tzortzakis NG (2009) Effect of pre-sowing treatment on seed germination and seedling vigour in endive and chicory. Hortic Sci 36(3):117–125

Wainwright H, Jordan C, Day H (2014) Horticulture: Plants for People and Places. In: Environmental impact of production horticulture, vol 1. Springer, Netherlands, pp 503–522

Weidema BPBC, Hischier R, Mutel C, Nemecek T, Reinhard J, Vadenbo CO, Wernet G (2013) The ecoinvent database: overview and methodology, Data quality guideline for the ecoinvent database version 3
Acknowledgements
The authors are grateful to the agricultural company Ambruosi and Viscardi for providing data and allowing the collection of the essential information to conduct this study.
Additional information
Responsible editor: Thomas Jan Nemecek
About this article
Cite this article
Ilari, A., Duca, D. Energy and environmental sustainability of nursery step finalized to "fresh cut" salad production by means of LCA. Int J Life Cycle Assess 23, 800–810 (2018). https://doi.org/10.1007/s11367-017-1341-8
Received:

Accepted:

Published:

Issue Date:
Keywords
Curly endive

Endive escarole

LCA

Mixed salad

Polystyrene tray container

Red chicory

Seedlings

Sugarloaf chicory