Abstract
Purpose
Life cycle assessment (LCA) software packages have proliferated and evolved as LCA has developed and grown. There are now a multitude of LCA software packages that must be critically evaluated by users. Prior to conducting a comparative LCA study on different concrete materials, it is necessary to examine a variety of software packages for this specific purpose. The paper evaluates five LCA tools in the context of the LCA of seven concrete mix designs (conventional concrete, concrete with fly ash, slag, silica fume or limestone as cement replacement, recycled aggregate concrete, and photocatalytic concrete).
Methods
Three key evaluation criteria required to assess the quality of analysis are adequate flexibility, sophistication and complexity of analysis, and usefulness of outputs. The quality of life cycle inventory (LCI) data included in each software package is also assessed for its reliability, completeness, and correlation to the scope of LCA of concrete products in Canada. A questionnaire is developed for evaluating LCA software packages and is applied to five LCA tools.
Results and discussion
The result is the selection of a software package for the specific context of LCA of concrete materials in Canada, which will be used to complete a full LCA study. The software package with the highest score is software package C (SP-C), with 44 out of a possible 48 points. Its main advantage is that it allows for the user to have a high level of control over the system being modeled and the calculation methods used.
Conclusions
This comparative study highlights the importance of selecting a software package that is appropriate for a specific research project. The ability to accurately model the chosen functional unit and system boundary is an important selection criterion. This study demonstrates a method to enable a critical and rigorous comparison without excessive and redundant duplication of efforts.
This is a preview of subscription content, log in to check access.
Access options
Buy single article
Instant access to the full article PDF.
US$ 39.95
Price includes VAT for USA
Subscribe to journal
Immediate online access to all issues from 2019. Subscription will auto renew annually.
US$ 99
This is the net price. Taxes to be calculated in checkout.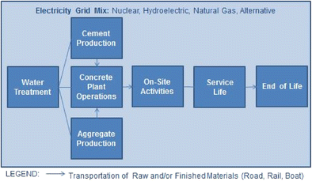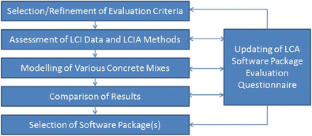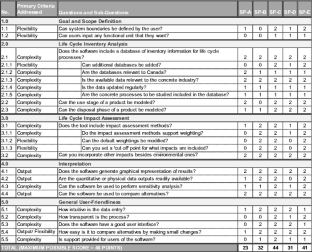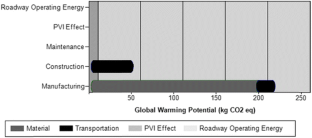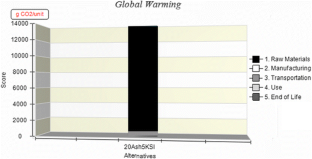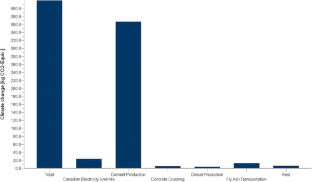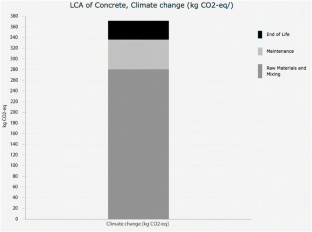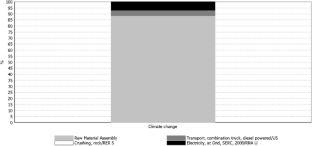 References
Anderson JE, Silman R (2009) A life cycle inventory of structural engineering design strategies for greenhouse gas reduction. Structural Engineering International, pp 283–288

Butler L, West J, Tighe S (2013) Effect of recycled concrete coarse aggregate from multiple sources on the hardened properties of concrete with equivalent compressive strength. Constr Build Mater 47:1292–1301

Canada Centre for Mineral & Energy Technology and Radian Canada Inc. (1993) Raw material balances, energy profiles, and environmental unit factor estimates: cement and structural concrete products. Ottawa: Athena Sustainable Materials Institute

Churchill C, Panesar D (2013) Life-cycle cost analysis of highway noise barriers designed with photocatalytic cement. Struct Infrastruct Eng: Maint, Manag, Life-Cycle Des Perform 9(10):983–998

Ciroth A (2012) Software for life cycle assessment. In Curran MA (ed) Life Cycle Assessment Handbook: a guide for environmentally sustainable products. Scrivener Publishing LLC, pp 143–158

Damineli BL, Kemeid FM, Aguiar PS, John VM (2010) Measuring the eco-efficiency of cement use. Cement Concrete Comp 32:55–562

De Barba Junior DJ, de Oliveira Gomes J, Bork CA (2014) Reliability of the sustainability assessment. 21st CIRP Conference on Life Cycle Engineering, pp 361–366

ecoinvent (2010) ecoinvent database, version 2.2. Zurich, Switzerland

ISO 14040 (1997) Life cycle assessment: principals and framework. Environmental Management. ISO

Jolliet O, Margni M, Charles R, Humbert S, Payet JR, Rosenbaum R (2003) IMPACT 2002+: a new life cycle impact assessment methodology. Int J Life Cycle Assess 8(6):324–330

Marceau M, Nisbet M, VanGeem M (2006) Life cycle inventory of Portland cement manufacture. Portland Cement Association, Skokie, IL, US

Nisbet MA, Marceau ML, VanGeem MG (2002) Environmental life cycle inventory of Portland cement concrete. Portland Cement Association, Portland Cement Association

Paulson JW, Succi G, Eberlein A (2004) An empirical study of open-source and closed-source software products. IEEE Trans Softw Eng 30(4):246–256

Prusinski JR, Marceau ML, VanGeem MG (2004) Life cycle inventory of slag cement concrete. Eighth CANMET/ACI Eighth CANMET/ACI International Conference on Fly Ash, Silica Fume, Slag and Natural Pozzolans in Concrete

Scientific Applications International Corporation (2006) Life cycle assessment—principles and practice. US Environmental Protection Agency, Cincinnati, Ohio

Weidema B, Wesnaes M (1996) Data quality management for life cycle inventories- an example of using data quality indicators. J Cleaner Prod 4(3–4):167–174
Acknowledgments
The authors acknowledge the Ministry of Transportation of Ontario-Highway Infrastructure Innovative Funding Program for supporting this research. Opinions expressed in this report are those of the authors and may not necessarily reflect the views and policies of the Ministry of Transportation of Ontario. The authors also acknowledge IC-IMPACTS.
Electronic supplementary material
Below is the link to the electronic supplementary material.
About this article
Cite this article
Seto, K.E., Panesar, D.K. & Churchill, C.J. Criteria for the evaluation of life cycle assessment software packages and life cycle inventory data with application to concrete. Int J Life Cycle Assess 22, 694–706 (2017). https://doi.org/10.1007/s11367-016-1060-6
Received:

Accepted:

Published:

Issue Date:
Keywords
Cement

Concrete

Evaluation criteria

Life cycle assessment

Life cycle inventory

Questionnaire

Software