Abstract
Purpose
The purpose of this study is to demonstrate that linear programming can support to define nutritionally healthy, environmentally friendly, and culturally acceptable diets, using the Low Lands as an illustrative example.
Methods
Our study quantifies the historical Dutch diet of 75 years ago, based on a cultural history research. We calculate the greenhouse gas emissions (GHGE) and land use (LU) of this diet, using actual life cycle assessment (LCA) data for the 206 most consumed products, and the health score, based on ten nutritional characteristics. In order to meet the current requirements, we optimize this diet for adult males using linear programming. We compare the diet with the present Dutch, Mediterranean, and New Nordic Diet.
Results and discussion
An optimized Low Lands Diet has the same healthy nutritional characteristics (Health Score 123) as the Mediterranean Diet (122) and results in a lower environmental impact than the Mediterranean and New Nordic Diet (higher Combined GHGE-LU Score 121 versus 90 and 91). GHGE are 2.60 kg CO2eq per day and LU 2.86 m2 * year per day.
Conclusions
Through applying the method of linear programming, it is possible to calculate an optimal diet for the Low Lands with a short cultural distance, that is, as healthy as and more sustainable than a transition to more foreign European diets.
This is a preview of subscription content, log in to check access.
Access options
Buy single article
Instant access to the full article PDF.
US$ 39.95
Price includes VAT for USA
Subscribe to journal
Immediate online access to all issues from 2019. Subscription will auto renew annually.
US$ 99
This is the net price. Taxes to be calculated in checkout.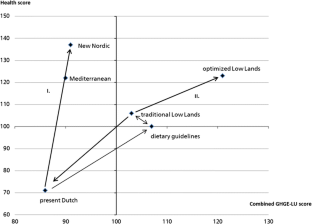 Notes
1.

Low Lands refer to the Rhine-Meuse delta, mainly characterized by fertile flat land at North Sea level, a temperate climate, and a sober, tolerant, former Calvinist, Dutch speaking culture. This study focusses on Dutch data.
References
Aiking H (2014) Protein production: planet, profit plus people? Am J Clin Nutr 100(suppl):483S–489S

Albala K (2003) Food in early modern Europe, 1500–1800. Greenwood Press, Westport, CT

Auestad N, Fulgoni VL (2015) What current literature tells us about sustainable diets: emerging research linking dietary patterns, environmental sustainability, and economics. Adv Nutr: An International Review Journal 6:19–36

Bach-Faig A et al (2011) Mediterranean diet pyramid today. Science and cultural updates. Public Health Nutr 14:2274–2284

Bajželj B et al (2014) Importance of food-demand management for climate mitigation. Nat Clim Chang 4:924–929

Bere E, Brug J (2009) Towards health-promoting and environmentally friendly regional diets? A Nordic example. Public Health Nutr 12:91–96

Bere E, Brug J (2010) Is the term 'Mediterranean diet' a misnomer? Public Health Nutr 13:2127–2129

Blonk H, Ponsioen T, Kool A, Marinussen M (2011) The Agri-footprint method; Methodological LCA framework, assumptions and applied data, 1st edn. Blonk Milieu Advies, Gouda, Netherlands

Bruinsma J (2009) The resource outlook to 2050, Chapter 6; 233–278. FAO, Rome

BSI (2008) PAS 2050:2008 Specification for the assessment of the life cycle greenhouse gas emissions of goods and services. British Standards, Carbon Trust, Defra, London, United Kingdom

BSI (2012). PAS 2050–1: 2012 Assessment of life cycle greenhouse gas emissions from horticultural products. British Standards, London, United Kingdom

Buchner B, Fischler C, Fitoussi J-P et al (2010) Double Pyramid: healthy food for people, sustainable food for the planet. Barilla Center for Food & Nutrition, Milan, Italy

CBS (2001) Two hundred years of statistics in time series 1800–1999 (In Dutch: Tweehonderd jaar statistiek in tijdreeksen 1800–1999). RuG, CBS. Netherlands, Amsterdam

CBS (2012) More people overweight. Web magazine, 04 July 2012, accessed 2014-04-16: http://www.cbs.nl/en-GB/menu/themas/gezondheid-welzijn/publicaties/artikelen/archief/2012/2012-3651-wm.htm

CBS, PBL, Wageningen UR (2013). Footprint of the Dutch consumption (in Dutch; indicator 0075, versie 06, 14 juni 2013). www.compendiumvoordeleefomgeving.nl. CBS, Den Haag; Planbureau voor de Leefomgeving, Den Haag/Bilthoven en Wageningen UR, Wageningen

Dantzig GMT (1997) Linear programming 1: introduction. Springer, New York, USA

De Boer J, Helms M, Aiking H (2006) Protein consumption and sustainability: diet diversity in EU-15. Ecol Econ 59:267–274

Dietary Guidelines Advisory Committee (DGAC) (2015) Scientific Report of the 2015 Dietary Guidelines Advisory Committee (Advisory Report). USDA, Department of Agriculture, Washington, USA

Durlinger B, Tyszler M, Scholten J, Broekema R, Blonk H (2014) Agri-Footprint; a Life Cycle Inventory database covering food and feed production and processing. Conference paper LCA in Food, San Francisco

Dutilh C, Kramer KJ (2000) Energy consumption in the food chain. Ambio 29:98–101

EFSA (2015) The EFSA Comprehensive European Food Consumption Database. http://www.efsa.europa.eu/en/datexfoodcdb/datexfooddb

FAO (2010) Biodiversity and sustainable diets united against hunger. In: International Scientific Symposium, Rome. FAO Headquarters, Rome, Italy

Fidanza F, Alberti A (2005) The healthy Italian Mediterranean Diet temple food guide. Nutr Today 40:71–78

Food SCP (2012) ENVIFOOD protocol environmental assessment of food and drink protocol. Draft Version 0.1:1–50

Garnett T (2011) Where are the best opportunities for reducing greenhouse gas emissions in the food system (including the food chain)? Food Policy 36. Supplement 1:S23–S32

Hahnemann T (2010) Eat your way to health and happiness with the Nordic diet. Quadrille Publishing Limited, London, United Kingdom

Health Council (2001) Nutritional standards for energy, protein, fat and carbohydrates (In Dutch: Voedingsnormen energie, eiwitten, vetten en verteerbare koolhydraten). Gezondheidsraad, The Hague, Netherlands

Health Council (2006) Guidelines for Good Nutrition 2006 (In Dutch: Richtlijnen Goede Voeding 2006). Gezondheidsraad, The Hague, Netherlands

Health Council (2009) Towards an adequate intake of vitamins and minerals (In Dutch: Naar een voldoende inname van vitamines en mineralen). Gezondheidsraad, The Hague, Netherlands

Health Council (2011) Guidelines for a healthy diet: the ecological perspective. Gezondheidsraad, The Hague, Netherlands

Heller MC, Keoleian GA, Willett WC (2013) Toward a life cycle-based, diet-level framework for food environmental impact and nutritional quality assessment: a critical review. Environ Sci Technol 47:12632–12647

Jobse-Van Putten J (1995) Simple but nutritious (in Dutch; Eenvoudig maar voedzaam. Cultuurgeschiedenis van de dagelijkse maaltijd in Nederland), 1st edn. Uitgeverij Sun BV, Nijmegen, Netherlands

JRC (2010) ILCD handbook: general guide for life cycle assessment—detailed guidance European Commission, Joint Research Centre, Institute for Environment and Sustainability. Ispra, Italy

Kennedy ET, Ohls J, Carlson S, Fleming K (1995) The healthy eating index: design and applications. J Am Diet Assoc 95:1103–1108

Keys A (1970) Coronary heart disease in seven countries. Circulation Suppl 41:1–211

Keys A (1980) Seven countries: a multivariate analysis of death and coronary heart disease. Ann Intern Med 93:786–787

Knibbe MT (2001) The development of the nutritional situation in The Netherlands 1851–1950 (In Dutch: De ontwikkeling van de voedselsituatie in Nederland, 1851–1950). NEHA yearbook 64:200–226

Kreijl C, Knaap A, Busch M, Havelaar A, Kramers P, Kromhout D, Fv L, Hv L-L, Ocke M, Verkley H (2004) Our food measured (In Dutch: Ons eten gemeten). RIVM, Bilthoven, Netherlands, p 365

Lampert M (2014) Mentality Milieus, from http://www.motivaction.nl/mentality

Laurent A, Olsen SI, Hauschild MZ (2010) Carbon footprint as environmental performance indicator for the manufacturing industry. CIRP Ann Manuf Technol 59:37–40

Livsmedelsverket (2009) The National Food Administration's environmentally effective food choices. Livsmedelverket, National Food Administration Sweden, Stockholm, Sweden

Macdiarmid JI (2013) Is a healthy diet an environmentally sustainable diet? Proc Nutr Soc 72:13–20

Macdiarmid JI, Kyle J, Horgan G, Loe J, Fyfe C, Johnstone A, McNeill G (2011) Livewell: a balance of healthy and sustainable food choices. , Rowett Institute of Nutrition and Health Aberdeen, United Kingdom

Macdiarmid JI, Kyle J, Horgan GW, Loe J, Fyfe C, Johnstone A, McNeill G (2012) Sustainable diets for the future: can we contribute to reducing greenhouse gas emissions by eating a healthy diet? Am J Clin Nutr 96:632–639

Maillot M, Vieux F, Amiot MJ, Darmon N (2010) Individual diet modeling translates nutrient recommendations into realistic and individual-specific food choices. Am J Clin Nutr 91:421–430

Marinussen M, Kramer G, Pluimers J, Blonk H (2012) The environmental impact of our food an analysis based on the food consumption survey 2007–2010 (in Dutch). Blonk Consultants, Gouda, Netherlands

Mithril C, Dragsted LO, Meyer C, Blauert E, Holta MK, Astrup A (2012) Guidelines for the New Nordic Diet. Public Health Nutr 15(10):1941–7

Mithril C, Dragsted LO, Meyer C, Tetens I, Biltoft-Jensen A, Astrup A (2013) Dietary composition and nutrient content of the New Nordic Diet. Public Health Nutr 16:777–785

Netherlands Nutrition Centre (2008) Dutch Food Tables 2008 (Nederlandse Voedingsmiddelentabel 2008) vol nr 200. Voedingscentrum, The Hague, Netherlands

Netherlands Nutrition Centre (2011) Guidelines for food choices (In Dutch: Richtlijnen Voedselkeuze). pp. 61. Voedingscentrum, The Hague, Netherlands

Norden (2014) Nordic Nutrition Recommendations 2012; Integrating nutrition and physical activity. Nordic Council of Ministers, Copenhagen, Denmark

Pereira HM et al (2010) Scenarios for global biodiversity in the 21st century. Science 10:1503–1509

Poulsen SK, Due A, et al (2014) Health effect of the New Nordic Diet in adults with increased waist circumference: a 6-mo randomized controlled trial. Am J Clin Nutr 99(1):35–45

Rockström J et al (2009) A safe operating space for humanity. Nature 461:472–475

Saxe H (2014) The New Nordic Diet is an effective tool in environmental protection: it reduces the associated socieconomic cost of diets. Am J Clin Nutr 99:1117–1125

Saxe H, Larsen TM, Mogensen L (2013) The global warming potential of two healthy Nordic diets compared with the average Danish diet. Climate Change 116:249–262

Schosler H, de Boer J, Boersema JJ, Aiking H (2015) Meat and masculinity among young Chinese, Turkish and Dutch adults in the Netherlands. Appetite 89:152–159

Sevenster MN, Blonk H, Flier S (2010) Environmental analyses food and food losses for priority chain oriented waste streams. (In Dutch Milieuanalyses Voedsel en Voedselverliezen ten behoeve van prioritaire stromen ketengericht afvalbeleid). CE Delft/ Blonk Milieu Advies, Delft, Netherlands

Steering Group (2010) Food for Tomorow, Proposal for Finland's National Food Strategy. Minister of Agriculture and Forestry, Helsinki, Finland

Stehfest E, Bouwman L, van Vuuren D, den Elzen M, Eickhout B, Kabat P (2009) Climate benefits of changing diet. Clim Change 95:83–102

Tilman D, Clark M (2014) Global diets link environmental sustainability and human health. Nature 515(7528):518–522

Trichopoulou A et al (2005) Modified Mediterranean diet and survival: EPIC-elderly prospective cohort study. BMJ 330:991–997

Tyszler M, Kramer GFH, Blonk H (2015). Just eating healthier is not enough: studying the environmental impact of different diet scenarios for Dutch women (31–50 years old) by linear programming. Int J of Life Cycle Assess: 1–9

Uusitupa M et al (2013) Effects of an isocaloric healthy Nordic diet on insulin sensitivity, lipid profile and inflammation markers in metabolic syndrome—a randomized study (SYSDIET). J Intern Med 274:52–66

Van Dooren C, Marinussen M, Blonk H, Aiking H, Vellinga P (2014) Exploring dietary guidelines based on ecological and nutritional values: a comparison of six dietary patterns. Food Policy 44:36–46

Van Dooren C, Tyszler M, Kramer G, Aiking H, Vellinga P (2015) Combining low price, low climate impact and high nutritional value in one basket: example of diet optimisation by linear programming. Sustainability 7:12837–12855

Van Kreijl CF, Knaap AGAC, van Raaij JMA (2006) Our food, our health: healthy diet and safe food in the Netherlands. National Institute for Public Health and the Environment, Bilthoven, Netherlands

Van Otterloo AH (1990) Eating and appetite in the Netherlands [1840–1990], a historical-sociological study. (In Dutch: Eten en eetlust in Nederland [1840–1990], een historisch-sociologische studie). vol 1. Uitgeverij Bert Bakker, Amsterdam, Netherlands

Van Rossum CTM, Fransen HP, Verkaik-Kloosterman J, Buurma-Rethans EJM, Ocke MC (2011) Dutch National Food Consumption Survey 2007–2010: diet of children and adults aged 7 to 69 years. RIVM, Bilthoven, Netherlands

Vringer K, Benders R, Wilting H, Brink C, Drissen E, Nijdam D, Hoogervorst N (2010) A hybrid multi-region method (HMR) for assessing the environmental impact of private consumption. Ecol Econ 69:2510–2516

Wegener Sleeswijk A, Kleijn R, Van Zeijts H, Reus J, Meeusen - van Onna M, Leneman H, Sengers H (1996) Application of LCA to agricultural products. CML, Leiden, Netherlands

WHO (2003) Diet, nutrition and the prevention of chronic diseases. WHO technical report series, WHO, Geneva, Switserland

Willett WC (2001) Eat, drink, and be healthy: the Harvard Medical School guide to healthy eating. Harvard University, Harvard, USA

Willett W, Sacks F, Trichopoulou A, Drescher G, Ferro-Luzzi A, Helsing E, Trichopoulos D (1995) Mediterranean diet pyramid: a cultural model for healthy eating. Am J Clin Nutr 61:1402S–1406
Additional information
Responsible editor: Llorenc Milà i Canals
About this article
Cite this article
van Dooren, C., Aiking, H. Defining a nutritionally healthy, environmentally friendly, and culturally acceptable Low Lands Diet. Int J Life Cycle Assess 21, 688–700 (2016). https://doi.org/10.1007/s11367-015-1007-3
Received:

Accepted:

Published:

Issue Date:
Keywords
Greenhouse gas emissions

Historical Dutch diet

New Nordic Diet

Linear programming

Mediterranean Diet