Abstract
Purpose
Representative, consistent and up-to-date life cycle inventories (LCI) of electricity supply are key elements of ecoinvent as an LCI background database since these are often among the determining factors with regard to life cycle assessment (LCA) results. ecoinvent version 3 (ev3) offers new LCI data of power supply (electricity markets) in 71 geographies. This article gives an overview of these electricity markets and discusses new ecoinvent features in the context of power supply.
Methods
The annual geography- and technology-specific electricity production for the year 2008 specifies the technology shares on the high-, medium- and low-voltage level electricity markets. Data are based on IEA statistics. Different voltage levels are linked by transformation activities. Region-specific electricity losses due to power transmission and voltage transformation are considered in the market and transformation activities. The majority of the 71 power markets are defined by national boundaries. The attributional ecoinvent system model in ev3 with linking to average current suppliers results in electricity markets supplied by all geography-specific power generation technologies and electricity imports, while the consequential system model generates markets only linked to unconstrained suppliers.
Results and discussion
The availability of LCI data for 71 electricity markets in ev3 covering 50 countries reduces the "Rest-of-the-World" electricity supply not covered by country- or region-specific inventories to 17 % for the year 2008. Specific power supply activities for all countries contributing more than 1 % to global electricity production are available. The electricity markets show large variations concerning contributions from specific technologies and energy carriers. Imports can substantially change the national/regional power mix, especially in small markets. Large differences can also be observed between the electricity markets in the attributional and the consequential database calculation. Region-specific total power losses between production on the high voltage level and consumer on the low voltage level are on the order of 2.5–23 %.
Conclusions
Electricity supply mixes (electricity markets) in the ecoinvent database have been updated and substantially extended for v3. Inventories for electricity supply in all globally important economies are available with geography-specific technology and market datasets which will contribute to increasing quality and reducing uncertainties in LCA studies worldwide and to allow more accurate estimation of environmental burdens from global production chains. Future work should focus on improving the details of country-specific data, implementation of more countries into the database, splitting of large countries into smaller regions and on developing a more sophisticated approach specifying country-specific electricity mixes in consequential system models.
This is a preview of subscription content, log in to check access.
Access options
Buy single article
Instant access to the full article PDF.
US$ 39.95
Price includes VAT for USA
Subscribe to journal
Immediate online access to all issues from 2019. Subscription will auto renew annually.
US$ 99
This is the net price. Taxes to be calculated in checkout.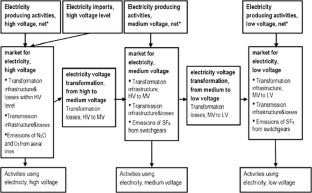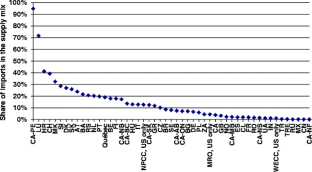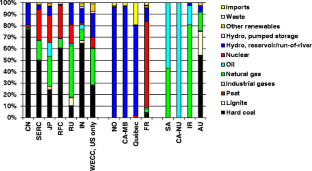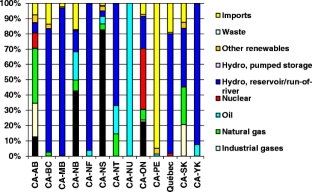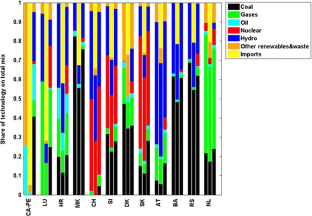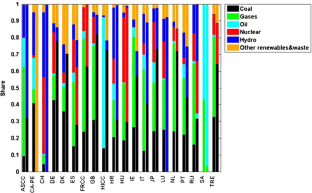 Notes
1.

Because of a special linking mode for the production mixes in the database, this rule does not apply to them and overlapping is possible according to Weidema et al. (2013).

2.

Argentina, Paraguay, Venezuela, Uruguay, Estonia, Bhutan, Azerbaidjan, Georgia, Turkmenistan
References
Bousquin J, Gambeta E, Esterman M, Rothenberg S (2012) Life cycle assessment in the print industry. J Ind Ecol 16:S195–S205

Frischknecht R, Faist Emmenegger M, Bauer C, Dones R (2007) Strommix und Stromnetz. In: Sachbilanzen von Energiesystemen: Grundlagen für den ökologischen Vergleich von Energiesystemen und den Einbezug von Energiesystemen in Ökobilanzen für die Schweiz (Ed. Dones R.). ecoinvent report No. 6, v2.0. Paul Scherrer Institut, Villigen / Swiss Centre for Life Cycle Inventories, Duebendorf, Switzerland

Hawkins T, Gausen O, Strømman A (2012) Environmental impacts of hybrid and electric vehicles—a review. Int J Life Cycle Assess 17(8):997–1104

Heinonen J, Junnila S (2011) Case study on the carbon consumption of two metropolitan cities. Int J Life Cycle Assess 16(6):569–579

Hischier R, Baudin I (2010) LCA study of a plasma television device. Int J Life Cycle Assess 15(5):428–438

IEA, OECD (2010) Electricity Information 2010. International Energy Agency, Paris Cedex, France

IEA, OECD (2011) Electricity and heat generation. International Energy Agency (IEA), Paris Cedex (FR), Electricity information statistics (database), retreived from: http://www.oecd-ilibrary.org/energy/

IEA (2012) IEA Home - Statistics and Balances. International Energy Agency. http://www.iea.org/stats/defs/sources/coal.asp. Accessed 24.01.213

ISO (2006a) ISO 14040. Environmental management—life cycle assessment—prinicples and framework. International Organisation for Standardisation (ISO)

ISO (2006b) ISO 14044. Environmental management - life cycle assessment - requirements and guidelines. International Organisation for Standardisation (ISO)

Itten R, Frischknecht R, Stucki M (2012) Life Cycle Inventories of Electricity Mixes and Grid. ESU-services Ltd., Uster, Switzerland

Kendall A, McPherson E (2012) A life cycle greenhouse gas inventory of a tree production system. Int J Life Cycle Assess 17(4):444–452

Lund H, Mathiesen B, Christensen P, Schmidt J (2010) Energy system analysis of marginal electricity supply in consequential LCA. Int J Life Cycle Assess 15(3):260–271

Mathiesen BV, Muenster M, Fruergaard T (2009) Uncertainties related to the identification of the marginal energy technology in consequential life cycle assessments. J Clean Prod 17(15):1331–1338

Ménard M, Dones R, Gantner U (1998) Strommix in Ökobilanzen: Auswirkungen der Strommodellwahl für Produkt- und Betriebs-Ökobilanzen. PSI-Bericht No. 98–17. Paul Scherrer Institut, Villigen, Switzerland

Mendoza J-M, Oliver-Solà J, Gabarrell X, Josa A, Rieradevall J (2012) Life cycle assessment of granite application in sidewalks. Int J Life Cycle Assess 17(5):580–592

Milà i Canals L, Sim S, García-Suárez T, Neuer G, Herstein K, Kerr C, Rigarlsford G, King H (2011) Estimating the greenhouse gas footprint of Knorr. Int J Life Cycle Assess 16(1):50–58

Mohr N, Meijer A, Huijbregts M, Reijnders L (2009) Environmental impact of thin-film GaInP/GaAs and multicrystalline silicon solar modules produced with solar electricity. Int J Life Cycle Assess 14(3):225–235

PAS (2011) PAS 2050:2011. Specification for the assessment of the life cycle greenhouse gas emissions of goods and services. British Standards Institute. ICS code: 13.030.40, ISBN 978 0 580 71382 8

Schmidt J, Thrane M, Merciai S, Dalgaard R (2011) Inventory of country specific electricity in LCA - Consequential and attributional scenarios. Methodology report v2. 2-0 LCA consultants, Aalborg http://lca-net.com/publications/show/inventory-country-specific-electricity-lca-india/

Teehan P, Kandlikar M (2012) Sources of Variation in Life Cycle Assessments of Desktop Computers. J Ind Ecol 16:S182–S194

Torrellas M, Antón A, López J, Baeza E, Parra J, Muñoz P, Montero J (2012) LCA of a tomato crop in a multi-tunnel greenhouse in Almeria. Int J Life Cycle Assess 17(7):863–875

Treyer K, Bauer C (2013) Life cycle inventories of electricity generation and power supply in version 3 of the ecoinvent database—part I: electricity generation. Int J Life Cycle Assess. doi:10.1007/s11367-013-0665-2

Weidema BP, Bauer C, Hischier R, Mutel C, Nemecek T, Reinhard J, Vadenbo CO, Wernet G (2013) Overview and methodology. Data quality guideline for the ecoinvent database version 3. St. Gallen: The ecoinvent Centre
Acknowledgments
The authors express their gratitude to René Itten, Rolf Frischknecht and Matthias Stucki from treeze for the preparation of the report on production volumes in all required countries; and to Pablo Tirado and Pascal Lesage from CIRAIG, Canada, for supply of high quality inventory data for the individual Canadian provinces/territories.
Additional information
Responsible editor: Niels Jungbluth
Electronic supplementary material
Below is the link to the electronic supplementary material.
About this article
Cite this article
Treyer, K., Bauer, C. Life cycle inventories of electricity generation and power supply in version 3 of the ecoinvent database—part II: electricity markets. Int J Life Cycle Assess 21, 1255–1268 (2016). https://doi.org/10.1007/s11367-013-0694-x
Received:

Accepted:

Published:

Issue Date:
Keywords
Country specific

ecoinvent v3

Electricity markets

Electricity mix