Abstract
Purpose
The sale and distribution of books are activities that have changed through increased use of the internet. The main aim of this paper was to determine the potential environmental impacts of paper books and identify key issues determining the magnitude of those impacts. A second aim was to study the environmental difference between a paper book bought in a traditional bookshop and through an internet bookshop. In addition, areas with a lack of data and major uncertainties were to be noted.
Materials and methods
A screening life cycle assessment was performed on an average hardback novel produced and read in Sweden. The data used were general data from Ecoinvent 2.0 and site-specific data from companies participating in the study, whenever average data were not available.
Results and discussion
The results showed the most important processes to be pulp and paper production. However, if a substantial distance was travelled by car, to buy a book or collect it, this had a major influence on the environmental performance. Comparing the two bookshop alternatives, the results showed a slight benefit for the internet bookshop due to fewer books being returned to the publisher and the avoidance of energy use at the traditional bookshop. The buyer of a book could significantly influence the total impact by choosing to walk to the bookshop or to combine the trip with several other activities to decrease the impact of the travel per activity performed. When books ordered via the internet were sent by postal services directly to the end consumer, the climate change impact was lowered.
Conclusions
This study showed that, in addition to the paper used, the way books are bought and distributed, including possible personal transportation, can significantly affect the total environmental impact of paper books. The impact per book read can be significantly decreased by sharing books with others.
This is a preview of subscription content, log in to check access.
Access options
Buy single article
Instant access to the full article PDF.
US$ 39.95
Price includes VAT for USA
Subscribe to journal
Immediate online access to all issues from 2019. Subscription will auto renew annually.
US$ 99
This is the net price. Taxes to be calculated in checkout.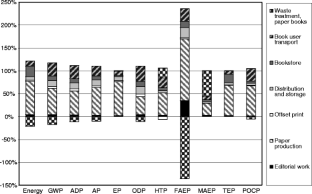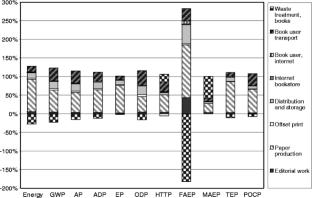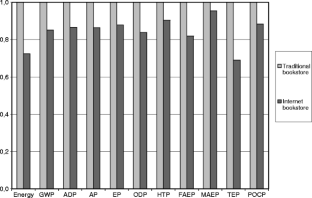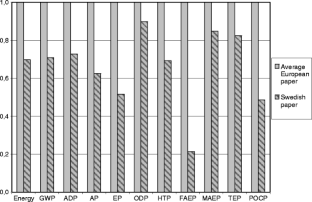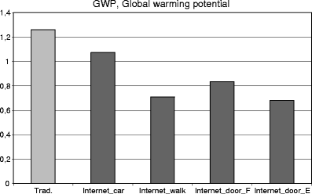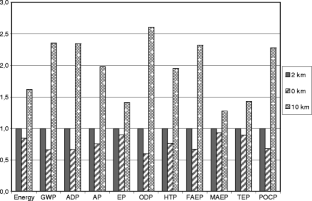 References
Baumann H, Tillman A-M (2004) A hitch-hikers guide to life cycle assessment. Studentlitteratur, Lund

Berkhout F, Hertin J (2004) De-materialising and re-materialising: digital technologies and the environment. Futures 36:903–920

Borggren C, Moberg Å (2009) Pappersbok och elektronisk bok på läsplatta—en jämförande miljöbedömning (in Swedish). Report from the KTH Centre for Sustainable Communications TRITA-SUS 2009:2, Stockholm. ISSN 1654-479X

Enroth M (2006) Developing tools for sustainability management in the graphic arts industry, Dissertation. Royal Institute of Technology, Stockholm, Sweden

Enroth M (2009) Environmental impact of printed and electronic teaching aids, a screening study focusing on fossil carbon dioxide emission. In: Advances in printing and media technology. Proceedings of the 36th International Research Conference of IARIGAI, vol. 36, Darmstadt: IARIGAI

Finnveden G, Hauschild M, Ekvall T, Guinée J, Heijungs R, Hellweg S, Koehler A, Pennington D, Suh S (2009) Recent developments in life cycle assessment. J Environ Manag 91:1–21

Frischknecht R, Jungbluth N, Althaus H-J, Doka G, Heck T, Hellweg S, Hischier R, Nemecek T, Rebitzer G, Spielmann M, Wernert G (2007a) Overview and methodology. Ecoinvent report No. 1 Swiss Centre for Life Cycle Inventories, Dübendorf

Frischknecht R, Jungbluth N, Althaus H-J, Bauer C, Doka G, Dones R, Hischier ., Hellweg S, Humbert S, Köllner T, Loerincik Y, Margni M and Nemecek T (2007b) Implementation of life cycle impact assessment methods. Ecoinvent report No. 3, v2.0. Swiss Centre for Life Cycle Inventories, Dübendorf

Guinée JB, Gorrée M, Heijungs R, Huppes G, Kleijn R, de Koning A, van Oers L, Wegener Sleeswijk A, Suh S, Udo de Haes HA, de Bruijn JA, van Duin R, Huijbregts MAJ (2002) Handbook on life cycle assessment: operational guide to the ISO standards, Series: eco-efficiency in industry and science. Kluwer Academic Publishers, Dordrecht

Hischier R (2007) Life cycle inventories of packagings and graphical papers. ecoinvent-Report No. 11, Swiss Centre for Life Cycle Inventories, Dübendorf

Holmen Paper (2008) PaperProfile Holmen Book. Environmental product declaration for paper. Date of issue, April 25, 2008

ISO (2006) ISO 14040 International Standard. In: Environmental management—life cycle assessment—principles and framework. International Organisation for Standardization, Geneva

Kozak G (2003) Printed scholarly books and E-book reading devices: a comparative life cycle assessment of two book options. Centre for sustainable systems. University of Michigan, Michigan, Report No. CSS03-04

Larsen HF, Hansen MS, Hauschild M (2006) Life cycle assessment of offset printed matter with EDIP97: how important are emissions of chemicals? J Clean Prod 17:115–128

Moberg Å, Borggren C, Finnveden G (2011) Books from an environmental perspective—part 2: e-books as an alternative to paper books. Int J Life Cycle Assess. doi:10.1007/s11367-011-0255-0

Posten Meddelande AB (2007a) Miljövarudeklaration ekonomibrev—När det inte är så bråttom (In Swedish). EPD Reg. nr. S-P-00126 DS_6105.07.1

Posten Meddelande AB (2007b) Miljövarudeklaration 1:a klass brevet—Framme nästa dag (In Swedish). EPD Reg. nr. S-P-00125 DS_6104.07.1

Pré Consultants (2008) SimaPro 7, Amersfoort

SCB (2007) Energistatistik för lokaler 2006 (in Swedish). ISSN 1404-5869 Serie EN–Energi. November 2007, p 24

Smederöd J (2003) Analys av hur Posten Sverige AB:s omstrukturering av servicenätet har påverkat kundernas miljöbelastning (in Swedish). Masters Thesis at Lund University

Sveriges avfallsportal (2009) www.sopor.nu. Accessed April 2009

Taylor C, Koomey J (2008) Estimating energy use and greenhouse gas emissions of internet advertising. February 14, 2008, Working paper for IMC2

Tillman A-M (2000) Significance of decision-making for LCA methodology. Environ Impact Asses Rev 20:113–123

Williams E, Tagami T (2003) Energy use in sales and distribution via e-commerce and conventional retail. A case study of the Japanese book sector. J Ind Ecol 6(2):99–114
Acknowledgements
This screening LCA study was performed in collaboration with company representatives from the publisher Bonnierförlagen, the internet shop Adlibris and Elib, a producer and distributor of digital books, and the Swedish Media Association with experience of e-paper devices. These stakeholders participated in the definition of the goal and scope, data gathering and the interpretation of the results. The authors wish to thank the participating companies and organisations and the Vinnova Centre of Excellence for Sustainable Communications for funding this study. In addition, several people were very helpful in providing information on different processes, etc. The authors are most grateful for their assistance. More information on the scope of the study and the inventory data are given in Borggren and Moberg (2009) with appendices.
Additional information
Preamble
Developments in information and communication technology (ICT) are providing new solutions in different fields of society. The conditions for the media sector are changing and ICT is part of the reason for this. Traditional ways of providing and consuming media content are being complemented or challenged by electronic alternatives. This study examined the potential environmental impact of books, comparing traditional paper books sold in traditional bookshops, traditional paper books sold via internet bookshops and e-books sold via internet books stores and read on an e-book reader. The results of the screening LCA are presented in two papers, the first focusing on paper books from traditional and internet bookshops and the second on the e-book compared with the paper book.
About this article
Cite this article
Borggren, C., Moberg, Å. & Finnveden, G. Books from an environmental perspective—Part 1: environmental impacts of paper books sold in traditional and internet bookshops. Int J Life Cycle Assess 16, 138–147 (2011). https://doi.org/10.1007/s11367-011-0254-1
Received:

Accepted:

Published:

Issue Date:
Keywords
Book

Distribution

E-commerce

Internet

Printed media