Abstract
Purpose
The objective of this paper is to describe the process of development of an appropriate methodology for a type III label that can be used by a trade association, namely "Sector Environmental Product Declaration" (EPD). The study starts from the definition of required data, data collection procedures, sample selection criteria etc. With this aim, the application of the scheme on a case study has been conducted, regarding the cement production in Italy.
Methods
The methodology has been selected coherently with the requirements of the International EPD® system. The basis for the definition of the methodology of the study was the document Product Category Rules 2004:01 for the Product Group "Cement". Since these rules were prepared before the introduction of the International EPD® system, the guidelines have been refined in order to suit the revised programme instructions, whose spectrum includes the innovative case of the Sector EPD.
Results and discussion
A pre-inventory analysis, aimed to the sample selection for the case study presented, has been conducted. The elements influencing the selection of plants and products were geographical position of plants and eventual company/group affiliation, plant productivity, process technology type, fuels and raw materials use and product typology. Seven plants have been identified. The environmental impacts are referred to the production of 1 ton of representative average cement. "Representative" is referred to the selection of the panel of typical cement plants, whilst "average" refers to data source. In particular, for every selected plant, the analysis has yielded the results related to an average cement, including all the typologies there produced; then, the average profile is derived. It can be remarked that the relative contribution of the different life cycle phases remains almost unchanged for every impact category. Apart from waste production, the distribution appears rather uniform. The amount of clinker results as the main potential source of variation for the impacts, as regards the different cement typologies.
Conclusions
It can be concluded that a targeted analysis of the sample representativeness is required to support the robustness of the selection in view of the successive verification process. The incoming revision of the Product Category Rules, in order to extend the application spectrum to product-type declarations, will enable the compilation of the life cycle assessment results presented in this paper in a Sector EPD for the case study.
This is a preview of subscription content, log in to check access.
Access options
Buy single article
Instant access to the full article PDF.
US$ 39.95
Price includes VAT for USA
Subscribe to journal
Immediate online access to all issues from 2019. Subscription will auto renew annually.
US$ 99
This is the net price. Taxes to be calculated in checkout.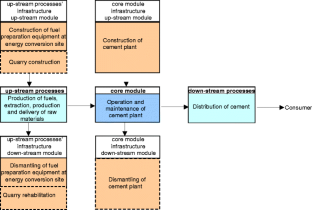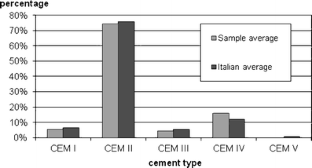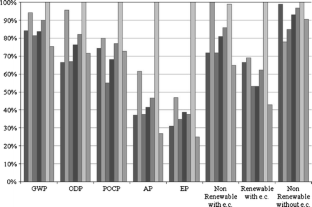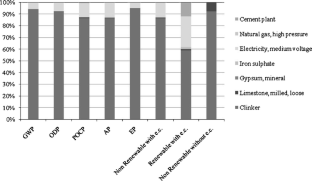 References
AITEC (2007) 2006 annual report. Italian Cement Engineering and Economic Association, Rome. http://web.aitecweb.com/AREA%20ECONOMICA/RELAZIONE/annual2006.PDF

Badino V, Baldo GL (1998) LCA, Istruzioni per l'Uso. Esculapio Editore, Bologna

Badino V, Blengini GA, Dinis Da Gama C (2003) Sustainable Development Indicators as a tool for monitoring unfair international market competition of mineral commodities. Proceedings of Conf. SDIMI 2003, Milos, Greece, pp 211–216

Badino V, Blengini, GA, Zavaglia K (2006) The contribution of the extractive activity to the life cycle impacts of buildings. Proceedings of Conf. MPES2006, Torino, Italy, pp 759–764

Del Borghi A, Gallo M (2008) EPD Statistics: the effect of the launch of the international EPD® system. EPD® newsletter, No. 3

Del Borghi A, Strazza C (2008) Life cycle assessment of cement production in Italy. Internal report, CE.Si.S.P.—University of Genoa, Italy

Du Plessis C (2001) Agenda 21 for sustainable construction in developing countries. CSIR Boutek, Pretoria

Erlandsson M, Borg M (2003) Generic LCA—methodology applicable for buildings, constructions and operation services—today practice and development needs. Build Environ 38:919–938

EU (2003) Directive 2003/87/EC of the European Parliament and of the Council of 13 October 2003 establishing a scheme for greenhouse gas emission allowance trading within the Community and amending Council Directive 96/61/EC. Official Journal of the European Union L275, 32–46

European Commission, Directorate-General JRC, Institute for Prospective Technological Studies, Technologies for Sustainable Development, European IPPC Bureau (2000) Integrated Pollution Prevention and Control (IPPC) reference document on best available techniques in the cement and lime manufacturing industries. European Commission, Seville

European Commission (2003) Identifying products with the greatest potential for environmental improvement. http://ec.europa.eu/environment/ipp/identifying.htm

Fet AM, Skaar C (2006) Eco-labeling, product category rules and certification procedures based on ISO 14025 requirements. Int J Life Cycle Assess 11(1):49–54

General Programme Instructions for Environmental Product Declarations, EPD (2008) http://www.environdec.com/documents/pdf/EPD_instructions_080229.pdf

Grahl B, Schmincke E (2007) The part of LCA in ISO type III environmental declarations. Int J Life Cycle Assess, Spec Issue 12(1):38–45

Houghton JT, Meira Filho LG, Lim B, Treanton K, Mamaty I, Bonduki Y, Griggs DJ, Callander BA (1996) Revised IPCC Guidelines for National Greenhouse Gas Inventories—reporting instructions, volume 1, IPPCC/OECD/IEA, Intergovernmental Panel on Climate Change. UK Meteorological Office, Bracknell

Introduction, Intended Uses and Key Programme Elements for Environmental Product Declarations, EPD (2008) http://www.environdec.com/documents/pdf/EPD_introduction_080229.pdf

ISO (2006a) Environmental management, life cycle assessment, European Standard EN ISO14040–14044. International Organization for Standardization, Geneva

ISO (2006b) Environmental labels and declarations, type III environmental declarations, principles and procedures, European Standard ISO 14025. International Organization for Standardization, Geneva

Klöpffer W (2005) Life cycle assessment in the mirror of Int J LCA. Int J Life Cycle Assess 10(6):379–380

PCR 2004:01 Product-Category Rules for preparing an environmental product declaration (EPD) for Product Group "Cement". http://www.environdec.com/pcr/pcr0401e.pdf

PRé Consultants (2008) SimaPro 7.1.5. http://www.pre.nl

Requirements for an International EPD Scheme, INTEND Project (2005) http://www.intendproject.net

Schmincke E, Grahl B (2006) Umwelteigenschaften von Produkten. Die Rolle der Ökobilanz in ISO Typ III Umweltdeklarationen. Umweltwiss Schadst Forsch 18(3):185–192

Supporting Annexes for Environmental Product Declarations, EPD (2008) http://www.environdec.com/documents/pdf/EPD_annexes_080229.pdf

WBCSD (2005) The cement CO2 protocol. World Business Council for Sustainable Development, Geneva
About this article
Cite this article
Strazza, C., Del Borghi, A., Blengini, G.A. et al. Definition of the methodology for a Sector EPD (Environmental Product Declaration): case study of the average Italian cement. Int J Life Cycle Assess 15, 540–548 (2010). https://doi.org/10.1007/s11367-010-0198-x
Received:

Accepted:

Published:

Issue Date:
Keywords
Cement

Environmental Product Declaration

ISO 14025

ISO 14040

Life cycle assessment

Sector EPD

Trade association

Type III label