Abstract
In January 2012, Beijing began releasing air quality report of PM 2.5. The move has been credited as a major breakthrough in China's environmental governance as it is argued that online environmental activists in China were the major driving force behind it. Since then, the issue of air pollution has reemerged as one of the hottest issues and a series of new policies addressing air pollution have been adopted. Facing a relatively new phenomenon (wumai) and heightened public concerns, to what extent is the state still capable of guiding the pubic perception and opinions about the issue? By analyzing the discourse of air pollution in People's Daily and comparing it with public opinion survey data, the paper finds that the state's ability to guide public opinion is rather limited, indicating that opportunities do exist for civil society to play a bigger role in China's environmental governance.
This is a preview of subscription content, log in to check access.
Access options
Buy single article
Instant access to the full article PDF.
US$ 39.95
Price includes VAT for USA
Subscribe to journal
Immediate online access to all issues from 2019. Subscription will auto renew annually.
US$ 99
This is the net price. Taxes to be calculated in checkout.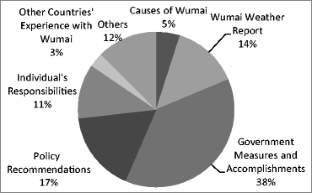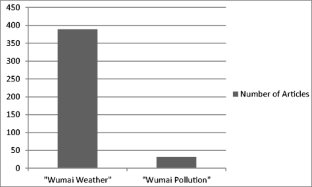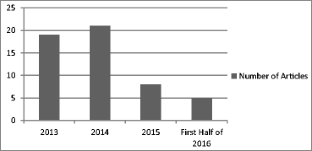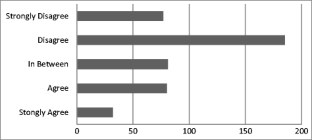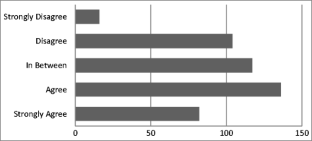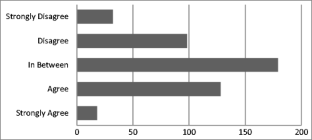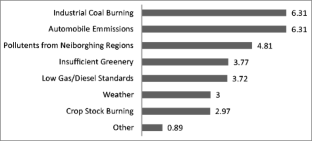 Notes
1.

The 2008 Beijing Olympics was the last time the issue of urban air pollution attracted wide-ranging attention but social media then were not launched yet in China.

2.

On Feb 29, 2012, the State Council approved the first national environmental standard for PM2.5 at 25μg/m3 annual average. Later in December, in the 12th five-year plan, three key regions (Beijing-Tianjin-Hebei, Yangtze River Delta and Pearl River Delta) along with 10 city clusters were identified and required to provide a comprehensive plan for air pollution prevention and control. In June 2013, the State Council announced Ten Measures on Air Pollution Control, followed by the Action Plan on Air Pollution Prevention and Control in September 2013, which included much stricter standards, higher goals, and more concrete measures. Finally in August 2015, the Standing Committee of the National People's Congress passed the long-awaited amendments to the Air Pollution Prevention and Control Law, which became effective on January 1, 2016. The new law effectively provided a legal foundation for the various new measures adopted by the State Council.

3.

Civil society in China is defined as Chinese environmental grassroots NGOs, citizen activists, and the media.

4.

Wumai, in Chinese "雾霾", is the Chinese term capturing this most recent round of concern over the polluted air in China. It is a two-character word which is usually translated as "smog" by major English-language media in the world. Even China Daily, the English-language newspaper owned by China's State Council Information Office uses the English word "smog." As a matter of fact though, the first character, wu (雾), means fog in Chinese and the second one, mai (霾), means "smog" or "haze." In this paper, I will use the Chinese term "wumai" wherever the English translation "smog" may be used because smog in English just means polluted air whereas wumai, as is shown later in the discourse analysis section, is likely coined and used deliberately in China to imply that wumai is not just polluted air.

5.

China has the largest number of netizens in the world, approaching 700 million at the end of 2015. In 2010, micro-blogs were introduced to the Chinese public by domestic information technology companies such as Sina and Tencent, and today Sina Weibo alone has more than 230 million monthly active users.

6.

"Beijing Morning Song [Beijing chenqu]" People's Daily, March 16, 1961. "Short Flute in Spring Ocean [chunhai duandi]," People's Daily, March 27, 1961. "The Precious Stone in Kingdom Green: Great Achievements in Hybrid Rice [lvse wangguo de guili baoshi—ji woguo zaijiaoshuidao huode de juda chengjiu]," People's Daily, May 6, 1981. "Human Intervention in Weather: Precipitation, Hail Prevention and Fog Clearing [rengong yingxiang tianqi—jiangyu (xue), fangbao, qingwu]," People's Daily, May 7, 1981. "The Road to Grandma's Home [dao waipo jia de lu]," People's Daily, January 11, 1982. "Fog Disappearing Behind [wu, xiaosan zai shenhou]," People's Daily, June 26, 1988. "Approaching the Huaqing Pool [zoujin huanqingchi]," People's Daily, January 25, 1997.

7.

"Strong Cold Air will Impact the Middle and East China [jiaoqiang lengkongqi jiang yingxiang woguo zhongdongbu]," People's Daily, December 26, 2006.

8.

"Meteorological Service: Racing with Time [qixiang fuwu: he shijian saipao], "People's Daily, January 4, 2007. Another article containing information of the differences between wu and mai was published on January 19, 2012.In this article, the reporter stated clearly that mai contains large number of tiny particles in the air while wu is comprised of suspended water droplets. Nevertheless, she also explained how difference of the relative humidity of the air leads to these different phenomena, implying wu and mai are both weather phenomena.

9.

"There's No Myths about the Air Quality [kongqi zhiliang wu xuanyi]," People's Daily, August 4, 2008.

10.

"I Can See Where Crop Stalks are Burned [near shao jiegan, wo kandejian]," People's Daily, October 27, 2011.

11.

"Distinguish Wu from Mai, Don't be Careless in Prevention [fenqing wu yu mai, fangfan bie dayi]," People's Daily, January 19, 2012.

12.

"The Frequent Wumai Breakouts in Central of East China Last Month are Rare in History [shangyue zhongdongbu wumai pinxi lishi shaojian]," People's Daily, February 6, 2013.

13.

"Declaring War against Air Pollution with a Development Mindset [yi fazhan de siwei xiang kongqiwuran xuanzhan]," People's Daily, July 18, 2013.

14.

"The Three Northeastern Provinces Encounters 'Maitai' Weather [dongsansheng zaoyu 'maitai' tian]," People's Daily, October 22, 2013; and "Please Lighten the Burden on Air [qing gei kongqi jianjianfu]," People's Daily, February 25, 2013; "Three Questions about Heat Supply in the Ice City [bingcheng gongre sanwen]," People's Daily, November 21, 2014; and "The National Average Temperature has Established a New Record [quanguo jinnian pingjun qiwen chuang lishi xingao]", People's Daily, December 5, 2015.

15.

For example, in "Where is Urban Wumai from [chengshi wumai cong nali lai]," People's Daily, December 19; "To Clear Wumai We Need to Tackle the Root Cause [qusan wumai, hai xu zhi ben]," People's Daily, January 15, 2013; and "Wumai can Travel so Joint Actions are Needed in Its Management [wumai hui chuanmen zhili xu lianshou]," People's Daily, March 14, 2013.

16.

For example, in "Emission Reduction is the Hard Truth about Wumai Prevention and Management [fangzhi wumai, jianpai shi ying daoli]," People's Daily, March 2, 2013; and "How to Make Major Revisions to the 'Air Pollution Prevention Law' ['daqi wuran fangzhi fa' ying zenyang daxiu]," People's Daily, June 8, 2013.

17.

For example, in "Offering Advice on Air Pollution Management [we zhili kongqi zhizhao]," People's Daily, July 2, 2013; "Where do People Living in the City Run [chengshiren hechu taodun]," People's Daily, July 9, 2013; and "Micro Focus [wei guanzhu]," People's Daily, October 11, 2014.

18.

"Where is Urban Wumai from [chengshi wumai cong nali lai]," People's Daily, December 19, 2013.

19.

"The Quality of Gas is Responsible for the Wumai Challenge [wumai fanan, youpin nantao qi ze]," People's Daily, February 25, 2013.

20.

"Let us Break Out of the Wumai Attack Together [wumai lai xi, zanmen yiqi tuwei]," People's Daily, November 15, 2013.

21.

For example, "Don't be a Bystander in Pollution Management and the Hope for Blue Sky [zhiwuran panlantian buneng dang kanke]," People's Daily, November 22, 2014, "The Tough Battle against Wumai is Still Ongoing [zhimai gongjianzhan you han],"People's Daily, December 1, 2014, and "There are Achievements as well as Insufficiencies in Total Emission Reduction [zongliang jianpai you queqian gengyou chengxiao]," People's Daily, December 12, 2015.

22.

Of the survey respondents, about 19% in the age group of 18 to 24 and 17% of the age group between 25 and 40 chose social media as their top source for wumai related information. The number drops to 10% for the age group of 41 to 60 and 0 for the age group above 60.
References
1.

Carter, Neil T., and Arthur P.J. Mol. 2006. China and the environment: Domestic and transnational dynamics of a future hegemon. Environmental Politics 12 (2): 330–344.

2.

Chan, Alex. 2007. Guiding public opinion through social agenda-setting: China's media policy since the 1990s. Journal of Contemporary China 16 (53): 547–559.

3.

Economy, Elizabeth. 2005. Environmental enforcement in China. In China's environment and the challenge of sustainable Development, ed. Kristen A. Day, 102–120. M.E. Sharpe: Armonk.

4.

Esarey, Ashley, and Qiang Xiao. 2008. Political expression in the Chinese blogosphere: Below the radar. Asian Survey 48 (5): 752–772.

5.

Guo, Steve, and Guangchao Feng. 2012. Understanding support for internet censorship in China: An elaboration of the theory of reasoned action. Journal of Chinese Political Science 17 (1): 33–52.

6.

Ho, Peter. 2001. Greening without conflict? Environmentalism, NGOs and civil society in China. Development and Change 32: 893–921.

7.

King, Gary, Jennifer Pan, and Margaret E. Roberts. 2013. How censorship in China allows government criticism but silences collective expression. American Political Science Review 107 (2): 326–343.

8.

Liu, Lingxuan, He Pan, Bing Zhang, and Jun Bi. 2012. Red and green: Public perception and air quality information in urban China. Environment Magazine 54 (3): 45–49.

9.

MacKinnon, Rebecca. 2011. China's "networked authoritarianism". Journal of Democracy 22 (2): 32–46.

10.

Melnic, R. Shep. 1983. Regulation and the courts: The case of the clean air act. Washington, D.C.: Brookings Institution.

11.

Morton, Katherine. 2005. The emergence of NGOs in China and their transnational linkages: Implications for domestic reform. Australian Journal of International Affairs 59 (4): 519–532.

12.

Noesselt, Nele. 2013. Microblogs and the adaptation of the Chinese party-state's governance strategy. Governance 27 (3): 449–468.

13.

Schwartz, Jonathan. 2004. Environmental NGOs in China: Roles and limits. Pacific Affairs 77 (1): 28–49.

14.

Shabecoff, Phillip. 1993. A fierce green fire: The American environmental movement. New York: Hill and Wang.

15.

Tai, Qiuqing. 2014. China's media censorship: A dynamic and diversified regime. Journal of East Asian Studies 14: 185–209.

16.

Tang, Lijun, and Helen Sampson. 2012. The interaction between mass media and the internet in non-democratic states: The case of China. Media, Culture & Society 34 (4): 457–471.

17.

Tang, Wenfang. 2016. Populist authoritarianism: Chinese political culture and regime sustainability. New York: Oxford University Press.

18.

Tong, Yanqi, and Shaohua Lei. 2013. War of position and microblogging in China. Journal of Contemporary China 22 (80): 292–311.

19.

Tong, Yanqi, and Shaohua Lai. 2014. Social protest in contemporary China, 2003–2010: Transitional pains and regime legitimacy. New York: Routledge.

20.

Xiao, Qiang. 2010. The rise of online public opinion and its political impact. In Changing media, changing China, ed. Susan Shirk, 202–204. New York: Oxford University Press.

21.

Yang, Guobin. 2009. The power of internet in China: Citizen activism online. New York: Columbia University Press.
Appendix. Demographic Information of the Survey Respondents
Appendix. Demographic Information of the Survey Respondents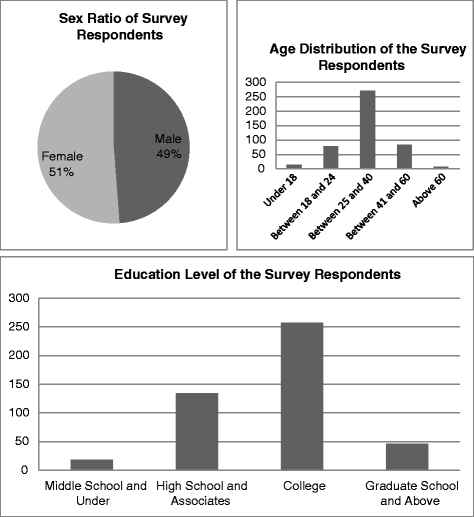 About this article
Cite this article
Zhang, X. The Reemerging Concern over Air Pollution in China: the Smog of the State's Efforts to Guide Public Opinion. J OF CHIN POLIT SCI 23, 519–536 (2018). https://doi.org/10.1007/s11366-017-9497-4
Keywords
Air pollution

Public opinion

Media