Abstract
Working memory abilities significantly decrease with advancing age; hence, the search for factors that may increase or mitigate this decline is critical. Several factors have been identified that influence working memory; however, their effects have been mainly assessed separately and rarely together with other factors in the same sample. We examined 120 variables to search for factors that jointly act as mediators of working memory decay across the adult life span. A sample of 1652 healthy adults was assessed in spatial and verbal working memory domains. Structural equation modeling analyses were conducted to search for potential mediators that intervened between age and working memory. Only 14 and 10 variables reliably mediated spatial and verbal working memory, respectively. Factors from several domains remained in the models, such as individual characteristics, physiological traits, consumption habits, and regular activities. These factors are sufficiently powerful to influence working memory decline when they jointly interact, as in everyday living.
This is a preview of subscription content, log in to check access.
Access options
Buy single article
Instant access to the full article PDF.
US$ 39.95
Price includes VAT for USA
Subscribe to journal
Immediate online access to all issues from 2019. Subscription will auto renew annually.
US$ 99
This is the net price. Taxes to be calculated in checkout.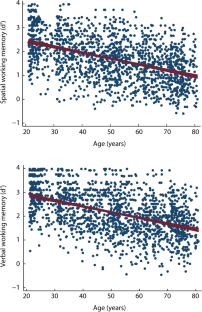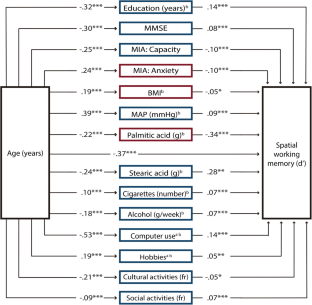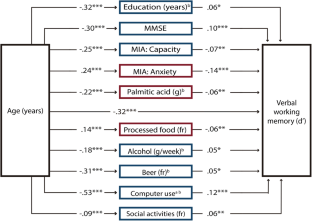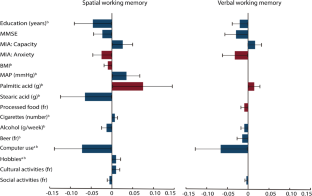 References
Annett M (1970) A classification of hand preference by association analysis. Br J Psychol 61:303–321. https://doi.org/10.1111/j.2044-8295.1970.tb01248.x

Beck AT (1987) Beck depression inventory. The Psychological Corporation, San Antonio

Beilharz JE, Maniam J, Morris MJ (2015) Diet-induced cognitive deficits: the role of fat and sugar, potential mechanisms and nutritional interventions. Nutrients 7:6719–1638. https://doi.org/10.3390/nu7085307

Black JE, Greenough WT, Anderson BJ, Isaacs KR (1987) Environment and the aging brain. Can J Psychol 41:111–130

Brenner H, Rothenbacher D, Bode G, März W, Hoffmeister A, Koenig W (2001) Coronary heart disease risk reduction in a predominantly beer-drinking population. Epidemiology 12:390–395. https://doi.org/10.1097/00001648-200107000-00008

Britton A, Singh-Manoux A, Marmot M (2004) Alcohol consumption and cognitive function in the Whitehall II Study. Am J Epidemiol 160:240–247. https://doi.org/10.1093/aje/kwh206

Cansino S, Hernández-Ramos E, Estrada-Manilla C, Torres-Trejo F, Martínez-Galindo JG, Ayala-Hernández M, Gómez-Fernández T, Osorio D, Cedillo-Tinoco M, Garcés-Flores L, Beltrán-Palacios K, García-Lázaro HG, García-Gutiérrez F, Cadena-Arenas Y, Fernández-Apan L, Bärtschi A, Rodríguez-Ortiz MD (2013) The decline of verbal and visuospatial working memory across the adult life span. AGE 35:2283–2302. https://doi.org/10.1007/s11357-013-9531-1

Chávez MM, Chávez A, Pérez-Gil F, Roldán JA, Ledesma JA, Mendoza E, Hernández SL, Chaparro AG (1996) Tablas de Valor Nutritivo de los Alimentos de Mayor Consumo en México. Edición Internacional Español-Inglés, Pax México

Dixon RA, Hultsch DF, Hertzog C (1988) The Metamemory in Adulthood (MIA) questionnaire. Psychopharmacol Bull 24:671–688

dos Santos Coura R, Granon S (2012) Prefrontal neuromodulation by nicotinic receptors for cognitive processes. Psychopharmacology 221:1–18. https://doi.org/10.1007/s00213-011-2596-6

Elias MF, Elias PK, Sullivan LM, Wolf PA, D'Agostino RB (2003) Lower cognitive function in the presence of obesity and hypertension: the Framingham heart study. Int J Obes Relat Metab Disord 27:260–268. https://doi.org/10.1038/sj.ijo.802225

Filip S, Fink R, Hribar J, Vidrih R (2010) Trans fatty acids in food and their influence on human health. Food Technol Biotechnol 48:135–142 https://hrcak.srce.hr/53622

Flavell JH (1979) Metacognition and cognitive monitoring: a new area of cognitive-developmental inquiry. Am Psychol 34:906–911. https://doi.org/10.1037//0003-066X.34.10.906

Folstein MF, Folstein SE, McHugh PR (1975) Mini-mental state. J Psychiatr Res 12:189–198. https://doi.org/10.1016/0022-3956(75)90026-6

Fraser T, Tayler H, Love S (2010) Fatty acid composition of frontal, temporal and parietal neocortex in the normal human brain and in Alzheimer's disease. Neurochem Res 35:503–513. https://doi.org/10.1007/s11064-009-0087-5

Fratiglioni L, Paillard-Borg S, Winblad B (2004) An active and socially integrated lifestyle in late life might protect against dementia. Lancet Neurol 3:343–353. https://doi.org/10.1016/S1474-4422(04)00767-7

Grande F, Anderson JT, Keys A (1970) Comparison of effects of palmitic and stearic acids in the diet on serum cholesterol in man. Am J Clin Nutr 23:1184–1193

Gunstad J, Paul RH, Cohen RA, Tate DF, Spitznagel MB, Grieve S, Gordon E (2008) Relationship between body mass index and brain volume in healthy adults. Int J Neurosci 118:1582–1593. https://doi.org/10.1080/00207450701392282

Hansson JA, Hagber B (2005) Determinant factors contributing to variations in memory performance in centenarians. Int J Aging Hum Dev 60:19–51. https://doi.org/10.2190/WFUP-2J25-LWQF-PQ3W

Heishman SJ, Kleykamp BA, Singleton EG (2010) Meta-analysis of the acute effects of nicotine and smoking on human performance. Psychopharmacology 210:453–469. https://doi.org/10.1007/s00213-010-1848-1

Hernández M, Aguirre J, Serrano L (1983) Alimentación de obreros y sus familias. División de Nutrición de Comunidades, Publicación L-61. Instituto Nacional de la Nutrición "Salvador Zubirán", Mexico

Hernández-Ávila M, Romieu I, Parra S, Hernández-Ávila J, Madrigal H, Willett W (1998) Validity and reproducibility of a food frequency questionnaire to assess dietary intake of women living in Mexico City. Salud Publica Mex 39:133–140

Hernández-Ávila JE, González-Aviles L, Rosales-Mendoza E (2000) Manual de usuario. SNUT Sistema de evaluación de hábitos nutricionales y consumo de nutrimentos. Instituto Nacional de Salud Pública, Cuernavaca

Holmes TH, Rahe RH (1967) The social readjustment rating scale. J Psychosom Res 11:213–318

Imhof A, Woodward M, Doering A, Helbecque N, Loewel H, Amouyel P, Lowe GD, Koenig W (2004) Overall alcohol intake, beer, wine, and systemic markers of inflammation in western Europe: results from three MONICA samples (Augsburg, Glasgow, Lille). Eur Heart J 25:2092–2100. https://doi.org/10.1016/j.ehj.2004.09.032

Kalev-Zylinska ML, During MJ (2007) Paradoxical facilitatory effect of low-dose alcohol consumption on memory mediated by NMDA receptors. J Neurosci 27:10456–10467. https://doi.org/10.1523/JNEUROSCI.2789-07.2007

Kaplan RJ, Greenwood CE (1998) Dietary saturated fatty acids and brain function. Neurochem Res 23:615–626. https://doi.org/10.1023/A:1022478503367

Kirchner WK (1958) Age differences in short-term retention of rapidly changing information. J Exp Psychol 55:352–358. https://doi.org/10.1037/h0043688

MacCallum RC, Browne MW, Sugawara HM (1996) Power analysis and determination of sample size for covariance structure modeling. Psychol Methods 1:130–149. https://doi.org/10.1037/1082-989x.1.2.130

Miller GA, Galanter E, Pribram KH (1960) Plans and the structure of behavior. Holt, Rinehart & Winston, New York

Preacher KJ, Coffman DL (2006) Computing power and minimum sample size for RMSEA [Computer software]. Retrieved from http://quantpsy.org/

Preacher KJ, Hayes AF (2008) Asymptotic and resampling strategies for assessing and comparing indirect effects in multiple mediator models. Behav Res Methods 40:879–891. https://doi.org/10.3758/brm.40.3.879

Rimm EB, Williams P, Fosher K, Criqui M, Stampfer MJ (1999) Moderate alcohol intake and lower risk of coronary heart disease: meta-analysis of effects on lipids and haemostatic factors. BMJ 319:1523–1528. https://doi.org/10.1136/bmj.319.7224.1523

Romieu I, Parra S, Hernández JF, Madrigal H, Willet W, Hernández M (1999) Questionnaire assessment of antioxidants and retinol intakes in Mexican women. Arch Med Res 30:224–239. https://doi.org/10.1016/S0188-0128(99)00017-2

Ruitenberg A, van Swieten JC, Witteman JC, Mehta KM, van Duijn CM, Hofman A, Breteler MM (2002) Alcohol consumption and risk of dementia: the Rotterdam Study. Lancet 359:281–286. https://doi.org/10.1016/S0140-6736(02)07493-7

Santos NC, Costa PS, Cunha P, Portugal-Nunes C, Amorim L, Cotter J, Cerqueira JJ, Palha JA, Sousa N (2014) Clinical, physical and lifestyle variables and relationship with cognition and mood in aging: a cross-sectional analysis of distinct educational groups. Front Aging Neurosci 6:21. https://doi.org/10.3389/fnagi.2014.00021

Stern Y (2009) Cognitive reserve. Neuropsychologia 47:2015–2028. https://doi.org/10.1016/j.neuropsychologia.2009.03.004

US Department of Agriculture (1963–1997) Composition of foods—raw, processed, and prepared. Agricultural handbook no. 8. Government Printing Offices, Washington, D.C

Wechsler D (1981) WAIS-R manual. The Psychological Corporation, New York

Willett WC, Sampson L, Stampfer MJ, Rosner B, Bain C, Witschi J, Hennekens CH, Speizer FE (1985) Reproducibility and validity of a semiquantitative food frequency questionnaire. Am J Epidemiol 122:51–65. https://doi.org/10.1093/oxfordjournals.aje.a114086

Zahodne LB, Glymour MM, Sparks C, Bontempo D, Dixon RA, MacDonald SW, Manly JJ (2011) Education does not slow cognitive decline with aging: 12-year evidence from the Victoria Longitudinal Study. J Int Neuropsychol Soc 17:1039–1146. https://doi.org/10.1017/S1355617711001044
Funding
This work was supported by the National Council of Science and Technology (CONACYT) (grant number 238826) and the National Autonomous University of Mexico, General Direction of Academic personal Affairs (DGAPA) (grant numbers IN304202, IN300206, IN300309, ID300312, IG300115, IG300618).
Ethics declarations
All participants provided informed consent and received a monetary reward for his/her participation. The study was approved by the Bioethics Committee of the School of Medicine at the National Autonomous University of Mexico. All experiments were performed in accordance with the Declaration of Helsinki.
Electronic supplementary material
About this article
Cite this article
Cansino, S., Torres-Trejo, F., Estrada-Manilla, C. et al. Factors that positively or negatively mediate the effects of age on working memory across the adult life span. GeroScience 40, 293–303 (2018). https://doi.org/10.1007/s11357-018-0031-1
Received:

Accepted:

Published:

Issue Date:
Keywords
Spatial working memory

Verbal working memory

Mediators

Adult life span

Structural equation modeling