Abstract
The aims of this study were to compare cut points for weakness proposed by Foundation for the National Institutes of Health (FNIH) Sarcopenia Project with cut points estimated with our own data; to assess the prevalence of clinically relevant handgrip strength (HGS) weakness according to published criteria across distinct populations of older adults; to estimate the ability of HGS weakness to identify slowness. This is a cross-sectional analysis of International Mobility in Aging Study (IMIAS) involving 1935 community-dwelling older adults, between 65 and 74 years, who completed HGS and gait speed assessment. We used baseline data from Tirana (Albania), Natal (Brazil), Manizales (Colombia), Kingston (Ontario, Canada), and Saint-Hyacinthe (Quebec, Canada). Weakness was defined according to sex-specific HGS cut points associated with slowness proposed by FNIH Sarcopenia Project. Slowness was defined as gait speed <0.8 m/s. IMIAS cut points for clinical weakness had good agreement with those proposed by FNIH. Weakness prevalence across the research sites ranged from 1.1 % (Saint-Hyacinthe) to 19.2 % (Manizales) among men. Women from Manizales (13.5 %) and Natal (19.3 %) had higher prevalence of weakness than their counterparts. FNIH cut points had a strong association with slowness, for both sexes. The IMIAS population generated cut points which were close to those proposed by FNIH. There was large variability in prevalence of weakness across our research sites. The HGS cut points for weakness proposed by FNIH performed well in IMIAS populations, providing a useful tool for screening older adults at risk for functional problems.
This is a preview of subscription content, log in to check access.
Access options
Buy single article
Instant access to the full article PDF.
US$ 39.95
Price includes VAT for USA
Subscribe to journal
Immediate online access to all issues from 2019. Subscription will auto renew annually.
US$ 99
This is the net price. Taxes to be calculated in checkout.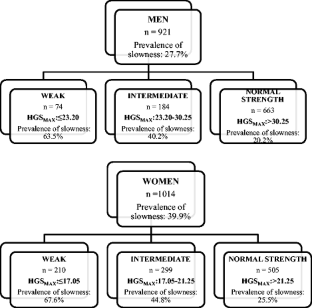 References
Abellan van Kan G, Rolland Y, Andrieu S, et al. (2009) Gait speed at usual pace as a predictor of adverse outcomes in community-dwelling older people an International Academy on Nutrition AND Aging (IANA) Task Force. J Nutr Health Aging 13:881–889

Alley DE, Shardell MD, Peters KW, et al. (2014) Grip strength cutpoints for the identification of clinically relevant weakness. J Gerontol A Biol Sci Med Sci 69:559–566. doi:10.1093/gerona/glu011

Barros AJD, Victora CG, Horta BL, et al. (2006) Effects of socioeconomic change from birth to early adulthood on height and overweight. Int J Epidemiol 35:1233–1238. doi:10.1093/ije/dyl160

Beseler MR, Rubio C, Duarte E, et al. (2014) Clinical effectiveness of grip strength in predicting ambulation of elderly inpatients. Clin Interv Aging 9:1873–1877. doi:10.2147/CIA.S62002

Bielemann RM, Gigante DP, Horta BL (2015) Birth weight, intrauterine growth restriction and nutritional status in childhood in relation to grip strength in adults: from the 1982 Pelotas (Brazil) birth cohort. Nutrition. doi:10.1016/j.nut.2015.08.014

Blanco I, Verghese J, Lipton RB, et al. (2012) Racial differences in gait velocity in an urban elderly cohort. J Am Geriatr Soc 60:922–926. doi:10.1111/j.1532-5415.2012.03927.x

Bohannon RW (2008a) Hand-grip dynamometry predicts future outcomes in aging adults. J Geriatr Phys Ther 31:3–10

Bohannon RW (2008b) Population representative gait speed and its determinants. J Geriatr Phys Ther 31:49–52

Bohannon RW, Williams Andrews A (2011) Normal walking speed: A descriptive meta-analysis. Physiotherapy 97:182–189. doi:10.1016/j.physio.2010.12.004

Brunner E, Shipley M, Spencer V, et al. (2009) Social inequality in walking speed in early old age in the Whitehall II Study. J Gerontol Ser A Biol Sci Med Sci 64A:1082–1089. doi:10.1093/gerona/glp078

Busch TDA, Duarte YA, Pires Nunes D, et al. (2015) Factors associated with lower gait speed among the elderly living in a developing country: a cross-sectional population-based study. BMC Geriatr 15:35. doi:10.1186/s12877-015-0031-2

Buttery AK, Busch MA, Gaertner B, et al (2015) Prevalence and correlates of frailty among older adults: findings from the German health interview and examination survey. BMC Geriatr 15:22. doi:10.1186/s12877-015-0022-3

Cawthon PM, Fox KM, Gandra SR, et al. (2009) Do muscle mass, muscle density, strength, and physical function similarly influence risk of hospitalization in older adults? J Am Geriatr Soc 57:1411–1419. doi:10.1111/j.1532-5415.2009.02366.x

Cooper R, Kuh D, Cooper C, et al. (2011) Objective measures of physical capability and subsequent health: a systematic review. Age Ageing 40:14–23. doi:10.1093/ageing/afq117

Coppin AK, Ferrucci L, Lauretani F, et al. (2006) Low socioeconomic status and disability in old age: evidence from the InChianti study for the mediating role of physiological impairments. J Gerontol A Biol Sci Med Sci 61:86–91

Cruz-Jentoft AJ, Baeyens JP, Bauer JM, et al. (2010) Sarcopenia: European consensus on definition and diagnosis: report of the European Working Group on Sarcopenia in Older People. Age Ageing 39:412–423. doi:10.1093/ageing/afq034

de Oliveira Bez JP, Neri AL (2014) Velocidade da marcha, força de preensão e saúde percebida em idosos: dados da rede FIBRA Campinas, São Paulo, Brasil. Cien Saude Colet 19:3343–3353. doi:10.1590/1413-81232014198.09592013

De'ath G, Fabricius KE (2000) Classification and regression trees: a powerful yet simple technique for ecological data analysis. Ecology 81:3178–3192. doi:10.1890/0012-9658(2000)081[3178:CARTAP]2.0.CO;2

Dodds R, Denison HJ, Ntani G, et al. (2012) Birth weight and muscle strength: a systematic review and meta-analysis. J Nutr Heal Aging 16:609–615

Ehounoux NZ, Zunzunegui M-V, Séguin L, et al. (2009) Duration of lack of money for basic needs and growth delay in the Quebec Longitudinal Study of Child Development birth cohort. J Epidemiol Community Health 63:45–49. doi:10.1136/jech.2007.072157

Fess E (1992) Grip strength, 2nd edn. American Society of Hand Therapists, Chicago

Fried LP, Tangen CM, Walston J, et al. (2001) Frailty in older adults: evidence for a phenotype. J Gerontol A Biol Sci Med Sci 56:M146–M156

García-Peña C, García-Fabela LC, Gutiérrez-Robledo LM, et al. (2013) Handgrip strength predicts functional decline at discharge in hospitalized male elderly: a hospital cohort study. PLoS one 8:e69849. doi:10.1371/journal.pone.0069849

Guessous I, Luthi J-C, Bowling CB, et al. (2014) Prevalence of frailty indicators and association with socioeconomic status in middle-aged and older adults in a Swiss region with universal health insurance coverage: a population-based cross-sectional study. J Aging Res 2014:198603. doi:10.1155/2014/198603

Hairi NN, Cumming RG, Naganathan V, et al. (2010) Loss of muscle strength, mass (sarcopenia), and quality (specific force) and its relationship with functional limitation and physical disability: the concord health and ageing in men project. J Am Geriatr Soc 58:2055–2062. doi:10.1111/j.1532-5415.2010.03145.x

Hicks GE, Shardell M, Alley DE, et al. (2012) Absolute strength and loss of strength as predictors of mobility decline in older adults: the InCHIANTI study. J Gerontol A Biol Sci Med Sci 67:66–73. doi:10.1093/gerona/glr055

Lauretani F, Russo CR, Bandinelli S, et al. (2003) Age-associated changes in skeletal muscles and their effect on mobility: an operational diagnosis of sarcopenia. J Appl Physiol 95:1851–1860. doi:10.1152/japplphysiol.00246.2003

Legrand D, Vaes B, Matheï C, et al. (2014) Muscle strength and physical performance as predictors of mortality, hospitalization, and disability in the oldest old. J Am Geriatr Soc 62:1030–1038. doi:10.1111/jgs.12840

Lemon SC, Roy J, Clark MA, et al. (2003) Classification and regression tree analysis in public health: methodological review and comparison with logistic regression. Ann Behav Med 26:172–181. doi:10.1207/S15324796ABM2603_02

Leong DP, Teo KK, Rangarajan S, et al. (2015) Prognostic value of grip strength: findings from the prospective Urban Rural Epidemiology (PURE) study. Lancet. doi:10.1016/S0140-6736(14)62000-6

Li L, Manor O, Power C (2004) Early environment and child-to-adult growth trajectories in the 1958 British birth cohort. Am J Clin Nutr 80:185–192

Looker AC, Wang C-Y (2015) Prevalence of reduced muscle strength in older U.S. adults: United States, 2011–2012. NCHS Data Brief 1–8.

Lourenço RA, Pérez-Zepeda M, Gutiérrez-Robledo L, et al. (2015) Performance of the European Working Group on Sarcopenia in Older People algorithm in screening older adults for muscle mass assessment. Age Ageing 44:334–338. doi:10.1093/ageing/afu192

McLean RR, Shardell MD, Alley DE, et al. (2014) Criteria for clinically relevant weakness and low lean mass and their longitudinal association with incident mobility impairment and mortality: the foundation for the National Institutes of Health (FNIH) Sarcopenia Project. J Gerontol A Biol Sci Med Sci 69:576–583. doi:10.1093/gerona/glu012

Norman K, Stobäus N, Gonzalez MC, et al. (2011) Hand grip strength: outcome predictor and marker of nutritional status. Clin Nutr 30:135–142. doi:10.1016/j.clnu.2010.09.010

Peck MN, Lundberg O (1995) Short stature as an effect of economic and social conditions in childhood. Soc Sci Med 41:733–738. doi:10.1016/0277-9536(94)00379-8

Pirkle CM, de Albuquerque SACPP, Alvarado B, Zunzunegui M-V (2014) Early maternal age at first birth is associated with chronic diseases and poor physical performance in older age: cross-sectional analysis from the International Mobility in Aging Study. BMC Public Health 14:293. doi:10.1186/1471-2458-14-293

Razi MA, Athappilly K (2005) A comparative predictive analysis of neural networks (NNs), nonlinear regression and classification and regression tree (CART) models. Expert Syst Appl 29:65–74. doi:10.1016/j.eswa.2005.01.006

Sallinen J, Stenholm S, Rantanen T, et al. (2010) Hand-grip strength cut points to screen older persons at risk for mobility limitation. J Am Geriatr Soc 58:1721–1726. doi:10.1111/j.1532-5415.2010.03035.x

Samson MM, Meeuwsen IB, Crowe A, et al. (2000) Relationships between physical performance measures, age, height and body weight in healthy adults. Age Ageing 29:235–242

Savino E, Martini E, Lauretani F, et al. (2013) Handgrip strength predicts persistent walking recovery after hip fracture surgery. Am J Med 126:1068–1075 e1. doi:10.1016/j.amjmed.2013.04.017

Schrama PPM, Stenneberg MS, Lucas C, van Trijffel E (2014) Intraexaminer reliability of hand-held dynamometry in the upper extremity: a systematic review. Arch Phys Med Rehabil 95:2444–2469. doi:10.1016/j.apmr.2014.05.019

Seino S, Shinkai S, Fujiwara Y, et al. (2014) Reference values and age and sex differences in physical performance measures for community-dwelling older Japanese: a pooled analysis of six cohort studies. PLoS one 9:e99487. doi:10.1371/journal.pone.0099487

Sillanpää E, Stenroth L, Bijlsma AY, et al. (2014) Associations between muscle strength, spirometric pulmonary function and mobility in healthy older adults. Age (Dordr) 36:9667. doi:10.1007/s11357-014-9667-7

Sousa DA, Guerra RO, Tu MT, Patrı AC (2014) Lifecourse adversity and physical performance across countries among men and women aged 65-74. PLoS one 9:1–10. doi:10.1371/journal.pone.0102299

Studenski S, Perera S, Patel K, et al. (2011) Gait speed and survival in older adults. Jama 305:50–58. doi:10.1001/jama.2010.1923

Studenski SA, Peters KW, Alley DE, et al. (2014) The FNIH Sarcopenia Project: rationale, study description, conference recommendations, and final estimates. J Gerontol A Biol Sci Med Sci 69:547–558. doi:10.1093/gerona/glu010

Tanimoto Y, Watanabe M, Sun W, et al. (2014) Sarcopenia and falls in community-dwelling elderly subjects in Japan: defining sarcopenia according to criteria of the European Working Group on Sarcopenia in Older People. Arch Gerontol Geriatr 59:295–299. doi:10.1016/j.archger.2014.04.016

United Nations Development Programme (2014) Human development report 2014: sustaining human progress: reducing vulnerabilities and building resilience. United Nations Pubn

Vermeulen J, Neyens J, van Rossum E, et al. (2011) Predicting ADL disability in community-dwelling elderly people using physical frailty indicators: a systematic review. BMC Geriatr 11:1–11

Vieira RA, Guerra RO, Giacomin KC, et al. (2013) Prevalência de fragilidade e fatores associados em idosos comunitários de Belo Horizonte, Minas Gerais, Brasil: dados do estudo FIBRA. Cad Saude Publica 29:1631–1643. doi:10.1590/0102-311X00126312

Walston JD (2012) Sarcopenia in older adults. Curr Opin Rheumatol 24:623–627. doi:10.1097/BOR.0b013e328358d59b

Zalewski KR, Smith JC, Malzahn J, et al. (2009) Measures of physical ability are unrelated to objectively measured physical activity behavior in older adults residing in continuing care retirement communities. Arch Phys Med Rehabil 90:982–986

Zunzunegui MVV, Alvarado BEE, Guerra R, et al. (2015) The mobility gap between older men and women: the embodiment of gender. Arch Gerontol Geriatr 61:140–148. doi:10.1016/j.archger.2015.06.005
Ethics declarations
Ethical considerations
This study was approved by the ethics committees of each site and written informed consent was obtained at the baseline visit from all the participants.
Electronic supplementary material
About this article
Cite this article
de Souza Barbosa, J.F., Zepeda, M.U.P., Béland, F. et al. Clinically relevant weakness in diverse populations of older adults participating in the International Mobility in Aging Study. AGE 38, 25 (2016). https://doi.org/10.1007/s11357-016-9888-z
Received:

Accepted:

Published:
Keywords
Handgrip strength

Mobility limitation

Sarcopenia

Aging