Abstract
Menopause in women occurs at mid-life. Chimpanzees, in contrast, continue to display cycles of menstrual bleeding and genital swelling, suggestive of ovulation, until near their maximum life span of about 60 years. Because ovulation was not confirmed hormonally, however, the age at which chimpanzees experience menopause has remained uncertain. In the present study, we provide hormonal data from urine samples collected from 30 female chimpanzees, of which 9 were old (>30 years), including 2 above the age of 50 years. Eight old chimpanzees showed clear endocrine evidence of ovulation, as well as cycles of genital swelling that correlated closely with measured endocrine changes. Endocrine evidence thus confirms prior observations (cyclic anogenital swelling) that menopause is a late-life event in the chimpanzee. We also unexpectedly discovered an idiopathic anovulation in some young and middle-aged chimpanzees; this merits further study. Because our results on old chimpanzees validate the use of anogenital swelling as a surrogate index of ovulation, we were able to combine data on swelling and urinary hormones to provide the first estimates of age-specific rates of menopause in chimpanzees. We conclude that menopause occurs near 50 years of age in chimpanzees as it does in women. Our finding identifies a basic difference between the human and chimpanzee aging processes: female chimpanzees can remain reproductively viable for a greater proportion of their life span than women. Thus, while menopause marks the end of the chimpanzee's life span, women may thrive for decades more.
This is a preview of subscription content, log in to check access.
Access options
Buy single article
Instant access to the full article PDF.
US$ 39.95
Price includes VAT for USA
Subscribe to journal
Immediate online access to all issues from 2019. Subscription will auto renew annually.
US$ 99
This is the net price. Taxes to be calculated in checkout.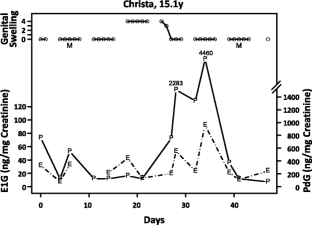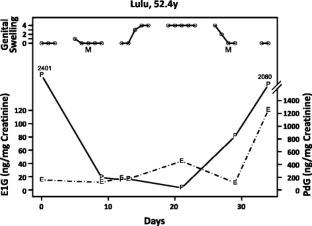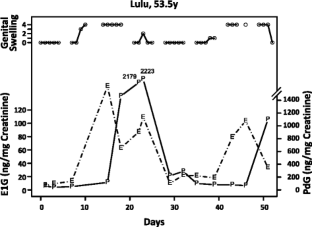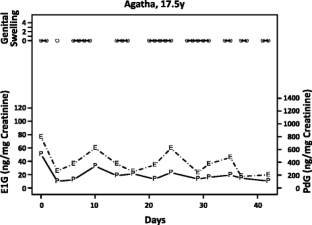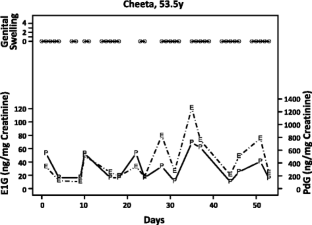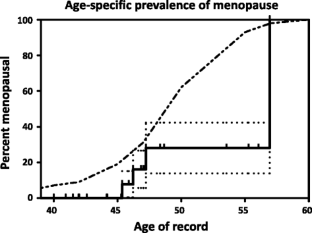 References
Appt SE, Clarkson TB, Chen H, Adams MR, Christian PJ, Hoyer PB, Wilson ME, Kaplan JR (2009) Serum antimüllerian hormone predicts ovarian reserve in a monkey model. Menopause 16(3):597–601. doi:10.1097/gme.0b013e3181906fb6

Atsalis S, Videan E (2009) Reproductive aging in captive and wild common chimpanzees: factors influencing the rate of follicular depletion. Am J Primatol 71(4):271–282. doi:10.1002/ajp.20650

Bellino FL, Wise PM (2003) Nonhuman primate models of menopause workshop. Biol Reprod 68(1):10–18. doi:10.1095/biolreprod.102.005215

Burger HG (1999) The endocrinology of the menopause. J Steroid Biochem Mol Biol 69(1–6):31–35. doi:10.1016/S0960-0760(98)00145-9

Chandra A, Martinez GM, Mosher WD, Abma JC, Jones J (2005) Fertility, family planning, and reproductive health of U.S. women: data from the 2002 National Survey of Family Growth. National Center for Health Statistics. Vital Health Stat 23(25):1–160

Dahl J, Nadler RD, Collins DC (1991) Monitoring the ovarian cycles of Pan troglodytes and P. paniscus: a comparative approach. Am J Primatol 24:195–209. doi:10.1002/ajp.1350240306

Deschner T, Heistermann M, Hodges K, Boesch C (2004) Female sexual swelling size, timing of ovulation, and male behavior in wild West African chimpanzees. Horm Behav 46(2):204–215. doi:10.1016/j.yhbeh.2004.03.013

Emery Thompson M (2005) Reproductive endocrinology of wild female chimpanzees (Pan troglodytes schweinfurthii): methodological considerations and the role of hormones in sex and conception. Am J Primatol 67:137–158. doi:10.1002/ajp.20174

Emery Thompson M, Jones JH, Pusey AE, Brewer-Marsden S, Goodall J, Marsden D, Matsuzawa T, Nishida T, Reynolds V, Sugiyama Y, Wrangham RW (2007) Aging and fertility patterns in wild chimpanzees provide insights into the evolution of menopause. Curr Biol 17:2150–2156. doi:10.1016/j.cub.2007.11.033

Erwin JM, Hof PR (2008) Menopause and reproductive senescence in comparative context. In: Atsalis S, Margulis S, Hof P (eds) Primate reproductive aging: cross-taxon perspectives. Interdisciplinary top gerontology. Karger, Basel, Switzerland, pp 4–16, 10.1159/000137676

Erwin JM, Hof PR, Ely JJ, Perl DP (2002) One gerontology: advancing understanding of aging through studies of great apes and other primates. In: Erwin JM, Hof PR (eds) Aging in nonhuman primates. Interdiscipl Top Gerontol. Karger, Basel, pp 1–21. doi:10.1159/000061455

Finch CE, Crimmins EM (2004) Inflammatory exposure and historical changes in human life-spans. Science 305(5691):1736–9. doi:10.1126/science.1092556

Gould KG, Flint M, Graham CE (1981) Chimpanzee reproductive senescence: a possible model for evolution of the menopause. Maturitas 3(2):157–166. doi:10.1016/0378-5122(81)90007-4

Graham CE (1979) Reproductive function in aged female chimpanzees. Am J Phys Anthropol 50:291–300. doi:10.1002/ajpa.1330500302

Graham CE, Collins DC, Robinson H, Preedy JR (1972) Urinary levels of estrogens and pregnanediol and plasma levels of progesterone during the menstrual cycle of the chimpanzee; relationship to the sexual swelling. Endocrinology 91(1):13–24. doi:10.1210/endo-91-1-13

Hawkes K (2003) Grandmothers and the evolution of human longevity. Am J Hum Biol 15(3):380–400. doi:10.1002/ajhb.10156

Hawkes K, Smith KR (2010) Do women stop early? Similarities in fertility decline in humans and chimpanzees. Ann NY Acad Sci 1204:43–53. doi:10.1111/j.1749-6632.2010.05527.x

Hawkes K, Smith KR, Robson SL (2009) Mortality and fertility rates in humans and chimpanzees: how within-species variation complicates cross-species comparisons. Am J Hum Biol 21:578–586. doi:10.1002/ajhb.20890

Herndon JG (2010) The grandmother effect: implications for studies on aging and cognition. Gerontology 56(1):73–79. doi:10.1159/000236045

Herndon JG, Tigges J, Anderson DC, Klumpp SA, McClure HM (1999) Brain weight throughout the life span of the chimpanzee. J Comp Neurol 409(4):567–572. doi:10.1002/(SICI)1096-9861(19990712)409:4<567::AID-CNE4>3.0.CO;2-J

Jones K, Walker L, Anderson DC, Lacreuse A, Robson S, Hawkes K (2007) Depletion of ovarian follicles with age in chimpanzees: similarities to humans. Biol Reprod 77(2):247–251. doi:10.1095/biolreprod.106.059634

Kaplan JR, Manuck SB, Anthony MS, Clarkson TB (2002) Premenopausal social status and hormone exposure predict postmenopausal atherosclerosis in female monkeys. Obstet Gynecol 99(3):381–388. doi:10.1016/S0029-7844(01)01659-3

Lacreuse A, Chennareddi L, Gould K, Hawkes K, Wijayawardana S, Chen J, Easley K, Herndon JG (2008) Menstrual cycles continue into advanced old age in the common chimpanzee (Pan troglodytes). Biol Reprod 79(3):407–412. doi:10.1095/biolreprod.108.068494

Ledger WL (2010) Clinical utility of measurement of anti-Müllerian hormone in reproductive endocrinology. J Clin Endocrinol Metab 95(12):5144–5154. doi:10.1210/jc.2010-0701

Lee ET (1992) Statistical methods for survival data analysis. Wiley, New York

McArthur JW, Collins DC, Preedy JRK, Graham CE (1981) The interrelationships between sex skin swelling and the urinary excretion of LH, estrone, and pregnanediol by the cycling female chimpanzee. Am J Primatol 1:265–279. doi:10.1002/ajp.1350010303

Nadler RD, Graham CE, Gosselin R, Collins DC (1985) Serum levels of gonadotropins and gonadal steroids, including testosterone, during the menstrual cycle of the chimpanzee (Pan troglodytes). Am J Primatol 9:273–284. doi:10.1002/ajp.1350090404

Nishida T, Corp N, Hamai M, Hasegawa T, Hiraiwa-Hasegawa M, Hosaka K, Hunt KD, Itoh N, Kawanaka K, Matsumoto-Oda A, Mitani JC, Nakamura M, Nori-koshi K, Sakamaki T, Turner L, Uehara S, Zamma K (2003) Demography, female life history, and reproductive profiles among the chimpanzees of Mahale. Am J Primatol 59:99–121

Oeppen J, Vaupel JW (2002) Demography. Broken limits to life expectancy. Science 296(5570):1029–1031. doi:10.1126/science.1069675

Pope NS, Gordon TP, Wilson ME (1986) Age, social rank and lactational status influence ovulatory patterns in seasonally breeding rhesus monkeys. Biol Reprod 35(2):353–359. doi:10.1095/biolreprod35.2.353

Puschmann W, Federer E (2008) Ein neuer Fertilitätsnachweis bei einer hoch betagten Schimpansin und Anmerkungen zum Höchstalter von Pan troglodytes. Der zoologische Garten 77:182–185. doi:10.1016/j.zoolgart.2007.10.007

Ross SR (2009) North American Regional Chimpanzee Studbook (Pan troglodytes). Lincoln Park Zoo, Chicago, IL, USA

Shebl O, Ebner T, Sir A, Schreier-Lechner E, Mayer RB, Tews G, Sommergruber M (2011) Age-related distribution of basal serum AMH level in women of reproductive age and a presumably healthy cohort. Fertil Steril 95(2):832–834. doi:10.1016/j.fertnstert.2010.09.012

Shimizu K (2005) Studies on reproductive endocrinology in non-human primates: application of non-invasive methods. J Reprod Dev 51(1):1–13. doi:10.1262/jrd.51.1

Shimizu K, Douke C, Fujita S, Matsuzawa T, Tomonaga M, Tanaka M, Matsubayashi K, Hayashi K (2003) Urinary steroids, FSH and CG measurements for monitoring the ovarian cycle and pregnancy in the chimpanzee. J Med Primatol 32:15–22. doi:10.1034/j.1600-0684.2003.01039.x

Tremellen K, Kolo M (2010) Serum anti-Mullerian hormone is a useful measure of quantitative ovarian reserve but does not predict the chances of live-birth pregnancy. Aust N Z J Obstet Gynaecol 50(6):568–572. doi:10.1111/j.1479-828X.2010.01232.x

Videan E, Fritz J, Heward CB, Murphy J (2006) The effects of aging on hormone and reproductive cycles in female chimpanzees (Pan troglodytes). Com Med 56(4):291–299

Videan E, Fritz J, Heward CB, Murphy J (2008) Reproductive aging in female chimpanzees (Pan troglodytes). Interdiscip Top Gerontol 36:103–118. doi:10.1159/000137688

Walker ML, Herndon JG (2008) Menopause in nonhuman primates? Biol Reprod 79(3):398–406. doi:10.1095/biolreprod.108.068536

Wilson ME, Gordon TP, Collins DC (1982) Serum 17 beta-estradiol and progesterone associated with mating behavior during early pregnancy in female rhesus monkeys. Horm Behav 16(1):94–106. doi:10.1016/0018-506X(82)90010-1
Acknowledgments
We thank Kimberly Neu, Caroline Griffis, and Andrea Franklin for recording daily observations of anogenital swelling and for urine collection, Doris Jane Langford for the assistance with manuscript preparation, Drs. Agnès Lacreuse and Johannes Tigges for comments on the manuscript, and the Animal Resources Division of the Yerkes National Primate Research Center of Emory University for its assistance in the extraction of data for this study. This study was supported through the following grants: NIH grants P51RR000165 and P01AG026423.
About this article
Cite this article
Herndon, J.G., Paredes, J., Wilson, M.E. et al. Menopause occurs late in life in the captive chimpanzee (Pan troglodytes). AGE 34, 1145–1156 (2012). https://doi.org/10.1007/s11357-011-9351-0
Received:

Accepted:

Published:

Issue Date:
Keywords
Menopause

Sexual swelling

Reproduction

Aging

Estrogen

Progesterone