Abstract
Unintentional weight loss (wasting) in the elderly is a major health concern as it leads to increased mortality. Several studies have focused on muscle loss, but little is known about the mechanisms giving rise to loss of fat mass at old ages. To investigate potential mechanisms, white adipose tissue (WAT) characteristics and proteomic profiles were compared between adult (10–12-month-old) and aged (22–24-month-old) wild-type mice. Four individual WAT depots were analyzed to account for possible depot-specific differences. Proteomic profiles of WAT depots, along with body weights and compositions, plasma levels of insulin, leptin and adiponectin, insulin tolerance, adipocyte sizes, and products of oxidative damage in each WAT depot were determined. We found that lean mass remained constant while fat mass and insulin tolerance were decreased in old age, as were adipocyte sizes in the WAT depots. Proteomic results showed increased levels of enolase, pyruvate dehydrogenase E1β, NAD+−dependent isocitrate dehydrogenase α, and ATP synthase subunit β, and decreased levels of carbonic anhydrase 3 in WAT of aged mice. These data suggest increased aerobic glucose oxidation in wasting WAT, consistent with decreased insulin signaling. Also, Cu/Zn superoxide dismutase and two chaperones were increased in aged WAT depots, indicating higher stress resistance. In agreement, lipid peroxidation (HNE-His adducts) increased in old age, although protein oxidation (carbonyl groups) showed no increase. In conclusion, features of wasting WAT were similar in the four depots, including decreased adipocyte sizes and alterations in protein expression profiles that indicated decreased insulin sensitivity and increased lipid peroxidation.
This is a preview of subscription content, log in to check access.
Access options
Buy single article
Instant access to the full article PDF.
US$ 39.95
Price includes VAT for USA
Subscribe to journal
Immediate online access to all issues from 2019. Subscription will auto renew annually.
US$ 99
This is the net price. Taxes to be calculated in checkout.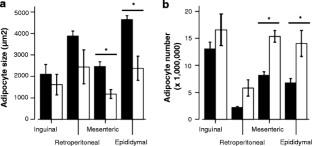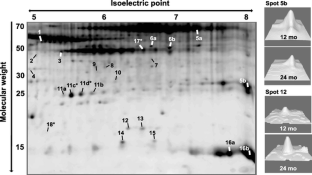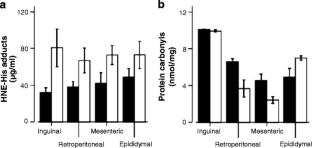 Abbreviations
2DE:

2-Dimensional gel electrophoresis

CA-III:

Carbonic anhydrase 3

E-FABP:

Epidermal fatty acid binding protein

HMW:

High molecular weight

HNE:

4-Hydroxynonenal

Idh3α:

Isocitrate dehydrogenase [NAD+] α

ITT:

Insulin tolerance test

LPL:

Lipoprotein lipase

MALDI-TOF:

Matrix assisted laser desorption/ionization time-of-flight

MS:

Mass spectrometry

MS/MS:

Tandem MS

PDHE1-B:

Pyruvate dehydrogenase E1 subunit β

ROS:

Reactive oxygen species

WAT:

White adipose tissue
References
Agustsson T, Ryden M, Hoffstedt J, van Harmelen V, Dicker A, Laurencikiene J, Isaksson B, Permert J, Arner P (2007) Mechanism of increased lipolysis in cancer cachexia. Cancer Res 67(11):5531–5537

Arner P, Spalding KL (2010) Fat cell turnover in humans. Biochem Biophys Res Commun 396(1):101–104

Berryman DE, List EO, Palmer AJ, Chung MY, Wright-Piekarski J, Lubbers E, O'Connor P, Okada S, Kopchick JJ (2010) Two-year body composition analyses of long-lived GHR null mice. J Gerontol A Biol Sci Med Sci 65(1):31–40

Berryman DE, List EO, Sackmann-Sala L, Lubbers E, Munn R, Kopchick JJ (2011) Growth hormone and adipose tissue: beyond the adipocyte. Growth Horm IGF Res 21(3):113–123

Bing C, Trayhurn P (2008) Regulation of adipose tissue metabolism in cancer cachexia. Curr Opin Clin Nutr Metab Care 11(3):201–207

Bonkowski MS, Pamenter RW, Rocha JS, Masternak MM, Panici JA, Bartke A (2006) Long-lived growth hormone receptor knockout mice show a delay in age-related changes of body composition and bone characteristics. J Gerontol A Biol Sci Med Sci 61(6):562–567

Carantoni M, Zuliani G, Volpato S, Palmieri E, Mezzetti A, Vergnani L, Fellin R (1998) Relationships between fasting plasma insulin, anthropometrics, and metabolic parameters in a very old healthy population. Associazione Medica Sabin. Metabolism 47(5):535–540

Cartwright MJ, Schlauch K, Lenburg ME, Tchkonia T, Pirtskhalava T, Cartwright A, Thomou T, Kirkland JL (2010) Aging, depot origin, and preadipocyte gene expression. J Gerontol A Biol Sci Med Sci 65(3):242–251

Chen HC, Farese RV Jr (2002) Determination of adipocyte size by computer image analysis. J Lipid Res 43(6):986–989

Christensen B, Sackmann-Sala L, Cruz-Topete D, Jorgensen JO, Jessen N, Lundby C, Kopchick JJ (2011) Novel serum biomarkers for erythropoietin use in humans: a proteomic approach. J Appl Physiol 110(1):149–156

Clegg A, Young J (2011) The frailty syndrome. Clin Med 11(1):72–75

Considine RV, Sinha MK, Heiman ML, Kriauciunas A, Stephens TW, Nyce MR, Ohannesian JP, Marco CC, McKee LJ, Bauer TL et al (1996) Serum immunoreactive-leptin concentrations in normal-weight and obese humans. N Engl J Med 334(5):292–295

Coulson RA, Herbert JD (1984) A role for carbonic anhydrase in intermediary metabolism. Ann N Y Acad Sci 429:505–515

Cruz-Topete D, Christensen B, Sackmann-Sala L, Okada S, Jorgensen JO, Kopchick JJ (2011a) Serum proteome changes in acromegalic patients following transsphenoidal surgery: novel biomarkers of disease activity. Eur J Endocrinol 164(2):157–167

Cruz-Topete D, Jorgensen JO, Christensen B, Sackmann-Sala L, Krusenstjerna-Hafstrom T, Jara A, Okada S, Kopchick JJ (2011b) Identification of new biomarkers of low-dose GH replacement therapy in GH-deficient patients. J Clin Endocrinol Metab 96(7):2089–2097

Cruz-Topete D, List EO, Okada S, Kelder B, Kopchick JJ (2011c) Proteomic changes in the heart of diet-induced pre-diabetic mice. J Proteomics 74(5):716–727

Dahlman I, Mejhert N, Linder K, Agustsson T, Mutch DM, Kulyte A, Isaksson B, Permert J, Petrovic N, Nedergaard J, Sjolin E, Brodin D, Clement K, Dahlman-Wright K, Ryden M, Arner P (2010) Adipose tissue pathways involved in weight loss of cancer cachexia. Br J Cancer 102(10):1541–1548

Das SK, Eder S, Schauer S, Diwoky C, Temmel H, Guertl B, Gorkiewicz G, Tamilarasan KP, Kumari P, Trauner M, Zimmermann R, Vesely P, Haemmerle G, Zechner R, Hoefler G (2011) Adipose triglyceride lipase contributes to cancer-associated cachexia. Science. doi:10.1126/science.1198973

DeFronzo RA (1981) Glucose intolerance and aging. Diabetes Care 4(4):493–501

Diez JJ, Iglesias P (2010) The role of the novel adipocyte-derived protein adiponectin in human disease: an update. Mini Rev Med Chem 10(9):856–869

Ding J, Kopchick JJ (2011) Plasma biomarkers of mouse aging. Age (Dordr) 33(3):291–307

Ding J, Berryman DE, Kopchick JJ (2011) Plasma proteomic profiles of bovine growth hormone transgenic mice as they age. Transgenic Res. doi:10.1007/s11248-011-9499-5

Donoghue P, Staunton L, Mullen E, Manning G, Ohlendieck K (2010) DIGE analysis of rat skeletal muscle proteins using nonionic detergent phase extraction of young adult versus aged gastrocnemius tissue. J Proteomics 73(8):1441–1453

Doran P, Donoghue P, O'Connell K, Gannon J, Ohlendieck K (2009) Proteomics of skeletal muscle aging. Proteomics 9(4):989–1003

Dorner TE, Rieder A (2011) Obesity paradox in elderly patients with cardiovascular diseases. Int J Cardiol

Fouladiun M, Korner U, Bosaeus I, Daneryd P, Hyltander A, Lundholm KG (2005) Body composition and time course changes in regional distribution of fat and lean tissue in unselected cancer patients on palliative care—correlations with food intake, metabolism, exercise capacity, and hormones. Cancer 103(10):2189–2198

Frederich RC, Hamann A, Anderson S, Lollmann B, Lowell BB, Flier JS (1995) Leptin levels reflect body lipid content in mice: evidence for diet-induced resistance to leptin action. Nat Med 1(12):1311–1314

Frutos MG, Pistell PJ, Ingram DK, Berthoud HR (2010) Feed efficiency, food choice, and food reward behaviors in young and old Fischer rats. Neurobiol Aging. doi:10.1016/j.neurobiolaging.2010.09.006

Galinier A, Carriere A, Fernandez Y, Caspar-Bauguil S, Periquet B, Periquet A, Penicaud L, Casteilla L (2006) Site specific changes of redox metabolism in adipose tissue of obese Zucker rats. FEBS Lett 580(27):6391–6398

Halliwell B, Whiteman M (2004) Measuring reactive species and oxidative damage in vivo and in cell culture: how should you do it and what do the results mean? Br J Pharmacol 142(2):231–255

Herbert JD, Coulson RA (1984) A role for carbonic anhydrase in de novo fatty acid synthesis in liver. Ann N Y Acad Sci 429:525–527

Herbert JD, Coulson RA, Hernandez T (1983) Inhibition of pyruvate carboxylation in alligators and chameleons by carbonic anhydrase inhibitors. Comp Biochem Physiol A Mol Integr Physiol 75A(2):185–192

Hertzel AV, Bennaars-Eiden A, Bernlohr DA (2002) Increased lipolysis in transgenic animals overexpressing the epithelial fatty acid binding protein in adipose cells. J Lipid Res 43(12):2105–2111

Hickson M (2006) Malnutrition and ageing. Postgrad Med J 82(963):2–8

Hu E, Liang P, Spiegelman BM (1996) AdipoQ is a novel adipose-specific gene dysregulated in obesity. J Biol Chem 271(18):10697–10703

Ikeno Y, Hubbard GB, Lee S, Cortez LA, Lew CM, Webb CR, Berryman DE, List EO, Kopchick JJ, Bartke A (2009) Reduced incidence and delayed occurrence of fatal neoplastic diseases in growth hormone receptor/binding protein knockout mice. J Gerontol A Biol Sci Med Sci 64(5):522–529

Kaser S, Tatarczyk T, Stadlmayr A, Ciardi C, Ress C, Tschoner A, Sandhofer A, Paulweber B, Ebenbichler CF, Patsch JR (2008) Effect of obesity and insulin sensitivity on adiponectin isoform distribution. Eur J Clin Invest 38(11):827–834

Kirkland JL, Hollenberg CH, Gillon WS (1990) Age, anatomic site, and the replication and differentiation of adipocyte precursors. Am J Physiol 258(2 Pt 1):C206–210

Kizer JR, Arnold AM, Strotmeyer ES, Ives DG, Cushman M, Ding J, Kritchevsky SB, Chaves PH, Hirsch CH, Newman AB (2010) Change in circulating adiponectin in advanced old age: determinants and impact on physical function and mortality. The Cardiovascular Health Study All Stars Study. J Gerontol A Biol Sci Med Sci 65(11):1208–1214

Lee JM, Kim SR, Yoo SJ, Hong OK, Son HS, Chang SA (2009) The relationship between adipokines, metabolic parameters and insulin resistance in patients with metabolic syndrome and type 2 diabetes. J Int Med Res 37(6):1803–1812

List EO, Berryman DE, Palmer AJ, Qiu L, Sankaran S, Kohn DT, Kelder B, Okada S, Kopchick JJ (2007) Analysis of mouse skin reveals proteins that are altered in a diet-induced diabetic state: a new method for detection of type 2 diabetes. Proteomics 7(7):1140–1149

Maffei M, Halaas J, Ravussin E, Pratley RE, Lee GH, Zhang Y, Fei H, Kim S, Lallone R, Ranganathan S et al (1995) Leptin levels in human and rodent: measurement of plasma leptin and ob RNA in obese and weight-reduced subjects. Nat Med 1(11):1155–1161

Miller SL, Wolfe RR (2008) The danger of weight loss in the elderly. J Nutr Health Aging 12(7):487–491

Morley JE (2007) Weight loss in older persons: new therapeutic approaches. Curr Pharm Des 13(35):3637–3647

Muller FL, Lustgarten MS, Jang Y, Richardson A, Van Remmen H (2007a) Trends in oxidative aging theories. Free Radic Biol Med 43(4):477–503

Muller FL, Song W, Jang YC, Liu Y, Sabia M, Richardson A, Van Remmen H (2007b) Denervation-induced skeletal muscle atrophy is associated with increased mitochondrial ROS production. Am J Physiol Regul Integr Comp Physiol 293(3):R1159–1168

Narimiya M, Azhar S, Dolkas CB, Mondon CE, Sims C, Wright DW, Reaven GM (1984) Insulin resistance in older rats. Am J Physiol 246(5 Pt 1):E397–404

O'Connell K, Ohlendieck K (2009) Proteomic DIGE analysis of the mitochondria-enriched fraction from aged rat skeletal muscle. Proteomics 9(24):5509–5524

Okada S, List E, Sankaran S, Kopchick J (2010) Plasma protein biomarkers correlated with the development of diet-induced type 2 diabetes in mice. Clin Proteomics 6(1–2):6–17

Pond CM, Mattacks CA, Thompson MC, Sadler D (1986) The effects of age, dietary restriction, exercise and maternity on the abundance and volume of adipocytes in twelve adipose depots of adult guinea-pigs. Br J Nutr 56(1):29–48

Qiu L, List EO, Kopchick JJ (2005) Differentially expressed proteins in the pancreas of diet-induced diabetic mice. Mol Cell Proteomics 4(9):1311–1318

Roberts SB, Rosenberg I (2006) Nutrition and aging: changes in the regulation of energy metabolism with aging. Physiol Rev 86(2):651–667

Sackmann-Sala L, Ding J, Frohman LA, Kopchick JJ (2009) Activation of the GH/IGF-1 axis by CJC-1295, a long-acting GHRH analog, results in serum protein profile changes in normal adult subjects. Growth Horm IGF Res 19(6):471–477

Sackmann-Sala L, Berryman DE, Munn RD, Lubbers ER, Kopchick JJ (2011) Heterogeneity among white adipose tissue depots in male C57BL/6J mice. Obesity (Silver Spring): Epub ahead of print

Silver AJ, Guillen CP, Kahl MJ, Morley JE (1993) Effect of aging on body fat. J Am Geriatr Soc 41(3):211–213

Singh PN, Haddad E, Tonstad S, Fraser GE (2011) Does excess body fat maintained after the seventh decade decrease life expectancy? J Am Geriatr Soc 59(6):1003–1011

Tchoukalova YD, Koutsari C, Votruba SB, Tchkonia T, Giorgadze N, Thomou T, Kirkland JL, Jensen MD (2010) Sex- and depot-dependent differences in adipogenesis in normal-weight humans. Obesity (Silver Spring) 18(10):1875–1880

Thorner MO (2009) Statement by the Growth Hormone Research Society on the GH/IGF-I axis in extending health span. J Gerontol A Biol Sci Med Sci 64(10):1039–1044

Tran TT, Yamamoto Y, Gesta S, Kahn CR (2008) Beneficial effects of subcutaneous fat transplantation on metabolism. Cell Metab 7(5):410–420

Visvanathan R, Chapman IM (2009) Undernutrition and anorexia in the older person. Gastroenterol Clin North Am 38(3):393–409

Wajchenberg BL, Giannella-Neto D, da Silva ME, Santos RF (2002) Depot-specific hormonal characteristics of subcutaneous and visceral adipose tissue and their relation to the metabolic syndrome. Horm Metab Res 34(11–12):616–621

Wong CM, Marcocci L, Liu L, Suzuki YJ (2010) Cell signaling by protein carbonylation and decarbonylation. Antioxid Redox Signal 12(3):393–404

Yamauchi T, Kamon J, Waki H, Terauchi Y, Kubota N, Hara K, Mori Y, Ide T, Murakami K, Tsuboyama-Kasaoka N, Ezaki O, Akanuma Y, Gavrilova O, Vinson C, Reitman ML, Kagechika H, Shudo K, Yoda M, Nakano Y, Tobe K, Nagai R, Kimura S, Tomita M, Froguel P, Kadowaki T (2001) The fat-derived hormone adiponectin reverses insulin resistance associated with both lipoatrophy and obesity. Nat Med 7(8):941–946
Acknowledgements
This work was supported in part by the State of Ohio's Eminent Scholar Program that includes a gift from Milton and Lawrence Goll, by the National Institutes of Health (NIH) grants DK075436-01, AG019899-06, and 1P01AG031736-01A1, by the Diabetes Research Initiative and the BioMolecular Innovation and Technology Partnership at Ohio University, and by American Veterans (AMVETS). This work is MIAPE compliant.
Electronic supplementary material
Below is the link to the electronic supplementary material.
Decreased insulin sensitivity and increased oxidative damage in wasting adipose tissue depots of wild-type mice (PDF 646 kb)
About this article
Cite this article
Sackmann-Sala, L., Berryman, D.E., Lubbers, E.R. et al. Decreased insulin sensitivity and increased oxidative damage in wasting adipose tissue depots of wild-type mice. AGE 34, 1225–1237 (2012). https://doi.org/10.1007/s11357-011-9304-7
Received:

Accepted:

Published:

Issue Date:
Keywords
Wasting

Aging

White adipose tissue depots

Proteomics

Oxidative damage

Stress resistance

Insulin resistance