Abstract
Environmental lead (Pb) exposure can induce dysbacteriosis, impair oral health, and is associated with the development of dental caries. However, the mechanism is unclear. The aim of this study was to explore the effects of Pb toxicity on oral antimicrobial activity in children in an e-waste area. Results showed higher blood Pb levels in e-waste-exposed group children, accompanied by decreased saliva SAG (salivary agglutinin) concentrations, increased peripheral WBC (white blood cell) counts and monocyte counts, and elevated peripheral monocyte percentage. LnPb (natural logarithmic transformation of blood Pb level) was negatively correlated with saliva SAG concentration, while positively correlated with peripheral monocyte percentage. Saliva SAG concentration played a complete mediating role in the correlation of LnPb to peripheral monocyte percentage. To our knowledge, this is the first study on the relationship of environmental Pb exposure and oral antimicrobial activity in children, showing that environmental Pb exposure may weaken oral antimicrobial activity through reducing saliva SAG concentration, which may raise the risk of oral dysbacteriosis and ultimately pathogen infection.
This is a preview of subscription content, log in to check access.
Access options
Buy single article
Instant access to the full article PDF.
US$ 39.95
Price includes VAT for USA
Subscribe to journal
Immediate online access to all issues from 2019. Subscription will auto renew annually.
US$ 99
This is the net price. Taxes to be calculated in checkout.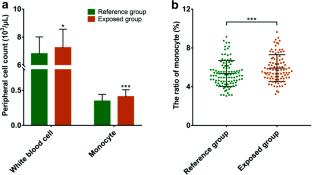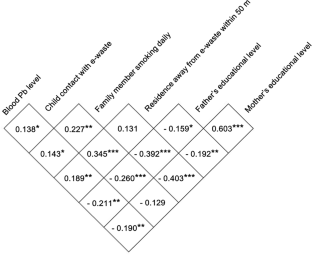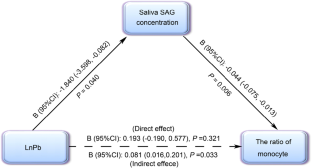 Abbreviations
Pb:

lead

LnPb:

natural logarithmic transformation of blood Pb level

SAG:

salivary agglutinin

PM2.5 :

fine particulate matter

POPs:

persistent organic pollutants

BMI:

body mass index

AMP:

antimicrobial protein and peptide

WBC:

white blood cell

E-waste:

electronic waste

CI:

confidence interval
Acknowledgments
We acknowledge all the recruited children and their guardians for participating in this project. We also thank Dr. Nick Webber for his constructive comments and English language editing.
Funding
This work was supported by the National Natural Science Foundation of China (21876065).
Ethics declarations
Conflict of interest
The authors declare that they have no conflict of interest.
Additional information
Publisher's note
Springer Nature remains neutral with regard to jurisdictional claims in published maps and institutional affiliations.
Responsible editor: Philippe Garrigues
Electronic supplementary material
About this article
Cite this article
Zhang, S., Huo, X., Li, M. et al. Oral antimicrobial activity weakened in children with electronic waste lead exposure. Environ Sci Pollut Res (2020). https://doi.org/10.1007/s11356-020-08037-3
Received:

Accepted:

Published:
Keywords
Oral antimicrobial activity

Children

Lead exposure

Peripheral monocyte percentage

Saliva salivary agglutinin

Electronic waste