Abstract
The widespread use of zinc oxide nanoparticles (ZnO NPs), the second most produced nanomaterial, inevitably leads to their release into the environment. In this study, dissolution and transformation of ZnO NPs in the presence of δ-MnO2, an abundant and ubiquitous manganese (Mn) oxide mineral, was investigated via a suite of techniques covering bulk to molecular scales. Dissolution kinetics indicated that the presence of δ-MnO2 significantly affected ZnO NP dissolution rate/trend and equilibrium Zn2+ concentration, which were found to be mainly dependent on the concentration and mass ratio of ZnO NPs and δ-MnO2. Approximately 300 mg ZnO NPs per g δ-MnO2 was expected for ZnO NP uptake at pH 7.0 via ZnO NP dissolution and surface Zn2+ adsorption. X-ray diffraction (XRD), ζ potential, high-resolution transmission electron microscopy (HR-TEM), and Zn K-edge X-ray absorption spectroscopy (XAS) results revealed that when the mole content of ZnO NPs was less than the total adsorption sites of δ-MnO2 surface, ZnO NPs were completely dissolved and adsorbed on δ-MnO2 surface in the form of inner-sphere complexes. A fraction of ZnO NPs persisted when the mole ratio of ZnO to δ-MnO2 further increased. These results suggest that the transformation and fate of ZnO NPs is affected by environment-relevant minerals such as Mn oxides due to their huge capacity of fixing dissolved metal cations at the surface or interlayer structure.
This is a preview of subscription content, log in to check access.
Access options
Buy single article
Instant access to the full article PDF.
US$ 39.95
Price includes VAT for USA
Subscribe to journal
Immediate online access to all issues from 2019. Subscription will auto renew annually.
US$ 99
This is the net price. Taxes to be calculated in checkout.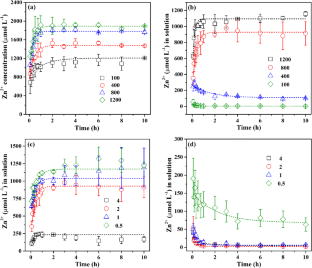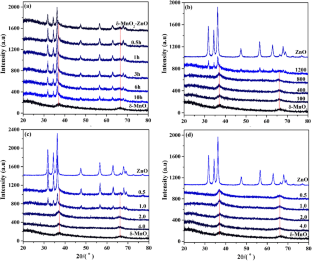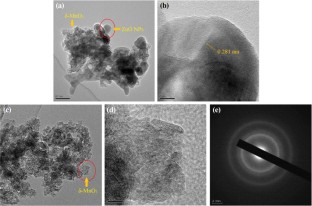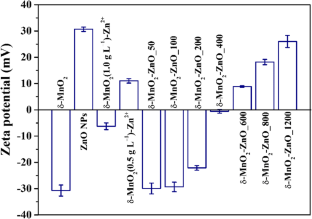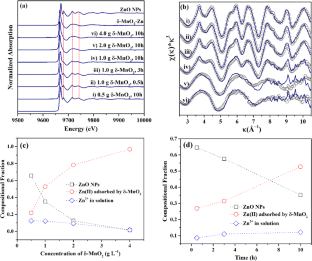 Funding
This research is supported by the National Natural Science Foundation of China (grant nos. 41603100 and 41471194) and the Fundamental Research Funds for the Central Universities (no. 2662017PY070). B. W. thanks the financial support from China Scholarship Council (CSC) under grant no. 201606760059.
Ethics declarations
Conflict of interest
The authors declare that there are no competing interests.
Additional information
Publisher's note
Springer Nature remains neutral with regard to jurisdictional claims in published maps and institutional affiliations.
Responsible editor: Thomas D. Bucheli
Electronic supplementary material
About this article
Cite this article
Wan, B., Hu, Z., Yan, Y. et al. Quantitative investigation of ZnO nanoparticle dissolution in the presence of δ-MnO2. Environ Sci Pollut Res (2020). https://doi.org/10.1007/s11356-020-07965-4
Received:

Accepted:

Published:
Keywords
ZnO nanoparticles

δ-MnO2

Dissolution

Adsorption

XAS