Abstract
Despite the exponential increase of studies on plastic debris in recent years, there are still few works focusing on the problem as it relates to inland waters: little is known about the accumulation and dispersion dynamics on lake shores, and there are no standardized sampling methods for monitoring purposes. The accumulation of plastic litter in natural habitats also threatens the resident organisms. In this paper, we investigated the abundance and accumulation of plastic particles, ranging in size from 1 to 50 mm, from the beach sediment of three volcanic lakes in Central Italy: Albano, Bracciano, and Vico. The collection was designed to define the most important variables that one must consider in order to obtain a representative sample of plastic litter in a lake environment. In view of the high heterogeneity of sampling protocols used, comparison among the obtained results is limited and sometimes impossible. By using one of the proposed sampling methodologies, and critically analyzing the results, we aimed to highlight a possible monitoring criterion and to identify specific elements that can be meaningful and representative. The samples were collected in May and September 2017. For each lake, we sampled plastic items and sediments from two beaches. Albano contained the largest amount of plastic (in weight), while Bracciano had the largest number of particles. Our observations lead us to infer that the number of particles is the parameter most sensitive to environmental variations, as well as the more suitable for monitoring with greater definition the differences between sites. Moreover, sampling should be taken in different seasons, following a sampling pattern that includes at least two beaches placed in strategic positions with respect to wind and waves.
In order to identify new indicators to evaluate the entry points of plastic into the food web, we collected, from the same sites analyzed, some specimens of the Talitrid Amphipod Cryptorchestia garbinii, a detritivorous species having a critical role in debris turnover of these environments. To investigate the microplastic (MP) ingestion in natural conditions, we analyzed their digestive tracts with both Nile red staining method and micro-FTIR spectroscopy. The analyses confirmed that C. garbinii was able to ingest plastics in natural conditions. Therefore, it can signify one of the entry points for microplastics (MPs) in the trophic chain. This observation constitutes the first evidence of MP ingestion in this species.
This is a preview of subscription content, log in to check access.
Access options
Buy single article
Instant access to the full article PDF.
US$ 39.95
Price includes VAT for USA
Subscribe to journal
Immediate online access to all issues from 2019. Subscription will auto renew annually.
US$ 99
This is the net price. Taxes to be calculated in checkout.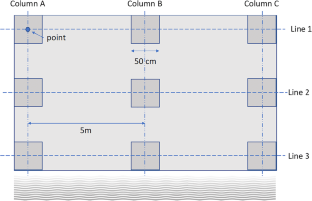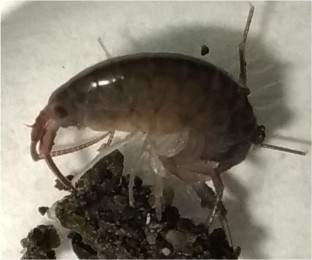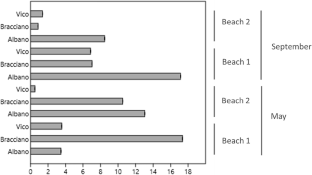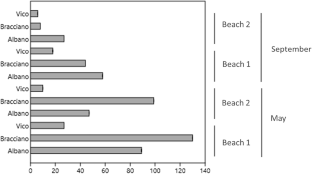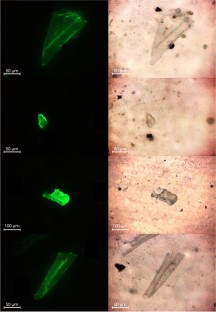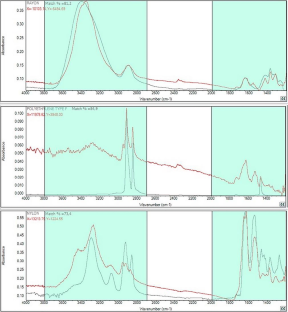 References
Anderson JC, Park BJ, Palace VP (2016) Microplastics in aquatic environments: implications for Canadian ecosystems. Environ Pollut 218:269–280. https://doi.org/10.1016/j.envpol.2016.06.074

Barnes DKA, Galgani F, Thompson RC, Barlaz M (2009) Accumulation and fragmentation of plastic debris in global environments. Philos Trans R Soc B-Biological Sci 364:1985–1998. https://doi.org/10.1098/rstb.2008.0205

Bergmann M, Sandhop N, Schewe I, D'Hert D (2016) Observations of floating anthropogenic litter in the Barents Sea and Fram Strait. Arctic Polar Biol 39:553–560. https://doi.org/10.1007/s00300-015-1795-8

Blettler MCM, Ulla MA, Rabuffetti AP, Garello N (2017) Plastic pollution in freshwater ecosystems: macro-, meso-, and microplastic debris in a floodplain lake. Environ Monit Assess 189:581. https://doi.org/10.1007/s10661-017-6305-8

Calizza E, Costantini ML, Careddu G, Rossi L (2017) Effect of habitat degradation on competition, carrying capacity, and species assemblage stability. Ecol Evol 7:5784–5796. https://doi.org/10.1002/ece3.2977

Carpenter EJ, Smith KL (1972) Plastics on the Sargasso Sea Surface. Science 175(4027):1240–1241

Cincinelli A, Scopetani C, Chelazzi D, Lombardini E, Martellini T, Katsoyiannis A, Fossi MC, Corsolini S (2017) Microplastic in the surface waters of the Ross Sea (Antarctica): occurrence, distribution and characterization by FTIR. Chemosphere 175:391–400. https://doi.org/10.1016/j.chemosphere.2017.02.024

Colton JB, Burns BR, Knapp FD (1974) Plastic particles in surface waters of the Northwestern Atlantic. Science 185(4150):491–497

Corami F, Rosso B, Bravo B, Gambaro A, Barbante C (2020) A novel method for purification, quantitative analysis and characterization of microplastic fibers using micro-FTIR. Chemosphere 238:124564. https://doi.org/10.1016/J.CHEMOSPHERE.2019.124564

Courtene-Jones W, Quinn B, Gary SF, Mogg AOM, Narayanaswamy BE (2017) Microplastic pollution identified in deep-sea water and ingested by benthic invertebrates in the Rockall Trough, North Atlantic Ocean. Environ Pollut 231:271–280. https://doi.org/10.1016/j.envpol.2017.08.026

Davolos D, De Matthaeis E, Latella L, Tarocco M, Ozbek M, Vonk R (2018) On the molecular and morphological evolution of continental and insular Cryptorchestia species, with an additional description of C. garbinii (Talitridae). Zookeys 37–54. https://doi.org/10.3897/zookeys.783.26179

Deudero S, Alomar C (2015) Mediterranean marine biodiversity under threat: reviewing influence of marine litter on species. Mar Pollut Bull 98:58–68. https://doi.org/10.1016/j.marpolbul.2015.07.012

Dris R, Imhof H, Sanchez W, Gasperi J, Galgani F, Tassin B, Laforsch C (2015) Beyond the ocean: contamination of freshwater ecosystems with (micro-)plastic particles. Environ Chem 12:539–550. https://doi.org/10.1071/en14172

Eerkes-Medrano D, Thompson RC, Aldridge DC (2015) Microplastics in freshwater systems: a review of the emerging threats, identification of knowledge gaps and prioritisation of research needs. Water Res 75:63–82. https://doi.org/10.1016/j.watres.2015.02.012

Erni-Cassola G, Gibson MI, Thompson RC, Christie-Oleza JA (2017) Lost, but found with Nile red: a novel method for detecting and quantifying small microplastics (1 mm to 20 μm) in environmental samples. Environ Sci Technol 51:13641–13648. https://doi.org/10.1021/acs.est.7b04512

Faure F, Demars C, Wieser O, Kunz M, de Alencastro LF (2015a) Plastic pollution in Swiss surface waters: nature and concentrations, interaction with pollutants. Environ Chem 12:582–591. https://doi.org/10.1071/en14218

Faure F, Saini C, Potter G, Galgani F, de Alencastro LF, Hagmann P (2015b) An evaluation of surface micro- and mesoplastic pollution in pelagic ecosystems of the Western Mediterranean Sea. Environ Sci Pollut Res 22:12190–12197. https://doi.org/10.1007/s11356-015-4453-3

Fischer EK, Paglialonga L, Czech E, Tamminga M (2016) Microplastic pollution in lakes and Lake shoreline sediments – a case study on Lake Bolsena and Lake Chiusi (Central Italy). Environ Pollut 213:648–657. https://doi.org/10.1016/j.envpol.2016.03.012

Fossi MC, Pedà C, Compa M, Tsangaris C, Alomar C, Claro F, Ioakeimidis C, Galgani F, Hema T, Deudero S, Romeo T, Battaglia P, Andaloro F, Caliani I, Casini S, Panti C, Baini M (2018) Bioindicators for monitoring marine litter ingestion and its impacts on Mediterranean biodiversity. Environ Pollut 237:1023–1040. https://doi.org/10.1016/J.ENVPOL.2017.11.019

Free CM, Jensen OP, Mason SA, Eriksen M, Williamson NJ, Boldgiv B (2014) High-levels of microplastic pollution in a large, remote, mountain lake. Mar Pollut Bull 85:156–163. https://doi.org/10.1016/j.marpolbul.2014.06.001

González, D., Hanke, G., Tweehuysen, G., Bellert, B., Holzhauer, M., Palatinus, A., Hohenblum, P., Oosterbaan, L. 2016. Riverine litter monitoring - options and recommendations. MSFD GES TG marine litter thematic report; JRC Technical Report; EUR 28307; doi:https://doi.org/10.2788/461233

Griffiths CL, Stenton-Dozey JME, Koop K (1983) Kelp wrack and the flow of energy through a sandy beach ecosystem. In: McLachlan A, Erasmus T (eds) Sandy beaches as ecosystems. W. Junk Publishers, Amsterdam, pp 547–556

Iannilli V, Di Gennaro A, Lecce F, Sighicelli M, Falconieri M, Pietrelli L, Poeta G, Battisti C (2018) Microplastics in Talitrus saltator (Crustacea, Amphipoda): new evidence of ingestion from natural contexts. Environ Sci Pollut Res 25:28725–28729. https://doi.org/10.1007/s11356-018-2932-z

Iannilli V, Pasquali V, Setini A, Corami F (2019) First evidence of microplastics ingestion in benthic amphipods from Svalbard. Environ Res 179:108811. https://doi.org/10.1016/J.ENVRES.2019.108811

Imhof HK, Wiesheu AC, Anger PM, Niessner R, Ivleva NP, Laforsch C (2018) Variation in plastic abundance at different lake beach zones - a case study. Sci Total Environ 613:530–537. https://doi.org/10.1016/j.scitotenv.2017.08.300

Isobe A, Uchiyama-Matsumoto K, Uchida K, Tokai T (2017) Microplastics in the Southern Ocean. Mar Pollut Bull 114:623–626. https://doi.org/10.1016/j.marpolbul.2016.09.037

Jamieson AJ, Brooks LSR, Reid WDK, Piertney SB, Narayanaswamy BE, Linley TD (2019) Microplastics and synthetic particles ingested by deep-sea amphipods in six of the deepest marine ecosystems on earth. R Soc Open Sci. https://doi.org/10.1098/rsos.180667

Kaiser D, Kowalski N, Waniek JJ (2017) Effects of biofouling on the sinking behavior of microplastics. Environ Res Lett 12. https://doi.org/10.1088/1748-9326/aa8e8b

Kroon FJ, Motti CE, Jensen LH, Berry KLE (2018) Classification of marine microdebris: a review and case study on fish from the Great Barrier Reef. Australia Sci Rep 8:1–15. https://doi.org/10.1038/s41598-018-34590-6

Lebreton LCM, Van der Zwet J, Damsteeg JW, Slat B, Andrady A, Reisser J (2017) River plastic emissions to the world's oceans. Nat Commun 8. https://doi.org/10.1038/ncomms15611

Lusher AL, Tirelli V, O'Connor I, Officer R (2015) Microplastics in Arctic polar waters: the first reported values of particles in surface and sub-surface samples. Sci Rep:5. https://doi.org/10.1038/srep14947

Nel HA, Dalu T, Wasserman RJ (2018) Sinks and sources: assessing microplastic abundance in river sediment and deposit feeders in an austral temperate urban river system. Sci Total Environ. 612, 950–956. https://doi.org/10.1016/j.scitotenv.2017.08.298 Pallault M (1954) notes ecologiques Sur le Talitrus taltator. Arch Zool exp 91, 105–129

OSPAR Commission, 2010. Guideline for monitoring marine litter on the beaches in the OSPAR maritime area. London

Palluault M (1954) Notes écologiques sur le Talitrus saltator. Archives Zoologie Expérimentale et Générale 91:105–129

Pietrelli L, Di Gennaro A, Menegoni P, Lecce F, Poeta G, Acosta ATR, Battisti C, Iannilli V (2017) Pervasive plastisphere: first record of plastics in egagropiles (Posidonia spheroids). Environ Pollut 229:1032–1036. https://doi.org/10.1016/j.envpol.2017.07.098

PlasticsEurope - Association of Plastics Manufactors, Plastics – the facts (2017)

Quaderni habitat, n.17 – Laghi vulcanici – Il fuoco, l'acqua e la vita (2007). Ministero dell'Ambiente e della Tutela del Territorio - Museo Friulano di Storia Naturale, Udine

Rapporto ISPRA (2017) Analisi e valutazione dello stato ambientale del Lago di Bracciano riferito all'estate, p 2017

Ruffo S, Tarocco M, Latella L (2014) Cryptorchestia garbinii n. sp. (Amphipoda: Talitridae) from Lake Garda (northern Italy), previously referred to as Orchestia cavimana Heller, 1865, and notes on the distribution of the two species. Ital J Zool 81:92–99. https://doi.org/10.1080/11250003.2014.891662

Shim WJ, Song YK, Hong SH, Jang M (2016) Identification and quantification of microplastics using Nile red staining. Mar Pollut Bull 113:469–476. https://doi.org/10.1016/j.marpolbul.2016.10.049

Sighicelli M, Pietrelli L, Lecce F, Iannilli V, Falconieri M, Coscia L, Di Vito S, Nuglio S, Zampetti G (2018) Microplastic pollution in the surface waters of Italian Subalpine Lakes. Environ Pollut 236:645–651. https://doi.org/10.1016/j.envpol.2018.02.008

Su L, Cai H, Kolandhasamy P, Wu C, Rochman CM, Shi H (2018) Using the Asian clam as an indicator of microplastic pollution in freshwater ecosystems. Environ Pollut 234:347–355. https://doi.org/10.1016/J.ENVPOL.2017.11.075

Turner S, Horton AA, Rose NL, Hall C (2019) A temporal sediment record of microplastics in an urban lake, London, UK. J Paleolimnol 61:449–462. https://doi.org/10.1007/s10933-019-00071-7

Ugolini A, Ungherese G, Ciofini M, Lapucci A, Camaiti M (2013) Microplastic debris in sandhoppers. Estuar Coast Shelf Sci 129:19–22. https://doi.org/10.1016/j.ecss.2013.05.026

UNEP Year book 2011: emerging issues in our global environment, United Nations Environment Programme, Nairobi. Published February 2011

Van Cauwenberghe L, Vanreusel A, Mees J, Janssen CR (2013) Microplastic pollution in deep-sea sediments. Environ Pollut 182:495–499. https://doi.org/10.1016/j.envpol.2013.08.013

Waller CL, Griffiths HJ, Waluda CM, Thorpe SE, Loaiza I, Moreno B, Pacherres CO, Hughes KA (2017) Microplastics in the Antarctic marine system: an emerging area of research. Sci Total Environ 598:220–227. https://doi.org/10.1016/j.scitotenv.2017.03.283
Acknowledgments
The authors wish to thank Dr. Beatrice Rosso for her support on experimental analyses. The authors also wish to thank Giancarlo Casale for helpful comments and an anonymous reviewer for providing their feedback and expertise in improving this manuscript. We are grateful to Robyn and Emanuele Palescandolo for substantially improving the English language of the manuscript.
Additional information
Publisher's note
Springer Nature remains neutral with regard to jurisdictional claims in published maps and institutional affiliations.
Responsible editor: Philippe Garrigues
About this article
Cite this article
Iannilli, V., Corami, F., Grasso, P. et al. Plastic abundance and seasonal variation on the shorelines of three volcanic lakes in Central Italy: can amphipods help detect contamination?. Environ Sci Pollut Res (2020). https://doi.org/10.1007/s11356-020-07954-7
Received:

Accepted:

Published:
Keywords
Albano

Bracciano

Vico

Cryptorchestia garbinii

Microplastics

Micro-FTIR

Nile red

Sampling methods

Microplastic trophic transfer

Plastic pollution