Abstract
Improper management of plastic waste is an important contributor to the pollution in water bodies. However, how floating plastic debris is transported to coastal lagoons and marine conservation units is still poorly understood. This work determined the level of contamination due to floating plastic debris in Acaraí Lagoon by establishing density distribution patterns along the lagoon ecocline in the winter and summer. Four areas were chosen that followed the estuarine gradient of the lagoon (external, lower, middle, and upper), and in each area, three samples of were collected by trawling with a plankton net. The plastic debris was classified into paint fragments, hard solids, plastic filaments, and soft plastics, and the plastic debris density and surface area were determined in each sampling area. The concentrations of the plastics in the downstream and upstream areas resulted from the high density of debris that occurred during the winter due to the absence of rain and the entry of coastal waters into the lagoon. The reduced abundance and surface area of the plastics in the summer were related to the substantial output of water from the interior of the lagoon to the mouth of the lagoon due to high rainfall during this season. The absence of plastic waste management actions and developed areas at the mouth of the lagoon that were associated with the spatial and temporal fluctuations in the environmental variables favored the occurrence and high abundance of plastic debris in the water column, contaminating the entire system of Acaraí State Park.
This is a preview of subscription content, log in to check access.
Access options
Buy single article
Instant unlimited access to the full article PDF.
US$ 39.95
Price includes VAT for USA
Subscribe to journal
Immediate online access to all issues from 2019. Subscription will auto renew annually.
US$ 99
This is the net price. Taxes to be calculated in checkout.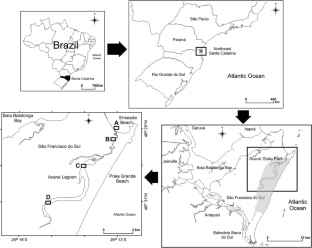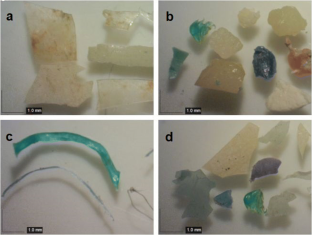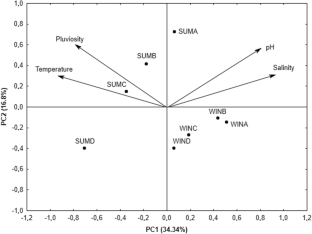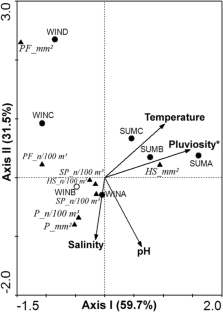 References
Aliabad MK, Nassiri M, Kor K (2019) Microplastic in the surface seawaters of Chabahar Bay, Gulf of Oman (Makran Coasts). Mar Pollut Bull 143:125–133. https://doi.org/10.1016/j.marpolbul.2019.04.037

Alvares CA, Stape JL, Sentelhas PC, Gonçalves JLM, Sparover G (2014) Köppen's climate classification map for Brazil. Meteorol Z 22(6):711–728. https://doi.org/10.1127/0941-2948/2013/0507

Andrady AL (2011) Microplastics in the marine environment. Mar Pollut Bull 62(8):1596–1605. https://doi.org/10.1016/j.marpolbul.2011.05.030

Andrea de Lucia G, Caliani I, Marra S, Camedda A, Coppa S, Alcaro L, Campani T, Giannetti M, Coppola D, Cicero AM, Panti C, Baini M, Guerranti C, Marsili L, Massaro G, Fossi MC, Matiddi M (2014) Amount and distribution of neustonic micro-plastic off the western Sardinian coast (Central-Western Mediterranean Sea). Mar Environ Res 100:10–16. https://doi.org/10.1016/j.marenvres.2014.03.017

Ballantines B (2014) Fifty years on: Lessons from marine reserves in New Zealand and principles for a worldwide network. Biol Cons 176: 297-307. https://doi.org/10.1016/j.biocon.2014.01.014

Barnes DKA, Galgani F, Thompson RC, Barlaz M (2009) Accumulation and fragmentation of plastic debris in global environments. Philos Trans R Soc B 364:1985–1998. https://doi.org/10.1098/rstb.2008.0205

Beck MW, Heck KL Jr, Able KW, Childers DL, Eggleston DB, Gillanders BM, Halpem BS, Hays CG, Hoshino K, Minello TJ, Orth RJ, Sheridan PF, Weinstein MP (2001) The identification, conservation, and management of estuarine and marine nursery for fish and invertebrates. BioScience 51(8):633–641. https://doi.org/10.1641/0006-3568(2001)051[0633:TICAMO]2.0.CO;2

Santa Catarina (2005). State Decree n° 3 517. http://server03.pge.sc.gov.br/LegislacaoEstadual/2005/003517-005-0-2005-003.htm

Cole M, Lindeque P, Halsband C, Galloway TS (2011) Microplastics as contaminants in the marine environment: a review. Mar Pollut Bull 62:2588–2597. https://doi.org/10.1016/j.marpolbul.2011.09.025

Derraik JGB (2002) The pollution of the marine environment by plastic debris: a review. Mar Pollut Bull 44(9):842–852. https://doi.org/10.1016/S0025-326X(02)00220-5

Eriksen M, Lebreton LCM, Carson HS, Thiel M, Moore CJ, Borerro JC, Galgani F, Ryan PG, Reisser J (2014) Plastic pollution in the world's oceans: more than 5 trillion plastic pieces weighing over 250000 tons afloat at sea. PLoS One 9(12):e111913. https://doi.org/10.1371/journal.pone.0111913

Ferreira GVB, Barletta M, Lima ARA, Morley SA, Justino AK, Costa MF (2018) High intake rates of microplastics in a Western Atlantic predatory fish, and insights of a direct fishery effect. Environ Pollut 236:706–717. https://doi.org/10.1016/j.envpol.2018.01.095

Ferreira GVB, Barletta M, Lima ARA (2019) Use of estuarine resources by top predator fishes. How do ecological patterns affect rates of contamination by microplastics? Sci Total Environ 655:292–304. https://doi.org/10.1016/j.scitotenv.2018.11.229

Frère L, Paul-Pont I, Rinnert E, Petton S, Jaffré J, Bihannic I, Lambert C, Huvet A (2017) Influence of environmental and anthropogenic factors on the composition, concentration and spatial distribution of microplastics: a case study of the Bay of Brest (Brittany, France). Environ Pollut 225:211–222. https://doi.org/10.1016/j.envpol.2017.03.023

Frias JPGL, Otero V, Sobral P (2014) Evidence of microplastics in samples of zooplankton from Portuguese coastal waters. Mar Environ Res 95:89–95. https://doi.org/10.1016/j.marenvres.2014.01.001

Gall SC, Thompson RC (2015) The impact of debris on marine life. Mar Pollut Bull 92(1–2):170–179. https://doi.org/10.1016/j.marpolbul.2014.12.041

Gell FR, Roberts CM (2003) Benefits beyond boundaries: the fishery effects of marine reserves. Trends Ecol Evol 18(9):448–455. https://doi.org/10.1016/S0169-5347(3)00189-7

Imhof HK, Sigl R, Brauer E, Feyl S, Giesemann P, Klink S, Leupolz K, Löder MGJ, Löschel LA, Missun J, Muszynski S, Ramsperger AFRM, Schrank I, Speck S, Steibl S, Trotter B, Winter I, Laforsch C (2017) Spatial and temporal variation of macro-, meso- and microplastic abundance on a remote coral island of the Maldives, Indian Ocean. Mar Pollut Bull 116:340–347. https://doi.org/10.1016/j.marpolbul.2017.01.010

Ivar do Sul JA, Costa MF, Silva-Cavalcanti JS, Araújo MCB (2014) Plastic debris retention and exportation by a mangrove forest patch. Mar Pollut Bull 78:252–257. https://doi.org/10.1016/j.marpolbul.2013.11.011

Jambeck JR, Geyer R, Wilcox C, Siegler TR, Perryman M, Andrady A, Narayan R, Law KL (2015) Plastic waste inputs from land into the ocean. Science 347(6223):768–771. https://doi.org/10.1126/science.1260352

Legendre P, Legendre L (1998) Numerical ecology, 2nd edn. Elsevier, Amsterdam 853 p

Lima ARA, Barletta M, Costa MF (2014) Distribution patterns of microplastics within the plankton of a tropical estuary. Environ Res 132:146–155. https://doi.org/10.1016/j.envres.2014.03.031

Lima ARA, Barletta M, Costa MF (2015) Seasonal distribution and interactions between plankton and microplastics in a tropical estuary. Estuar Coast Shelf Sci 165:213–225. https://doi.org/10.1016/j.ecss.2015.05.018

Lima ARA, Barletta M, Costa MF (2016) Seasonal-dial shifts of ichthyoplankton assemblages and plastic debris around an equatorial Atlantic archipelago. Front Environ Sci 4:56. https://doi.org/10.3389/fenvs.2016.00056

Luo W, Su L, Craig NJ, Du F, Wu F, Shi H (2019) Comparison of microplastic pollution in different water bodies from urban creeks to coastal waters. Environ Pollut 246:174–182. https://doi.org/10.1016/j.envpol.2018.11.081

Lusher AL, Mchugh M, Thompson RC (2013) Occurrence of microplastics in the gastrointestinal tract of pelagic and demersal fish from the English Channel. Mar Pollut Bull 67:94–99. https://doi.org/10.1016/j.marpolbul.2012.11.028

McEachern K, Alegria H, Kalagher AL, Hansen C, Morrison S, Hastings D (2019) Microplastics in Tampa Bay, Florida: abundance and variability in estuarine waters and sediments. Mar Pollut Bull 148:97–106. https://doi.org/10.1016/j.,arpolbul.2019.07.068

Melo Júnior JCF, Boeger MRT (2017) Patrimônio natural, cultura e biodiversidade da restinga do Parque Estadual do Acaraí – Joinville, SC: UNIVILLE

Monteiro RCP, Ivar do Sul JA, Costa MF (2018) Plastic pollution in islands of the Atlantic Ocean. Environ Pollut 238:103–110. https://doi.org/10.1016/j.envpol.2018.01.096

Oliveira FA, Vieira CV (2017) Aspectos climáticos e hidrográficos. In Patrimônio natural, cultural e biodiversidade da restinga do Parque Estadual do Acarai. Orgs. Melo JCF, Boeger MRT

Palmer MW (1993) Putting things in even better order: the advantages of canonical correspondence analysis. Ecology 74(8):2215–2230. https://doi.org/10.2307/1939575

PlasticsEurope (2019) Plastics – The Facts 2019. In: An analysis of European plastics production, demand and waste data. PlasticsEurope, Belgium https://www.plasticseurope.org/en/resources/market-data

Schmidt C, Krauth T, Wagner S (2017) Export of plastic debris by rivers into the sea. Environ Sci Technol 51:12246–12253. https://doi.org/10.1021/acs.est.7b02368

Stelmack EO, Vieira CV, Cremer MJ, Kroll C (2018) Lixo marinho em ambientes costeiros: o caso da Praia Grande na Ilha de São Francisco do Sul/SC, Brasil. Geosul 33(66):11–28. https://doi.org/10.5007/2177-5230.2018v33n66p11

Syakti AD, Bouhroum R, Hidayati NV, Koenawan CJ, Boulkamh A, Sulistyo I, Lebarillier S, Akhlus S, Doumenq P, Wong-Wah-Chung P (2017) Beach macro-litter monitoring and floating microplastic in a coastal area of Indonesia. Mar Pollut Bull 122:217–225. https://doi.org/10.1016/j.marpolbul.2017.06.046

ter Halle A, Ladirat L, Gendre X, Goudouneche D, Pusineri C, Routaboul C, Tenailleau C, Duployer B, Perez E (2016) Understanding the fragmentation pattern of marine plastic debris. Environ Sci Technol 50(11):5668–5675. https://doi.org/10.1021/acs.est.6b00594

Tsang YY, Mak CW, Liebich C, Lam SW, Sze ET-P, Chan KM (2017) Microplastic pollution in the marine waters and sediments of Hong Kong. Mar Pollut Bull 115:20–28. https://doi.org/10.1016/j.marpolbul.2016.11.003

Vieira S (2010) Bioestatistica: tópicos avancados, 3rd edn. Elsevier, Rio de Janeiro 278 p

Wright SL, Thompson RC, Galloway TS (2013) The physical impacts of microplastics on marine organisms: a review. Environ Pollut 178:483–492. https://doi.org/10.1016/j.envpol.2013.02.031

Zhao S, Shu L, Li D (2015) Microplastic in three urban estuaries, China. Environ Pollut 206:597–604. https://doi.org/10.1016/j.envpol.2015.08.027
Additional information
Publisher's note
Springer Nature remains neutral with regard to jurisdictional claims in published maps and institutional affiliations.
Responsible editor: Philippe Garrigues
About this article
Cite this article
Lorenzi, L., Reginato, B.C., Mayer, D.G. et al. Plastic floating debris along a summer-winter estuarine environmental gradient in a coastal lagoon: how does plastic debris arrive in a conservation unit?. Environ Sci Pollut Res (2020). https://doi.org/10.1007/s11356-020-07708-5
Received:

Accepted:

Published:
Keywords
Microplastic

Estuarine ecocline

Anthropogenic impact

Transitional ecosystem