Abstract
Compound pollution refers to two or more kinds of pollutants with different properties, a pollutant from different sources, or the simultaneous existence of two or more different types of pollutants in the same environment. In this study, we aimed to investigate the individual and combined toxicity of the insecticide imidacloprid (IMI), the herbicide acetochlor (ACT), and the fungicide tebuconazole (TBZ) to zebrafish. The acute toxicity test results showed that the 96-h LC50 values of IMI, ACT, and TBZ were 276.84 (259.62–294.35) mg active ingredient (a.i.) L−1, 1.52 (1.34–1.74) mg a.i. L−1, and 8.16 (7.7–8.6) mg a.i. L−1, respectively. The combinations of IMI, ACT, and TBZ with toxicity ratios of 1:2:2, 1:4:4, 2:4:1, and 4:1:4 displayed synergistic toxic effects on zebrafish, while the toxicity ratios of 1:1:1, 1:1:2, 2:1:2, 2:2:1, and 4:2:1 of IMI, ACT, and TBZ, respectively, exhibited antagonistic toxic effects on zebrafish. The following experiments were performed with a toxicity ratio of 1:4:4 (IMI:ACT:TBZ). The activities of four enzyme biomarkers related to oxidative stress in the liver, catalase (CAT), superoxide dismutase (SOD), glutathione S-transferase (GST), and malondialdehyde (MDA) content were evaluated in each exposure group on days 7, 14, 21, and 28. Compared with those of the control group, the activities of CAT, SOD, and GST and the MDA content were significantly altered at different time points in the individual and combined exposure groups. Additionally, the activities of CAT, SOD, and GST and the MDA content were significantly altered in the combined group compared with those of the individual group after 14 days or 21 days of exposure. Therefore, it was confirmed that combined toxicity studies are indispensable in risk assessment.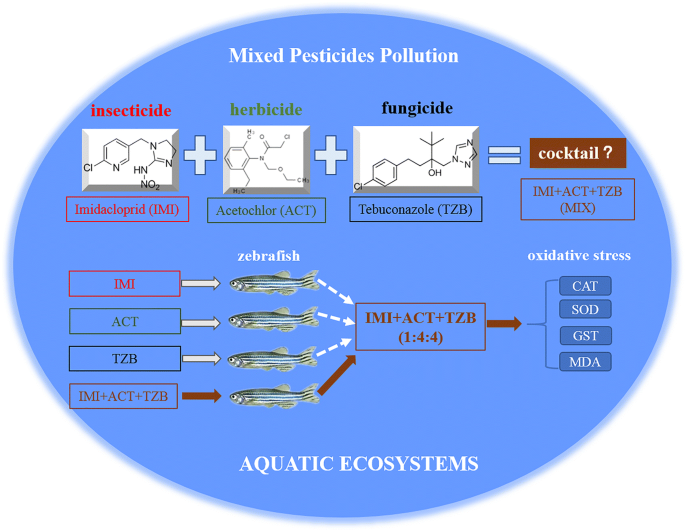 This is a preview of subscription content, log in to check access.
Access options
Buy single article
Instant unlimited access to the full article PDF.
US$ 39.95
Price includes VAT for USA
Subscribe to journal
Immediate online access to all issues from 2019. Subscription will auto renew annually.
US$ 99
This is the net price. Taxes to be calculated in checkout.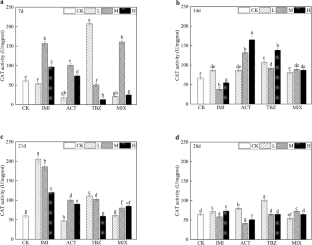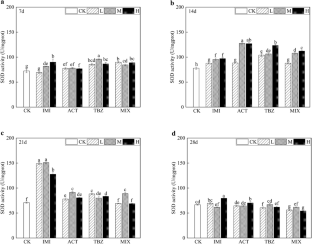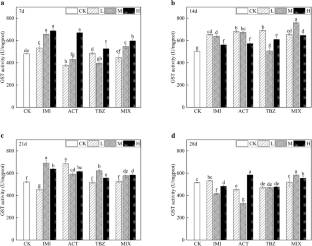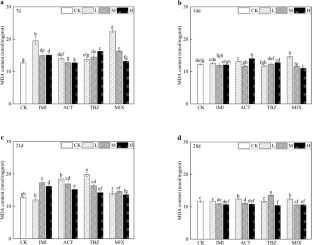 References
Anderson J, Dubetz C, Palace V (2015) Neonicotinoids in the Canadian aquatic environment: a literature review on current use products with a focus on fate, exposure, and biological effects. Sci Total Environ 505:409–422

Bernabò I, Guardia A, Macirella R, Sesti S, Crescente A, Brunelli E (2016) Effects of long-term exposure to two fungicides, pyrimethanil and tebuconazole, on survival and life history traits of Italian tree frog (Hyla intermedia). Aquat Toxicol 172:56–66

Castro T, Souza J, Carvalho A, Assis I, Palmieri M, Vieira L, Marcussi S, Machado M, Murgas L (2018) Anxiety- associated behavior and genotoxicity found in adult, Danio rerio, exposed to tebuconazole-based commercial product. Environ Toxicol Phar 62:140–146

Cohen Y, Levy Y (1990) Joint action of fungicides in mixtures: theory and practice. Phytoparasitica 18:159–169

Cui N, Xu H, Yao S, He Y, Zhang H, Yu Y (2018) Chiral triazole fungicide tebuconazole: enantioselective bioaccumulation, bioactivity, acute toxicity, and dissipation in soils. Environ Sci Pollut Res 25:25468–25475

Ding Z, Yang Y, Jin H, Shan Z, Yu H, Feng J, Zhang X, Zhou J (2004) Acute toxicity and bio-concentration factor of three pesticides on Brachydanio rerio. Chin J Appl Ecol 15(5):888–890 (in Chinese)

Foley M, Sigler V, Gruden C (2008) A multiphasic characterization of the impact of the herbicide acetochlor on freshwater bacterial communities. ISME J 2:56–66

Furlan L, Kreutzweiser D (2015) Alternatives to neonicotinoid insecticides for pest control: case studies in agriculture and forestry. Environ Sci Pollut Res 22:135–147

Ge W, Yan S, Wang J, Zhu L, Chen A, Wang J (2015) Oxidative stress and DNA damage induced by imidacloprid in zebrafish (Danio rerio). J Agr Food Chem 63:1856–1862

Grung M, Lin Y, Zhang H, Steen A, Huang J, Zhang G, Larssen T (2015) Pesticide levels and environmental risk in aquatic environments in China—a review. Environ Int 81:87–97

Guo D, Wang Y, Qian Y, Chen C, Jiao B, Cai L, Wang Q (2017) Joint acute and endocrine disruptive toxicities of malathion, cypermethrin and prochloraz to embryo-larval zebrafish, Danio rerio. Chemosphere 166:63–71

Hladik M, Bouwer E, Roberts A (2008) Neutral chloroacetamide herbicide degradates and related compounds in Midwestern United States drinking water sources. Sci Total Environ 390:155–165

Hladik M, Kolpin D, Kuivila K (2014) Widespread occurrence of neonicotinoid insecticides in streams in a high corn and soybean producing region, USA. Environ Pollut 193:189–196

Jiang J, Wu S, Liu X, Wang Y, An X, Cai L, Zhao X (2015) Effect of acetochlor on transcription of genes associated with oxidative stress, apoptosis, immunotoxicity and endocrine disruption in the early life stage of zebrafish. Environ Toxicol Phar 40:516–523

Jiang J, Chen Y, Yu R, Zhao X, Wang Q, Cai L (2016) Pretilachlor has the potential to induce endocrine disruption, oxidative stress, apoptosis and immunotoxicity during zebrafish embryo development. Environ Toxicol Phar 42:125–134

Ken C, Hsiung T, Huang Z, Juang R, Lin C (2005) Characterization of Fe/Mn-superoxide dismutase from diatom Thallassiosira weissflogii: cloning, expression, and property. J Agr Food Chem 53:1470–1474

Kolpin D, Nations B, Goolsby D, Thurman E (1996) Acetochlor in the hydrologic system in the Midwestern United States, 1994. Environ Sci Technol 30:1459–1464

Konda L, Pásztor Z (2001) Environmental distribution of acetochlor, atrazine, chlorpyrifos, and propisochlor under field conditions. J Agr Food Chem 49:3859–3863

Kunce W, Josefsson S, Örberg J, Johansson F (2015) Combination effects of pyrethroids and neonicotinoids on development and survival of Chironomus riparius. Ecotox Environ Saf 122:426–431

Li H, Feng Y, Li X, Zeng D (2018) Analytical confirmation of various herbicides in drinking water resources in sugarcane production regions of Guangxi, China. B Environ Contam Tox 100:815–820

Liu N, Dong F, Xu J, Liu X, Zheng Y (2016) Chiral bioaccumulation behavior of tebuconazole in the zebrafish (Danio rerio). Ecotox Environ Saf 126:78–84

Livingstone D (2001) Contaminant-stimulated reactive oxygen species production and oxidative damage in aquatic organisms. Mar Pollut Bull 42:656–666

Main A, Headley J, Peru K, Michel N, Cessna A, Morrissey C (2014) Widespread use and frequent detection of neonicotinoid insecticides in wetlands of Canada's Prairie Pothole Region. PLoS One 9:e92821

Marking L (1985) Toxicity of chemical mixtures. In: Rand G, Petroceli S (eds) Fundamentals of aquatic toxicology. Hemisphere Publishing Corporation, Washington, pp 164–176

Morrissey C, Mineau P, Devries J, Sanchez-Bayo F, Liess M, Cavallaro M, Liber K (2015) Neonicotinoid contamination of global surface waters and associated risk to aquatic invertebrates: a review. Environ Int 74:291–303

Mu X, Chai T, Wang K, Zhang J, Zhu L, Li X, Wang C (2015) Occurrence and origin of sensitivity toward difenoconazole in zebrafish (Danio reio) during different life stages. Aquat Toxicol 160:57–68

OECD (1992) OECD guidelines for the testing of chemicals no. 203, fish acute toxicity. OECD, Paris

Rabiet M, Margoum C, Gouy V, Carluer N, Coquery M (2010) Assessing pesticide concentrations and fluxes in the stream of a small vineyard catchment—effect of sampling frequency. Environ Pollut 158:737–748

Samoucha Y, Gisi U (1987) Possible explanations of synergism in fungicide mixtures against Phytophthora infestans. Ann appl biol 110:303–311

Sancho E, Villarroel M, Ferrando M (2016) Assessment of chronic effects of tebuconazole on survival, reproduction and growth of Daphnia magna after different exposure times. Ecotox Environ Saf 124:10–17

Svensson R, Rinaldi R, Swedmark S, Morgenstern R (2000) Reactivity of cysteine-49 and its influence on the activation of microsomal glutathione transferase 1: evidence for subunit interaction. Biochemistry-US 39:15144–15149

Thuyet D, Watanabe H, Ok J (2013) Effect of pH on the degradation of imidadoprid and fipronil in paddy water. J Pestic Sci 38:223e227

Tisler T, Jemec A, Mozetic B, Trebse P (2009) Hazard identification of imidacloprid to aquatic environment. Chemosphere 76:0–914

Toni C, Ferreira D, Kreutz L, Loro V, Barcellos L (2011) Assessment of oxidative stress and metabolic changes in common carp (Cyprinus carpio) acutely exposed to different concentrations of the fungicide tebuconazole. Chemosphere 83:579–584

Uwizeyimana H, Wang M, Chen W, Khan K (2017) The eco-toxic effects of pesticide and heavy metal mixtures towards earthworms in soil. Environ Toxicol Phar 55:20–29

Vieira C, Pérez M, Acayaba R, Raimundo C, Martinez C (2018) DNA damage and oxidative stress induced by imidacloprid exposure in different tissues of the Neotropical fish Prochilodus lineatus. Chemosphere 195:125–134

Wang Y, Lv L, Yu Y, Yang G, Xu Z, Wang Q, Cai L (2017) Single and joint toxic effects of five selected pesticides on the early life stages of zebrafish (Denio rerio). Chemosphere 170:61–67

Wang H, Meng Z, Zhou L, Cao Z, Liao X, Ye R, Lu H (2019) Effects of acetochlor on neurogenesis and behaviour in zebrafish at early developmental stages. Chemosphere 220:954–964

Wu Y, Wang C, Wang Y, Zhao Y, Chen Y, Zuo Z (2007) Antioxidant responses to benzo[a]pyrene, tributyltin and their mixture in the spleen of Sebasticus marmoratus. J Environ Sci China 19:1129–1135

Wu C, Liu X-G, He M-Y, Dong F-S, Xu J, Wu X-H, Zheng Y-Q (2017) Acute toxicity and bio-concentration of tebuconazole in Brachydanio rerio. Asian J Ecotoxicol 12:302–309 (in Chinese)

Xia X, Xia X, Huo W, Dong H, Zhang L, Chang Z (2016) Toxic effects of imidacloprid on adult loach (Misgurnus anguillicaudatus). Environ Toxicol Phar 45:132–139

Yang M, Hu J, Li S, Ma Y, Gui W, Zhu G (2015) Thyroid endocrine disruption of acetochlor on zebrafish (Danio rerio) larvae. J Appl Toxicol 36:844–852

Zhang Q, Hua X, Yang Y, Yin W, Tian M, Shi H, Wang M (2015) Stereoselective degradation of flutriafol and tebuconazole in grape. Environ Sci Pollut Res 22:4350–4358

Zhao L, Zhu X, Wang Y, Jin H, Wang J, Wang C, Lao Y, Jiang Y, Tao Y, Zhou J, Cai Z (2015) The combined toxic effect of nanoscale titanium dioxide (nTiO2) and bisphenol A (BPA) on Scenedesmus obliquus. Asian J Ecotoxicol 10(6):110–120 (in Chinese)

Zhou Q, Cheng Y, Zhang Q, Liang J (2004) Quantitative analyses of relationships between ecotoxicological effects and combined pollution. Sci China Ser C 47(4):332–339
Acknowledgments
We thank the American Journal Experts (AJE) for the English language editing.
Funding information
This work was supported by the National Key Research Development Program of China (No. 2016YFD0200500) and the National Natural Science Foundation of China (31801769).
Additional information
Publisher's note
Springer Nature remains neutral with regard to jurisdictional claims in published maps and institutional affiliations.
Responsible editor: Philippe Garrigues
Electronic supplementary material
About this article
Cite this article
Chang, Y., Mao, L., Zhang, L. et al. Combined toxicity of imidacloprid, acetochlor, and tebuconazole to zebrafish (Danio rerio): acute toxicity and hepatotoxicity assessment. Environ Sci Pollut Res (2020). https://doi.org/10.1007/s11356-020-07653-3
Received:

Accepted:

Published:
Keywords
Combined toxicity

Imidacloprid

Acetochlor

Tebuconazole

Danio rerio

Oxidative stress