Abstract
The present investigation was conducted to evaluate the effect of penconazole (PEN) fungicide on early embryogenesis of white mice. In the first experiment, 48 pregnant females were divided into different groups; the first group is control (G1). The second group (G2) was treated daily with PEN (30-, 20-, 10-, 5-mg/kg BW). The third group (G3) was treated with PEN (5-mg/kg BW; day after the other day). The fourth group (G4) was treated with PEN (2.5-mg/kg BW daily) during pre-implantation stage (from the 1st to the 4th day of gestation). The fifth group (G5) was treated with PEN (2.5-mg/kg BW daily) during post-implantation (from the 5th to the 8th day of gestation). The pregnant females were sacrificed at the 14th day of gestation. In the second experiment, 63 pregnant females were classified into control, PEN-treated during pre-implantation period (2.5-mg/kg BW), and PEN-administered during post-implantation period (2.5-mg/kg BW). Each group was sacrificed at stages E6.5, E7.5, E8.5, E9.5, E11.5, E14.5, and E18.5. The high doses of PEN in the first experiment showed failed pregnancy, foetoresorption, and embryo disorganization. High doses of PEN induce alterations in the uterus tissue at the level of histology and immunohistochemistry for the expression of TGFβ2, TNFR2, Caspase 10, and HSP70. The low doses of PEN in the second experiment showed upregulated expression of TGFβ2, TNFR2, Caspase 10, and HSP70 at stages E6.5 and E7.5. In conclusion, PEN was found to alter the suitable uterine environment for proper implantation and development at the levels of histological and immunohistochemical that could create a risk during the full course of embryogenesis.
This is a preview of subscription content, log in to check access.
Access options
Buy single article
Instant unlimited access to the full article PDF.
US$ 39.95
Price includes VAT for USA
Subscribe to journal
Immediate online access to all issues from 2019. Subscription will auto renew annually.
US$ 99
This is the net price. Taxes to be calculated in checkout.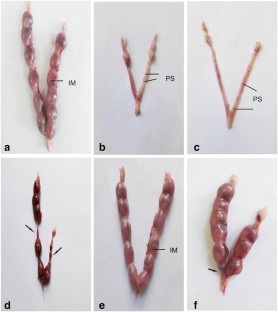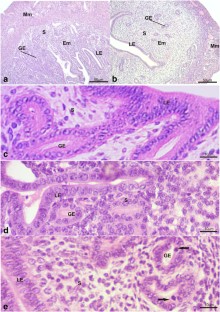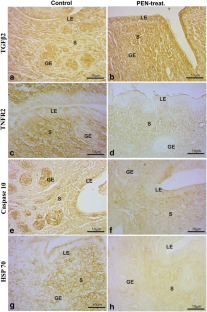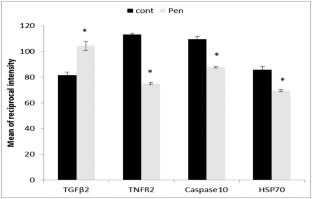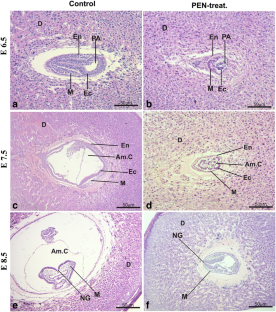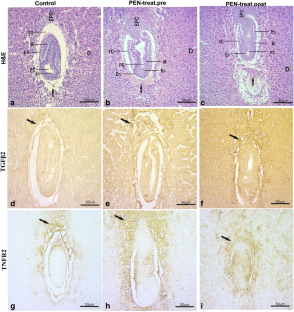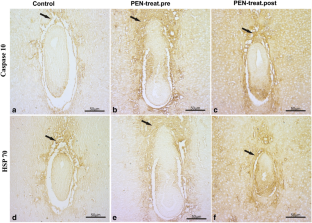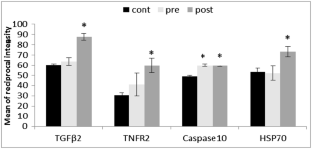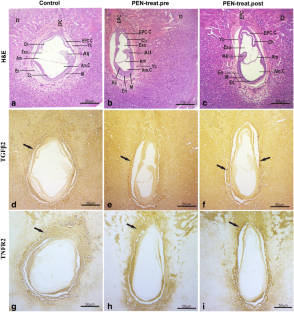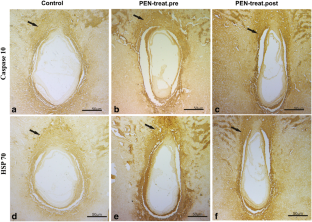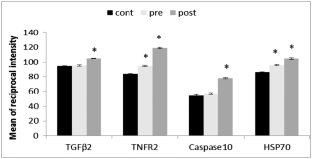 References
Abbassy MA, Marzouk MA, Nasr HM, Mansy ASM (2014) Effect of imidacloprid and tetraconazole on various hematological and biochemical parameters in male albino rats (Rattus Norvegicus). J Polit Sci Pub Affa 2:122

Aksakal FI, Ciltas A (2018) Developmental toxicity of penconazole in zebrfish (Daniorerio) embryos. Chemosphere 200:8–15

Atamanalp M, Erdogan O (2010) Alterations of HSP70 gene expression in rainbow trout (Oncorhyncus mykiss) exposed to deltamethrin. Turk J Vet Anim Sci 34(4):359–363

Bolognesi C, Merlo FD (2011) Pesticides: human health effects. In: Nriagu JO (ed) Encyclopedia of environmental health. Elsevier, Burlington, pp 438–453

Borai IH, Atef AA, El-Kashoury AA, Mohamed RA, Said MM (2019) Ameliorative effects of sesame seed oil against penconazole-induced testicular toxicity and endocrine disruption in male rats. Biomed J Sci Tech Res 14(1):1–11

Buchenauer H (1987) Mechanism of action of triazolyl fungcides and related compounds. In: Lyr H (ed) Modern selective fungicides. Longman Scientific & Technical, England

Buchlowalow BI, Bocker W (2010) Imunohistochemistry. Basics and methods. Springer Verlag BerlinHeidelberg, PP: 48

Chaâbane M, Soudani N, Benjeddou K, Turki M, Makni FA, Boudawara T, Zeghal N, Ghorbel RE (2015) The protective potential of Nitraria retusa on penconazole-induced hepatic injury in adult rats. Toxicol & Environ Chem 97(9):1253–1264

Chaâbane M, Ghorbel I, Elwej A, Mnif H, Boudawara T, Chaabouni SE, Zeghal N, Soudani N (2016) Penconazole alters redox status, cholinergic function, and membrane bound ATPases in the cerebrum and cerebellum of adult rats. Human and Exp. Toxicol 36(8):854–866

Chaâbane M, Koubaa M, Soudani N, Elwej A, Grati M, Jamoussi K, Boudawara T, Ellouze Chaabouni S, Zeghal N (2017) Nitraria retusa fruit prevents penconazole-induced kidney injury in adult rats through modulation of oxidative stress and histopathological changes. Pharm Biol 55(1):1061–1073

Chen Y, Chen HN, Wang K, Zhang L, Huang Z, Liu J, Zhang Z, Luo M, Lei Y, Peng Y, Zhou ZG, Wei Y, Huang C (2019) Ketoconazole exacerbates mitophagy to induce apoptosis by downregulating cyclooxygenase-2 in hepatocellular carcinoma. J of hepatol 70(1):66–77

Chitescu CL, Nicolau A (2011) Another point of view on side effects of antifungal compounds used in veterinary medicine. Veterinary Drug 5(1)

Ciba-Geigy (1992) Letter to EPA containing a summary of the report on CGA-64250 technical teratology study in rats; study number 790011, 1979

Dey SK, Lim H, Das SK, Reese J, Paria BC, Daikoku T (2004) Molecular cues to implantation. Endocr Rev 25:341–373

Dong FS, Li J, Chankvetadze B, Cheng YP, Xu J, Liu XG, Li YB, Chen X, Bertucci C, Tedesco D, Zanasi R, Zheng YQ (2013) Chiral triazole fungicide difenoconazole: absolute stereochemistry, stereoselective bioactivity, aquatic toxicity, and environmental behavior in vegetables and soil. Environ Sci Technol 47:3386–3394

Drury RAB, Wallnigton EA (1976) Carleton's histological technique. Oxford University Press, London

EFSA Scientific Report (2008). Conclusion on the peer review of penconazole. 175: 1–104

El-Sharkawy EE, El-Nisr NA (2013) Testicular dysfunction induced by penconazole fungicide on male albino rats. Comp. Clin. Pathol l22:475–480

El-Shershaby AM, El-Balshy RM, Abd El-Hady SI, Abou Rashed NM (2014) Effect of trichloroethylene (TCE) on female albino mice and their early embryos. International J of Biol Research 2(1):9–17

FAO/WHO (2015) Pesticide residues in food: 2015 evaluations. Part II—toxicological. Penconazole:501–558 JMPR 2015

Flint OP, Boyle FT (1986) Structure-teratogenicity relationships among the monoand bistriazole antifungal agents, using an in vitro test for teratogenic hazard. Fd Chem Toxic 24:649

Glazar I, Ribaric SP, Abram M (2015) The effect of fluconazole and amphotericin B on macrophage functions. Sanamed 10(3):173–178

Godkin JD, Dore JJE(1998) Transforming growth factor b and the endometrium Reviews of Reproduction 3 1–6

Gorivodsky M, Zemliak I, Orenstein H, Savion S, Fein A, Torchinsky A, Toder V (1998) Tumor necrosis factor alpha mRNA and protein expression in the uteroplacental unit of mice with pregnancy loss. J Immunol 160:4280–4288

Gorivodsky M, Torchinsky A, Zemliak I, Savion S, Fein A, Toder V (1999) TGFb2 mRNA expression and pregnancy failure in mice. Am J Reprod Immunol 42(2):124–133

Gupta PK, Aggarwal M (2007) Toxicity of fungicides. In: Gupta RC (ed) Veterinary toxicology, 1st edn. New York, Elsevier, pp 587–601

Guzeloglu-Kayisli O, Kayisli UA, Taylor H (2009) The role of growth factors and cytokines during implantation:endocrine and paracrine interactions. Semin Reprod Med 27(1):62–79

Haegler P, Joerin L, Krähenbühl S, Bouitbir J (2017) Hepatocellular toxicity of imidazole and triazole antimycotic agents. Toxicological Scien 157(1):183–195

Husak VV, Mosiichuk NM, Storey JM, Storey KB, Lushchak VI (2017) Acute exposure to the penconazole-containing fungicide Topas partially augments antioxidant potential in goldfish tissues. Comp Biochem Phys C Toxicol Pharmacol 193:1–8

Ikwegbue PC, Masamba P, Oyinloye BE, Kappo AP (2017) Roles of heat shock proteins in apoptosis, oxidative stress, human inflammatory diseases and cancer. Pharmaceuticals (Basel) 23(1):11

Ishioka S, Ezaka Y, Umemura K, Hayashi T, Endo T, Saito T (2007) Proteomic analysis of mechanisms of hypoxia-induced apoptosis in trophoblastic cells. Int J Med Sci 4:36–44

Itoh N, Nagata S (1993) A novel protein domain required for apoptosis. Mutational analysis of human Fas antigen. J Biol Chem 268:10932–10937

Jacquier-Sarlin MR, Fuller K, Dinh-Xuan AT, Richard MJ, Polla BS (1994) Protective effects of hsp70 in inflammation. Experientia 30:50(11-12):1031–1038

Juberg DR, Mudra DR, Hazelton GA, Parkinson A (2006) The effect of fenbuconazole on cell proliferation and enzyme induction in the liver of female CD1 mice. Toxicol Appl Pharmacol 214:178–187

Kim IS, Beaudette LA, Shim JH, Trevors JT, Suh YT (2002) Environmental fate of the triazole fungicide propiconazole in a rice-paddy-soil lysimeter. Plant Soil 239:321–331

Liao PH, Chu SH, Tu TY, Wang XH, Lin AY, Chen PJ (2014) Persistent endocrine disruption effects in medaka fish with early life-stage exposure to a triazole-containing aromatase inhibitor (letrozole). J Hazard Mater 277:141–149

Lorgue G, Lechenet J, Rivière A (1996) Clinical veterinary toxicology. Blackwell Science, London, pp 5–194

Luft JC, Dix DJ (1999) Hsp70 expression and function during embryogenesis. Cell Stress Chaperones 4:162–170

Lv X, Pan L, Wang J, Lu L, Yan W, Zhu Y, Xu Y, Guo M, Zhuang S (2017) Effects of triazole fungicides on androgenic disruption and CYP3A4 enzyme activity. Environ Pollut 222:504–512

Machera K (1995) Developmental toxicity of cyproconazole, an inhibitor of fungal ergosterol biosynthesis, in the rat bull. Environ Contam Toxicol 54:363–369

Martini F, Fernández C, Segundo LS, Tarazona JV, Pablos MV (2010) Assessment of potential immunotoxic effects caused by cypermethrin, fluoxetine, and thiabendazole using heat shock protein 70 and interleukin-1β mRNA expression in the anuran Xenopus laevis. Environmental toxicol and chem 29(11):2536–2543

Menegola E, Broccia ML, Di Renzo F, Prati M, Giavini E (2000) In vitro teratogenic potential of two antifungal triazoles: triadimefon and triadimenol. Vitro Cell Dev Biol Anim 36:88–95

Mesa-Arango AC, Scorzoni L, Zaragoza O (2012) It only takes one to do many jobs: amphotericin B as antifungal and immunomodulatory drug. Front Microbiol 3:286

Milne CM, Hasmall RL, Russel A, Watson SC, Vaughan Z, Middleton MC (1987) Reduced estradiol production by a substituted triazole results in delayed ovulation in rats. Toxicol Appl Pharmacol 90:427–435

Molvarec A, Tamási L, Losonczy G, Madách K, Prohászka Z, Rigó J Jr (2010) Circulating heat shock protein 70 (HSPA1A) in normal and pathological pregnancies. Cell Stress Chaperones 15(3):237–247

Moser VC, Barone S Jr, Smialowicz RJ, Harris MW, Davis BJ, Overstreet D, Mauney M, Chapin RE (2001) The effects of perinatal tebuconazole exposure on adult neurological, immunological, and reproductive function in rats. Toxicol Sci 62:339–352

Mu XY, Pang S, Sun XZ, Gao JJ, Chen JY, Chen XF, Li XF, Wang CJ (2013) Evaluation of acute and developmental effects of difenoconazole via multiple stage zebrafish assays. Environ Pollut 175:147–157

Naik E, Dixit VM (2011) Mitochondrial reactive oxygen species drive proinflammatory cytokine production. J Exp Med 208:417–420

Nguyen DH, Zhou T, Shu J, Mao JH (2013) Quantifying chromogen intensity in immunohistochemistry via reciprocal intensity. Cancer In Cytes, 2(1): e

Ortolani EL, Antonelli AC, Sarkis JES (2004) Acute sheep poisoning from a copper sulphate foot bath. Vet Hum Toxicol 46(6):315–318

Peffer RC, Moggs JG, Pastoor T, Currie RA, Wright J, Milburn G, Waechter F, Rusyn I (2007) Mouse liver effects of cyproconazole, a triazole fungicide:role of the constitutive and rostane receptor. Toxicol Sci 99:315–325

Perdichizzi S, Mascolom MG, Silingardi P, Morandi E, Rotondo F, Guerrini A, Prete L, Vaccari M, Colacci A (2014) Cancer-related genes transcriptionally induced by the fungicide penconazole. Toxicol in Vitro 28:125–130

Perez-Rodriguez V, Wu N, de la Cova A, Schmidt J, Denslow ND, Martyniuk CJ (2019) The organochlorine pesticide toxaphene reduces non-mitochondrial respiration and induces heat shock protein 70 expression in early-staged zebrafish (Danio rerio). Comp Biochem Physiol C Toxicol Pharmacol 108669

Perrier d'Hauterive S, Berndt S, Tsampalas M, Charlet-Renard C, Dubois M, Bourgain C, Hazout A, Foidart JM, Geenen V (2007) Dialogue between blastocyst hCG and endometrial LH/ hCG receptor: which role in implantation? Gynecol Obstet Investig 64:156–160

Redman CW, Sargent IL (2000) Placental debris, oxidative stress and pre-eclampsia. Placenta 21:597–602

Redza-Dutordoir M, Averill-Bates DA (2016) Activation of apoptosis signalling pathways by reactive oxygen species. Biochim Biophys Acta 1863:2977–2992

Renhof M (1988a). 1, 2, 4 -triazole; investigations into embryotoxic effects on rats after oral administration. Report no 17401 Bayer AG FachbereichToxicologie

Renhof M (1988b). 1, 2, 4 -triazole; investigations into embryotoxic effects on rats after oral administration; supplement to study no. T 5019339. Report no 17402 Bayer AG FachbereichToxicologie

Savion S, Lepsky E, Orenstein H, Carp H, Shepshelovich J, Torchinsky A, Fein A, Toder V (2002a) Apoptosis in the uterus of mice with pregnancy loss. American Journal of Reprod Immunol 47:1–11

Savion S, Zeldich E, Orenstein H, Shepshelovich J, Torchinsky A, Carp H, Toder V, Fein A (2002b) Cytokine expression in the uterus of mice with pregnancy loss: effect of maternal immunopotentiation with GM-CSF. Reproduction 123:399–409

Skolness SY, Blanksma CA, Cavallin JE, Churchill JJ, Durhan EJ, Jensen KM, Johnson RD, Kahl MD, Makynen EA, Villeneuve DL, Ankley GT (2013) Propiconazole inhibits steroidogenesis and reproduction in the fathead minnow (Pimephalespromelas). Toxicol Sci 132:284–297

Straszewski-Chavez SL, Abrahams VM, Mor G (2005) The role of apoptosis in the regulation of trophoblast survival and differentiation during pregnancy endocrine reviews, December 2005, 26(7):877–897

Sun J, Yu CH, Zhao XL, Wang Y, Jiang SG, Gong XF (2014) Econazole nitrate induces apoptosis in MCF-7 cells via mitochondrial and caspase pathways. IJPR 13(4):1327–1334

Tully DB, Bao W, Goetz AK, Blystone CR, Ren H, Schmid JE, Strader LF, Wood CR, Best DS, Narotsky MG, Wolf DC, Rockett JC, Dix DJ (2006) Gene expression profiling in liver and testis of rats to characterize the toxicity of triazole fungicides. Toxicol Appl Pharmacol 215:260–273

Vergieva T (1990) Triazoles teratogenicity in rats. Teratol. 42(2):27A–28A

Wang J, Chun HJ, Wong W, Spencer DM, Lenardo MJ (2001) Caspase-10 is an initiator caspase in death receptor signaling. Proc Natl Acad Sci U S A 98:13884–13888

Ward WO, Delker DA, Hester SD, Thai SF, Wolf DC, Allen JW, Nesnow S (2006) Transcriptional profiles in liver from mice treated with hepatotumorigenic and nonhepatotumorigenic triazole conazole fungicides: propiconazole, triadimefon, and myclobutanil. Toxicol Pathol 34(7):863–878

Wegmann TG, Lin H, Guilbert IJ, Mossmann TR (1993) Biderectional cytokine interactions in the maternal-fetal relationship: is successful pregnancy a Th2 phenomenon? Immunol Today 14:353–356

Ying W (1998) Deleterious network hypothesis of apoptosis. Med Hypotheses 50:393–398

Yitzhakie D, Torchinsky A, Savion S, Toder V (1999) Maternal immunopotentiation affects the teratogenic response to hyperthermia. J Reprod Immunol 45(1):49–66

Zarn JA, Brüschweiler BJ, Schlatter JR (2003) Azole fungicides affect mammalian steroidogenesis by inhibiting sterol 14 alpha-demethylase and aromatase. Environ Health Perspect 111(3):255–261

Zhang ZY, Jiang W, Jian Q, Song WC, Zheng ZT, Wang DL, Liu XJ (2015) Residues and dissipation kinetics of triazole fungicides difenoconazole and propiconazole in wheat and soil in Chinese fields. Food Chem 168:396e403

Zhang YJ, Zhang Y, Chen A, Zhang W, Chen H, Zhang Q (2016) Enantio selectivity in developmental toxicity of rac-metalaxyl and R-metalaxyl in zebrafish (Daniorerio) embryo. Chirality 28(6):489–494

Ziegert M, Witkin SS, Sziller I, Alexander H, Brylla E, Hartig W (1999) Heat shock proteins and heat shock protein-antibody complexes in placental tissues. Infect Dis Obstet Gynecol 7:180–185
Ethics declarations
Competing interests
The authors declare that they have no competing interests.
Additional information
Publisher's note
Springer Nature remains neutral with regard to jurisdictional claims in published maps and institutional affiliations.
Responsible editor: Mohamed Abdel-Daim
About this article
Cite this article
El-Shershaby, A.E.M., Lashein, F.E.M., Seleem, A.A. et al. Toxicological potential of penconazole on early embryogenesis of white mice Mus musculus in either pre- or post-implantation exposure. Environ Sci Pollut Res (2020). https://doi.org/10.1007/s11356-020-07637-3
Received:

Accepted:

Published:
Keywords
Penconazole

Pre-implantation

Post-implantation

Embryotoxicity

Fungicide

Mice