Abstract
Sediments core within the Yangtze River Estuary was collected for metal and grain size analysis. The vertical distribution characteristics of eight metals along the core were investigated based on 137Cs and 210Pb radionuclide dating. The sediment was mainly composed of sand and silt. The metals concentrations were Al, 4.67–6.83; Fe, 2.3–3.94; Mn, 0.046–0.07; Cr, 69.5–103; Cu, 14.3–32.1; Zn, 47.3–96.7; Cd, 0.037–0.212; Pb, 13.7–23; Ni, 18.8–38.9 (mg·kg−1, except Al, Fe, and Mn as %), respectively. Geoaccumulation indexes (Igeo) indicated that Cu, Zn, and Pb were of pollution-free level; Cd, Cr, and Ni were in a slight polluted level. Based on potential ecological risk factors (EI), Cd posed a moderate risk to the local environment. Correlation analysis showed that Fe, Al, and Mn had a close association with Cu, Zn, Pb, and Ni at p < 0.01. Clay was significantly correlated with other metals except Cr and Cd.
This is a preview of subscription content, log in to check access.
Access options
Buy single article
Instant unlimited access to the full article PDF.
US$ 39.95
Price includes VAT for USA
Subscribe to journal
Immediate online access to all issues from 2019. Subscription will auto renew annually.
US$ 99
This is the net price. Taxes to be calculated in checkout.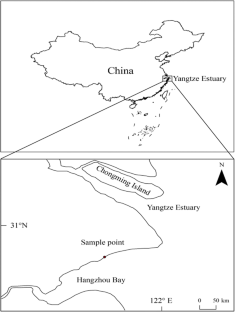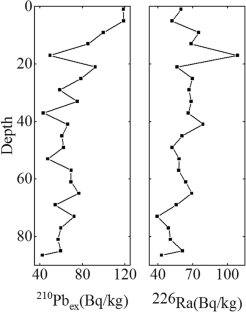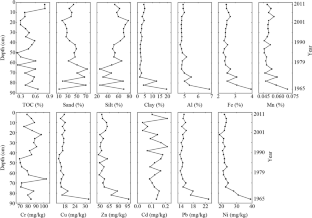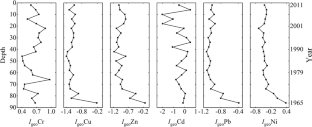 References
Barcellos C, Lacerda LD (1994) Cadmium and zinc source assessment in the Sepetiba Bay and basin region. Environ Monit Assess 29(2):183–199

Begy RC,  Alida TG, Janos S, Constantin C (2011) A sedimentation study of St. Ana Lake (Romania) applying the210Pb and137Cs dating methods. Geochronometria 38(2):93–100

Cao L, Hong GH, Liu SM (2015) Metal elements in the bottom sediments of the Changjiang estuary and its adjacent continental shelf of the East China Sea. Mar Pollut Bull 95(1):458–468

Chen B, Fan DJ, Li WR, Li WR, Wang L, Zhang XL, Liu M, Guo ZG (2014) Enrichment of heavy metals in the inner shelf mud of the East China Sea and its indication to human activity. Cont Shelf Res 90:163–169

Chen ZY et al (2001) Yangtze River of China: historical analysis of discharge variability and sediment flux. Geomorphology 41(2):77–91

Edgington DN, Klump JV, Robbins JA, Kusner YS, Pampura VD, Sandimirov IV (1991) Sedimentation rates, residence times and radionuclide inventories in Lake Baikal from 137Cs and 210Pb in sediment cores. Nature 350(6319):601–604

Folk RL, Ward WC (1957) Brazos River Bar: a study in the significance of grain size parameters. J Sediment Res 27(1):3–26

Hakanson L (1980) An ecological risk index for aquatic pollution control: a sediment ecological approach. Water Res 14(8):975–1001

He ZF (2018) Geochemical background values of sediments in the Yangtze estuary and offshore marine areas. Shanghai Land Resour 39(1):81–85 (in Chinese)

Hu BF, Jia XL, Hu J, Xu DY, Xia F, Li Y (2017) Assessment of heavy metal pollution and health risks in the soil-plant-human system in the Yangtze River Delta, China. Int J Environ Res Public Health 14(9):1–18

Hui Y, Yuan SY, Li MY, Xiao J (2015) Evaluation of heavy metal contamination in agricultural top soils in suburban Xuchang city, China. Environ Earth Sci 74(3):475–2480

Hussain R, Khattak SA, Shah MT, Ali L (2015) Multistatistical approaches for environmental geochemical assessment of pollutants in soils of Gadoon Amazai industrial estate, Pakistan. J Soils Sediments 15(5):1119–1129

Ke S, Zhang JB, Sun SL, Xie Q (2017) The source characteristics and the relationship between enrichment and biological toxicity of heavy metals in surface sediment of pearl river estuary. J Guangdong Ocean Univ 37(4):69–77 (in Chinese)

Li FP, Mao LC, Jia YB, Gu ZJ, Shi WL, Chen L, Ye H (2018) Distribution and risk assessment of trace metals in sediments from Yangtze River estuary and Hangzhou Bay, China. Environ Sci Pollut Res 25:855–866

Lin BQ (2009) Prediction of environmental Kuznets curve of carbon dioxide in China and analysis of its influencing factors. Manage World 187(4):27–36 (in Chinese)

Lin S, Hsieh IJ, Huang KM, Wang CH (2002) Influence of the Yangtze River and grain size on the spatial variations of heavy metals and organic carbon in the East China Sea continental shelf sediments. Chem Geol 182:377–394

Liu BL, Hu K, Jiang ZL, Qu FG, Su X (2011) A 50-year sedimentary record of heavy metals and their chemical speciations in the Shuangtaizi River estuary (China): implications for pollution and biodegradation. Front Environ Sci Eng China 5(3):435–444

Liu RM, Men C, Liu YY, Yu WW, Xu F, Shen ZY (2016) Spatial distribution and pollution evaluation of heavy metals in Yangtze estuary sediment. Mar Pollut Bull 110(1):564–571

Luo YM (2009) Trends in soil environmental pollution and the prevention-controlling-remediation strategies in China. Environ Pollut Control 31(12):27–31 (in Chinese)

Marine sediment quality standard (2002) GB18668. 4–2002. (in Chinese)

Mayer LM, Rossi PM (1982) Specific surface areas in coastal sediments: relationships with other textural factors. Mar Geol 45:241–252

Milliman JD, Meade RH (1983) World-wide delivery of river sediment to the oceans. J Geol 91(1):1–21

Monikh FA, Safahieh A, Savari A, Doraghi A (2013) Heavy metal concentration in sediment, benthic, benthopelagic, and pelagic fish species from Musa estuary (Persian gulf). Environ Monit Assess 185(1):215–222

Müller G (1969) Index of geoaccumulation in sediments of the Rhine River. Geol J 2:108–118

Pang HJ, Lou ZH, Jin AM, Yan, KK, Jiang Y, Yang XH, Chen CTA, Chen XG (2015) Contamination, distribution, and sources of heavy metals in the sediments of Andong tidal flat, Hangzhou Bay, China. Cont Shelf Res 110:72–84

Ren JL, Liu SM, Zhang J, Xie L, Li DD, Cheng Y, Zhu DD (2003) Effects of terrestrial input on the harmful algal bloom area-with aluminum as an example. Chin J Appl Ecol 14(7):1117–1121

Ren Y, Wei CH, Wu CF, Li BG (2007) Environmental and biological characteristics of coking wastewater. Acta Sci Circumst 27(7):1094–1100 (in Chinese)

Robbins JA, Edgington DN (1975) Determination of recent sedimentation rates in Lake Michigan using Pb-210 and Cs-137. Geochim Cosmochim Acta 39(3):285–304

Saravana-Kumar U, Navada SV, Rao SM, Nachiappan RP, Kumar B, Krishnamoorthy TM, Jha SK, Shukla VK (1999) Determination of recent sedimentation rates and pattern in Lake Naini, India by 210Pb and 137Cs dating techniques. Appl Radiat Isot 51(1):97–105

Shanghai Statistical Bureau (2018) Shanghai Statistical Yearbook 2018. (in Chinese)

Shen PY, Ma YJ (2004) Progress in research on contaminated environment remediation of clay minerals. China Min Mag 13:47–50 (in Chinese)

Sheng JJ, Fan DJ, Yang DF, Qi HY, Xu L (2008) Distribution patterns of heavy metals in surface sediments of the Yangtze estuary and its adjacent areas and environmental quality assessment. Environ Sci 29(9):2405–2412 (in Chinese)

Shi QX, Sheng PC, Fang WP, Sun BY, Zhou DR, Wang J, Xu L, Wu QF (2018) Ecological risk and bioaccumulation of heavy metals in the surface sediments in Qiantang River. J Shanghai Ocean Univ 27(5):710–717 (in Chinese)

Shi Z (2004) Behaviour of fine suspended sediment at the north passage of the Changjiang estuary, China. J Hydrol 293(1–4):180–190

Song YG, Yu CF, Zhang YF, Wang K, Du J, Jiang B, Song L (2016) Geochemical characteristics of trace metals in sediments of Liaodong Bay based on multivariate statistical analysis. Res Environ Sci 29(5):692–699 (in Chinese)

Stamatis N, Kamidis N, Pigada P, Sylaios G, Koutrakis E (2019) Quality indicators and possible ecological risks of heavy metals in the sediments of three semi-closed East Mediterranean Gulfs. Toxics 7(2):1–16

Sun XS, Fan DJ, Liu M, Liao HJ, Tian Y (2019) Persistent impact of human activities on trace metals in the Yangtze River estuary and the East China Sea: evidence from sedimentary records of the last 60 years. Sci Total Environ 654:878–889

Tian HZ, Lu L, Cheng K, Hao JM, Zhao D, Wang Y, Jia WX, Qiu PP (2012) Anthropogenic atmospheric nickel emissions and its distribution characteristics in China. Sci Total Environ 417–418:148–157

Wan GJ (1997) 210Pb dating for recent sedimentation. Quat Sci 17:230–239

Wang C, Lin DJ, Wang PF, Ao YH, Hou J, Zhu HG (2015) Seasonal and spatial variations of acid-volatile sulphide and simultaneously extracted metals in the Yangtze River estuary. Chem Ecol 31(5):466–477

Wang CL, Zou XQ, Feng ZY, Hao Z, Gao JH (2018) Distribution and transport of heavy metals in estuarine-inner shelf regions of the East China Sea. Sci Total Environ 644:298–305

Wang YJ, Zhou LM, Zheng XM, Qian P, Wu YH (2013) Influence of Spartina alterniflora on the mobility of heavy metals in;salt marsh sediments of the Yangtze River estuary, China. Environ Sci Pollut Res 20(3):1675–1685

Wright LD, Nittrouer CA (1995) Dispersal of river sediments in coastal seas-6 contrasting cases. Estuary 18(3):494–508

Wu B, Song JM, Li XG (2013) Environmental characteristics of heavy metals in surface sediments from the Huanghe estuary. Environ Sci 34(4):1324–1332 (in Chinese)

Wu ZH, He MC, Lin CY, Fan YH (2011) Distribution and speciation of four heavy metals (cd, Cr, Mn and Ni) in the surficial sediments from estuary in Daliao river and Yingkou Bay. Environ Earth Sci 63(1):163–175

Xiao Q, Zong YT, Lu SG (2015) Assessment of heavy metal pollution and human health risk in urban soils of steel industrial city (Anshan), Liaoning, Northeast China. Ecotox Environ Safe 120:377–385

Yang Q, Liu ML, Han YC, Yu ZM, Shen X (2017) Source identification and ecological risk assessment of heavy metals in sediments of Qiantang River. Environ Sci Technol 40(12):278–283 (in Chinese)

Yang YF, Cao W, Zhu ZQ, Yu HB, Mao WH (2013) Accumulation of heavy metals in surface sediments of Hangzhou Bay and its potential ecological risk assessment. Ocean Dev Manage (1):51–58 (in Chinese)

Yao QZ, Wang XJ, Jian HM, Chen HT, Yu ZG (2016) Behavior of suspended particles in the Changjiang estuary: size distribution and trace metal contamination. Mar Pollut Bull 103(1–2):159–167

Yu Y, Song JM, Li XG, Yuan, HM, Li N (2013) Fractionation, sources and budgets of potential harmful elements in surface sediments of the East China Sea. Mar Pollut Bull 68(1–2):157–167

Zhang J, Mou DH, Du JZ, Zhang J (2008) Study on comparison of excess 210Pb chronology of several models. Mar Environ Sci 27(4):370–374, 382 (in Chinese)

Zhang LX, Jiang XS, Zhao M, Li ZE (2007) Pollution of surface sediments and its assessment of potential ecological risk in the Yangtze estuary. Ecol Environ 16:89–393 (in Chinese)

Zhang WG, Feng H, Chang JN, Qu JG, Xie HX, Yu LZ (2009) Heavy metal contamination in surface sediments of Yangtze River intertidal zone: an assessment from different indexes. Environ Pollut 157(5):1533–1543

Zheng H, Yang D, Xing XL, Zhang ZZ, Shu QL (2016) Historical records, distribution characteristics and sources of heavy metals from sediment core in Honghu Lake, China. China Environ Sci 36:2139–2145 (in Chinese)

Zheng XX, Zhao WJ, Yan X, Shu TT, Xiong QL, Chen FT (2015) Pollution characteristics and health risk assessment of airborne heavy metals collected from Beijing bus stations. Int J Environ Res Public Health 12:9658–9671
Additional information
Publisher's note
Springer Nature remains neutral with regard to jurisdictional claims in published maps and institutional affiliations.
Highlights
• The vertical distribution characteristics of eight metals along the core were investigated based on 137Cs and 210Pb radionuclide dating.
• Study the grain size characteristics of sediments.
• Assess the level of sediments contamination and toxicity and identify the possible sources of heavy metals.
Responsible editor: Philippe Garrigues
About this article
Cite this article
Wang, X., Liu, B. & Zhang, W. Distribution and risk analysis of heavy metals in sediments from the Yangtze River Estuary, China. Environ Sci Pollut Res (2020) doi:10.1007/s11356-019-07581-x
Received:

Accepted:

Published:
Keywords
Heavy metals

Grain size

Ecological risk

Sediments

Yangtze River Estuary