Abstract
A semiconductor photocatalyst was prepared in facile, standard conditions by integrating 1% metal-free, sulphur-doped graphene oxide (sGO) as cocatalyst and Ag3VO4 as photocatalyst and characterised via spectroscopic, microscopic and voltammetric techniques. The catalytic activity was performed on notable water pollutants like textile dyes and fungicide employing various techniques. Cationic dyes such as methylene blue and rhodamine B were degraded > 99% with above 90% organic carbon content removal indicating total mineralisation while anionic dyes were degraded 75–80% in 1 h. For the first time, a dithiocarbamate fungicide thiram is degraded to give thiourea as a product in 1 h. Photocatalysis follows pseudo-first order kinetics with rate 3.67, 49.50 and 3.19 times higher than Ag3VO4, sGO and GO-Ag3VO4 respectively with excellent stability and recyclability. One percent sGO aided excellent carrier separation boosted by electrons and surface defects from sGO, morphology and n-n heterojunction formation. The catalyst efficiently removed 82.8% of the total organic carbon content of a real water sample from the textile mill under 2-h sunlight irradiation.
This is a preview of subscription content, log in to check access.
We're sorry, something doesn't seem to be working properly.
Please try refreshing the page. If that doesn't work, please contact support so we can address the problem.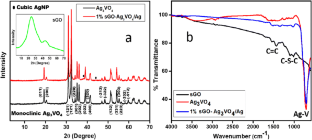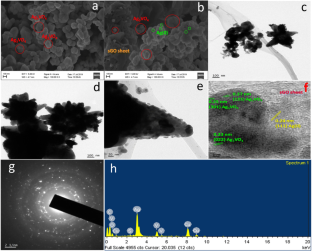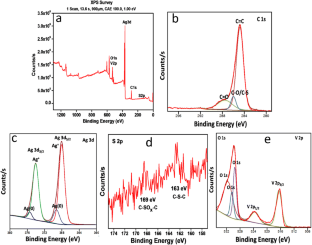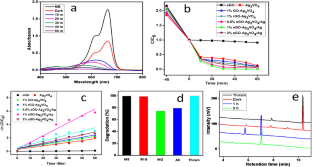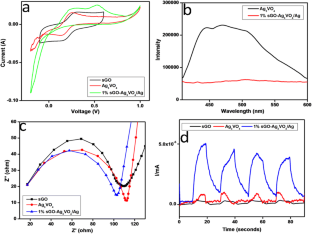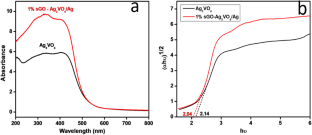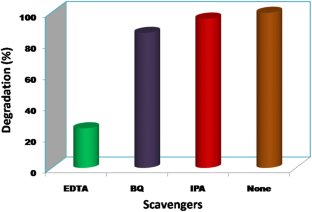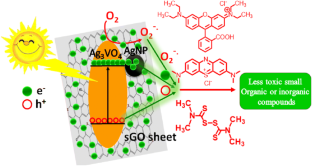 Acknowledgements
Ragam N. Priyanka is grateful to Kerala State Council for Science Technology and Environment (KSCSTE), Kerala, India, for Research Fellowship.
Ethics declarations
Conflict of interest
The authors declare that they have no conflict of interest.
Additional information
Publisher's note
Springer Nature remains neutral with regard to jurisdictional claims in published maps and institutional affiliations.
Responsible Editor: Suresh Pillai
Electronic supplementary material
About this article
Cite this article
Priyanka, R.N., Joseph, S., Abraham, T. et al. Rapid sunlight-driven mineralisation of dyes and fungicide in water by novel sulphur-doped graphene oxide/Ag3VO4 nanocomposite. Environ Sci Pollut Res (2020). https://doi.org/10.1007/s11356-019-07569-7
Received:

Accepted:

Published:
Keywords
Photocatalysis

Metal-free cocatalyst

Carrier separation

n-n Heterojunction

Pollutant treatment

Textile industry effluent treatment