Abstract
Employee green behavior is an environmentally friendly behavior in the workplace and is an important basis for transforming an organization's macrolevel sustainable development strategy into concrete practice. How does employees' pro-environmental attitude affect the implementation of their behaviors? To answer this question, we examined the relationship between pro-environmental attitude and employee green behavior and the roles of motivational states and green work climate perceptions in this process. The results showed that pro-environmental attitude positively predicted required employee green behavior and voluntary employee green behavior and that these relationships were mediated by controlled and autonomous motivations. In addition, this study showed that the positive role of pro-environmental attitude in controlled motivation and autonomous motivation was moderated by green work climate perceptions. Finally, we discuss the theoretical and practical implications.
This is a preview of subscription content, log in to check access.
Access options
Buy single article
Instant access to the full article PDF.
US$ 39.95
Price includes VAT for USA
Subscribe to journal
Immediate online access to all issues from 2019. Subscription will auto renew annually.
US$ 99
This is the net price. Taxes to be calculated in checkout.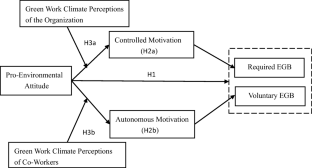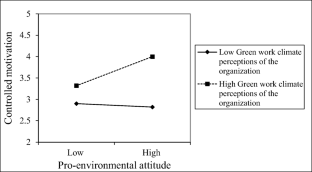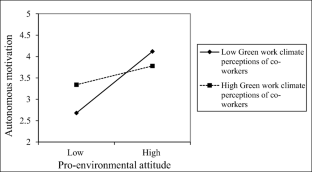 References
Ajzen I (1991) The theory of planned behavior. Organ Behav Hum Decis Process 50(2):179–211. https://doi.org/10.1016/0749-5978(91)90020-t

Andersson L, Jackson SE, Russell SV (2013) Greening organizational behavior: an introduction to the special issue. J Organ Behav 34(2):151–155. https://doi.org/10.1002/job.1854

Araújo FF (2014) Do I look good in green?: a conceptual framework integrating employee green behavior, impression management, and social norms. Amazon, Organizations and Sustainability 3(2):7–23. https://doi.org/10.17800/2238-8893/aos.v3n2p7-23

Ashkanasy NM (2007) Organizational climate. In: Clegg SR, Bailey JR (eds) International encyclopedia of organization studies (Vol. 3). Sage, Thousand Oaks, pp 1028–1030

Bamberg S (2003) How does environmental concern influence specific environmentally related behaviors? A new answer to an old question. J Environ Psychol 23(1):21–32. https://doi.org/10.1016/s0272-4944(02)00078-6

Bamberg S, Möser G (2007) Twenty years after Hines, Hungerford, and Tomera: a new meta-analysis of psycho-social determinants of pro-environmental behaviour. J Environ Psychol 27(1):14–25. https://doi.org/10.1016/j.jenvp.2006.12.002

Bissing-Olson MJ, Iyer A, Fielding KS, Zacher H (2013) Relationships between daily affect and pro-environmental behavior at work: the moderating role of pro-environmental attitude. J Organ Behav 34(2):156–175. https://doi.org/10.1002/job.1788

Bolino M, Long D, Turnley W (2016) Impression management in organizations: critical questions, answers, and areas for future research. Can J Philos 3(1):187–190. https://doi.org/10.1146/annurev-orgpsych-041015-062337

Bozeman DP, Kacmar KM (1997) A cybernetic model of impression management processes in organizations. Organ Behav Hum Decis Process 69(1):9–30. https://doi.org/10.1006/obhd.1996.2669

Bute JJ, Jensen RE (2010) Low-income women describe fertility-related expectations: descriptive norms, injunctive norms, and behavior. Health Commun 25(8):681–691. https://doi.org/10.1080/10410236.2010.521909

Cialdini RB, Reno RR, Kallgren CA (1990) A focus theory of normative conduct: recycling the concept of norms to reduce littering in public places. J Pers Soc Psychol 58:1015–1026. https://doi.org/10.1037//0022-3514.58.6.1015

Deci EL, Ryan RM (2000) The "what" and "why" of goal pursuits: human needs and the self-determination of behavior. Psychol Inq 11:227–268. https://doi.org/10.1207/s15327965pli1104_01

Dunlap RE, Van Liere KD (1978) A proposed measuring instrument and preliminary results: the 'new environmental paradigm'. J Environ Educ 9(4):10–19. https://doi.org/10.1080/00958964.1978.10801875

Dunlap RE, Van Liere KD, Mertig AG, Jones RE (2000) Measuring endorsement of the New Ecological Paradigm: a revised NEP scale. J Soc Issues 56(3):425–442. https://doi.org/10.1111/0022-4537.00176

Felin T, Foss NJ, Ployhart RE (2015) The microfoundations movement in strategy and organization theory. Acad Manag Ann 9(1):575–632. https://doi.org/10.1080/19416520.2015.1007651

Gagné M, Deci EL (2005) Self-determination theory and work motivation. J Organ Behav 26:331–362. https://doi.org/10.1002/job.322

Gagné M, Forest J, Gilbert MH, Aubé C, Morin E, Malorni A (2010) The motivation at work scale: validation evidence in two languages. Educ Psychol Meas 70(4):628–646. https://doi.org/10.1177/0013164409355698

Galpin T, Whittington JL (2012) Sustainability leadership: from strategy to results. J Bus Strateg 33(4):40–48. https://doi.org/10.1108/02756661211242690

Gifford R, Nilsson A (2014) Personal and social factors that influence pro-environmental concern and behaviour: a review. Int J Psychol 49(3):141–157. https://doi.org/10.1002/ijop.12034

Hawcroft LJ, Milfont TL (2010) The use (and abuse) of the new environmental paradigm scale over the last 30 years: a meta-analysis. J Environ Psychol 30(2):143–158. https://doi.org/10.1016/j.jenvp.2009.10.003

Hayes AF (2013) Introduction to mediation, moderation, and conditional process analysis: a regression-based approach. J Educ Meas 51(3):335–337. https://doi.org/10.1111/jedm.12050

Hines JM, Hungerford HR, Tomera AN (1987) Analysis and synthesis of research on responsible environmental behavior: a meta-analysis. J Environ Educ 18(2):1–8. https://doi.org/. https://doi.org/10.1080/00958964.1987.9943482

James LR, Choi CC, Ko CHE, Mcneil PK, Minton MK, Wright MA (2008) Organizational and psychological climate: a review of theory and research. Eur J Work Organ Psychol 17(1):5–32. https://doi.org/10.1080/13594320701662550

Kim A, Kim Y, Han K, Jackson SE, Ployhart RE (2014) Multilevel influences on voluntary workplace green behavior: individual differences, leader behavior, and coworker advocacy. J Manag 43(5):1335–1358. https://doi.org/10.1177/0149206314547386

Kormos C, Gifford R (2014) The validity of self-report measures of proenvironmental behavior: ameta-analytic review. J Environ Psychol 40:359–371. https://doi.org/10.1016/j.jenvp.2014.09.003

Kuenzi M, Schminke M (2009) Assembling fragments into a lens: a review, critique, and proposed research agenda for the organizational work climate literature. J Manag 35(3):634–717. https://doi.org/10.1177/0149206308330559

Lewin K (1951) Field theory in social science. Am Cathol Sociol Rev 12(2):103. https://doi.org/10.2307/3707800

Lo SH, Breukelen GJPV, Peters GJY, Kok G (2013) Proenvironmental travel behavior among office workers: a qualitative study of individual and organizational determinants. Transp Res A Policy Pract 56(4):11–22. https://doi.org/10.1016/j.tra.2013.09.002

Norton TA, Zacher H, Ashkanasy NM (2014) Organisational sustainability policies and employee green behaviour: the mediating role of work climate perceptions. J Environ Psychol 38:49–54. https://doi.org/10.1016/j.jenvp.2013.12.008

Norton TA, Parker SL, Zacher H, Ashkanasy NM (2015) Employee green behavior: a theoretical framework, multilevel review, and future research agenda. Organ Environ 28(1):103–125. https://doi.org/10.14264/uql.2015.308

Ones DS, Dilchert S (2012) Environmental sustainability at work: a call to action. Ind Organ Psychol 5(4):444–466. https://doi.org/10.1111/j.1754-9434.2012.01478.x

Ones DS, Dilchert S (2013) Measuring, understanding, and influencing employee green behaviors. Green organizations: Driving change with IO psychology 115–148. https://doi.org/10.4324/9780203142936

Ramus CA, Steger U (2000) The roles of supervisory support behaviors and environmental policy in employee "Ecoinitiatives" at leading-edge European companies. Acad Manag J 43(4):605–626. https://doi.org/10.5465/1556357

Rosenfeld P, Giacalone RA, Riordan CA (1995) Impression management in organizations: Theory, measurement and practice. Londaon: Routledge

Schneider B, Reichers AE (1983) On the etiology of climates. Pers Psychol 36(1):19–39. https://doi.org/10.1111/j.1744-6570.1983.tb00500.x

Schneider B, Ehrhart MG, Macey WH (2013) Organizational climate and culture. Annu Rev Psychol 64:361–388. https://doi.org/10.1146/annurev-psych-113011-143809

Siero S, Boon M, Kok G, Siero F (1989) Modification of driving behavior in a large transport organization: a field experiment. J Appl Psychol 74(3):417. https://doi.org/10.1037/0021-9010.74.3.417

Steg L, Vlek C (2009) Encouraging pro-environmental behavior: an integrative review and research agenda. J Environ Psychol 29:309–317. https://doi.org/10.1016/j.jenvp.2008.10.004

Zhang J-L, Liu J (2016) Review and prospect of the study on civil behavior of environmental organizations. Foreign Econ Manag 38(10):35–48 (in Chinese). https://doi.org/10.16471/j.cnki.11-2822/c.2018.02.002
Funding
This work was financially supported by the National Natural Science Foundation of China [grant numbers 71771022] and The Fundamental Research Funds for the University of Science and Technology Beijing [grant number FRF-BR-18-001B].
Additional information
Publisher's note
Springer Nature remains neutral with regard to jurisdictional claims in published maps and institutional affiliations.
Responsible Editor: Philippe Garrigues
Appendix
Appendix
1. Employee green behavior (Norton et al. 2014)
(1)

Today, I adequately completed assigned duties in environmentally friendly ways

(2)

Today, I fulfilled responsibilities specified in my job description in environmentally friendly ways

(3)

Today, I performed tasks that are expected of me in environmentally friendly ways

(4)

Today, I took a chance to get actively involved in environmental protection at work

(5)

Today, I took initiative to act in environmentally friendly ways at work

(6)

Today, I did more for the environment at work than I was expected to
2. New Ecological Paradigm Scale (Dunlap and Van Liere 1978; Dunlap et al. 2000)
(1)

We are approaching the limit of the number of people the earth can support

(2)

Humans have the right to modify the natural environment to suit their needs

(3)

When humans interfere with nature it often produces disastrous consequences

(4)

Human ingenuity will insure that we do NOT make the earth unlivable

(5)

Humans are severely abusing the environment

(6)

The earth has plenty of natural resources if we just learn how to develop them

(7)

Plants and animals have as much right as humans to exist

(8)

The balance of nature is strong enough to cope with the impacts of modern industrial nations

(9)

Despite our special abilities, humans are still subject to the laws of nature

(10)

The so-called ecological crisis facing humankind has been greatly exaggerated

(11)

The earth is like a spaceship with very limited room and resources

(12)

Humans were meant to rule over the rest of nature

(13)

The balance of nature is very delicate and easily upset

(14)

Humans will eventually learn enough about how nature works to be able to control it

(15)

If things continue on their present course, we will soon experience a major ecological catastrophe
3. The Motivation at Work Scale (Gagné et al. 2010)
(1)

Because I enjoy doing green behavior very much

(2)

Because I have fun doing green behavior

(3)

For the moments of pleasure that doing green behavior brings me

(4)

I chose doing green behavior because it allows me to reach my life goals

(5)

Because doing green behavior fulfills my career plans

(6)

Because doing green behavior fits my personal values

(7)

Because I have to be the best in doing green behavior, I have to be a 'winner'

(8)

Because doing green behavior is my life and I do not want to fail

(9)

Because my reputation depends on it

(10)

Because doing green behavior affords me a certain standard of living

(11)

Because it allows me to make a lot of money

(12)

I do green behavior for the pay-check
4. Green work climate perceptions (Norton et al. 2014)
(1)

Our company is worried about its environmental impact

(2)

Our company is interested in supporting environmental causes

(3)

Our company believes it is important to protect the environment

(4)

Our company is concerned with becoming more environmentally friendly

(5)

In our company, employees pay attention to environmental issues

(6)

In our company, employees are concerned about acting in environmentally friendly ways

(7)

In our company, employees try to minimize harm to the environment

(8)

In our company, employees care about the environment
About this article
Cite this article
Tian, H., Zhang, J. & Li, J. The relationship between pro-environmental attitude and employee green behavior: the role of motivational states and green work climate perceptions. Environ Sci Pollut Res (2019). https://doi.org/10.1007/s11356-019-07393-z
Received:

Accepted:

Published:
Keywords
Required employee green behavior

Voluntary employee green behavior

Pro-environmental attitude

Controlled motivation

Autonomous motivation

Green work climate perceptions