Trimethylamine abatement in algal-bacterial photobioreactors
Advanced technologies and best practices
Abstract
Trimethylamine (TMA) is an odorous volatile organic compound emitted by industries. Algal-based biotechnologies have been proven as a feasible alternative for wastewater treatment, although their application to abate polluted air emissions is still scarce. This work comparatively assessed the removal of TMA in a conventional bacterial bubble column bioreactor (BC) and a novel algal-bacterial bubble column photobioreactor (PBC). The PBC exhibited a superior TMA abatement performance compared to the conventional BC. In this sense, the BC reached a removal efficiency (RE) and an elimination capacity (EC) of 78% and 12.1 g TMA m−3 h−1, respectively, while the PBC achieved a RE of 97% and a EC of 16.0 g TMA m−3·h−1 at an empty bed residence time (EBRT) of 2 min and a TMA concentration ~500 mg m−3. The outstanding performance of the PBC allowed to reduce the operating EBRT to 1.5 and 1 min while maintaining high REs of 98 and 94% and ECs of 21.2 and 28.1 g m−3·h−1, respectively. Moreover, the PBC improved the quality of the gas and liquid effluents discharged, showing a net CO2 consumption and decreasing by ~ 30% the total nitrogen concentration in the liquid effluent via biomass assimilation. A high specialization of the bacterial community was observed in the PBC, Mumia and Aquamicrobium sp. being the most abundant genus within the main phyla identified.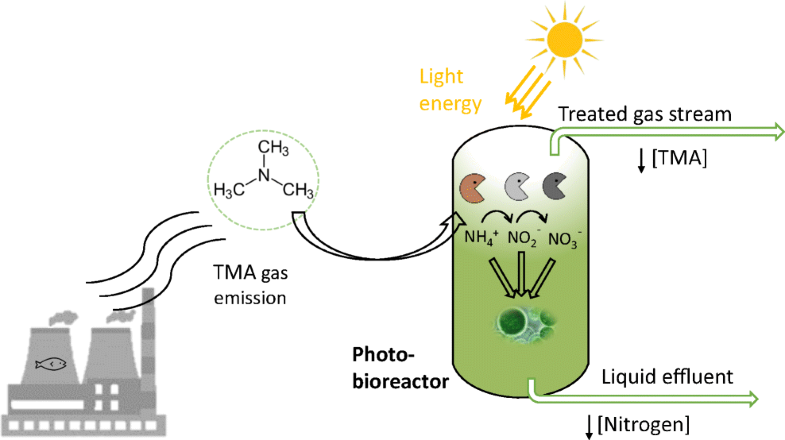 Keywords
Biodegradation 
Bubble column bioreactor 
Microalgae-bacteria 
Odor treatment 
Photobioreactor 
Trimethylamine 
Notes
Funding information
This work was supported by the regional government of Castilla y León and the EU-FEDER programme (UIC 71 and CLU 2017-09).
Copyright information
© Springer-Verlag GmbH Germany, part of Springer Nature 2020