MIL-100(Fe) and its derivatives: from synthesis to application for wastewater decontamination
Abstract
MIL-100(Fe), an environmental-friendly and water-stable metal–organic framework (MOF), has caught increasing research and application attention in the recent decade. Thanks to its mesoporous structure and eximious surface area, MIL-100(Fe) has been utilized as precursors for synthesizing various porous materials under high thermolysis temperature, which makes the derivatives of MIL-100(Fe) pretty promising candidates for the decontamination of wastewater. Herein, this review systematically summarizes the versatile synthetic methods and conditions for optimizing the properties of MIL-100(Fe) and its derivatives. Then, diverse environmental applications (i.e., adsorption, photocatalysis, and Fenton-like reaction) of MIL-100(Fe) and its derivatives and the corresponding removal mechanisms are detailed in the discussion. Finally, existing knowledge gaps related to fabrications and applications are discussed to close and promote the future development of MIL-100(Fe) and its derivatives toward environmental applications.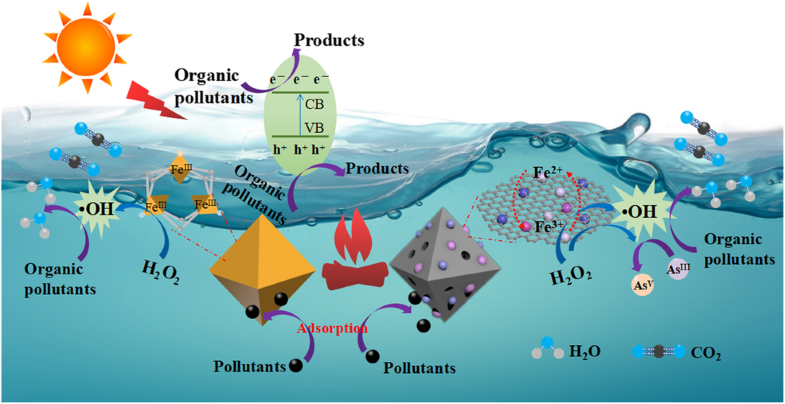 Keywords
MIL-100(Fe) 
Derivatives 
Fabrication 
Thermolysis 
Wastewater treatment 
Notes
Funding information
This work was supported by the National Special Fund for Agro-scientific Research in the Public Interest of China (No. 201503108) and National Natural Science Foundation of China (No. 21771194).
Compliance with ethical standards
Conflict of interest
The authors declare that they have no competing interest.
Copyright information
© Springer-Verlag GmbH Germany, part of Springer Nature 2020