Abstract
Nandrolone decanoate (ND) is a commonly used anabolic-androgenic steroid. These drugs are illegally self-administered by athletes to enhance their sports performance. However, their abuse could influence the testicular function and fertility. The main objective of this study was to evaluate the possible protective effects of Cynara scolymus leaf extract (CLE) on ND-induced testicular dysfunction in rats. Five groups of adult male rats (10 rats each) were used. Group I rats received only saline and served as controls. Group II rats were injected with a vehicle once weekly, while group III rats received intramuscular injections of ND (20 mg/kg/week for 60 days). Group IV rats orally received 1 g/kg/day of CLE and group V rats received ND and CLE at the aforementioned doses. The results revealed that ND has a negative impact on the testicular function as evidenced by the significant increases (p ≤ 0.05) in testicular malondialdehyde concentration and serum non-prostatic acid phosphatase activity, as well as the significant decreases in serum testosterone levels, testicular weight, glutathione concentration, catalase enzyme activity, and total antioxidant capacity. These results were accompanied by considerable alterations of sperm characters and histopathological studies of the testicular tissue. However, co-treatment with CLE extract significantly alleviated (p ≤ 0.05) almost all ND-induced pathological alterations. In conclusion, co-treatment of ND-intoxicated rats with CLE ameliorated the toxic effects of ND on the testicular structure and function, probably due to its antioxidant activity.
This is a preview of subscription content, log in to check access.
Access options
Buy single article
Instant access to the full article PDF.
US$ 39.95
Price includes VAT for USA
Subscribe to journal
Immediate online access to all issues from 2019. Subscription will auto renew annually.
US$ 99
This is the net price. Taxes to be calculated in checkout.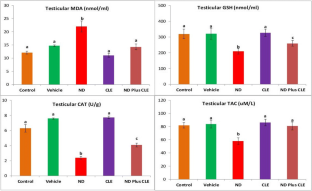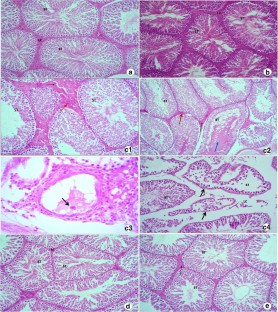 Abbreviations
AAS:

Anabolic-androgenic steroids

CLE:

Cynara scolymus leaf extract

CAT:

Catalase

GSH:

reduced glutathione

MDA:

Malondialdehyde

ND:

Nandrolone decanoate

TAC:

Total antioxidant capacity
References
Ahmed MA (2015) Amelioration of nandrolone decanoate-induced testicular and sperm toxicity in rats by taurine: effects on steroidogenesis, redox and inflammatory cascades, and intrinsic apoptotic pathway. Toxicol Appl Pharmacol 282:285–296

Alamanni M, Cossu M, Mura M (2001) Evaluation of the chemical composition and nutritional value of artichokes (Cynara scolymus) from Sardinia. La Rivista di Scienza dellÕ Alimentazione 30:345–351

Albro PW, Corbett JT, Schroeder JL (1986) Application of the thiobarbiturate assay to the measurement of lipid peroxidation products in microsomes. J Biochem Biophys Methods 13:185–194

Alkan I, Simsek F, Haklar G, Kervancioglu E, Ozveri H, Yalcin S, Akdas A (1997) Reactive oxygen species production by the spermatozoa of patients with idiopathic infertility: relationship to seminal plasma antioxidants. J Urol 157:140–143

Armagan A, Dogan F, Oksay T, Akman T, Darici H, Aylak F, Ergun O (2012) The effect of micronized purified flavonoid fraction on the prevention of testicular pathologies in adolescent rats with experimentally induced varicocele. J Urol 188:2007–2013

Bancroft, J.D., Gamble, M., 2008. Theory and practice of histological techniques. Elsevier Health Sciences

Bearden, H.J., Fuquay, J.W., 1980. Applied animal reproduction. Reston Publishing Company, Inc. Reston, Virginia, pp: 157–165

Bennetts LE, Aitken RJ (2005) A comparative study of oxidative DNA damage in mammalian spermatozoa. Mol Reprod Dev 71:77–87

Ben Salem, M., Affes, H., Athmouni, K., Ksouda, K., Dhouibi, R., Sahnoun, Z., Zeghal, K. M., 2017. Chemicals compositions, antioxidant and anti-inflammatory activity of Cynara scolymus leaves extracts, and analysis of major bioactive polyphenols by HPLC. Evidence-based complementary and alternative medicine: eCAM, 4951937

Beutler E (1963) Improved method for determination of blood glutathione. J Lab Clin Med 61:882–888

Buhner SH (2007) The natural testosterone plan: for sexual health and energy. Healing Arts Press Rochester, VT

Cavalari FC, de Castro AL, de Moraes Fracasso B, da Silveira Loss E (2012) Non-classic androgen actions in Sertoli cell membrane in whole seminiferous tubules: effects of nandrolone decanoate and catechin. Steroids 77:118–125

Ciereszko A, Dabrowski K (1995) Sperm quality and ascorbic acid concentration in rainbow trout semen are affected by dietary vitamin C: an across-season study. Biol Reprod 52:982–988

Colak E, Ustuner MC, Tekin N, Colak E, Burukoglu D, Degirmenci I, Gunes HV (2016) The hepatocurative effects of Cynara scolymus L leaf extract on carbon tetrachloride-induced oxidative stress and hepatic injury in rats SpringerPlus 5:216

de Souza GL, Hallak J (2011) Anabolic steroids and male infertility: a comprehensive review. BJU Int 108:1860–1865

Dotson JL, Brown RT (2007) The history of the development of anabolic-androgenic steroids. Pediatr Clin N Am 54(4):761–769

Ebisch I, Thomas C, Peters W, Braat D, Steegers-Theunissen R (2006) The importance of folate, zinc and antioxidants in the pathogenesis and prevention of subfertility. Hum Reprod Update 13:163–174

El Sayed AM, Hussein R, Abdel Motaal A, Fouad MA, Aziz MA, El-Sayed A (2018) Artichoke edible parts are hepatoprotective as commercial leaf preparation. Rev Bras 28:165–178

El Senousy AS, Farag MA, Al-Mahdy DA, Wessjohann LA (2014) Developmental changes in leaf phenolics composition from three artichoke cultivars (Cynara scolymus) as determined via UHPLC-MS and chemometrics. Phytochemistry 108:67–76

Feinberg MJ, Lumia AR, McGinnis MY (1997) The effect of anabolic-androgenic steroids on sexual behavior and reproductive tissues in male rats. Physiol Behav 62:23–30

Flanagan J, Lehtihet M (2015) The response to gonadotropin-releasing hormone and hCG in men with prior chronic androgen steroid abuse and clinical hypogonadism. Horm Metab Res 47:668–673

Frankenfeld SP, Oliveira LP, Ortenzi VH, Rego-Monteiro IC, Chaves EA, Ferreira AC, Leitão AC, Carvalho DP, Fortunato RS (2014) The anabolic androgenic steroid nandrolone decanoate disrupts redox homeostasis in liver, heart and kidney of male Wistar rats. PLoS One 9:e102699

Gebhardt R (1998) Inhibition of cholesterol biosynthesis in primary cultured rat hepatocytes by artichoke (Cynara scolymus L.) extracts. J Pharmacol Exp Ther 286:1122–1128

Gurel E, Caner M, Bayraktar L, Yilmazer N, Dogruman H, Demirci C (2007) Effects of artichoke extract supplementation on gonads of cadmium-treated rats. Biol Trace Elem Res 119:51

Hall RC, Hall RC (2005) Abuse of supraphysiologic doses of anabolic steroids. South Med J 98:550–555

Hartgens F, Kuipers H (2004) Effects of androgenic-anabolic steroids in athletes. Sports Med 34:513–554

Ilieva P, Khalkova Z, Zaĭkov K, Kapurdov V, Ivanova-Chemishanska L (1994) The action of the artichoke (Cynara scolymus) on the male gonads in an experiment. Probl Khig 19:105–111

Ibrahim GE, El-Raey MA, Eldahshan OA, Souleman AMA (2013) Effect of extraction on phenolic content, silymarin and antiradical activities of artichoke leaves and roots. Eur Sci J 9:6

Jannatifar R, Shokri S, Farrokhi A, Nejatbakhsh R (2015) Effect of supraphysiological dose of nandrolone decanoate on the testis and testosterone concentration in mature and immature male rats: a time course study. International Journal of Reproductive BioMedicine 13:779

Jimenez-Escrig A, Dragsted LO, Daneshvar B, Pulido R, Saura-Calixto F (2003) In vitro antioxidant activities of edible artichoke (Cynara scolymus L.) and effect on biomarkers of antioxidants in rats. J Agric Food Chem 51:5540–5545

Kandeil MA, Mohammed ET, Hashem KS, Aleya L, Abdel-Daim MM (2019) Moringa seed extract alleviates titanium oxide nanoparticles (TiO2-NPs)-induced cerebral oxidative damage, and increases cerebral mitochondrial viability. Environ Sci Pollut Res:1–16. https://doi.org/10.1007/s11356-019-05514-2

Karila T, Hovatta O, Seppälä T (2004) Concomitant abuse of anabolic androgenic steroids and human chorionic gonadotrophin impairs spermatogenesis in power athletes. Int J Sports Med 25:257–263

Kelso K, Cerolini S, Noble R, Sparks NC, Speake B (1996) Lipid and antioxidant changes in semen of broiler fowl from 25 to 60 weeks of age. J Reprod Fertil 106:201–206

Kind P, King E (1954) Estimation of plasma phosphatase by determination of hydrolysed phenol with amino-antipyrine. J Clin Pathol 7:322

Koracevic D, Koracevic G, Djordjevic V, Andrejevic S, Cosic V (2001) Method for the measurement of antioxidant activity in human fluids. J Clin Pathol 54:356–361

Langfort J, Jagsz S, Dobrzyn P, Brzezinska Z, Klapcinska B, Galbo H, Gorski J (2010) Testosterone affects hormone-sensitive lipase (HSL) activity and lipid metabolism in the left ventricle. Biochem Biophys Res Commun 399:670–676

Lattanzioa V, Kroon PA, Linsalatac V, Cardinalic A (2009) Globe artichoke: a functional food and source of nutraceutical ingredients. J Funct Food 1:131–144

Lenzi A, Culasso F, Gandini L, Lombardo F, Dondero F (1993) Andrology: placebo-controlled, double-blind, cross-over trial of glutathione therapy in male infertility. Hum Reprod 8:1657–1662

Luo L, Chen H, Trush MA, Show MD, Anway MD, Zirkin BR (2006) Aging and the brown Norway rat Leydig cell antioxidant defense system. J Androl 27:240–247

Mohammed ET, Safwat GM (2019) Grape seed Proanthocyanidin extract mitigates titanium dioxide nanoparticle (TiO2-NPs)–induced hepatotoxicity through TLR-4/NF-κB signaling pathway. Biol Trace Elem Res:1–11. https://doi.org/10.1007/s12011-019-01955-5

Mohammed ET, Hashem KS, Ahmed AE, Aly MT, Aleya L, Abdel-Daim MM (2019) Ginger extract ameliorates bisphenol a (BPA)-induced disruption in thyroid hormones synthesis and metabolism: involvement of Nrf-2/HO-1 pathway. https://doi.org/10.1016/j.scitotenv.2019.134664

Mohd Mutalip SS, Surindar Singh GK, Mohd Shah A, Mohamad M, Mani V, Hussin SN (2013) Histological changes in testes of rats treated with testosterone, nandrolone, and stanozolol. Iranian journal of reproductive medicine 11(8):653–658

Murugesan P, Muthusamy T, Balasubramanian K, Arunakaran J (2005) Studies on the protective role of vitamin C and E against polychlorinated biphenyl (Aroclor 1254)—induced oxidative damage in Leydig cells. Free Radic Res 39:1259–1272

Narayana K, Prashanthi N, Nayanatara A, Kumar HHC, Abhilash K, Bairy K (2005) Effects of methyl parathion (o, o-dimethyl o-4-nitrophenyl phosphorothioate) on rat sperm morphology and sperm count, but not fertility, are associated with decreased ascorbic acid level in the testis. Mutation Research/Genetic Toxicology and Environmental Mutagenesis 588:28–34

Niki E, Yoshida Y, Saito Y, Noguchi N (2005) Lipid peroxidation: mechanisms, inhibition, and biological effects. Biochem Biophys Res Commun 338:668–676

Noorafshan A, Karbalay-Doust S, Ardekani FM (2005) High doses of nandrolone decanoate reduce volume of testis and length of seminiferous tubules in rats. Apmis 113:122–125

O'Sullivan AJ, Kennedy MC, Casey JH, Day RO, Corrigan B, Wodak AD (2000) Anabolic-androgenic steroids: medical assessment of present, past and potential users. Med J Aust 173:323–327

Oliva A, Dotta A, Multigner L (2009) Pentoxifylline and antioxidants improve sperm quality in male patients with varicocele. Fertil Steril 91:1536–1539

Orlovskaya T, Luneva I, Chelombit'ko V (2007) Chemical composition of Cynara scolymus leaves. Chem Nat Compd 43:239–240

Pey, A., Saborido, A., Blázquez, I., Delgado, J., Megı́as, A., 2003. Effects of prolonged stanozolol treatment on antioxidant enzyme activities, oxidative stress markers, and heat shock protein HSP72 levels in rat liver. J Steroid Biochem Mol Biol 87, 269–277

Pope Jr, H.G., Kanayama, G., 2015. Treatment of anabolic-androgenic steroid related disorders, textbook of addiction treatment: international perspectives. Springer, pp. 621-636

Porawski M, Wassermann G, Achaval M (2004) Localization of acid phosphatase activity in the testis of two teleostean species (Oreochromis niloticus and Odonthestes perugiae). Braz J Biol 64:853–858

Prasad S, Kalra N, Shukla Y (2006) Modulatory effects of diallyl sulfide against testosterone-induced oxidative stress in Swiss albino mice. Asian journal of andrology 8:719–723

Raijmakers MT, Roelofs HM, Steegers EA, Mulder TP, Knapen MF, Wong WY, Peters WH (2003) Glutathione and glutathione S-transferases A1-1 and P1-1 in seminal plasma may play a role in protecting against oxidative damage to spermatozoa. Fertil Steril 79:169–172

Rivera, D., Obon, C., Heinrich, M., Inocencio, C., Verde, A., Fajardo, J., 2006. Gathered Mediterranean food plants–ethnobotanical investigations and historical development, local Mediterranean food plants and nutraceuticals. Karger publishers, pp. 18-74

Sader MA, Griffiths KA, McCredie RJ, Handelsman DJ, Celermajer DS (2001) Androgenic anabolic steroids and arterial structure and function in male bodybuilders. J Am Coll Cardiol 37:224–230

Sadowska-Krępa E, Kłapcińska B, Jagsz S, Sobczak A, Chrapusta SJ, Chalimoniuk M, Grieb P, Poprzęcki S, Langfort J (2011) High-dose testosterone propionate treatment reverses the effects of endurance training on myocardial antioxidant defenses in adolescent male rats. Cardiovasc Toxicol 11:118–127

Shimoda H, Ninomiya K, Nishida N, Yoshino T, Morikawa T, Matsuda H, Yoshikawa M (2003) Anti-hyperlipidemic sesquiterpenes and new sesquiterpene glycosides from the leaves of artichoke (Cynara scolymus L.): structure requirement and mode of action. Bioorg Med Chem Lett 13:223–228

Shokri S, Aitken RJ, Abdolvahhabi M, Abolhasani F, Ghasemi FM, Kashani I, Ejtemaeimehr S, Ahmadian S, Minaei B, Naraghi MA (2010) Exercise and supraphysiological dose of nandrolone decanoate increase apoptosis in spermatogenic cells. Basic & clinical pharmacology & toxicology 106:324–330

Shokri S, Hemadi M, Bayat G, Bahmanzadeh M, Jafari-Anarkooli I, Mashkani Β (2014) Combination of running exercise and high dose of anabolic androgenic steroid, nandrolone decanoate, increases protamine deficiency and DNA damage in rat spermatozoa. Andrologia 46:184–190

Sinha A (1972) Colorimetric assay of catalase. Anal Biochem 47:389–394

Speroni E, Cervellati R, Govoni P, Guizzardi S, Renzulli C, Guerra M (2003) Efficacy of different Cynara scolymus preparations on liver complaints. J Ethnopharmacol 86:203–211

Stojanovic MD, Ostojic SM (2012) Limits of anabolic steroids application in sport and exercise. https://doi.org/10.5772/53015

Karbalay-Doust S, Noorafshan A, Ardekani FM, Mirkhani H (2007) The reversibility of sperm quality after discontinuing nandrolone decanoate in adult male rats. Asian J Androl 9:235–239

Thiblin I, Petersson A (2005) Pharmacoepidemiology of anabolic androgenic steroids: a review. Fundamental & clinical pharmacology 19:27–44

Tietz NW (1995) Clinical guide to laboratory tests. WB Saunders Co.

Torres-Calleja J, Gonzalez-Unzaga M, DeCelis-Carrillo R, Calzada-Sanchez L, Pedron N (2001) Effect of androgenic anabolic steroids on sperm quality and serum hormone levels in adult male bodybuilders. Life Sci 68:1769–1774

Tothova L, Celec P, Ostatnikova D, Okuliarova M, Zeman M, Hodosy J (2013) Effect of exogenous testosterone on oxidative status of the testes in adult male rats. Andrologia 45:417–423

Tylicki A, Kawalko A, Sokolska J, Strumilo S (2007) Effect of anabolic steroid nandrolone decanoate on the properties of certain enzymes in the heart, liver, and muscle of rats, and their effect on rats' cardiac electrophysiology. Horm Metab Res 39:268–272

van Pelt AM, de Rooij DG (1991) Retinoic acid is able to reinitiate spermatogenesis in vitamin A-deficient rats and high replicate doses support the full development of spermatogenic cells. Endocrinology 128:697–704

Vanha-Perttula T, Mather JP, Wayne Bardin C, Moss SB, Bellvé AR (1986) Acid phosphatases in germinal and somatic cells of the testes. Biol Reprod 35:1–9

Wong WY, Merkus HM, Thomas CM, Menkveld R, Zielhuis GA, Steegers-Theunissen RP (2002) Effects of folic acid and zinc sulfate on male factor subfertility: a double-blind, randomized, placebo-controlled trial. Fertil Steril 77:491–498

Yeung, A.W.K., Tzvetkov, N.T., El-Tawil, O.S., Bung, #x01CE, u, S.G., Abdel-Daim, M.M., Atanasov, A.G., 2019. Antioxidants: scientific literature landscape analysis. Oxidative Med Cell Longev 2019, 11

Zini A, Garrels K, Phang D (2000) Antioxidant activity in the semen of fertile and infertile men. Urology 55:922–926
Acknowledgments
The authors thank the staff members of the Biochemistry and Pathology departments, Beni-Suef University, for their help and advice. This work was funded by Researchers Supporting Project number (RSP 2019/ 121), King Saud University, Riyadh, Saudi Arabia.
Ethics declarations
Conflict of interest
The authors declare that they have no conflict of interest.
Additional information
Publisher's note
Springer Nature remains neutral with regard to jurisdictional claims in published maps and institutional affiliations.
Responsible editor: Philippe Garrigues
About this article
Cite this article
Mohammed, E.T., Radi, A.M., Aleya, L. et al. Cynara scolymus leaves extract alleviates nandrolone decanoate-induced alterations in testicular function and sperm quality in albino rats. Environ Sci Pollut Res 27, 5009–5017 (2020). https://doi.org/10.1007/s11356-019-07302-4
Received:

Accepted:

Published:

Issue Date:
Keywords
Artichoke

Cynarin

Silymarin

Anabolic steroids

Antioxidants

Fertility

Sperm abnormalities

Testis