Abstract
We studied the influence of oil-related environmental contaminants (OREC) on the viability, hormone secretion, and protein expression using cultured porcine ovarian granulosa cells. Addition of benzene and xylene promoted proliferation and apoptosis and reduced ovarian cell viability whereas toluene induced apoptosis only. The release of progesterone (P4) and oxytocin (OT) was promoted by benzene and xylene, and suppressed by toluene while prostaglandin F (PGF) output was stimulated by benzene and toluene, but not xylene. The addition of FSH to the culture medium increased ovarian cell proliferation and hormone release, but did not affect apoptosis. However, this FSH's proliferative effect has been prevented in presence of benzene. On the other hand and in the presence of FSH, toluene prevented P4 release and decreased PGF release, while xylene prevented PGF release. We concluded that OREC can affect reproductive processes by directly influencing ovarian cell proliferation, apoptosis, viability, hormone release, and response to gonadotropins.
This is a preview of subscription content, log in to check access.
Access options
Buy single article
Instant unlimited access to the full article PDF.
US$ 39.95
Price includes VAT for USA
Subscribe to journal
Immediate online access to all issues from 2019. Subscription will auto renew annually.
US$ 99
This is the net price. Taxes to be calculated in checkout.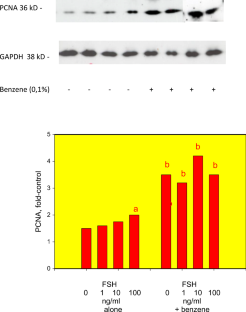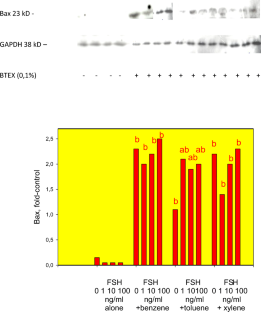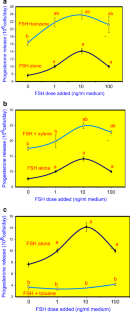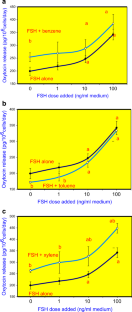 References
Alviggi C, Guadagni R, Conforti A, Coppola G, Picarelli S, De Rosa P, Vallone R, Strina I, Pagano T, Mollo A, Acampora A, De Placido G (2014) Association between intrafollicular concentration of benzene and outcome of controlled ovaria stimulation in IVF/ICSI cycles: a pilot study. J Ovarian Res. 7:67

Bender ML, Frantzen M, Vieweg I, Falk-Petersen IB, Johnsen HK, Rudolfsen G, Tollefsen KE, Dubourg P, Nahrgang J (2016) Effects of chronic dietary petroleum exposure on reproductive development in polar cod (Boreogadus saida). Aquat Toxicol. 180:196–208

Bolden AL, Kwiatkowski CF, Colborn T (2015) New Look at BTEX: Are Ambient Levels a Problem? Environ Sci Technol 49(9):5261–5276

Crew KD, Neugut AI (2006) Aspirin and NSAIDs: effects in breast and ovarian cancers. Curr Opin Obstet Gynecol 18:71–75

Faber WD, Roberts LS, Stump DG, Tardif R, Krishnan K, Tort M, Dimond S, Dutton D, Moran E, Lawrence W (2006) Two generation reproduction study of ethylbenzene by inhalation in Crl-CD rats. Birth Defects Res B Dev Reprod Toxicol. 77:10–21

Fernández-Navarro P, García-Pérez J, Ramis R, Boldo E, López-Abente G (2017) Industrial pollution and cancer in Spain: an important public health issue. Environ Res. 159:555–563

Hannigan JH, Bowen SE (2010) Reproductive toxicology and teratology of abused toluene. Syst Biol Reprod Med. 56:184–200

Homanics GE, Silvia WJ (1988) Effects of progesterone and estradiol-17 beta on uterine secretion of prostaglandin F2 alpha in response to oxytocin in ovariectomized ewes. Biol Reprod 38:804–811

Horbay R, Bilyy R (2016) Mitochondrial dynamics during cell cycling. Apoptosis 21:1327–1335

Ino K, Shibata K, Kajiyama H, Kikkawa F, Mizutani S (2004) Regulatory role of membrane-bound peptidases in the progression of gynecologic malignancies. Biol Chem 385:683–690

Jeon SY, Hwang KA, Choi KC (2016) Effect of steroid hormones, estrogen and progesterone, on epithelial mesenchymal transition in ovarian cancer development. J Steroid Biochem Mol Biol 158:1–8

Jia S, Sankaran G, Wang B, Shang H, Tan ST, Yap HM, Shen J, Gutiérrez RA, Fang W, Liu M, Chang VW, Ng LC, Fang M (2019) Exposure and risk assessment of volatile organic compounds and airborne phthalates in Singapore's Child Care Centers. Chemosphere 224:85–92

Kotwica J, Skarzynski D (1993) Influence of oxytocin removal from corpus luteumon secretory function and duration of the oestrus cycle in cattle. J Reprod Fertil 97:411–417

Kotwica J, Skarzynski DJ, Jaroszewski JJ, Bogacki M (1994) Noradrenaline affects secretory function of corpus luteum independently on prostaglandins in conscious cattle. Prostaglandins 48:1–10

Kumar S, Dhar H, Nair VV, Rena GJ, Arya S, Bhattacharya JK, Vaidya AN, Akolkar AB (2019) Environmental quality monitoring and impact assessment of solid waste dumpsites in high altitude sub-tropical regions. J. Environ. Manage. 252:109681

Luna-Vargas MP, Chipuk JE (2016) Physiological and pharmacological control of BAK, BAX, and beyond. Trends Cell Biol 26:906–917

Madej A, Lang A, Brandt Y, Kindahl H, Madsen MT, Einarsson S (2005) Factors regulating ovarian function in pigs. Domest Anim Endocrinol 29:347–361

McMahon PB, Lindsey BD, Conlon MD, Hunt AG, Belitz K, Jurgens BC, Varela BA (2019) Hydrocarbons in Upland Groundwater, Marcellus Shale Region, Northeastern Pennsylvania and Southern New York, U.S.A. Environ. Sci. Technol 53(14):8027–8035

Mészárosová M, Sirotkin AV, Grossmann R, Darlak K, Valenzuela F (2008) The effect of obestatin on porcine ovarian granulosa cells. Anim Reprod Sci 108:196–207

Park SY, Jeong MS, Han CW, Yu HS, Jang SB (2016) Structural and functional insight into proliferating cell nuclear antigen. J Microbiol Biotechnol 26:637–647

Pereira LC, de Souza AO, Franco Bernardes MF, Pazin M, Tasso MJ, Pereira PH, Dorta DJ (2015) A perspective on the potential risks of emerging contaminants to human and environmental health. Environ Sci Pollut Res. 22(18):13800–13823

Prakash BS, Meyer HH, Schallenberger E, Van de Wiel DF (1987) Development of sensitive enzyme immunoassay (EIA) for progesterone determination in unextracted bovine plasma using the second antibody technique. J Steroid Biochem 28:623–627

Protano C, Scalise T, Orsi GB, Vitali M (2012) A systematic review of benzene exposure during pregnancy and adverse outcomes on intrauterine development and birth: still far from scientific evidence. Ann Ig 24:451–463

Quirk SM, Cowan RG, Harman RM, Hu CL, Porter DA (2004) Ovarian follicular growth and atresia: the relationship between cell proliferation and survival. J Anim Sci 82:E40–E52

Sirotkin AV (2014) Regulators of Ovarian Functions, second edn. Nova Science Publishers Inc, New York

Sirotkin AV, Harrath AH (2017) Influence of oil-related environmental pollutants on female reproduction. Reprod Toxicol 71:142–145

Skarzynski DJ, Bogacki M, Kotwica J (1999) Involvement of ovarian steroids in basal and oxytocin-stimulated prostaglandin (PG) F2 alpha secretion by the bovine endometrium in vitro. Theriogenology 52:385–397

Stepanov MG, Altukhov VV, Proĭmina FI, Savchenko ON, Danilova OA (1990) [Physiologic mechanisms of the reaction of the reproductive system in female rats to chronic exposure to low doses of toluene].[in Russian]. Fiziol Zh SSSR Im I M Sechenova 76:1096–1102

Varjani SJ, Gnansounou E, Pandey A (2017) Comprehensive review on toxicity of persistent organic pollutants from petroleum refinery waste and their degradation by microorganisms. Chemosphere 188:280–291

Vieira KCMT, Fernandes AÁ, Silva KM, Pereira VR, Pereira DR, Favareto APA (2019) Experimental exposure to gasohol impairs sperm quality with recognition of the classification pattern of exposure groups by machine learning algorithms. Environ Sci Pollut Res. 26(4):3921–3931

Wang SC (2014) PCNA: a silent housekeeper or a potential therapeutic target? Trends Pharmacol Sci 35:178–186

Webb E, Bushkin-Bedient S, Cheng A, Kassotis CD, Balise V, Nagel SC (2014) Developmental and reproductive effects of chemicals associated with unconventional oil and natural gas operations. Rev Environ Health 29:307–318
Acknowledgments
The authors thank Ms. Žofia Kuklová and Ms. Katarina Tothová for assistance with experiments.
Funding information
This work was supported by the Slovak Research and Development Agency under contract nos. APVV-14-0001, APVV-15-0296, and APVV-14-0763, and by the Scientific Grant Agency of the Ministry of Education, Science, and Sport of SR under the contracts VEGA 1/0327/16 and VEGA 1/0392/17. This work was supported by Researchers Supporting Project number RSP-2019/17, King Saud University, Riyadh, Saudi Arabia.
Additional information
Publisher's note
Springer Nature remains neutral with regard to jurisdictional claims in published maps and institutional affiliations.
Responsible editor: Philippe Garrigues
About this article
Cite this article
Sirotkin, A.V., Kadasi, A., Baláži, A. et al. Mechanisms of the direct effects of oil-related contaminants on ovarian cells. Environ Sci Pollut Res (2019). https://doi.org/10.1007/s11356-019-07295-0
Received:

Accepted:

Published:
Keywords
Benzene

Xylene

Toluene

Ovarian cell

Viability