Abstract
The objective of the work was to study behavioural change of Cyclope neritea (sea snail) and Nassarius mutabilis (land snail) upon exposure to different levels of PAHs. Snail's behaviour was translated and expressed in Behavioural State Score (BSS) where the score ranged from "0" to "5" points refers to the ascending level of locomotion of a snail. A significant difference was found in snail's behaviour in 25.0 mg/L than in 0.5 mg/L with p value smaller than 0.01. BSS scores appear most frequent on the treatment and control group were 5 (61.5–64.5%) and 2 (41.0–45.0%), respectively. Intersex behaviour was found in all species (i.e. the same sex was grouped together) regardless of PAH concentrations. This is the first reported to study the behavioural change of snail sampled in Hong Kong area when exposed to PAHs. Further studies should be carried on the impact of snail's behaviour exposure on each congener in the family of PAHs.
This is a preview of subscription content, log in to check access.
Access options
Buy single article
Instant access to the full article PDF.
US$ 39.95
Price includes VAT for USA
Subscribe to journal
Immediate online access to all issues from 2019. Subscription will auto renew annually.
US$ 99
This is the net price. Taxes to be calculated in checkout.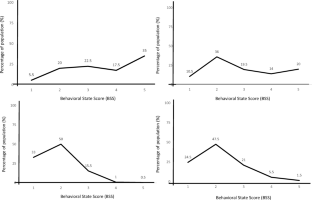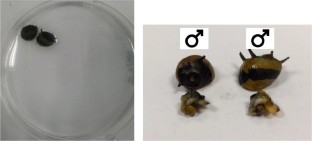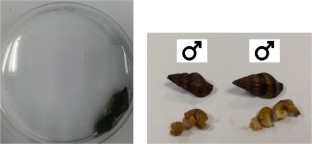 References
Abdel-Shafy HI, Mansourb SM (2016) A review on polycyclic aromatic hydrocarbons: source, environmental impact, effect on human health and remediation. Egypt J Pet 25:107–123

Bhagat J, Ingole BS, Shyama SK (2017) Effects of benzo(k)fluoranthene, a polycyclic aromatic hydrocarbon on DNA damage, lipid peroxidation and oxidative stress in marine gastropod Morula granulate. Chem Ecol 33:869–882

Bhide M (1998) Effect of nuvan, methyl parathion and thimet on the mortality, behaviour and reproductive performance of freshwater molluscs, Lymnaea stagnalis. J Environ Biol 19:325–332

Campbell MM, White KN, Jugdaohsingh R, Powell JJ, McCrohan CR (2000) Effect of aluminum and silicic acid on the behaviour of the freshwater snail Lymnaea stagnalis. Can J Fish Aquat Sci 57:1151–1159

Chapperon C, Seuront L (2011) Behavioral thermoregulation in a tropical gastropod: links to climate change scenarios. Glob Chang Biol 17:1740–1749

Chapperon C, Seuront L (2014) Space-time variability in environmental thermal properties and snail thermoregulatory behaviour. Funct Ecol 25:1040–1050

Cooke CM, Kondo Y (1971) Revision on Tornatellinidae and Achatinellidae (Gatropoda: Pulmonata), pp 221–228

Dalesman S, Rundle SD, Coleman RA, Cotton PA (2006) Cue association and antipredator behaviour in a pulmonate snail, Lymnaea stagnalis. Anim Behav 71:789–797

Desouky MM (2001) Amelioration of behavioural toxicity of aluminium by oligomeric silicic acid and humic acid. Egypt J Biol 3:56–62

Dubrovskaya EV, Pozdnyakova NN, Muratova AY, Turkovskaya OV (2016) Changes in phytotoxicity of polycyclic aromatic hydrocarbons in the course of microbial degradation. Russ J Plant Physiol 63:172–179

Hartono D, Lioe B, Zhang Y, Li B, Yu Z (2017) Impacts of particulate matter (PM2.5) on the behavior of freshwater snail Parafossarulus striatulus. Nat Sci Rep 7:644–652

Kamble NA (2007) Comparative studies on induced Biodiversity of three heavy metals (Cd, Pb, and Zn) on freshwater snail, Bellameya bengalensis (Lamarck). Ph.D. Thesis, Shivaji University, Kolhapur

Kamble SB, Kamble NA (2014) Behavioural changes in freshwater snail Bellamya Bengalensis due to acute toxicity of copper sulphate and Acacia Sinuata. Int J Sci Environ Technol 3:1090–1104

Lai Y, Xia X, Dong J, Lin W, Mou X, Zhao P, Jiang X, Li Z, Tong Y, Zhao Y (2015) Equilibrium state of PAHs in bottom sediment–water–suspended sediment system of a large river considering freely dissolved concentrations. J Environ Qual 44:823–832

Maeda H, Yamagishi R, Ishida EH, Kasuga T (2019) Wettability and dynamics of water droplet on a snail shell. J Colloid Interface Sci 547:111–116

Mazuro H, Jalova KV, Kohler HR, Triebskorn R, Giesy JP (2008) Endocrine effects of contaminated sediments on the freshwater snail Potamopyrgus antipodarum in vivo in the cell bioassays in vitro. Aquat Toxicol 89:172–179

Nagelkerken I, Munday PL (2016) Animal behaviour shapes the ecological effects of ocean acidification and warming: moving from individual to community-level responses. Glob Chang Biol 22:974–989

Qadeer A, Liu M, Yang J, Liu XR, Khalil SK, Huang YP, Habibullah-Al-Mamun M, Gao DZ, Yang Y (2019) Trophodynamics and parabolic behaviors of polycyclic aromatic hydrocarbons in an urbanized lake food web, Shanghai. Ecotoxicol Environ Saf 178:17–24

Reid DG, Lal K, Mackenzie-Dodds J, Kaligis F, Littlewood DTJ, Suzanne TW (2006) Comparative phylogeography and species boundaries in Echinolittorina snails in the central Indo-West Pacific. J Biogeogr 33:990–1006

Rundle SD, Brönmark C (2001) Inter– and intraspecific trait compensation of defence mechanisms in freshwater snails. Proceedings: Biological Sciences 268:1463–1468

Shi HH, Huang CJ, Zhu SX, Yu XJ, Xie XY (2005) Generalized system of imposex and reproductive failure in female gastropods of coastal waters of mainland China. Mar Ecol Prog Ser 304:179–189

Shi W, Yu NY, Jiang X, Han ZH, Wang SH, Zhang XW, Wei S, Giesy JP, Yu HX (2017) Influence of blooms of phytoplankton on concentrations of hydrophobic organic chemicals in sediments and snails in a hyper-eutrophic, freshwater lake. Water Res 113:22–31

Tongo I, Ogbeide O, Ezemonye L (2017) Human health risk assessment of polycyclic aromatic hydrocarbons (PAHs) in smoked fish species from markets in Southern Nigeria. Toxicol Rep 4:55–61

Tuersley MD, McCrohan CR (1987) Food arousal in the pond snail, Lymnaea stagnalis. Behav Neural Biol 47:222–236

Tufi S, Wassenaar PNH, Osorio V, de Boer J, Leonards PEG, Lamoree MH (2016) Pesticide mixture toxicity in surface water extracts in snails (Lymnaea stagnalis) by an in vitro acetylcholinesterase inhibition assay and metabolomics. Environ Sci Technol 50:3937–3944

Wang C, Zhou S, Song J, Wu S (2018) Human health risks of polycyclic aromatic hydrocarbons in the urban soils of Nanjing, China. Sci Total Environ 15:750–757
Additional information
Publisher's note
Springer Nature remains neutral with regard to jurisdictional claims in published maps and institutional affiliations.
Responsible editor: Philippe Garrigues
About this article
Cite this article
Leung, H.M., Yue, P.Y.K., Sze, S.C.W. et al. Behavioural toxicity studies of Cyclope neritea and Nassarius mutabilis exposed to polycyclic aromatic hydrocarbons. Environ Sci Pollut Res (2019). https://doi.org/10.1007/s11356-019-07250-z
Received:

Accepted:

Published:
Keywords
Intersex behaviour

Cyclope neritea
Nassarius mutabilis

Behavioural State Score

Polycyclic aromatic hydrocarbons