Abstract
This study investigated crystallization mechanisms for the formation of lead aluminosilicate by sintering lead stabilization with kaolin-based precursors. PbAl2Si2O8 was found to be the only stable lead aluminosilicate in low-PbO system and demonstrates its highly intrinsic resistance to acid attack in leaching test. A three-stage PbAl2Si2O8 formation mechanism was supported by the results of the changing temperature in the system. Amorphization of sintered products was observed in both PbO/kaolinite and PbO/mullite systems at 600–700°C. When the temperature was increased to 750–900°C, the crystallochemical formation of lead aluminosilicates (i.e., Pb4Al4Si3O16, Pb6Al6Si2O21, and PbAl2Si2O8) was observed. Pb4Al4Si3O16 and Pb6Al6Si2O21 were found to be the intermediate phases at 700–900°C. Finally, PbAl2Si2O8 was found to be the only crystallite phase to host Pb at above 950°C. A maximum of 80% and 96.7% Pb can be incorporated into PbAl2Si2O8 in PbO/kaolinite and PbO/mullite systems, respectively, but the final products exhibited different microstructures. To reduce environmental hazard of lead, this strategy demonstrated a preferred mechanism of immobilizing lead into PbAl2Si2O8 structure via kaolin-based precursors.
This is a preview of subscription content, log in to check access.
Access options
Buy single article
Instant unlimited access to the full article PDF.
US$ 39.95
Price includes VAT for USA
Subscribe to journal
Immediate online access to all issues from 2019. Subscription will auto renew annually.
US$ 99
This is the net price. Taxes to be calculated in checkout.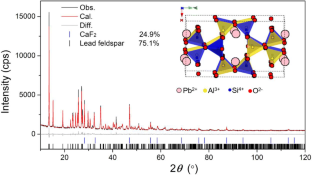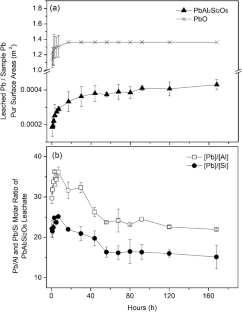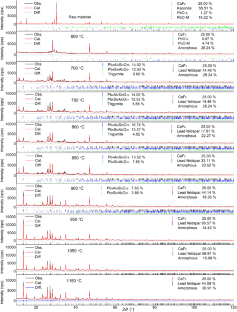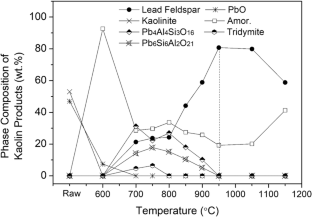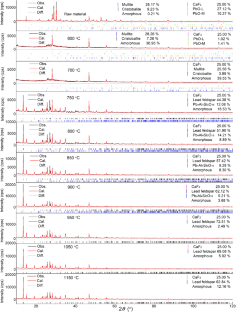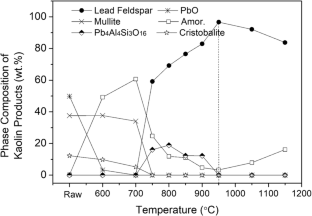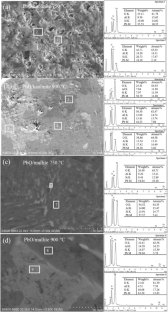 References
Al-Degs Y, Khraisheh MAM, Tutunji MF (2001) Sorption of lead ions on diatomite and manganese oxides modified diatomite. Water Res 35(15):3724–3728

Celary P, Szołtysek JS (2014) Vitrification as an alternative to landfilling of tannery sewage sludge. Waste Manag 34(12):2520–2527

Cerbo AAV, Ballesteros F, Chen TC, Lu MC (2017) Solidification/stabilization of fly ash from city refuse incinerator facility and heavy metal sludge with cement additives. Environ Sci Pollut Res 24(2):1748–1756

Champagne CA, Fanguy JC, Heard GE (2000) Solidification/stabilization of lead with the aid of bagasse as an additive to Portland cement. Microchem J 65:255–259

Chen C, Tuan W (2002) Evolution of mullite texture on firing tape-caste kaolin bodies. J Am Ceram Soc 85:1121–1126

Chen S, Zhao B, Hayes PC, Jak E (2001) Experimental study of phase equilibria in the PbO-Al2O3-SiO2 system. Metall Mater Trans B Process Metall Mater Process Sci 32:997–1005

Chen W, Lu Z, Xiao B, Gu P, Yao W, Xing J, Asiri AM, Alamry KA, Wang X, Wang S (2019) Enhanced removal of lead ions from aqueous solution by iron oxide nanomaterials with cobalt and nickel doping. J Clean Prod 211:1250–1258

Conrad K, Hansen HCB (2007) Sorption of zinc and lead on coir. Bioresour Technol 98:89–97

Curetti N, Benna P, Bruno E (2015) High-pressure equation of state and phase transition in PbAl2Si2O8 feldspar. Am Mineral 100:1568–1577

De La Torre AG, Bruque S, Aranda MAG (2001) Rietveld quantitative amorphous content analysis. J Appl Crystallogr 34(2):196–202

Fan HL, Zhou SF, Jiao WZ, Qi GS, Liu YZ (2017) Removal of heavy metal ions by magnetic chitosan nanoparticles prepared continuously via high-gravity reactive precipitation method. Carbohydr Polym 174:1192–1200

Gu P, Zhang S, Zhang C, Wang X, Khan A, Wen T, Hu B, Alsaedi A, Hayat T, Wang X (2019) Two-dimensional MAX-derived titanate nanostructures for efficient removal of Pb (II). Dalton T 48(6):2100–2107

Kukukova A, Aubin J, Kresta SM (2009) A new definition of mixing and segregation: three dimensions of a key process variable. Chem Eng Res Des 87:633–647

Kulkarni VV, Golder AK, Ghosh PK (2018) Critical analysis and valorization potential of battery industry sludge: Speciation, risk assessment and metal recovery. J Clean Prod 171:820–830

Li M, Su P, Guo Y, Zhang W, Mao L (2017) Effects of SiO2, Al2O3 and Fe2O3 on leachability of Zn, cu and Cr in ceramics incorporated with electroplating sludge. J Environ Chem Eng 5(4):3143–3150

Li NH, Chen YH, Hu CY, Hsieh CH, Lo SL (2011a) Stabilization of nickel-laden sludge by a high-temperature NiCr2O4 synthesis process. J Hazard Mater 198:356–361

Li NH, Lo SL, Hu ZY, Hsieh CH, Chen CL (2011b) Stabilization and phase transformation of CuFe2O4 sintered from simulated copper-laden sludge. J Hazard Mater 190(1–3):597–603

Li YC, Min XB, Chai LY, Shi MQ, Tang CJ (2016) Co-treatment of gypsum sludge and Pb/Zn smelting slag for the solidification of sludge containing arsenic and heavy metals. J Environ Manag 181:756–761

Liu XS, Xin B, Dong LY, Liang JS (2018) Composting enhances the removal of lead ions in aqueous solution by spent mushroom substrate: biosorption and precipitation. J Clean Prod 200:1–11

Lu XW, Shih K, Cheng H (2013) Lead glass-ceramics produced from the beneficial use of waterworks sludge. Water Res 47:1353–1360

Lu XW, Ning X, Lee P, Shih K, Wang F (2017) Transformation of hazardous lead into lead ferrite ceramics: crystal structures and their role in lead leaching. J Hazard Mater 336:139–145

Luo S, Xu X, Zhou G, Liu C, Tang Y (2014) Amino siloxane oligomer-linked graphene oxide as an efficient adsorbent for removal of Pb(II; ) from wastewater. J Hazard Mater 274:145–155

MacKenzie KJD, Hartman JS, Okada K (1996) MAS NMR evidence for the presence of silicon in the alumina spinel from thermally transformed kaolinite. J Am Ceram Soc 79:2980–2982

Magallanes-Perdomo M, Carrodeguas RG, Pena P, De Aza PN, De Aza S, De Aza AH (2009) Non-isothermal devitrification study of wollastonite-tricalcium phosphate bioeutectic® glass. Key Eng Mater 396-398:127–130

Mihajlovic ASR, Kremenovic AS, Dosen AM, Andrejic JZ, Dondur VT (2015) Thermally induced phase transformation of Pb-exchanged LTA and FAU-framework zeolite to feldspar phases. Microporous Mesoporous Mater 201:210–218

Paria S, Yuet PK (2006) Solidification-stabilization of organic and inorganic contaminants using Portland cement: a literature review. Environ Rev 14:217–255

Perić J, Trgo M, Vukojević MN (2004) Removal of zinc, copper and lead by natural zeolite-a comparison of adsorption isotherms. Water Res 38:1893–1899

Radovanoviä DÄ, KamberoviÄ ZJ, Koraä MS, Rogan JR (2016) Solidified structure and leaching properties of metallurgical wastewater treatment sludge after solidification/stabilization process. J Environ Sci Health Part A 51(1):34–43

Rendtorff NM, Conconi MS, Aglietti EF, Chain CY, Pasquevich AF, Rivas PC, Martínez JA, Caracoche MC (2010) Phase quantification of mullite-zirconia and zircon commercial powders using PAC and XRD techniques. Hyperfine Interact 198:211–218

Sainz MA, Serrano FJ, Amigo JM, Bastida J, Caballero A (2000) XRD microstructural analysis of mullites obtained from kaolinite–alumina mixtures. J Eur Ceram Soc 20:403–412

Segura SG, Ocon JD, Chong MN (2018) Electrochemical oxidation remediation of real wastewater effluents - a review. Process Saf Environ 113:48–67

Silva KNO, Paiva SSM, Souza FL (2018) Applicability of electrochemical technologies for removing and monitoring Pb2+ from soil and water. J Electroanal Chem 816:171–178

Shih K, White T, Leckie JO (2006) Nickel stabilization efficiency of aluminate and ferrite spinels and their leaching behavior. Environ Sci Technol 40:5520–5526

Stumm W, Morgan J (1996) A Wiley-Interscience publication, 3rd ed by Wiley J and Sons, Inc. Geochim Cosmochim Acta

Su M, Liao C, Chuang KH, Wey MY, Shih K (2015) Cadmium stabilization efficiency and Leachability by CdAl4O7 monoclinic structure. Environ Sci Technol 49:14452–14459

Sun DD, Tay JH, Cheong HK, Leung DLK, QianG (2001) Recovery of heavy metals and stabilization of spent hydrotreating catalyst using a glass-ceramic matrix. J Hazard Mater 87(1–3): 13–223

Tang Y, Liu C, Shih K (2014) Beneficial metal stabilization mechanisms using simulated sludge incineration ash for ceramic products. J Chem Technol Biotechnol 89:536–543

Tang Y, Shih K (2013) Stabilization mechanisms and reaction sequences for sintering simulated copper-laden sludge with alumina. ACS Sustain Chem Eng 1:1239–1245

Tribaudino M, Benna P (1998) Structural variations induced by thermal treatment in lead feldspar (PbAl2Si2O8). Am Mineral 83:159–166

US EPA (1998) Applicability of the Toxicity Characteristic Leaching Procedure to Mineral Processing Wastes <http://www.epa.gov/osw/nonshaz/industrial/special/mining/minedock/tclp/tcremand.pdf>

US EPA (1992) U.S. EPA Method 1311- Toxicity Characteristic Leaching Procedure and its Salts <http://www.epa.gov/osw/hazard/testmethods/sw846/pdfs/1311.pdf>

Vedrenne M, Vasquezmedrano R, Pratogarcia D, Frontanauribe BA, Ibanez JG (2012) Characterization and detoxification of a mature landfill leachate using a combined coagulation–flocculation/photo Fenton treatment. J Hazard Mater 205-206:208–215

Venäläunen SH (2011) Apatite ore mine tailings as an amendment for remediation of a lead-contaminated shooting range soil. Sci Total Environ 409:4628–4634

Velde B (1992) Introduction to clay minerals. Chapman & Hall(ed). London J Biosci Bioeng 86:233–235

Reed JS (1995) Principles of ceramic processing, 2nd edn. John Wiley, New York

Wang Y, Shih K, Jiang X (2012) Phase transformation during the sintering of γ-alumina and the simulated Ni-laden waste sludge. Ceram Int 38(3):1879–1886

Wang YS, Dai JG, Wang L, Dcw T, Poon CS (2017) Influence of lead on stabilization/solidification by ordinary Portland cement and magnesium phosphate cement. Chemosphere 190:90–96

Xu GR, Zou JL, Li GB (2008) Effect of sintering temperature on the characteristics of sludge ceramsite. J Hazard Mater 150:394–400

Xu GR, Zou JL, Li GB (2009) Stabilization/solidification of heavy metals in sludge ceramsite and leachability affected by oxide substances. Environ Sci Technol 43:5902-5907 Zhao D, Yu Y, Chen JP (2016) Treatment of lead contaminated water by a PVDF membrane that is modified by zirconium, phosphate and PVA. Water Res 101:564–573

Yang HC, Yun JS, Kang MJ, Kim JH, Kang Y (1992) Mechanisms and kinetics of cadmium and lead capture by calcined kaolin at high temperatures. Korean J Chem Eng 18:499–505

Yang K, Wu J, His C, Lu H (2011) Morphologically textured mullite in sintered tape-cast kaolin. J Am Ceram Soc 94:938–944

Zhu L, Ji J, Wang S, Xu C, Yang K (2018) Removal of Pb(II) from wastewater using Al2O3-NaA zeolite composite hollow fiber membranes synthesized from solid waste coal fly ash. Chemosphere 206:278
Additional information
Publisher's note
Springer Nature remains neutral with regard to jurisdictional claims in published maps and institutional affiliations.
Responsible Editor: Philipp Gariguess
About this article
Cite this article
Yang, J., Lu, X., Liu, Y. et al. Transformation of hazardous lead into aluminosilicate ceramics: structure evolution and lead leaching. Environ Sci Pollut Res (2020) doi:10.1007/s11356-019-07153-z
Received:

Accepted:

Published:
Keywords
Lead

Stabilization

Ceramics

Leaching

Crystallization mechanisms

Kaolin-based precursors