Abstract
Senna alexandrina is traditionally used for its antioxidant and anti-inflammatory properties, but little information is available concerning its potential protective effects against cadmium, which is a widespread environmental toxicant that causes hepatotoxicity. Here, we explored the effects of S. alexandrina extract (SAE) on cadmium chloride (CdCl2)-induced liver toxicity over 4 weeks in rats. Rats were allocated into four groups: control, SAE (100 mg/kg), CdCl2 (0.6 mg/kg), and SAE + CdCl2, respectively. Cadmium level in hepatic tissue, blood transaminases, and total bilirubin as indicators of liver function were assessed. Oxidative stress indices [malondialdehyde (MDA), nitrate/nitrite (NO), and glutathione (GSH)], antioxidant molecules [superoxide dismutase (SOD, catalase (CAT), glutathione-derived enzymes, and nuclear factor erythroid 2-related factor 2 (Nrf2)], pro-inflammatory mediators [interleukin-1 beta (IL-1β) and tumor necrosis factor-alpha (TNF-α)], apoptosis proteins (Bcl-2, Bax, and caspase-3), and histological alterations to the liver were examined. SAE administration before CdCl2 exposure decreased cadmium deposition in liver tissue and the blood liver function indicators. SAE pre-treatment prevented oxidative, inflammatory, and apoptotic reactions and decreased histological alterations to the liver caused by CdCl2 exposure. SAE can be used as a promising protective agent against CdCl2-induced hepatotoxicity by increasing Nrf2 expression.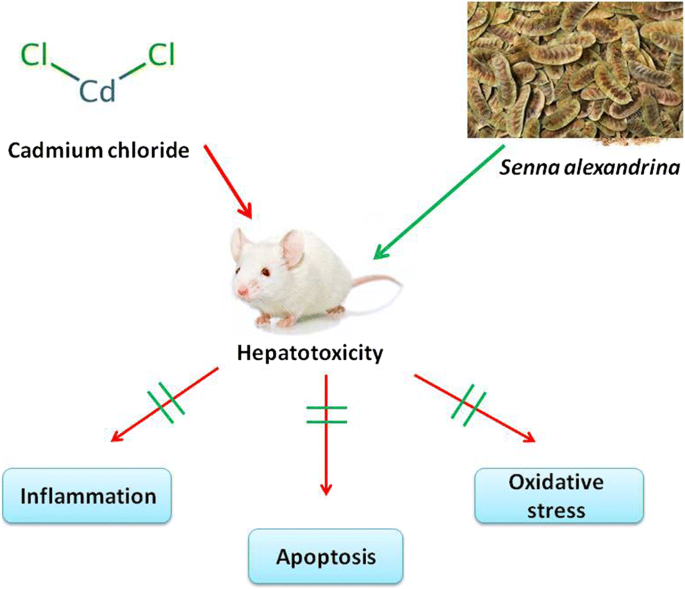 This is a preview of subscription content, log in to check access.
Access options
Buy single article
Instant unlimited access to the full article PDF.
US$ 39.95
Price includes VAT for USA
Subscribe to journal
Immediate online access to all issues from 2019. Subscription will auto renew annually.
US$ 99
This is the net price. Taxes to be calculated in checkout.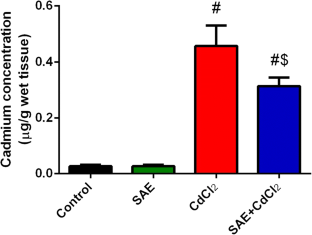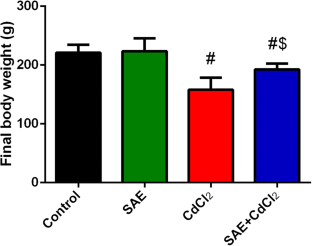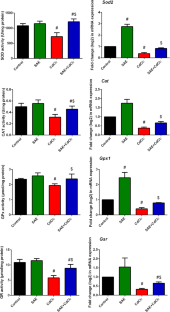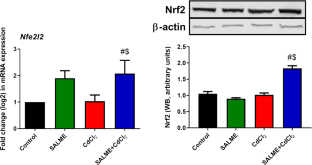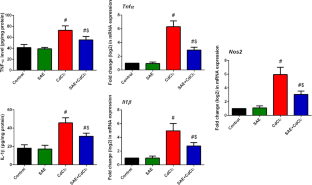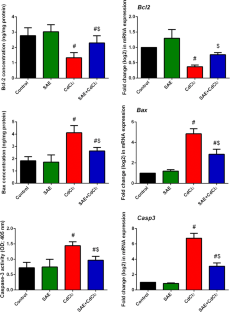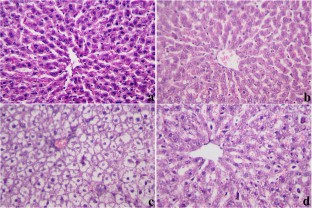 References
Abdeen A et al (2019) Cadmium overload modulates piroxicam-regulated oxidative damage and apoptotic pathways environmental science and pollution research international. https://doi.org/10.1007/s11356-019-05783-x

Abdel Moneim AE (2013) The neuroprotective effects of Purslane (Portulaca oleracea) on rotenone-induced biochemical changes and apoptosis in brain of rat CNS. Neurol Disord Drug Targets

Ahmed SI, Hayat MQ, Tahir M, Mansoor Q, Ismail M, Keck K, Bates RB (2016) Pharmacologically active flavonoids from the anticancer, antioxidant and antimicrobial extracts of Cassia angustifolia Vahl. BMC Complement Altern Med 16:460. https://doi.org/10.1186/s12906-016-1443-z

Al Omairi NE, Al-Brakati AY, Kassab RB, Lokman MS, Elmahallawy EK, Amin HK, Abdel Moneim AE (2019) Soursop fruit extract mitigates scopolamine-induced amnesia and oxidative stress via activating cholinergic and Nrf2/HO-1 pathways. Metab Brain Dis. https://doi.org/10.1007/s11011-019-00407-2

Aldred EM, Buck C, Vall K (2009) Chapter 21 - phenols. In: Aldred EM, Buck C, Vall K (eds) Pharmacology. Churchill Livingstone, Edinburgh, pp 149–166. https://doi.org/10.1016/B978-0-443-06898-0.00021-9

Almeer RS, Alarifi S, Alkahtani S, Ibrahim SR, Ali D, Moneim A (2018a) The potential hepatoprotective effect of royal jelly against cadmium chloride-induced hepatotoxicity in mice is mediated by suppression of oxidative stress and upregulation of Nrf2 expression. Biomed Pharmacother 106:1490–1498. https://doi.org/10.1016/j.biopha.2018.07.089

Almeer RS, Kassab RB, AlBasher GI, Alarifi S, Alkahtani S, Ali D, Abdel Moneim AE (2018b) Royal jelly mitigates cadmium-induced neuronal damage in mouse cortex. Mol Biol Rep. https://doi.org/10.1007/s11033-018-4451-x

Almeer RS et al (2018c) Royal jelly abrogates cadmium-induced oxidative challenge in mouse testes: involvement of the Nrf2 pathway. Int J Mol Sci 19. https://doi.org/10.3390/ijms19123979

Almeer RS, AlBasher GI, Alarifi S, Alkahtani S, Ali D, Abdel Moneim AE (2019) Royal jelly attenuates cadmium-induced nephrotoxicity in male mice. Sci Rep 9:5825. https://doi.org/10.1038/s41598-019-42368-7

Andjelkovic M et al (2019) Toxic effect of acute cadmium and lead exposure in rat blood, liver, and kidney. Int J Environ Res Public Health 16. https://doi.org/10.3390/ijerph16020274

Browar AW, Koufos EB, Wei Y, Leavitt LL, Prozialeck WC, Edwards JR (2018) Cadmium exposure disrupts periodontal bone in experimental animals: implications for periodontal disease in humans. Toxics 6. https://doi.org/10.3390/toxics6020032

Campos JF, de Castro DT, Damião MJ, Vieira Torquato HF, Paredes-Gamero EJ, Carollo CA, Estevinho LM, de Picoli Souza K, Dos Santos EL (2016) The chemical profile of <i>Senna velutina</i> leaves and their antioxidant and cytotoxic effects. Oxid Med Cell Longev 2016:8405957. https://doi.org/10.1155/2016/8405957

Chen G, Zhang J, Zhang H, Xiao Y, Kao X, Liu Y, Liu Z (2015) Anti-inflammatory effect of emodin on lipopolysaccharide-induced keratitis in Wistar rats. Int J Clin Exp Med 8:12382–12389

Dikalova AE, Kadiiska MB, Mason RP (2001) An in vivo ESR spin-trapping study: free radical generation in rats from formate intoxication--role of the Fenton reaction. Proc Natl Acad Sci U S A 98:13549–13553. https://doi.org/10.1073/pnas.25109109898/24/13549

Dkhil MA, Al-Quraishy S, Diab MMS, Othman MS, Aref AM, Abdel Moneim AE (2014) The potential protective role of Physalis peruviana L. fruit in cadmium-induced hepatotoxicity and nephrotoxicity. Food Chem Toxicol 74:98–106. https://doi.org/10.1016/j.fct.2014.09.013

Duan Y, Duan J, Feng Y, Huang X, Fan W, Wang K, Ouyang P, Deng Y, du Z, Chen D, Geng Y, Yang S (2018) Hepatoprotective activity of vitamin e and metallothionein in cadmium-induced liver injury in Ctenopharyngodon idellus. Oxid Med Cell Longev 2018:9506543. https://doi.org/10.1155/2018/9506543

Dufour DR, Lott JA, Nolte FS, Gretch DR, Koff RS, Seeff LB (2000) Diagnosis and monitoring of hepatic injury. II. Recommendations for use of laboratory tests in screening, diagnosis, and monitoring. Clin Chem 46:2050

el Jihen H, Fatima H, Nouha A, Baati T, Imed M, Abdelhamid K (2010) Cadmium retention increase: a probable key mechanism of the protective effect of zinc on cadmium-induced toxicity in the kidney. Toxicol Lett 196:104–109. https://doi.org/10.1016/j.toxlet.2010.04.006

Elkhadragy MF, Abdel Moneim AE (2017) Protective effect of Fragaria ananassa methanolic extract on cadmium chloride (CdCl2)-induced hepatotoxicity in rats. Toxicol Mech Methods:1–27. https://doi.org/10.1080/15376516.2017.1285973

Elkhadragy MF et al (2018) Protective effects of Fragaria ananassa methanolic extract in a rat model of cadmium chloride-induced neurotoxicity. Biosci Rep 38. https://doi.org/10.1042/BSR20180861

Ellman GL (1959) Tissue sulfhydryl groups. Arch Biochem Biophys 82:70–77

Factor VM, Kiss A, Woitach JT, Wirth PJ, Thorgeirsson SS (1998) Disruption of redox homeostasis in the transforming growth factor-alpha/c-myc transgenic mouse model of accelerated hepatocarcinogenesis. J Biol Chem 273:15846–15853

Fouad AA, Jresat I (2015) Thymoquinone therapy abrogates toxic effect of cadmium on rat testes. Andrologia 47:417–426. https://doi.org/10.1111/and.12281

Gong Z-G, Wang X-Y, Wang J-H, Fan R-F, Wang L (2019) Trehalose prevents cadmium-induced hepatotoxicity by blocking Nrf2 pathway, restoring autophagy and inhibiting apoptosis. J Inorg Biochem 192:62–71. https://doi.org/10.1016/j.jinorgbio.2018.12.008

Green LC, Wagner DA, Glogowski J, Skipper PL, Wishnok JS, Tannenbaum SR (1982) Analysis of nitrate, nitrite, and [15N]nitrate in biological fluids. Anal Biochem 126:131–138

Hassoun EA, Stohs SJ (1996) Cadmium-induced production of superoxide anion and nitric oxide, DNA single strand breaks and lactate dehydrogenase leakage in J774A.1 cell cultures. Toxicology 112:219–226

He Q et al (2019) Hepatoprotective and antioxidant potential of radish seed aqueous extract on cadmium-induced hepatotoxicity and oxidative stress in mice. Pharmacogn Mag 15:283–289. https://doi.org/10.4103/pm.pm_365_18

Kim DO, Chun OK, Kim YJ, Moon HY, Lee CY (2003) Quantification of polyphenolics and their antioxidant capacity in fresh plums. J Agric Food Chem 51:6509–6515. https://doi.org/10.1021/jf0343074

Li Y et al (2015) Attenuation of inflammation by Emodin in lipopolysaccharide-induced acute kidney injury via inhibition of toll-like receptor 2 signal pathway. Iran J Kidney Dis 9:202–208

Luck H (1965) Catalase. In: Bergmeyer HU (ed) Methods of enzymatic analysis. Academic Press, New York, pp 855–888

Mezynska M, Brzoska MM (2019) Review of polyphenol-rich products as potential protective and therapeutic factors against cadmium hepatotoxicity. J Appl Toxicol 39:117–145. https://doi.org/10.1002/jat.3709

Mezynska M, Brzoska MM, Rogalska J, Pilat-Marcinkiewicz B (2018) Extract from Aronia melanocarpa L. berries prevents cadmium-induced oxidative stress in the liver: a study in a rat model of low-level and moderate lifetime human exposure to this toxic metal. Nutrients 11. https://doi.org/10.3390/nu11010021

Mumtaz S, Ali S, Khan R, Andleeb S, Ulhaq M, Khan MA, Shakir HA (2019) The protective role of ascorbic acid in the hepatotoxicity of cadmium and mercury in rabbits. Environ Sci Pollut Res Int 26:14087–14096. https://doi.org/10.1007/s11356-019-04620-5

Ohkawa H, Ohishi N, Yagi K (1979) Assay for lipid peroxides in animal tissues by thiobarbituric acid reaction. Anal Biochem 95:351–358

Paglia DE, Valentine WN (1967) Studies on the quantitative and qualitative characterization of erythrocyte glutathione peroxidase. J Lab Clin Med 70:158–169

Park SJ, Lee JR, Jo MJ, Park SM, Ku SK, Kim SC (2013) Protective effects of Korean red ginseng extract on cadmium-induced hepatic toxicity in rats. J Ginseng Res 37:37–44. https://doi.org/10.5142/jgr.2013.37.37grosbr-37-37

Refaie MMM, El-Hussieny M, Zenhom NM (2018) Protective role of nebivolol in cadmium-induced hepatotoxicity via downregulation of oxidative stress, apoptosis and inflammatory pathways. Environ Toxicol Pharmacol 58:212–219. https://doi.org/10.1016/j.etap.2018.01.011

Rikans LE, Yamano T (2000) Mechanisms of cadmium-mediated acute hepatotoxicity. J Biochem Mol Toxicol 14:110–117. https://doi.org/10.1002/(SICI)1099-0461(2000)14:2<110::AID-JBT7>3.0.CO;2-J

Salama SA, Arab HH, Hassan MH, Al Robaian MM, Maghrabi IA (2019) Cadmium-induced hepatocellular injury: modulatory effects of γ-glutamyl cysteine on the biomarkers of inflammation, DNA damage, and apoptotic cell death. J Trace Elem Med Biol 52:74–82. https://doi.org/10.1016/j.jtemb.2018.12.003

Sobeh M, Mahmoud MF, Hasan RA, Cheng H, El-Shazly AM, Wink M (2017) Senna singueana: antioxidant, hepatoprotective, antiapoptotic properties and phytochemical profiling of a methanol bark extract molecules. 22. https://doi.org/10.3390/molecules22091502

Sun Y, Oberley LW, Li Y (1988) A simple method for clinical assay of superoxide dismutase. Clin Chem 34:497–500

Wardyn JD, Ponsford AH, Sanderson CM (2015) Dissecting molecular cross-talk between Nrf2 and NF-kappaB response pathways. Biochem Soc Trans 43:621–626. https://doi.org/10.1042/BST20150014

Wu QP, Wang ZJ, Fu MH, Tang LY, He Y, Fang J, Gong QF (2007) Chemical constituents from the leaves of Cassia angustifolia. Zhong Yao Cai 30:1250–1252

Wu KC, Liu JJ, Klaassen CD (2012) Nrf2 activation prevents cadmium-induced acute liver injury. Toxicol Appl Pharmacol 263:14–20. https://doi.org/10.1016/j.taap.2012.05.017

Yamano T, DeCicco LA, Rikans LE (2000) Attenuation of cadmium-induced liver injury in senescent male fischer 344 rats: role of Kupffer cells and inflammatory cytokines. Toxicol Appl Pharmacol 162:68–75. https://doi.org/10.1006/taap.1999.8833

Zhang C et al (2017) Selenium triggers Nrf2-mediated protection against cadmium-induced chicken hepatocyte autophagy and apoptosis. Toxicol in Vitro 44:349–356. https://doi.org/10.1016/j.tiv.2017.07.027

Zhang R, Liu Y, Xing L, Zhao N, Zheng Q, Li J, Bao J (2018) The protective role of selenium against cadmium-induced hepatotoxicity in laying hens: expression of Hsps and inflammation-related genes and modulation of elements homeostasis. Ecotoxicol Environ Saf 159:205–212. https://doi.org/10.1016/j.ecoenv.2018.05.016

Zhou X-L, Wan X-M, Fu X-X, Xie C-G (2019) Puerarin prevents cadmium-induced hepatic cell damage by suppressing apoptosis and restoring autophagic flux. Biomed Pharmacother 115:108929. https://doi.org/10.1016/j.biopha.2019.108929

Zou H et al (2015) Salidroside protects against cadmium-induced hepatotoxicity in rats via GJIC and MAPK pathways. PLOS ONE 10:e0129788. https://doi.org/10.1371/journal.pone.0129788PONE-D-15-08848
Ethics declarations
Conflict of interest
The authors declare that they have no conflicts of interest.
Additional information
Publisher's note
Springer Nature remains neutral with regard to jurisdictional claims in published maps and institutional affiliations.
Responsible editor: Mohamed Abdel-Daim
Electronic supplementary material
About this article
Cite this article
Wang, X., Wang, T., Pan, T. et al. Senna alexandrina extract supplementation reverses hepatic oxidative, inflammatory, and apoptotic effects of cadmium chloride administration in rats. Environ Sci Pollut Res (2019) doi:10.1007/s11356-019-07117-3
Received:

Accepted:

Published:
Keywords
Senna alexandrina

Cadmium

Oxidative stress

Nuclear factor erythroid 2-related factor 2

Inflammation

Apoptosis

Liver