Abstract
Formaldehyde (HCHO) is a reactive agent and the most essential common carcinogenic environmental pollutant. The present study investigated the protective and ameliorative effects of boric acid (BA) against formaldehyde-induced oxidative stress in A549 cell lines. The first group served as a control, the second group was treated with only 100 μM formaldehyde, and the third, fourth, and fifth groups were treated with 2.5, 5, and 10 mM BA, respectively. The sixth, seventh, and eighth groups were treated with 2.5, 5, and 10 mM BA plus 100 μM formaldehyde, respectively. In A549 cell lines, formaldehyde treatment significantly decreased cell viability, glutathione level, and enzyme activities of superoxide dismutase and catalase; however, malondialdehyde levels of the cell lysate were found to increase compared with the control group. In addition, formaldehyde treatment did not significantly alter nitric oxide levels. Meanwhile, mRNA expression levels of Tnf-α, NFĸB, and caspase-3 significantly increased but the Bcl-XL level did not show significant alteration by formaldehyde treatment. In contrast, the BA treatment reversed the formaldehyde-induced alteration in A549 cell lines. Consequently, BA exhibited a protective effect in A549 cell line against formaldehyde-induced lipid peroxidation. Furthermore, it ameliorated the antioxidant status and mRNA expression levels of proinflammatory cytokines.
This is a preview of subscription content, log in to check access.
Access options
Buy single article
Instant access to the full article PDF.
US$ 39.95
Price includes VAT for USA
Subscribe to journal
Immediate online access to all issues from 2019. Subscription will auto renew annually.
US$ 99
This is the net price. Taxes to be calculated in checkout.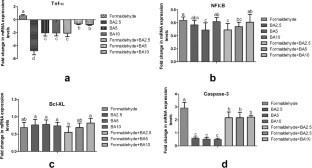 References
Abdelnour SA, Abd El-Hack ME, Swelum AA et al (2018) The vital roles of boron in animal health and production: a comprehensive review. J Trace Elem Med Biol 50:296–304. https://doi.org/10.1016/j.jtemb.2018.07.018

Acaroz U, Ince S, Arslan-Acaroz D, Gurler Z, Demirel HH, Kucukkurt I, Eryavuz A, Kara R, Varol N, Zhu K (2019) Bisphenol-A induced oxidative stress, inflammatory gene expression, and metabolic and histopathological changes in male Wistar albino rats: protective role of boron. Toxicol Res (Camb) 8:262–269. https://doi.org/10.1039/c8tx00312b

Aebi H (1974) Catalase. In: H-Ui B (ed) Methods of enzymatic analysis. Academic Press, New York and London, pp 673–677

Ansari KM, Das M (2010) Skin tumor promotion by argemone oil/alkaloid in mice: evidence for enhanced cell proliferation, ornithine decarboxylase, cyclooxygenase-2 and activation of MAPK/NF-κB pathway. Food Chem Toxicol 48:132–138. https://doi.org/10.1016/j.fct.2009.09.029

Beutler E, Duron O, Kelly BM (1963) Improved method for the determination of blood glutathione. J Lab Clin Med 61:882–888

Bevilacqua MP, Stengelin S, Gimbrone MA, Seed B (1989) Endothelial leukocyte adhesion molecule 1: an inducible receptor for neutrophils related to complement regulatory proteins and lectins. Science (80- ) 243:1160–1165. doi: https://doi.org/10.1126/science.2466335

Celikezen FC, Turkez H, Aydin E, et al (2015) Potent antioxidant and genotoxic effects of ammonium tetraborate in vitro. Nat Sci Discov 1:45. doi: https://doi.org/10.20863/nsd.06412

Cheah NP, Pennings JLA, Vermeulen JP et al (2013) In vitro effects of aldehydes present in tobacco smoke on gene expression in human lung alveolar epithelial cells. Toxicol Vitr 27:1072–1081. https://doi.org/10.1016/j.tiv.2013.02.003

Cheng Q, Lee HH, Li Y, et al (2014) Upregulation of Bcl-x and B ̄-1 as a potential mechanism of chemoresistance, which can be overcome by NF-kB inhibition. 1–5

Ciftci G, Aksoy A, Cenesiz S, et al (2015) Therapeutic role of curcumin in oxidative DNA damage caused by formaldehyde. Microsc Res Tech 78:391–395. https://doi.org/10.1002/jemt.22485

Dos Reis EA, De Oliveira LS, Lamers ML, et al (2002) Arginine administration inhibits hippocampal Na+,K+-ATPase activity and impairs retention of an inhibitory avoidance task in rats. Brain Res 951:151–157. doi: https://doi.org/10.1016/S0006-8993(02)03077-9

Günay E, Celik S, Sarinc-Ulasli S, Özyürek A, Hazman Ö, Günay S, Özdemir M, Ünlü M (2016) Comparison of the anti-inflammatory effects of proanthocyanidin, quercetin, and damnacanthal on benzo(a)pyrene exposed A549 alveolar cell line. Inflammation 39:744–751. https://doi.org/10.1007/s10753-015-0301-3

Haseeb K, Wang J, Xiao K, Yang KL, Sun PP, Wu XT, Luo Y, Song H, Liu HZ, Zhong JM, Peng KM (2018) Effects of boron supplementation on expression of Hsp70 in the spleen of African ostrich. Biol Trace Elem Res 182:317–327. https://doi.org/10.1007/s12011-017-1087-y

He RQ, Lu J, Miao JY (2010) Formaldehyde stress. Sci China Life Sci 53:1399–1404. https://doi.org/10.1007/s11427-010-4112-3

He X, Li Z, Rizak JD et al (2017) Resveratrol attenuates formaldehyde induced hyperphosphorylation of tau protein and cytotoxicity in N2a cells. Front Neurosci 10:1–11. https://doi.org/10.3389/fnins.2016.00598

Ignarro LJ (1990) Nitric oxide. A novel signal transduction mechanism for transcellular communication. Hypertension 16:477–483. doi: https://doi.org/10.1161/01.HYP.16.5.477

Ince S, Kucukkurt I, Acaroz U et al (2019) Boron ameliorates arsenic-induced DNA damage, proinflammatory cytokine gene expressions, oxidant/antioxidant status, and biochemical parameters in rats. J Biochem Mol Toxicol 33:1–7. https://doi.org/10.1002/jbt.22252

Ince S, Kucukkurt I, Cigerci IH, Fatih Fidan A, Eryavuz A (2010) The effects of dietary boric acid and borax supplementation on lipid peroxidation, antioxidant activity, and DNA damage in rats. J Trace Elem Med Biol 24:161–164. https://doi.org/10.1016/j.jtemb.2010.01.003

Ince S, Kucukkurt I, Demirel HH et al (2014) Protective effects of boron on cyclophosphamide induced lipid peroxidation and genotoxicity in rats. Chemosphere 108:197–204. https://doi.org/10.1016/j.chemosphere.2014.01.038

Khaliq H, Juming Z, Ke-Mei P (2018) The physiological role of boron on health. Biol Trace Elem Res 186:31–51. https://doi.org/10.1007/s12011-018-1284-3

Li F, Liu P, Wang T et al (2010) Genotoxicity/mutagenicity of formaldehyde revealed by the Arabidopsis thaliana plants transgenic for homologous recombination substrates. Mutat Res - Genet Toxicol Environ Mutagen 699:35–43. https://doi.org/10.1016/j.mrgentox.2010.04.009

Lim SK, Kim JC, Moon CJ, Kim GY, Han HJ, Park SH (2010) Formaldehyde induces apoptosis through decreased Prx 2 via p38 MAPK in lung epithelial cells. Toxicology 271:100–106. https://doi.org/10.1016/j.tox.2010.03.011

Lowry OH, Rosebrough NJ, Farr AL, Randall RJ (1951) Protein measurement with the Folin phenol reagent. J Biol Chem 193:265–275

Miranda KM, Espey MG, Wink DA (2001) A rapid, simple spectrophotometric method for simultaneous detection of nitrate and nitrite. Nitric Oxide - Biol Chem 5:62–71. https://doi.org/10.1006/niox.2000.0319

Mogoşanu GD, Biţă A, Bejenaru LE, Bejenaru C, Croitoru O, Rău G, Rogoveanu OC, Florescu DN, Neamţu J, Scorei ID, Scorei RI (2016) Calcium fructoborate for bone and cardiovascular health. Biol Trace Elem Res 172:277–281. https://doi.org/10.1007/s12011-015-0590-2

Nielsen FH (1994) Biochemical and physiologic consequences of boron deprivation in humans. Environ Health Perspect 102:59–63

Nielsen FH (2008) Is boron nutritionally relevant? Nutr Rev 66:183–191

Nielsen FH (1997) Boron in human and animal nutrition. Plant Soil 193:199–208. https://doi.org/10.1023/A:1004276311956

Nuttall ME, Nadeau DP, Fisher PW, Wang F, Keller PM, DeWolf WE Jr, Goldring MB, Badger AM, Lee D, Levy MA, Gowen M, Lark MW (2000) Inhibition of caspase-3-like activity prevents apoptosis while retaining functionality of human chondrocytesin vitro. J Orthop Res 18:356–363. https://doi.org/10.1002/jor.1100180306

O'Malley YQ, Reszka KJ, Rasmussen GT et al (2015) The Pseudomonas secretory product pyocyanin inhibits catalase activity in human lung epithelial cells. Am J Physiol Cell Mol Physiol 285:L1077–L1086. https://doi.org/10.1152/ajplung.00198.2003

Ohkawa H, Ohishi N, Yagi K (1979) Assay for lipid peroxides in animal tissues by thiobarbituric acid reaction. Anal Biochem 95:351–358

Pani Prasad Kurcheti MLR (2013) Effect of Aeromonas hydrophila infection on caspase-3 expression and activity in Rohu. Labeo rohita J Aquac Res Dev 04. https://doi.org/10.4172/2155-9546.1000200

Perumal P, Annamalai P, Thayman M et al (2015) Ethyl acetate extract from marine sponge Hyattella cribriformis exhibit potent anticancer activity by promoting tubulin polymerization as evidenced mitotic arrest and induction of apoptosis. Pharmacogn Mag 11:345–355. https://doi.org/10.4103/0973-1296.153088

Pontel LB, Rosado IV, Burgos-Barragan G, Garaycoechea JI, Yu R, Arends MJ, Chandrasekaran G, Broecker V, Wei W, Liu L, Swenberg JA, Crossan GP, Patel KJ (2015) Endogenous formaldehyde is a hematopoietic stem cell genotoxin and metabolic carcinogen. Mol Cell 60:177–188. https://doi.org/10.1016/j.molcel.2015.08.020

Pythoud C, Rothenberger S, Martínez-Sobrido L, de la Torre JC, Kunz S (2015) Lymphocytic choriomeningitis virus differentially affects the virus-induced type I interferon response and mitochondrial apoptosis mediated by RIG-I/MAVS. J Virol 89:6240–6250. https://doi.org/10.1128/jvi.00610-15

Schieber M, Chandel NS (2014) ROS function in redox signaling and oxidative stress. Curr Biol 24:R453–R462. https://doi.org/10.1016/j.cub.2014.03.034

Scorei R (2012) Is boron a prebiotic element? A mini-review of the essentiality of boron for the appearance of life on earth. Orig Life Evol Biosph 42:3–17. https://doi.org/10.1007/s11084-012-9269-2

Shi YQ, Chen X, Dai J, Jiang ZF, Li N, Zhang BY, Zhang ZB (2014) Selenium pretreatment attenuates formaldehyde-induced genotoxicity in A549 cell lines. Toxicol Ind Health 30:901–909. https://doi.org/10.1177/0748233712466129

Speit G, Schmid O, Neuss S, Schütz P (2008) Genotoxic effects of formaldehyde in the human lung cell line A549 and in primary human nasal epithelial cells. Environ Mol Mutagen 49:300–307. https://doi.org/10.1002/em.20386

Sugarman BJ, Hass PE, Shepard HM (1985) gZZZ ~ Kd. 943–945

Sun Y, Oberley LW, Li Y (1988) A simple method for clinical assay of superoxidase dismutase. Clin Chem 34:497–500

Tanaka M, Fujiwara T (2008) Physiological roles and transport mechanisms of boron: perspectives from plants. Pflügers Arch - Eur J Physiol 456:671–677. https://doi.org/10.1007/s00424-007-0370-8

Türkez H, Arslan ME, Özdemir Ö, Chikha O (2016) Ameliorative effect of boric acid against nicotine-induced cytotoxicity on cultured human primary alveolar epithelial cells. Boron 1:104–109

Türkez H, Geyikoǧlu F, Tatar A et al (2007) Effects of some boron compounds on peripheral human blood. Zeitschrift für Naturforsch C 62:889–896. https://doi.org/10.1515/znc-2007-11-1218

Ulasli SS, Celik S, Gunay E et al (2013) Anticancer effects of thymoquinone, caffeic acid phenethyl ester and resveratrol on A549 non-small cell lung cancer cells exposed to benzo(a)pyrene. Asian Pacific J Cancer Prev 14:6159–6164. https://doi.org/10.7314/APJCP.2013.14.10.6159

Üstündaǧ A, Behm C, Föllmann W et al (2014) Protective effect of boric acid on lead- and cadmium-induced genotoxicity in V79 cells. Arch Toxicol 88:1281–1289. https://doi.org/10.1007/s00204-014-1235-5

Xu J, Zhen J, Zhu J, Lin Q (2016) Tumor necrosis factor-α induced protein 6 attenuates acute lung injury following paraquat exposure. Toxicol Mech Methods 26:32–35. https://doi.org/10.3109/15376516.2015.1070223

Zerin T, Kim JS, Gil HW, Song HY, Hong SY (2015) Effects of formaldehyde on mitochondrial dysfunction and apoptosis in SK-N-SH neuroblastoma cells. Cell Biol Toxicol 31:261–272. https://doi.org/10.1007/s10565-015-9309-6

Zhang BY, Shi YQ, Chen X, Dai J, Jiang ZF, Li N, Zhang ZB (2013) Protective effect of curcumin against formaldehyde-induced genotoxicity in A549 cell lines. J Appl Toxicol 33:1468–1473. https://doi.org/10.1002/jat.2814

Zhang S, Chen H, Wang A, Liu Y, Hou H, Hu Q (2018) Combined effects of co-exposure to formaldehyde and acrolein mixtures on cytotoxicity and genotoxicity in vitro. Environ Sci Pollut Res 25:25306–25314. https://doi.org/10.1007/s11356-018-2584-z
Funding
This study was financially supported by the Afyon Kocatepe University Scientific Research Council, Afyonkarahisar, Turkey (Project No.: 15.SAĞ.BİL.12) and it was summarized from the Ph.D. thesis.
Ethics declarations
Conflict of interest
The authors declare that they have no conflicts of interest.
Additional information
Publisher's note
Springer Nature remains neutral with regard to jurisdictional claims in published maps and institutional affiliations.
Responsible editor: Philippe Garrigues
About this article
Cite this article
Arslan-Acaroz, D., Bayşu-Sozbilir, N. Ameliorative effect of boric acid against formaldehyde-induced oxidative stress in A549 cell lines. Environ Sci Pollut Res 27, 4067–4074 (2020). https://doi.org/10.1007/s11356-019-06986-y
Received:

Accepted:

Published:

Issue Date:
Keywords
Formaldehyde

Boric acid

Oxidative stress

Lipid peroxidation

Gene expression

Proinflammatory cytokines

A549 cell line