Abstract
Crystalline silicotitanate (CST) was synthesized via a sol-gel hydrothermal method using Na2Si2O3·9H2O and TiCl4 as silicon and titanium sources. The effects of pH, silicon concentration, hydrothermal temperature, and time on the CST synthesis were studied at a fixed molar ratio of silicon:titanium (0.98:1). Pure nano-CST crystals were synthesized at pH = 12.5, silicon concentration of 5 g L−1, 170 °C for 7 days. The average CST particle size was < 100 nm, with a Sr2+/Cs+ distribution coefficient up to 1.9 × 106 mL g−1/9.4 × 103 mL g−1 under the optimum conditions. In addition, nano-CST absorbed Sr2+/Cs+ over a wide pH range. The nano-CST also displayed a much faster equilibrium time, 4 h, as compared with previous studies. Furthermore, nano-CST adsorption of Sr2+/Cs+ followed a Langmuir adsorption model and was consistent with pseudo-second-order kinetics.
This is a preview of subscription content, log in to check access.
Access options
Buy single article
Instant access to the full article PDF.
US$ 39.95
Price includes VAT for USA
Subscribe to journal
Immediate online access to all issues from 2019. Subscription will auto renew annually.
US$ 99
This is the net price. Taxes to be calculated in checkout.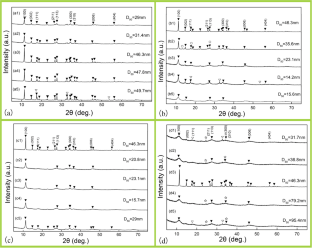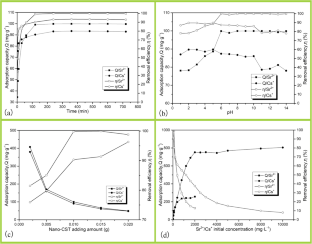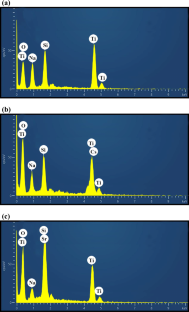 Funding
This work was supported by the Postgraduate Innovation Fund Project by Southwest University of Science and Technology (No. 16ycx038), the National Natural Science Foundation of China (21007052), and also the University Students Innovation and Training Program of Sichuan Province (201810619098).
Ethics declarations
Conflict of interest
The authors declare that they have no conflict of interest.
Additional information
Publisher's note
Springer Nature remains neutral with regard to jurisdictional claims in published maps and institutional affiliations.
Responsible editor: Tito Roberto Cadaval Jr
Electronic supplementary material
About this article
Cite this article
Wang, R., Luo, Z., Tan, Q. et al. Sol-gel hydrothermal synthesis of nano crystalline silicotitanate and its strontium and cesium adsorption. Environ Sci Pollut Res 27, 4404–4413 (2020). https://doi.org/10.1007/s11356-019-06907-z
Received:

Accepted:

Published:

Issue Date:
Keywords
Crystalline silicotitanate

Hydrothermal synthesis

Strontium and Cesium

Adsorption

Thermodynamics

Kinetics