Abstract
The influence of ultrasonication on membrane performance was investigated by two ultrasonication modes, direct and indirect ultrasonication as pretreatment, and simply improved PVDF-TiO2 membranes' performance was systematically compared. Ultrasound intensity of 100% and ultrasonication time ranged from 1 to 2 h positively affect membrane permeability. Characterization results manifested that membrane structure was eventually optimized with an even nano-TiO2 dispersion by direct ultrasonication. Analysis of surface roughness reflected that PVDF-TiO2 (MS-U2) surface morphological pattern was peak-valley structure that resisted fouling greatly. A good fitting of experimental result and Tansel's simulation illustrated that anti-fouling ability was realized direct ultrasonication modified membrane. PVDF-TiO2 (MS-U2) membrane showing the lowest |τ| reflecting the time required to reach a certain level of the fouling degree was the lowest. Relying upon modified Hermia's model analysis, protein blockage within the membrane pore was one major fouling mechanism; surface blockage degree of PVDF-TiO2 (MS-U2) was relative slight. Fouling mechanism analyzed by two models reflected that PVDF-TiO2 (MS-U2) membrane exhibited a higher anti-protein fouling ability during cross-flow filtration process.
This is a preview of subscription content, log in to check access.
Access options
Buy single article
Instant unlimited access to the full article PDF.
US$ 39.95
Price includes VAT for USA
Subscribe to journal
Immediate online access to all issues from 2019. Subscription will auto renew annually.
US$ 99
This is the net price. Taxes to be calculated in checkout.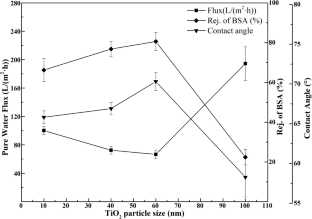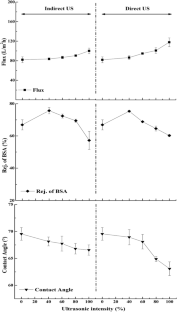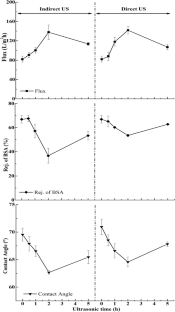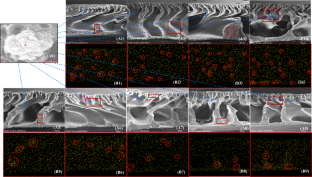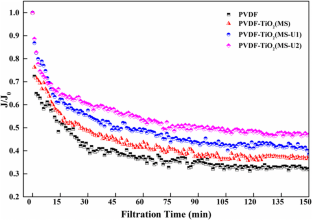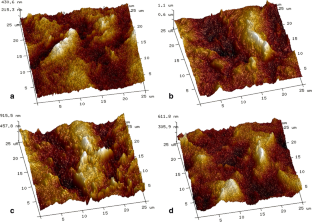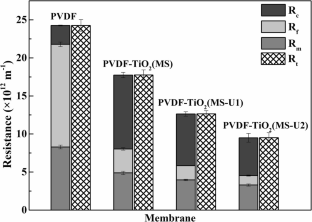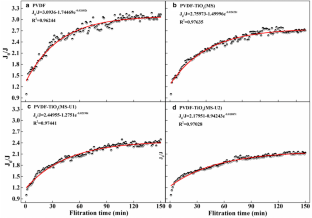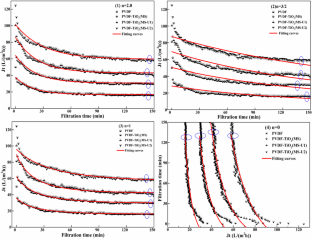 Abbreviations
PVDF:

Poly(vinylidene fluoride)

PEG:

Polyethylene glycol

NMs:

Nano-materials

NPs:

Nano-particles

CNT:

Carbon nanotubes

GO:

Graphene oxides

NF:

Nano-filtration

RO:

Reverse osmosis

PVP:

Polyvinylpyrrolidone

DMAc:

N, N-dimethylacetamide

SEM-EDS:

Scanning electron microscopy with energy dispersive spectrometer

FTIR:

Fourier Transform infrared spectroscopy

AFM:

Atomic force microscope

XRD:

X-ray diffraction

J w :

Pure water flux

LMH:

L/(m2h)

K c :

A coefficient that the membrane surface blocked by per unit of total permeated volume through the whole membrane and surface porosity

K s :

A coefficient reflected that he volume of maintained molecule per unit of filtrated permeated volume, related to membrane thickness and internal porosity

K i :

A coefficient stood for the blocked membrane surface per unit of total permeate volume and per unit of initial surface porosity

K gl :

A coefficient represented the ratio of gel layer and unpolluted membrane areas

MS:

Mechanical stirring

PVDF-TiO2 (MS):

PVDF membrane prepared with 1% nano-TiO2 which dispersed via mechanical stirring only

PVDF-TiO2 (MS-U1):

PVDF membrane prepared with 1% nano-TiO2 which dispersed via mechanical stirring coupled with indirect ultrasonication

PVDF-TiO2 (MS-U2):

PVDF membrane prepared with 1% nano-TiO2 which dispersed via mechanical stirring coupled with direct ultrasonication
References
Abu-Lail NI, Camesano TA (2003) Role of ionic strength on the relationship of biopolymer conformation, DLVO contributions, and steric interactions to bioadhesion of Pseudomonas putida KT2442. Biomacromolecules 4:1000–1012

Bae T-H, Tak T-M (2005) Effect of TiO2 nanoparticles on fouling mitigation of ultrafiltration membranes for activated sludge filtration. J Membr Sci 249:1–8

de Beluci NCL, Mateus PGA, Miyashiro CS et al (2019) Hybrid treatment of coagulation/flocculation process followed by ultrafiltration in TIO2-modified membranes to improve the removal of reactive black 5 dye. Sci Total Environ 664:222–229

Ben-Sasson M, Zodrow KR, Genggeng Q, Kang Y, Giannelis EP, Elimelech M (2014) Surface functionalization of thin-film composite membranes with copper nanoparticles for antimicrobial surface properties. Environ Sci Technol 48:384–393

Bian XK, Sin LQ, Yang XX et al (2011) Effect of nano-TiO2 particles on the performance of PVDF, PVDF-g-(maleic anhydride), and PVDF-g-poly(acryl amide) membranes. Ind Eng Chem Res 50:12113–12123

Cai J, Hu X, Xiao B et al (2017) Recent developments on fractal-based approaches to nanofluids and nanoparticle aggregation. Int J Heat Mass Transf 105:623–637

Cao X, Ma J, Shi X et al (2006) Effect of TiO2 nanoparticle size on the performance of PVDF membrane. Appl Surf Sci 253:2003–2010

Chowdhury I, Hong Y, Walker SL (2010) Container to characterization: impacts of metal oxide handling, preparation, and solution chemistry on particle stability. Colloids Surf A Physicochem Eng Asp 368:91–95

Damodar RA, You SJ, Chou HH (2009) Study the self cleaning, antibacterial and photocatalytic properties of TiO2 entrapped PVDF membranes. J Hazard Mater 172:1321–1328

Du JR, Peldszus S, Huck PM et al (2009) Modification of poly(vinylidene fluoride) ultrafiltration membranes with poly(vinyl alcohol) for fouling control in drinking water treatment. Water Res 43:4559–4568

Fadaei A, Salimi A, Mirzataheri M (2014) Structural elucidation of morphology and performance of the PVDF/PEG membrane. J Polym Res 21:545–552

Field RW, Wu D, Howell JA et al (1995) Critical flux concept for microfiltration fouling. J Membr Sci 100:259–272

Hashim NA, Liu Y, Li K (2011) Preparation of PVDF hollow fiber membranes using SiO2 particles: the effect of acid and alkali treatment on the membrane performances. Ind Eng Chem Res 50:3035–3040

Hermia J (1982) Constant pressure blocking filtration laws—application to power-law non-Newtonian fluids. Chem Eng Res Des 60a:183–187

Hong J, He Y (2012) Effects of nano sized zinc oxide on the performance of PVDF microfiltration membranes. Desalination 302:71–79

Hwang K, Lin T (2002) Effect of morphology of polymeric membrane on the performance of cross-flow microfiltration. J Membr Sci 199:41–52

Kang G-D, Cao Y-M (2014) Application and modification of poly(vinylidene fluoride) (PVDF) membranes – a review. J Membr Sci 463:145–165

Li N, Zhang J, Tian Y et al (2016) Anti-fouling potential evaluation of PVDF membranes modified with ZnO against polysaccharide. Chem Eng J 304:165–174

Li X, Pang R, Li J et al (2013) In situ formation of Ag nanoparticles in PVDF ultrafiltration membrane to mitigate organic and bacterial fouling. Desalination 324:48–56

Liu F, Hashim NA, Liu Y et al (2011) Progress in the production and modification of PVDF membranes. J Membr Sci 375:1–27

Moghadam MT, Lesage G, Mohammadi T et al (2015) Improved antifouling properties of TiO2/PVDF nanocomposite membranes in UV-coupled ultrafiltration. J Appl Polym Sci 41731:1–13

Mohammadi T, Kazemimoghadam M, Saadabadi M (2003) Modeling of membrane fouling and flux decline in reverse osmosis during separation of oil in water emulusions. Desalination 157:369–375

Nasreen SAAN, Sundarrajan S, Syed Nizar SA et al (2013) In situ polymerization of PVDF-HEMA polymers: electrospun membranes with improved flux and antifouling properties for water filtration. Polym J 46:167–174

Nishigochi S, Ishigami T, Maruyama T et al (2014) Improvement of antifouling properties of polyvinylidene fluoride hollow fiber membranes by simple dip coating of phosphorylcholine copolymer via hydrophobic interactions. Ind Eng Chem Res 53:2491–2497

Oss CJV (1993) Acid-base interfacial interactions in aqueous media. Colloids Surf A Physicochem Eng Asp 78:1–49

Pan Z, Cao S, Li J et al (2019) Anti-fouling TiO2 nanowires membrane for oil/water separation: synergetic effects of wettability and pore size. J Membr Sci 572:596–606

Sato K, Li J-G, Kamiya H et al (2008) Ultrasonic dispersion of TiO2 nanoparticles in aqueous suspension. J Am Ceram Soc 91:2481–2487

Sina B, Chung T-S (2009) Highly porous and macrovoid-free PVDF hollow fiber membranes for membrane distillation by a solvent-dope solution co-extrusion approach. J Membr Sci 331:66–74

Song H, Shao J, Wang J et al (2014) The removal of natural organic matter with LiCl-TiO2-doped PVDF membranes by integration of ultrafiltration with photocatalysis. Desalination 344:412–421

Tansel B, Bao WY, Tansel IN (2000) Characterization of fouling kinetics in ultrafiltration systems by resistances in series model. Desalination 129:7–14

Teow YH, Ahmad AL, Lim JK et al (2012) Preparation and characterization of PVDF/TiO2 mixed matrix membrane via in situ colloidal precipitation method. Desalination 295:61–69

Vatanpour V, Madaeni SS, Khataee AR et al (2012) TiO2 embedded mixed matrix PES nanocomposite membranes: influence of different sizes and types of nanoparticles on antifouling and performance. Desalination 292:19–29

Vetrivel V, Rajendran K, Kalaiselvi V (2015) Synthesis and characterization of pure titanium dioxide nanoparticles by sol-gel method. Int J ChemTech Res 7:1090–1097

Vincent Vela MC, Álvarez BS, Lora GJ et al (2009) Analysis of membrane pore blocking models adapted to crossflow ultrafiltration in the ultrafiltration of PEG. Chem Eng J 149:232–241

Vrijenhoek EM, Hong S, Elimelech M (2001) Influence of membrane surface properties on initial rate of colloidal fouling of reverse osmosis and nanofiltration membranes. J Membr Sci 188:115–128

Xie W, Li J, Sun T, Shang W, Dong W, Li M, Sun F (2018) Hydrophilic modification and anti-fouling properties of PVDF membrane via in situ nano-particle blending. Environ Sci Pollut Res Int 25:25227–25242

Xue J, Wang S, Han X et al (2018) Chitosan-functionalized graphene oxide for enhanced permeability and antifouling of ultrafiltration membranes. Chem Eng Technol 41:270–277

Yang X, He Y, Zeng G et al (2017) Bio-inspired method for preparation of multiwall carbon nanotubes decorated superhydrophilic poly(vinylidene fluoride) membrane for oil/water emulsion separation. Chem Eng J 321:245–256

Yang Y, Zhang H, Wang P et al (2007) The influence of nano-sized TiO2 fillers on the morphologies and properties of PSF UF membrane. J Membr Sci 288:231–238

Yi XS, Yu SL, Shi WX et al (2011) The influence of important factors on ultrafiltration of oil/water emulsion using PVDF membrane modified by nano-sized TiO2/Al2O3. Desalination 281:179–184

Yu L-Y, Shen H-M, Xu Z-L (2009a) PVDF-TiO2 composite hollow fiber ultrafiltration membranes prepared by TiO2 sol-gel method and blending method. J Appl Polym Sci 113:1763–1772

Yu L, Xu Z, Shen H et al (2009b) Preparation and characterization of PVDF–SiO2 composite hollow fiber UF membrane by sol–gel method. J Membr Sci 337:257–265

Zhang J, Xu Z, Mai W et al (2013) Improved hydrophilicity, permeability, antifouling and mechanical performance of PVDF composite ultrafiltration membranes tailored by oxidized low-dimensional carbon nanomaterials. J Mater Chem A 1:3101–3111

Zhang Y, Wang L, Xu Y (2015) ZrO2 solid superacid porous shell/void/TiO2 core particles (ZVT)/polyvinylidene fluoride (PVDF) composite membranes with anti-fouling performance for sewage treatment. Chem Eng J 260:258–268

Zhao C, Xu X, Chen J et al (2014) Highly effective antifouling performance of PVDF/graphene oxide composite membrane in membrane bioreactor (MBR) system. Desalination 340:59–66

Zhou Q, Xu S, Zhu C et al (2017) Towards high-performance hybrid hydrophilic membranes: chemical anchoring of hydroxyl-rich nanoparticles on PVDF membranes via a silane coupling agent. J Mater Sci 52:11737–11748
Additional information
Publisher's note
Springer Nature remains neutral with regard to jurisdictional claims in published maps and institutional affiliations.
Responsible editor: Tito Roberto Cadaval Jr
Electronic supplementary material
About this article
Cite this article
Xie, W., Li, J., Sun, F. et al. Ultrasonication favors TiO2 nano-particles dispersion in PVDF ultrafiltration membrane to effectively enhance membrane hydrophilicity and anti-fouling capability. Environ Sci Pollut Res (2020) doi:10.1007/s11356-019-06862-9
Received:

Accepted:

Published:
Keywords
PVDF membrane

Nano-TiO2 dispersion

Hydrophilicity modification

Ultrasonication pretreatment

Anti-fouling ability

Protein fouling