Novel approach for connecting real driving emissions to the European vehicle laboratorial certification test procedure
Abstract
Vehicle emission certification is evaluated under laboratorial conditions, where vehicles perform a standard driving cycle in controlled conditions leading to several critics, which have resulted in the implementation of the Worldwide harmonized Light Vehicle Test Procedure (WLTP) and the Real Driving Emissions (RDE) testing procedure, as a complementary certification procedure. RDE is still under debate since boundary conditions; evaluation and trip selection methods are still being studied to allow test reproducibility. Currently, the official data analysis method uses the moving average window (MAW_EC), based on the WLTP CO2 emissions for trip validity evaluation (RDE package 4) and emissions (RDE package 3). However, this does not consider the impact of vehicle dynamics. Consequently, this work focuses on developing a novel method to relate certification driving cycle dynamics and on-road test vehicle dynamics, to evaluate RDE tests fuel use and exhaust emissions in a comparable way to certification driving cycles, indicating how close, or far, real-world driving is from the laboratorial certification test. For this, a new method was developed called road vehicle evaluation method (ROVET), which relies on the cycle vehicle dynamic and on-road trip dynamics for assessing if both tests are comparable. Results from 5 measured vehicles with a portable emissions measurement system (PEMS) through reproducibility tests and 2 case studies, show that the ROVET provides results closer to the certification calculated reference than the most commonly used method in Europe (1% avg. difference for ROVET while 8% avg. difference for MAW_EC, regarding CO2 emission, for example). The use of vehicle dynamics on construction and references of a method could be used to incentivize the regulators to review the references used by the current used methods, which suffers several criticisms since their release. As the regulated methods are in constant update, this study could be useful for helping to improve or to be used as additional method for future vehicle certification procedures.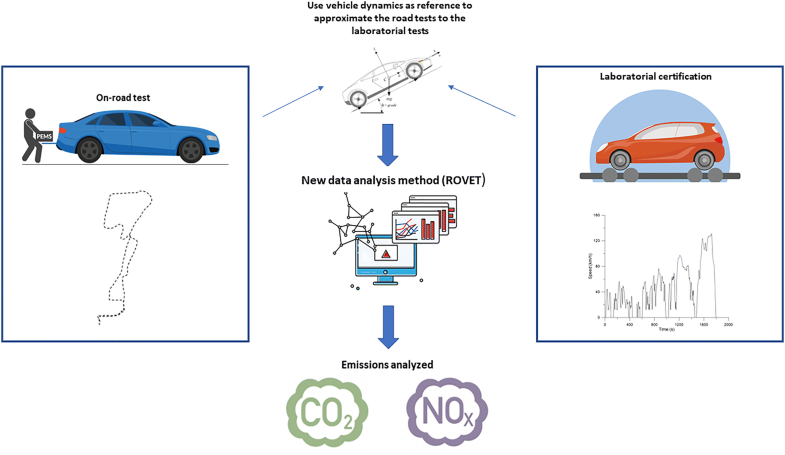 Keywords
Real driving emissions 
Portable emissions measurement system 
Vehicle certification 
Data evaluation method 
Abbreviations
a

Acceleration [m/s2]

CI

Compression ignition

CO

Carbon monoxide

CO2

Carbon dioxide

DOC

Diesel oxidation catalytic converter

DPF

Diesel particulate filter

EC

European Commission

EPA

United States Environmental Protection Agency

FTP-75

EPA Federal Test Procedure

GPS

Global Positioning System

Grade

Road slope

HC

Hydrocarbons

HDV

Heavy-duty vehicles

ICE

Internal combustion engine

ISC

In-service conformity

IST-PEMS

Instituto Superior Técnico Portable Emission Measurement System

JRC

Joint Research Center

LDV

Light-duty vehicle

MAW_EC

Moving average window

MOVES

Motor vehicle emissions simulator

MPFI

Multi point fuel injection

NEDC

New European Driving Cycle

NO

Nitrogen oxide

NO2

Nitrogen dioxide

NOx

Nitrogen oxides

O2

Oxygen

PB

Power binning

PEMS

Portable emissions measurement system

RDE

Real driving emissions

ROVET

Road vehicle evaluation method

SI

Spark ignition

SPF

Specific standardized power frequency

TWC

Three-way catalytic converter

UNECE

United Nations Economic Commission for Europe

v

Speed [m/s]

VSE

Vehicle specific energy

VSP

Vehicle specific power

WLTC

Worldwide Harmonized Light Vehicle Test Cycle

WLTP

Worldwide Harmonized Light Vehicle Test Procedure
Notes
Acknowledgments
Acknowledgments are to the National Council of Scientific and Technological Development (CNPq–Brazil) for the Doctoral financial support of Roberto Aliandro Varella (202097/2014-5). Patrícia C. Baptista acknowledges Fundação para a Ciência e Tecnologia for financing her contract (CEECIND/02589/2017).
Funding information
This study is funded by the Fundação para a Ciência e Tecnologia for IN+ Strategic Project UID/EEA/50009/2013 and project UID/EMS/00712/2013. This study is funded by the Fundação para a Ciência e Tecnologia for IN+ Strategic Project UID/EEA 50009/2019 and IDMEC, under LAETA, project UID/EMS/00712/2019.
Compliance with ethical standards
Disclaimer
The opinions expressed in this manuscript are those of the authors and should in no way be considered to represent official opinion of the AVL company.
Copyright information
© Springer-Verlag GmbH Germany, part of Springer Nature 2019