Amelioration of hepatic function, oxidative stress, and histopathologic damages by Cassia fistula L. fraction in thioacetamide-induced liver toxicity
Abstract
Cassia fistula L. (Caesalpinioideae) is a highly admirable medicinal plant and is traditionally recommended for the treatment of rheumatism, liver disorders, jaundice, and other inflammatory diseases. This study was designed to investigate the hepatoprotective properties of ethyl acetate fraction from C. fistula leaves in an animal model. Treatment with thioacetamide significantly elevated the level of serum glutamic-oxaloacetic transaminase (1.75-fold), alkaline phosphatase (4.07-fold), and total bilirubin (2.29-fold) as compared to the control. It was found that pretreatment of fraction followed by consecutive 2 days thioacetamide reduced the conversion of thioacetamide carcinogen to its reactive metabolites by phase I enzymes and increased the level of detoxification phase II along with antioxidative enzymes. The histopathological studies revealed the hepatoprotective nature of the fraction in restoring the normal architecture of thioacetamide-intoxicated damaged liver. The fraction showed downregulation in the expression level of p-PI3K, p-Akt, and p-mTOR pointing towards its chemopreventive potential. The HPLC analysis of the fraction had shown the dominance of three phenolic compounds namely, catechin, epicatechin, and chlorogenic acid. The above studies comprising histopathological, immunohistochemical, and hepatic enzymes are strong indicative of the potential protective ability of ethyl acetate fraction phytoconstituents against thioacetamide-induced toxicity.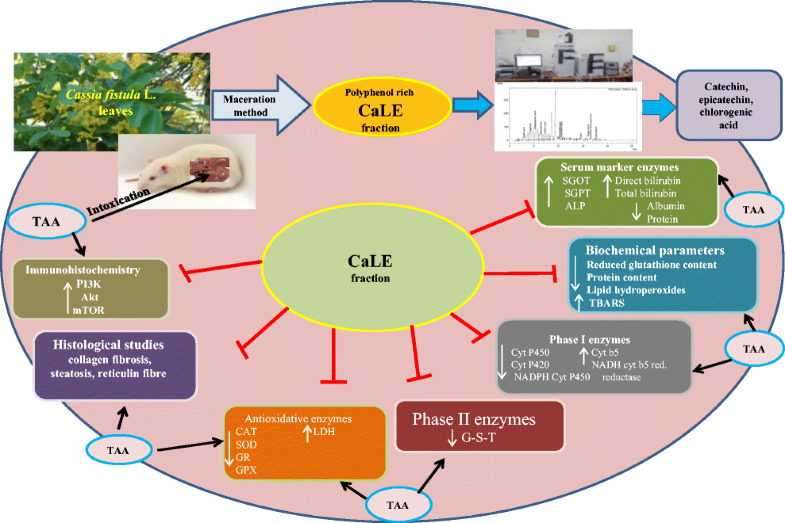 Keywords
Cassia fistula
Thioacetamide 
Hepatoprotection 
p-PI3K 
p-Akt 
p-mTOR 
Abbreviation
ROS

reactive oxygen species

RNS

reactive nitrogen species

HPLC

high-performance liquid chromatography

MDA

malondialdehyde

CYP

cytochrome P450

TAA

thioacetamide

p-PI3

phosphorylated-phosphatidylinositol-3-kinase

p-Akt

phosphorylated-Akt

p-mTOR

phosphorylated-mammalian target of rapamycin

GSSG

oxidized glutathione

GSH

reduced glutathione

bw

bodyweight

i.p

intraperitoneal

CPCSEA

Committee for the Purpose of Control and Supervision of Experiments on Animals

ANOVA

analysis of variance

MLR

multiple linear regression
Notes
Acknowledgments
We would like to acknowledge Dr. (Prof.) Mridu Manjari, Department of Pathology (Sri Guru Ramdas Cancer hospital and University of Health Sciences, Amritsar) for performing histopathological studies and for immunohistochemical studies; Centre for Emerging Life Science for HPLC analysis and Mr. Manjinder Singh (Department of Pharmaceutical Sciences) for animal handling, Guru Nanak Dev University, Amritsar.
Author's Contribution
Provided guidance, drafted the manuscript and revising it critically, and finalized it with her personal inputs: S.J.K. and A.P.S. Performed the experiments and reviewed the literature: S.K., A.P.S, and D.S. Statistical analysis of the results, interpretation of data: S.K., A.P.S, and D.S. Designed the table, figures, and images: S.K and S.J.K.
Funding
This study receives financial assistance provided by the Indian Council of Medical Research (ICMR) [59/36/2011/BMS/TRM] and the Fund for Improvement of S & T Infrastructure (FIST) programme of Department of Science and Technology (DST) [SR/S9/Z-23/2010/20(C)], New Delhi, India.
Compliance with ethical standards
Ethical approval and consent to participate
This study was approved by the Committee for the Purpose of Control and Supervision of Experiments on Animals (CPCSE), Government of India (226/CPCSEA/2014/06). All animals were humane care according to the criteria outlined in the guidelines of the Institutional Animal Ethics Committee (IAEC) and written informed consent was obtained.
Competing interests
The authors declare that they have no competing interests.
Copyright information
© Springer-Verlag GmbH Germany, part of Springer Nature 2019