Transformation of phosphorus and stabilization of heavy metals during sewage sludge incineration: the effect of suitable additives and temperatures
Abstract
Phosphorus (P), an irreplaceable nutrient for all living organisms, is facing scarcity via phosphate resources. In this research, the effect of suitable additives and temperature on P and heavy metals speciation during sewage sludge (SS) thermochemical treatment was investigated. The results demonstrated that additives (CaO and MgO) could promote the conversion of non-apatite inorganic phosphorus (NAIP) to apatite phosphorus (AP). X-ray diffraction measurements indicated that the phosphorus mineral phase in sewage sludge ash (SSA) mainly was AP, with addition of MgO and CaO. Moreover, orthogonal testing revealed that the optimal molar ratio of Mg:Ca:P for P recovery as AP was 1:3.5:1 at 750 °C. Risk index results implied that the heavy metals in the phosphorus-enriched SSA have low potential ecological risk. Thermodynamic equilibrium calculations revealed that P reacted with the other metal ions was in the following order: Ca2+ > Mg2+ > Al3+ > Fe3+ > Zn2+ > K+.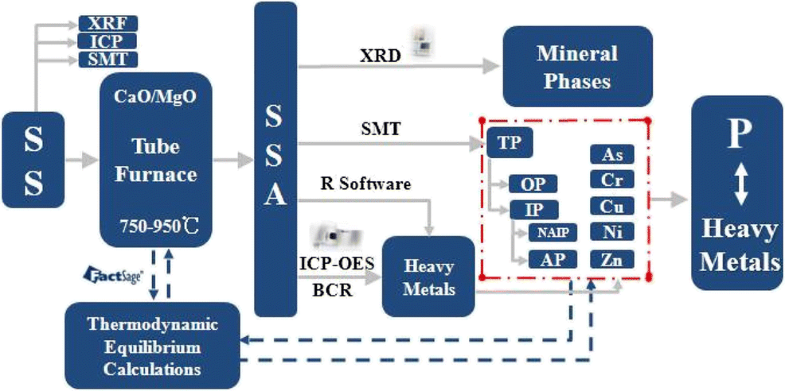 Keywords
Sewage sludge ash 
Phosphorus recovery 
Conversion 
Environmental assessment 
Thermodynamic equilibrium calculations 
Abbreviations
SS

sewage sludge

SSA

sewage sludge ash

TP

total phosphorus

OP

organic phosphorus

IP

inorganic phosphorus

AP

apatite phosphorus

NAIP

non-apatite inorganic phosphorus

Ca/Mg–P

P is associated with Ca or Mg

Al/Fe–P

P is associated with Al or Fe

ACE

acid soluble fraction

RED

reducible fraction

OXI

oxidizable fraction

RES

residue fraction
Notes
Funding information
This work was supported by the National Natural Science Foundation of China, China (No. 51276119 and No. 51576134).
Copyright information
© Springer-Verlag GmbH Germany, part of Springer Nature 2019