Abstract
Herein, we attempt to improve the mechanical stability of anionic functionalized cellulose nanofibers (a-CNF) having 1.25 mmol of carboxymethyl groups per gram of cellulose nanofibers (CNF). The a-CNF and cross-linked a-CNF (za-CNF) then used for water desalination in the continuous mode using a tubular adsorption column. It is worth mentioning that the za-CNF possess 40% degree of cross-linking provided better mechanical stability as the tensile strength improved from 3.2 to 5.2 MPa over a-CNF. The IR spectroscopy was used to confirm the success of chemical modifications. Upon ionic cross-linking, the BET surface area reduced from 13.53 to 7.54 m2·g−1 corresponds to a-CNF and za-CNF, respectively. Moreover, this research was extended to determine the dynamic adsorption capacities for a-CNF and za-CNF, which were found to be 21 and 10 mg·g−1 respectively at a flow rate of 5-mL·min−1 explained by Thomas model.
This is a preview of subscription content, log in to check access.
Access options
Buy single article
Instant access to the full article PDF.
US$ 39.95
Price includes VAT for USA
Subscribe to journal
Immediate online access to all issues from 2019. Subscription will auto renew annually.
US$ 99
This is the net price. Taxes to be calculated in checkout.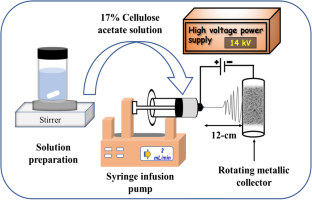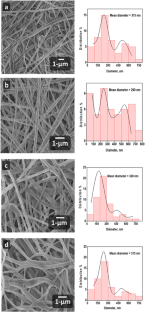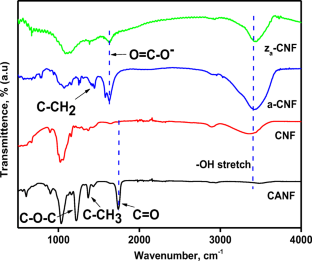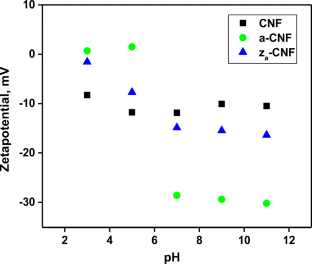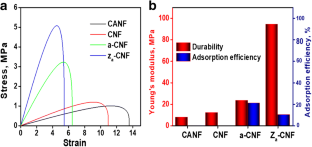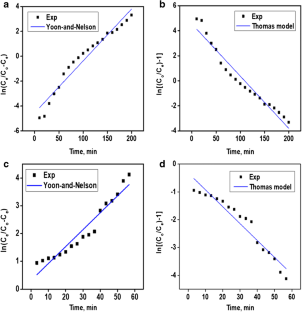 Abbreviations
CANF:

Cellulose acetate nanofibers

CNF:

Cellulose nanofibers

a-CNF:

Anionic functionalized cellulose nanofibers

za-CNF:

Ionic cross-linked a-CNF
Acknowledgment
Authors are thankful to US–Pakistan Center for Advanced Studies in Water, Mehran University of Engineering and Technology, Jamshoro. We are also thankful to the University of Utah, USA, for technical assistance.
Additional information
Publisher's note
Springer Nature remains neutral with regard to jurisdictional claims in published maps and institutional affiliations.
Responsible editor: Tito Roberto Cadaval Jr
Electronic supplementary material
About this article
Cite this article
Muqeet, M., Qureshi, U.A., Mahar, R.B. et al. Ionic cross-linking of cellulose nanofibers: an approach to enhance mechanical stability for dynamic adsorption. Environ Sci Pollut Res 26, 28842–28851 (2019). https://doi.org/10.1007/s11356-019-06076-z
Received:

Accepted:

Published:

Issue Date:
Keywords
Biomaterials

Dynamic adsorption

Cellulose nanofiber

Mechanical property

Ionic cross-link