Abstract
Through a variety of media formats, the Air Quality Health Index (AQHI) has served as a valuable communication tool for the general Canadian population for several years. This index, calculated and communicated to the public on an hourly basis, is designed to provide important information on the impact of air quality on health. This presentation outlines the association between AQHI values and, for the first time, all-cause emergency department (ED) visits (over one million diagnosed ED visits). It is assumed that a higher AQHI value, reflecting increased health risk, will encourage people to take steps to reduce their exposure, by limiting the duration and intensity of outdoor activity. The case-crossover methodology was used to assess the associations between the considered exposure and ED visits. The results, the estimated odds ratios, are presented as non-linear concentration-response functions. We argue that air health effects, measured as the total number of all-cause ED visits, are related to the values of the AQHI. We postulate that there are differences in this association between males and females, possibly due to gender-specific behavior and/or health conditions.
This is a preview of subscription content, log in to check access.
Access options
Buy single article
Instant access to the full article PDF.
US$ 39.95
Price includes VAT for USA
Subscribe to journal
Immediate online access to all issues from 2019. Subscription will auto renew annually.
US$ 99
This is the net price. Taxes to be calculated in checkout.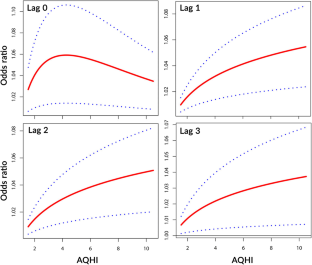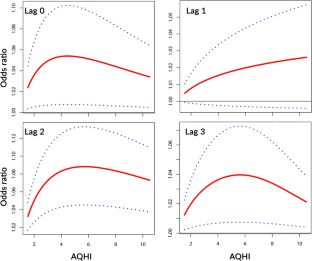 Abbreviations
AIC:

Akaike information criterion

AQHI:

Air Quality Health Index

ED:

Emergency department

ICD:

International Classification of Diseases

NAPS:

National Air Pollution Surveillance

OR:

Odds ratio

PM:

Particulate matter
References
Abelsohn A, Stieb DM (2011) Health effects of outdoor air pollution: approach to counseling patients using the Air Quality Health Index. Can Fam Physician 57(8):881–887

Burnett R, Chen H, Szyszkowicz M, Fann N, Hubbell B, Pope CA 3rd et al (2018) Global estimates of mortality associated with long-term exposure to outdoor fine particulate matter. Proc Natl Acad Sci U S A 115(38):9592–9597. https://doi.org/10.1073/pnas.1803222115

Chen L, Villeneuve PJ, Rowe BH, Liu L, Stieb DM (2014) The Air Quality Health Index as a predictor of emergency department visits for ischemic stroke in Edmonton, Canada. J Expo Sci Environ Epidemiol 24(4):358–364. https://doi.org/10.1038/jes.2013.82

Ha KH, Cho J, Cho SK, Kim C, Shin DC (2015) Air pollution and unintentional injury deaths in South Korea. Environ Sci Pollut Res Int 22(10):7873–7881. https://doi.org/10.1007/s11356-015-4101-y

Kousha T, Castner J (2016) The Air Quality Health Index and emergency department visits for otitis media. J Nurs Scholarsh 48(2):163–171

Kousha T, Valacchi G (2015) The Air Quality Health Index and emergency department visits for Urticaria in Windsor, Canada. J Toxic Environ Health A 78(8):524–533. https://doi.org/10.1080/15287394.2014.991053

Maclure M (1991) The case-crossover design: a method for studying transient effects on the risk of acute events. Am J Epidemiol 133(2):144–153

Nasari MM, Szyszkowicz M, Chen H, Crouse D, Turner MC, Jerrett M, Pope CA, Hubbell B, Fann N, Cohen A, Gapstur SM, Diver WR, Stieb D, Forouzanfar MH, Kim SY, Olives C, Krewski D, Burnett RT (2016) A class of non-linear exposure-response models suitable for health impact assessment applicable to large cohort studies of ambient air pollution. Air Qual Atmos Health 9(8):961–972

Phung VLH, Ueda K, Kasaoka S, Seposo X, Tasmin S, Yonemochi S et al (2018) Acute effects of ambient PM2.5 on all-cause and cause-specific emergency ambulance dispatches in Japan. Int J Environ Res Public Health 15(2):15. https://doi.org/10.3390/ijerph15020307

Stieb DM, Burnett RT, Smith-Doiron M, Brion O, Shin HH, Economou V (2008) A new multipollutant, no-threshold air quality health index based on short-term associations observed in daily time-series analyses. J Air Waste Manag Assoc 58(3):435–450

Szyszkowicz M (2017a) Ambient temperature and the Air Quality Health Index. J Civil Eng Environ Sci 3(1):006–007. https://doi.org/10.17352/2455-488X.000013

Szyszkowicz M (2017b) Cardiopulmonary mortality and temperature. Environ Pollut Prot 2(1). https://doi.org/10.22606/epp.2017.21005

Szyszkowicz M (2018) Concentration-response functions for short-term exposure and air pollution health effects. Environ Epidemiol J 2:e011. https://doi.org/10.1097/EE9.0000000000000011

Szyszkowicz M, Kousha T (2014) Emergency department visits for asthma in relation to the Air Quality Health Index: a case-crossover study in Windsor, Canada. Can J Public Health 105(5):e336–e341. https://doi.org/10.17269/cjph.105.4539

Szyszkowicz M, Rowe BH (2016) Respiratory health conditions and ambient ozone: a case-crossover study. Insights Chest Dis 1:9 http://insightsinchestdiseases.imedpub.com/respiratory-health-conditions-and-ambient-ozone-a-casecrossover-study.php?aid=8320. Accessed 16 June 2019.

Szyszkowicz M, Porada E, Grafstein E (2015) Ambient air conditions and emergency department visits in Vancouver. Adv Environ Res 3:109–118 https://www.novapublishers.com/catalog/product_info.php?products_id=56246. Accessed 10 March 2017

To T, Shen S, Atenafu EG, Guan J, McLimont S, Stocks B et al (2013) The air quality health index and asthma morbidity: a population-based study. Environ Health Perspect 121(1):46–52. https://doi.org/10.1289/ehp.1104816
Acknowledgments
The author acknowledges Environment Canada for providing the air pollution data from the National Air Pollution Surveillance (NAPS) network.
Funding
This work was supported by Health Canada.
Ethics declarations
The Health Research Ethics Board of the University of Alberta approved this main study protocol.
Additional information
Publisher's note
Springer Nature remains neutral with regard to jurisdictional claims in published maps and institutional affiliations.
Responsible editor: Philippe Garrigues
About this article
Cite this article
Szyszkowicz, M. The Air Quality Health Index and all emergency department visits. Environ Sci Pollut Res 26, 24357–24361 (2019). https://doi.org/10.1007/s11356-019-05741-7
Received:

Accepted:

Published:

Issue Date:
Keywords
Air pollution

Case-crossover

Emergency visits

Health index