Abstract
Cisplatin is considered one of the best anticancer medications often used for the treatment of various cancers even with its adverse effects. Acetaminophen (paracetamol) is a widely used analgesic-antipyretic drug that causes hepatotoxicity at higher than the effective doses. The present study assesses the nephroprotective and hepatoprotective effects of two seaweeds against cisplatin and acetaminophen toxicity in rats. Damage to the liver and kidney was induced by administering a single intraperitoneal dose of acetaminophen (600 mg/kg) or cisplatin (7 mg/kg) to groups of rats. The damage to the liver and kidney was assessed by the elevated liver (ALT, AST, ALP, LDH, electrolytes) and kidney (urea, creatinine) biomarkers. The ethanol extract of brown seaweed reversed the elevated levels of kidney and liver biomarkers along with triglycerides, cholesterol, and glucose. Among the two seaweeds, Sargassum ilicifolium showed better nephroprotective and hepatoprotective effects than the standard drug N-Acetyl-cysteine, Halymenia porphyroides showed only limited protection. Findings of this study provide evidence of nephroprotective and hepatoprotective effects of S. ilicifolium. Seaweed could be a beneficial dietary supplement to attenuate nephrotoxicity and hepatotoxicity.
This is a preview of subscription content, log in to check access.
Access options
Buy single article
Instant access to the full article PDF.
US$ 39.95
Price includes VAT for USA
Subscribe to journal
Immediate online access to all issues from 2019. Subscription will auto renew annually.
US$ 99
This is the net price. Taxes to be calculated in checkout.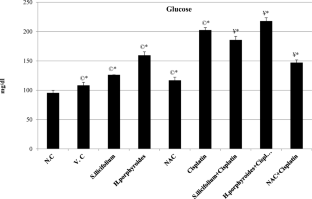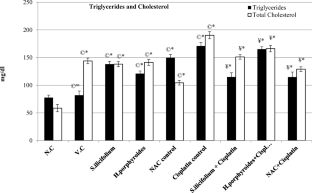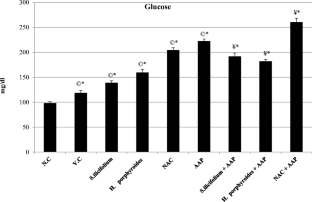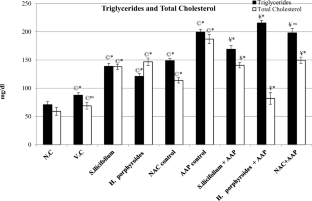 References
Ahmed ABA, Adel M, Karimi P, Peidayesh M (2014) Pharmaceutical, cosmeceutical, and traditional applications of marine carbohydrates. In: Kim SK (ed) Advances in food and nutrition research, vol 73. Academic Press, pp 197–220

Ali BH, Al Moundhri MS (2006) Agents ameliorating or augmenting the nephrotoxicity of cisplatin and other platinum compounds: a review of some recent research. Food Chem Toxicol 44:1173–1183

Alwahsh SM, Dwyer BJ, Forbes S, van Thiel DH, Starkey Lewis PJ, Ramadori G (2017) Insulin production and resistance in different models of diet-induced obesity and metabolic syndrome. Int J Mol Sci 18:285

Anthony OE, Mbuh AF, Emmanuel MP (2012) Phytochemical screening, and assessment of ameliorating effect of aqueous and ethanolic extracts of Gmelina arborea on drug induced hepatic and renal insufficiency in rats. Pak J Pharm Sci 25:457–461

Appenroth D, Winnefeld K, Schröter H, Rost M (1993) Beneficial effect of acetylcysteine on cisplatin nephrotoxicity in rats. J Appl Toxicol 13:189–192

Apt KE, Behrens PW (1999) Commercial developments in microalgal biotechnology. J Phycol 35:215–226

Atessahin A, Yilmaz S, Karahan I, Ceribasi AO, Karaoglu A (2005) Effects of lycopene against cisplatin-induced nephrotoxicity and oxidative stress in rats. Toxicol. 212:116–123

Ben Saad H, Gargouri M, Kallel F, Chaabene R, Boudawara T, Jamoussi K, Magné C, Mounir Zeghal K, Hakim A, Ben Amara I (2017) Flavonoid compounds from the red marine alga Alsidium corallinum protect against potassium bromate-induced nephrotoxicity in adult mice. Environ Toxicol 32:1475–1486

Bixler HJ, Porse H (2011) A decade of change in the seaweed hydrocolloids industry. J Appl Phycol 23:321–335

Blantz RC (1996) Acetaminophen: acute and chronic effects on renal function. Ame J Kidney Dis 28:S3–S6

Ceylan B, Ozansoy M, Kılıç Ü, Yozgat Y, Ercan Ç, Yıldız P, Aslan T (2018) N-acetylcysteine suppresses colistimethate sodium-induced nephrotoxicity via activation of SOD2, eNOS, and MMP3 protein expressions. Ren Fail 40:423–434

Costa LS, Fidelis GP, Cordeiro SL, Oliveira RM, Sabry DDA, Câmara RBG et al (2010) Biological activities of sulfated polysaccharides from tropical seaweeds. Biomed Pharmacother 64:21–28

Dickey DT, Wu YJ, Muldoon LL, Neuwelt EA (2005) Protection against cisplatin-induced toxicities by N-acetylcysteine and sodium thiosulfate as assessed at the molecular, cellular, and in vivo levels. J Pharmacol Exp Ther 314:1052–1058

Dickey DT, Muldoon LL, Doolittle ND, Peterson DR, Kraemer DF, Neuwelt EA (2008) Effect of N-acetylcysteine route of administration on chemoprotection against cisplatin-induced toxicity in rat models. Cancer Chemother Pharmacol 62:235–241

Duan XJ, Zhang WW, Li XM, Wang BG (2006) Evaluation of antioxidant property of extract and fractions obtained from a red alga, Polysiphonia urceolata. Food Chem 95:37–43

Eguia L, Materson BJ (1997) Acetaminophen-related acute renal failure without fulminant liver failure. Pharmacotherapy 17:363–370

Ekinci Akdemir FN, Albayrak M, Çalik M, Bayir Y, Gülçin I (2017) The protective effects of p-coumaric acid on acute liver and kidney damages induced by cisplatin. Biomedicines 5(2):18

Faulkner DJ (1993) Marine natural products chemistry: introduction. Chem Rev 93:1671–1673

Fusco S, Garasto S, Corsonello A, Vena S, Mari V, Gareri P, Lattanzio F (2016) Medication-induced nephrotoxicity in older patients. Curr Drug Mmetabol 17:608–625

Grothey A (2005) Clinical management of oxaliplatin-associated neurotoxicity. Clin Colorectal Cancer 5:S38–S46

Gupta S, Abu-Ghannam N (2011) Bioactive potential and possible health effects of edible brown seaweeds. Trend Food Sci Technol 22:315–326

Hinson JA, Roberts DW, James LP (2010) Mechanisms of acetaminophen-induced liver necrosis. Handb Exp Pharmacol 196:369–405

Hira K, Sultana V, Ara J, Ehteshamul-Haque S, Athar M (2016) Hepatoprotective potential of three sargassum species from Karachi coast against carbon tetrachloride and acetaminophen intoxication. J Coast Life Med 4(1):10–13

Hira K, Sultana V, Ara J, Ehteshamul-Haque S (2017) Protective role of Sargassum species in liver and kidney dysfunctions and associated disorders in rats intoxicated with carbon tetrachloride and acetaminophen. Pak J Pharm Sci 30:721–728

Hira K, Sultana V, Khatoon N, Ara J, Ehteshamul-Haque S (2019) Protective effect of crude sulphated polysaccharides from Sargassum swartzii (turn.) C.Ag. against acetaminophen induced liver toxicity in rats. Clin Phytosci 5:14. https://doi.org/10.1186/s40816-019-0108-0

Holdt SL, Kraan S (2011) Bioactive compounds in seaweed: functional food applications and legislation. J Appl Phycol 23:543–597

Hosseinian S, Rad AK, Mousa-Al-Reza Hadjzadeh NM, Roshan SH, Shafiee S (2016) The protective effect of Nigella sativa against cisplatin-induced nephrotoxicity in rats. Avicenna J Phytomed 6:44

Ince S, Acaroz DA, Neuwirth O, Demirel HH, Denk B, Kucukkurt I, Turkmen R (2014) Protective effect of polydatin, a natural precursor of resveratrol, against cisplatin-induced toxicity in rats. Food Chem Toxicol 72:147–153

Ishani A, Xue JL, Himmelfarb J, Eggers PW, Kimmel PL, Molitoris BA, Collins AJ (2009) Acute kidney injury increases risk of ESRD among elderly. J Am Soc Nephrol 20:223–228

Jiménez-Escrig A, Sánchez-Muniz FJ (2000) Dietary fibre from edible seaweeds: chemical structure, physicochemical properties and effects on cholesterol metabolism. Nutr Res 20:585–598

Karabacak M, Kanbur M, Eraslan G, Siliğ Y, Sarıca ZS, Tekeli MY, Taş A (2018) The effects of colostrum on some biochemical parameters in the experimental intoxication of rats with paracetamol. Environ Sci Pollut Res 25:1–12. https://doi.org/10.1007/s11356-018-2382-7

Karakus E, Halici Z, Albayrak A, Polat B, Bayir Y, Kiki I, Aksak S (2013) Agomelatine: an antidepressant with new potent hepatoprotective effects on paracetamol-induced liver damage in rats. Hum Exp Toxicol 32:846–857

Katzung BG, Masters SB, Trevor AJ (2012) Basic and clinical pharmacology (LANGE basic science). McGraw-Hill Education

Khandelwal N, James LP, Sanders C, Larson AM, Lee WM (2011) Unrecognized acetaminophen toxicity as a cause of indeterminate acute liver failure. Hepatology 53:567–576

Koyuncu I, Kocyigit A, Gonel A, Arslan E, Durgun M (2017) The protective effect of Naringenin oxime on cisplatin-induced toxicity in rats. Biochem Res Int 2017:1–9. https://doi.org/10.1155/2017/9478958

Lo LJ, Go AS, Chertow GM, McCulloch CE, Fan D, Ordoñez JD, Hsu CY (2009) Dialysis-requiring acute renal failure increases the risk of progressive chronic kidney disease. Kidney Int 76:893–899

Lombard JM, Zdenkowski N, Wells K, Beckmore C, Reaby L, Forbes JF, Chirgwin J (2016) Aromatase inhibitor induced musculoskeletal syndrome: a significant problem with limited treatment options. Support Care Cancer 24:2139–2146

Mahmoud AM, El-Derby AM, Elsayed KN, Abdella EM (2014) Brown seaweeds ameliorate renal alterations in mice treated with the carcinogen azoxymethane. Int J Pharm Pharm Sci 6:365–369

Martius G, Alwahsh SM, Rave-Fränk M, Hess CF, Christiansen H, Ramadori G, Malik IA (2014) Hepatic fat accumulation and regulation of FAT/CD36: an effect of hepatic irradiation. Int J Clin Exp Pathol 7:5379

Mayer AM, Lehmann VK (2001) Marine pharmacology in 1999: antitumor and cytotoxic compounds. Anticancer Res 21:2489–2500

Mishima K, Baba A, Matsuo M, Itoh Y, Oishi R (2006) Protective effect of cyclic AMP against cisplatin-induced nephrotoxicity. Free Radic Biol Med 40:1564–1577

Musa KH, Abdullah A, Jusoh K, Subramaniam V (2011) Antioxidant activity of pink-flesh guava (Psidium guajava L.): effect of extraction techniques and solvents. Food Anal Methods 4:100–107

NRC (National Research Council) (1995) Nutrient requirements of laboratory animals, fourth revised edition. The National Academies Press, Washington, D.C. https://doi.org/10.17226/4758

Prescott LF (1983) Paracetamol over dosage. Drugs 25:290–314

Purena R, Seth R, Bhatt R (2018) Protective role of Emblica officinalis hydro-ethanolic leaf extract in cisplatin induced nephrotoxicity in rats. Toxicol Rep 5:270–277

Ruberto G, Baratta MT, Biondi DM, Amico V (2001) Antioxidant activity of extracts of the marine algal genus Cystoseira in a micellar model system. J Appl Phycol 13:403–407

Shahrbaf FG, Assadi F (2015) Drug-induced renal disorders. J Renal Inj Prev 4:57

Sharma M, Shakya A, Sharma N, Shrivastava S, Shukla S (2012) Therapeutic efficacy of Rosa damascena mill. On acetaminophen-induced oxidative stress in albino rats. J Environ Pathol Toxicol Oncol 31:193–201

Sherif IO (2015) Amelioration of cisplatin-induced nephrotoxicity in rats by triterpenoid saponin of Terminalia arjuna. Clin. Exp. Nephrol 19:591–597

Soliman AM, Desouky S, Marzouk M, Sayed AA (2016) Origanum majorana attenuates nephrotoxicity of cisplatin anticancer drug through ameliorating oxidative stress. Nutrients 8:264. https://doi.org/10.3390/nu8050264

Wang L, Wang X, Wu H, Liu R (2014) Overview on biological activities and molecular characteristics of sulfated polysaccharides from marine green algae in recent years. Mar Drugs 12:4984–5020

Yan X, Nagata T, Fan X (1998) Antioxidative activities in some common seaweeds. Plant Food HumNutr 52:253–262

Yayla M, Halici Z, Unal B, Bayir Y, Akpinar E, Gocer F (2014) Protective effect of Et-1 receptor antagonist bosentan on paracetamol induced acute liver toxicity in rats. Euro J Pharmacol 726:87–95

Yousef MI, Saad AA, El-Shennawy LK (2009) Protective effect of grape seed proanthocyanidin extract against oxidative stress induced by cisplatin in rats. Food Chem Toxicol 47:1176–1183

Zhu W, Chiu LCM, Ooi VEC, Chan PKS, Ang PO Jr (2004) Antiviral property and mode of action of a sulphated polysaccharide from Sargassum patens against herpes simplex virus type 2. Int J Antimicrob Agents 24:279–283
Acknowledgments
We are thankful to Dr. Aisha Begum, Department of Botany, University of Karachi for the identification of seaweed.
Funding
Financial assistance provided by the Higher Education Commission, Pakistan (Grant # 4505) is sincerely acknowledged.
Ethics declarations
Conflicts of interest
The authors declare that they have no conflict interests.
Research involving human participants and/or animals
The experiment was conducted according to the rules of the Institutional Animal Ethics Committee (IAEC), University of Karachi.
Informed consent
Not applicable.
Additional information
Publisher's note
Springer Nature remains neutral with regard to jurisdictional claims in published maps and institutional affiliations.
Responsible editor: Philippe Garrigues
About this article
Cite this article
Sohail, N., Hira, K., Tariq, A. et al. Marine macro-algae attenuates nephrotoxicity and hepatotoxicity induced by cisplatin and acetaminophen in rats. Environ Sci Pollut Res 26, 25301–25311 (2019). https://doi.org/10.1007/s11356-019-05704-y
Received:

Accepted:

Published:

Issue Date:
Keywords
Cisplatin

Acetaminophen

Intoxication

Hepatotoxicity

Nephrotoxicity

Biochemical parameters

Rats