Abstract
Dietary approaches to treat children's low lead exposure are implemented routinely in China, while evidence for the effect could not be provided until now. The aim of this study was to examine the relationship between diets including nutrition supplementation and blood lead level of preschool children of China. In total, 17,859 preschool children from 14 cities were recruited, and their social-demography, living environment, and dietary intakes were collected, and capillary blood sample was tested for lead concentration. The average blood lead concentration was 34.5 μg/L, and after adjusting children's social-demography factors, the consumption of milk or dairy production, fruits, and calcium supplementation had negative dose-response relationships with blood lead level. Conversely, intake of iron-rich food and supplementation was not associated. Further studies are needed to prove the causal relationships.
This is a preview of subscription content, log in to check access.
Access options
Buy single article
Instant access to the full article PDF.
US$ 39.95
Price includes VAT for USA
Subscribe to journal
Immediate online access to all issues from 2019. Subscription will auto renew annually.
US$ 99
This is the net price. Taxes to be calculated in checkout.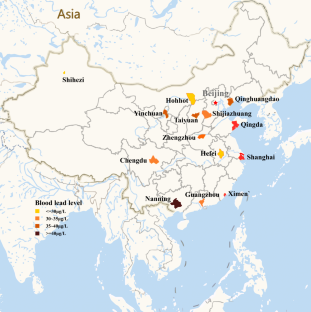 Abbreviations
BLLs:

Blood lead levels

CI:

Confidence interval

GM:

Geometric mean
References
Blake KC, Mann M (1983) Effect of calcium and phosphorus on the gastrointestinal absorption of 203Pb in man. Environ Res 30:188–194

Bronner F (2003) Mechanisms of intestinal calcium absorption. J Cell Biochem 88:387–393

Freeman NC, Ettinger A, Berry M, Rhoads G (1997) Hygiene- and food-related behaviors associated with blood lead levels of young children from lead-contaminated homes. J Expo Anal Environ Epidemiol 7:103–118

Gavaghan H (2002) Lead, unsafe at any level. Bull World Health Organ 80:82

Gulson BL, Mahaffey KR, Mizon KJ, Korsch MJ, Cameron MA, Vimpani G (1995) Contribution of tissue lead to blood lead in adult female subjects based on stable lead isotope methods. J Lab Clin Med 125:703–712

Gulson BL, Mizon KJ, Korsch MJ, Taylor AJ (2006) Low blood lead levels do not appear to be further reduced by dietary supplements. Environ Health Perspect 114:1186–1192

Gulson B, Mizon K, Taylor A, Wu M (2019) Dietary zinc, calcium and nickel are associated with lower childhood blood lead levels. Environ Res 168:439–444

Hammad TA, Sexton M, Langenberg P (1996) Relationship between blood lead and dietary iron intake in preschool children. A cross-sectional study. Ann Epidemiol 6:30–33

Harvey B (2002) Managing elevated blood lead levels among young children: recommendations from the Advisory Committee on Childhood Lead Poisoning Prevention

James HM, Hilburn ME, Blair JA (1985) Effects of meals and meal times on uptake of lead from the gastrointestinal tract in humans. Hum Toxicol 4:401–407

Jamieson JA, Taylor CG, Weiler HA (2006) Marginal zinc deficiency exacerbates bone lead accumulation and high dietary zinc attenuates lead accumulation at the expense of bone density in growing rats. Toxicol Sci 92:286–294

Keating EM, Fischer PR, Pettifor JM, Pfitzner M, Isichei CO, Thacher TD (2011) The effect of calcium supplementation on blood lead levels in Nigerian children. J Pediatr 159:845–850.e1

Kordas K (2017) The "lead diet": can dietary approaches prevent or treat lead exposure? J Pediatr 185:224–231.e1

Kordas K, Queirolo EI, Ettinger AS, Wright RO, Stoltzfus RJ (2010) Prevalence and predictors of exposure to multiple metals in preschool children from Montevideo, Uruguay. Sci Total Environ 408:4488–4494

Kordas K, Burganowski R, Roy A, Peregalli F, Baccino V, Barcia E, Mangieri S, Ocampo V, Mañay N, Martínez G, Vahter M, Queirolo EI (2018) Nutritional status and diet as predictors of children's lead concentrations in blood and urine. Environ Int 111:43–51

Lanphear BP, Hornung R, Khoury J, Yolton K, Baghurst P, Bellinger DC, Canfield RL, Dietrich KN, Bornschein R, Greene T, Rothenberg SJ, Needleman HL, Schnaas L, Wasserman G, Graziano J, Roberts R (2005) Low-level environmental lead exposure and children's intellectual function: an international pooled analysis. Environ Health Perspect 113:894–899

Li T, Dai YH, Xie XH, Tan ZW, Zhang SM, Zhu ZH (2014) Surveillance of childhood blood lead levels in 11 cities of China. World J Pediatr 10:29–37

Li M-m, Cao J, Gao Z-y, Shen X-m, Yan C-h (2015) The trend of lead poisoning rate in Chinese population aged 0–18 years old: a meta-analysis. BMC Public Health 15:756

Li T, Zhang S, Tan Z, Dai Y (2017) Trend of childhood blood lead levels in cities of China in recent 10 years. Environ Sci Pollut Res Int 24:5824–5830

Liu J, McCauley L, Compher C, Yan C, Shen X, Needleman H, Pinto-Martin JA (2011) Regular breakfast and blood lead levels among preschool children. Environ Health 10:28

National Health Commission, China (2006) Guideline of classification and treatment of children with high blood lead level and lead poisoning

Nussbaumer-Streit B, Yeoh B, Griebler U, Pfadenhauer LM, Busert LK, Lhachimi SK, Lohner S, Gartlehner G (2016) Household interventions for preventing domestic lead exposure in children. Cochrane Database Syst Rev 10:Cd006047

Panahandeh G, Khoshdel A, Heidarian E, Amiri M, Rahiminam H (2017) Blood lead levels in children of southwest Iran, aged 2-6 years and associated factors. J Clin Diagn Res 11:SC01–SC04

Papanikolaou NC, Hatzidaki EG, Belivanis S, Tzanakakis GN, Tsatsakis AM (2005) Lead toxicity update. A brief review. Med Sci Monit 11:Ra329–Ra336

Rosado JL, Lopez P, Kordas K, Garcia-Vargas G, Ronquillo D, Alatorre J, Stoltzfus RJ (2006) Iron and/or zinc supplementation did not reduce blood lead concentrations in children in a randomized, placebo-controlled trial. J Nutr 136:2378–2383

Schell LM, Denham M, Stark AD, Ravenscroft J, Parsons P, Schulte E (2004) Relationship between blood lead concentration and dietary intakes of infants from 3 to 12 months of age. Environ Res 96:264–273

Smith DR, Osterloh JD, Flegal AR (1996) Use of endogenous, stable lead isotopes to determine release of lead from the skeleton. Environ Health Perspect 104:60–66

Turgeon O'Brien H, Gagne D, Vaissiere E, Blanchet R, Lauziere J, Vezina C, Ayotte P (2014) Effect of dietary calcium intake on lead exposure in Inuit children attending childcare centres in Nunavik. Int J Environ Health Res 24:482–495

Wright RO, Tsaih S-W, Schwartz J, Wright RJ, Hu H (2003) Association between iron deficiency and blood lead level in a longitudinal analysis of children followed in an urban primary care clinic. J Pediatr 142:9–14

Wu Y, Yang X, Ge J, Zhang J (2011) Blood lead level and its relationship to certain essential elements in the children aged 0 to 14 years from Beijing. China 409:3016–3020

Yan CH, Xu J, Shen XM (2013) Childhood lead poisoning in China: challenges and opportunities. Environ Health Perspect 121:A294–A295

Ying XL, Gao ZY, Yan J, Zhang M, Wang J, Xu J, Markowitz M, Yan CH (2018) Sources, symptoms and characteristics of childhood lead poisoning: experience from a lead specialty clinic in China. Clin Toxicol (Phila) 56:397–403

Zhai Q, Yang L, Zhao J, Zhang H, Tian F, Chen W (2018) Protective effects of dietary supplements containing probiotics, micronutrients, and plant extracts against lead toxicity in mice. Front Microbiol 9:2134

Zhao T-T, Chen B, Wang H-P, Wang R, Zhang H (2013) Evaluation of toxic and essential elements in whole blood from 0- to 6-year-old children from Jinan, China. Clin Biochem 46:612–616

Ziegler EE, Edwards BB, Jensen RL, Mahaffey KR, Fomon SJ (1978) Absorption and retention of lead by infants. Pediatr Res 12:29–34

Zolaly MA, Hanafi MI, Shawky N, El-Harbi K, Mohamadin AM (2012) Association between blood lead levels and environmental exposure among Saudi schoolchildren in certain districts of Al-Madinah. Int J Gen Med 5:355–364
Contributors
Tao Li wrote the first draft of this paper. All authors contributed to the intellectual content and approved the final version. Yaohua Dai is the guarantor.
Funding
This study was financially supported by Beijing Bohui Innovation Technology Co., Ltd.
Ethics declarations
Conflict of interest
The authors declare that they have no conflict of interest.
Ethical approval
This study was approved by the Ethics Committee of the Capital Institute of Pediatrics.
Disclaimer
The funding agencies have no role in the study design, implementation, data analysis, and interpretation.
Additional information
Publisher's note
Springer Nature remains neutral with regard to jurisdictional claims in published maps and institutional affiliations.
Responsible editor: Philippe Garrigues
About this article
Cite this article
Li, T., Zhang, S., Tan, Z. et al. Potential dietary factors for reducing lead burden of Chinese preschool children. Environ Sci Pollut Res 26, 22922–22928 (2019). https://doi.org/10.1007/s11356-019-05527-x
Received:

Accepted:

Published:

Issue Date:
Keywords
Preschool

Blood lead

Dietary

China