Abstract
Roxarsone (ROX) and copper (Cu) are growth promoters in livestock to promote growth and prevent disease. These chemicals and their metabolites are released to the soil through manure application and have a potential adverse effect on soil-dwelling organisms. The objective of this study was to investigate the combined subacute effect of ROX exposure (0, 80, 240, 720 mg kg−1) and Cu exposure (0, 80, 160 mg kg−1) in earthworms (Eisenia fetida). Growth, reproduction, spermatogenesis under light microscope, and heavy metal residue were investigated during 56-day exposure period. Results showed that Cu exposure of 80 or 160 mg kg−1 alleviated the effect of ROX on cocoon production or hatching. The cocoon number exhibited an increase (P < 0.05) at 80 mg kg−1 ROX on day 28, compared with the 0 mg kg−1 ROX, in the presence of 80 mg kg−1 Cu, whereas there was no effect (P > 0.05) in the presence of 160 mg kg−1 Cu. The hatching success at 80 or 240 mg kg−1 ROX exhibited a decrease (P < 0.05) on day 28, in the absence of Cu, whereas no effect (P > 0.05) was observed in the presence of 80 or 160 mg kg−1 Cu. The other reproductive parameters (cocoon weight, juvenile number, and biomass) demonstrated a decrease (P < 0.05) only at 720 mg kg−1 ROX in the presence or absence of Cu. However, with increasing exposure time, the above reproductive parameters were not affected (P > 0.05) in all groups on day 56. On the other hand, sperm deformity (%) increased (P < 0.05) at 240 or 720 mg kg−1 ROX on day 28, in the presence or absence of Cu; however, the microstructural alteration in seminal vesicles occurred only at 720 mg kg−1 ROX, exhibiting disordered distribution and decreased mature sperm bundles. In addition, ROX or Cu residues in earthworms demonstrated an increase with increasing ROX or Cu exposure concentration. Our present results may provide important insight on combined toxicity of chemicals in soils.
This is a preview of subscription content, log in to check access.
Access options
Buy single article
Instant access to the full article PDF.
US$ 39.95
Price includes VAT for USA
Subscribe to journal
Immediate online access to all issues from 2019. Subscription will auto renew annually.
US$ 99
This is the net price. Taxes to be calculated in checkout.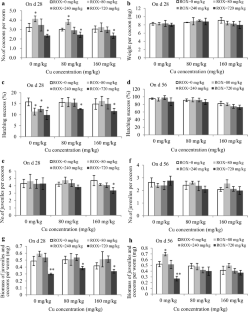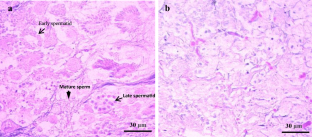 References
Adler N, Bachmann J, Blanckenhorn WU, Floate KD, Jensen J, Römbke J (2016) Effects of ivermectin application on the diversity and function of dung and soil fauna: regulatory and scientific background information. Environ Toxicol Chem 35(8):1914–1923

Alves PRL, da Silva EB, Cardoso EJBN, Alleoni LRF (2018) Ecotoxicological impact of arsenic on earthworms and collembolans as affected by attributes of a highly weathered tropical soil. Environ Sci Pollut Res 25:13217–13225

Andra SS, Makris KC, Quazi S, Sarkar D, Datta R, Bach SB (2010) Organocopper complexes during roxarsone degradation in wastewater lagoons. Environ Sci Pollut Res 17:1167–1173

Arai Y, Lanzirotti A, Sutton S, Davis J, Sparks D (2003) Arsenic speciation and reactivity in poultry litter. Environ Sci Technol 37:4083–4090

Bindesbøl AM, Bayley M, Damgaard C, Holmstrup M (2007) Life-history traits and population growth rate in the laboratory of the earthworm Dendrobaena octaedra cultured in copper-contaminated soil. Appl Soil Ecol 35:46–56

Boughattas I, Hattab S, Boussetta H, Banni M, Navarro E (2017) Impact of heavy metal contamination on oxidative stress of Eisenia andrei and bacterial community structure in Tunisian mine soil. Environ Sci Pollut Res 24:18083–18095

Bustos V, Mondaca P, Verdejo J, Sauvé S, Gaete H, Celis-Diez JL, Neaman A (2015) Thresholds of arsenic toxicity to Eisenia fetida in field-collected agricultural soils exposed to copper mining activities in Chile. Ecotoxicol Environ Saf 122:448–454

Button M, Jenkin GRT, Harrington CF, Watts MJ (2009) Arsenic biotransformation in earthworms from contaminated soils. J Environ Monit 11:1484–1491

Caporale AG, Pigna M, Sommella A, Dynes JJ, Cozzolino V, Violante A (2013) Influence of compost on the mobility of arsenic in soil and its uptake by bean plants (Phaseolus vulgaris L.) irrigated with arsenite-contaminated water. J Environ Manage 128:837–843

Chuang SC, Lai WS, Chen JH (2006) Influence of ultraviolet radiation on selected physiological responses of earthworms. J Exp Biol 209:4304–4312

Codling EE, Chaney RL, Mulchi CL (2008) Effects of broiler litter management practices on phosphorus, copper, zinc, manganese, and arsenic concentrations in Maryland Coastal Plain soils. Commun Soil Sci Plant Anal 39:1193–1205

Cooke AS, Morgan ER, Dungait JAJ (2017) Modelling the impact of targeted anthelmintic treatment of cattle on dung fauna. Environ Toxicol Pharmacol 55:94–98

Covey AK, Furbish DJ, Savage KS (2010) Earthworms as agents for arsenic transport and transformation in roxarsone-impacted soil mesocosms: a μXANES and modeling study. Geoderma 156:99–111

Fisher DJ, Yonkos LT, Staver KW (2015) Environmental concerns of roxarsone in broiler poultry feed and litter in Maryland, USA. Environ Sci Technol 49:1999–2012

Foust RD, Phillips M, Hull K, Yehorova D (2018) Changes in arsenic, copper, iron, manganese, and zinc levels resulting from the application of poultry litter to agricultural soils. Toxics 6:28

Gao Y, Li X, Guo J, Sun X, Sun Z (2015) Reproductive responses of the earthworm (Eisenia fetida) to antiparasitic albendazole exposure. Chemosphere 120:1–7

Gao H, Li H, Li X, Sun Z (2016) Combined subacute toxicity of copper and antiparasitic albendazole to the earthworm (Eisenia fetida). Combined subacute toxicity of copper and antiparasitic albendazole to the earthworm (Eisenia fetida). Environ Sci Pollut Res 23:4387–4396

Ge J, Xiao Y, Chai Y, Yan H, Wu R, Xin X, Wang D, Yu X (2018) Sub-lethal effects of six neonicotinoids on avoidance behavior and reproduction of earthworms (Eisenia fetida). Ecotoxicol Environ Saf 162:423–429

Guo R, Ding X, Xiong W, Zhong X, Liang W, Gao S, Hong M, Sun Y (2015) Earthworms as agents for ecotoxicity in roxarsone-contaminated soil ecosystem: a modeling study of ultrastructure and proteomics. Environ Sci Pollut Res 22:12435–12449

Jackson BP, Bertsch P, Cabrera M, Camberato J, Seaman J, Wood C (2003) Trace element speciation in poultry litter. J Environ Qual 32:535–540

Jensen J, Krogh PH, Sverdrup LE (2003) Effects of the antibacterial agents tiamulin, olanquindox and metronidazole and the anthelmintic ivermectin on the soil invertebrate species Folsomia metaria (Collembola) and Enchytraeus crypticus (Enchytraeidae). Chemosphere 50:437–443

Kang W, Zhang YJ, Shi X, He JZ, Hu HW (2018) Short-term copper exposure as a selection pressure for antibiotic resistance and metal resistance in an agricultural soil. Environ Sci Pollut Res 25:29314–29324

Langdon CJ, Piearce TG, Meharg AA, Semple KT (2003) Interactions between earthworms and arsenic in the soil environment: a review. Environ Pollut 124(3):361–373

Leduc F, Whalen JK, Sunahara GI (2008) Growth and reproduction of the earthworm Eisenia fetida after exposure to leachate from wood preservatives. Ecotoxicol Environ Saf 69:219–226

Lee BT, Kim KW (2013) Toxicokinetics and Biotransformation of As (III) and As (V) in Eisenia fetida. Hum Ecol Risk Assess 19:792–806

Liang T, Ke Z, Chen Q, Liu L, Chen G (2014) Degradation of roxarsone in a silt loam soil and its toxicity assessment. Chemosphere 112:128–133

Małota K, Student S, Świątek P (2019) Low mitochondrial activity within developing earthworm male germ-line cysts revealed by JC-1. Mitochondrion 44:111–121

Mangalgiri KP, Adak A, Blaney L (2015) Organoarsenicals in poultry litter: detection, fate, and toxicity. Environ Int 75:68–80

Mikutta C, Kretzschmar R (2011) Spectroscopic evidence for ternary complex formation between arsenate and ferric iron complexes of humic substances. Environ Sci Technol 45:9550–9557

Muangphra P, Tharapoom K, Euawong N, Namchote S, Gooneratne R (2016) Chronic toxicity of commercial chlorpyrifos to earthworm Pheretima peguana. Environ Toxicol 31:1450–1459

Müller T, Rosendahl I, Focks A, Siemens J, Klasmeier J, Matthies M (2013) Short-term extractability of sulfadiazine after application to soils. Environ Pollut 172:180–185

Neaman A, Huerta S, Sauve S (2012) Effects of lime and compost on earthworm (Eisenia fetida) reproduction in copper and arsenic contaminated soils from the Puchuncaví Valley, Chile. Ecotoxicol Environ Saf 80:386–392

O'Connor R, O'Connor M, Irgolic K, Sabrsula J, Gurleyuk H, Brunette R, Howard C, Garcia J, Brien J, Brien J, Brien J (2005) Transformations, air transport, and human impact of arsenic from poultry litter. Environ Forensics 6:83–89

OECD (2004) Guideline for Testing of Chemicals. No. 222, pro. Organization for Economic Co-Operation and Development, Paris

Pawitwar SS, Nadar VS, Kandegedara A, Stemmler TL, Rosen BP, Yoshinaga M (2017) Biochemical characterization of ArsI: a novel C−As lyase for degradation of environmental organoarsenicals. Environ Sci Technol 51:11115–11125

Punia A, Siddaiah NS, Singh SK (2017) Source and assessment of metal pollution at Khetri copper mine tailings and neighboring soils, Rajasthan, India. Bull Environ Contam Toxicol 99(5):633–641

Qiu H, Vijver MG, He E, Peijnenburg WJ (2013) Predicting copper toxicity to different earthworm species using a multicomponent freundlich model. Environ Sci Technol 47:4796–4803

Reinecke SA, Reinecke AJ (1997) The influence of lead and manganese on spermatozoa of Eisenia fetida (Oligochaeta). Soil Biol Biochem 29:737–742

Rizwan-ul-Haq M, Zeng Z, Sun Y, Xiong W (2012) Evaluation of glutathione s-transferase as toxicity indicator for roxarsone and arsanilic acid in Eisenia fetida. J Appl toxicl 32:731–738

Romero-Freire A, Martín Peinado FJ, Díez Ortiz M, van Gestel CAM (2015) Influence of soil properties on the bioaccumulation and effects of arsenic in the earthworm Eisenia Andrei. Environ Sci Pollut Res 22:15016–15028

Seiler C, Berendonk TU (2012) Heavy metal driven co-selection of antibiotic resistance in soil and water bodies impacted by agriculture and aquaculture. Front Miciobiol 3:399

Shi Z, Tang Z, Wang C (2017) A brief review and evaluation of earthworm biomarkers in soil pollution assessment. Environ Sci Pollut Res Int 24:13284–13294

Sierra-Alvarez R, Cortinas I, Field JA (2010) Methanogenic inhibition by roxarsone (4-hydroxy-3-nitrophenylarsonic acid) and related aromatic arsenic compounds. J Hazard Mater 175:352–358

Spurgeon DJ, Svendsen C, Kille P, Morgan AJ, Weeks JM (2004) Responses of earthworms (Lumbricus rubellus) to copper and cadmium as determined as measurements of juvenile traits in a specifically designed test system. Ecotoxicol Environ Saf 57:54–64

Tsang DC, Yip AC, Olds WE, Weber PA (2014) Arsenic and copper stabilisation in a contaminated soil by coal fly ash and green waste compost. Environ Sci Pollut Res Int 21(17):10194–10204

Verdú I, Trigo D, Martínez-Guitarte JL, Novo M (2018) Bisphenol A in artificial soil: effects on growth, reproduction and immunity in earthworms. Chemosphere 190:287–295

Wang Z, Cui Z (2016) Accumulation, biotransformation, and multi-biomarker responses after exposure to arsenic species in the earthworm Eisenia fetida. Toxicol Res 5:500–510

Wu S, Zhang H, Zhao S, Wang J, Li H, Chen J (2012) Biomarker responses of earthworms (Eisenia fetida) exposured to phenanthrene and pyrene both singly and combined in microcosms. Chemosphere 87:285–293

Zhang R, Li C (2009) Effect of lead on survival, locomotion and sperm morphology of Asian earthworm, Pheretima guillelmi. J Environ Sci 21:691–695

Zhou CF, Wang YJ, Li CC, Sun RJ, Yu YC (2013) Subacute toxicity of copper and glyphosate and their interaction to earthworm (Eisenia fetida). Environ Pollut 180:71–77
Additional information
Publisher's note
Springer Nature remains neutral with regard to jurisdictional claims in published maps and institutional affiliations.
Responsible editor: Chris Lowe
About this article
Cite this article
Gao, Y., Sun, X., Zhang, Z. et al. Combined effect of growth promoter roxarsone and copper on the earthworm Eisenia fetida. Environ Sci Pollut Res (2019). https://doi.org/10.1007/s11356-019-05484-5
Received:

Accepted:

Published:
Keywords
Earthworm

Roxarsone

Copper

Reproduction

Microstructure

Residue