Abstract
In this research, an amine-functionalized magnetic silica nanosorbent was prepared using the co-precipitation technique, and this nanosorbent can be effortlessly detached using an external magnetic field. FTIR and SEM analyses identified that the nanosorbent holds extraordinary adsorption characteristics for toxic metals' (copper, cadmium, zinc, and nickel) removal. The adsorption-affecting parameters were optimized, and the thermodynamic studies assessed that the adsorption process seemed to be spontaneous, feasible, and exothermic. The pseudo-first-order and Freundlich models perfectly fit the kinetic and equilibrium data, respectively. Langmuir monolayer capacity of the nanosorbent was analyzed using nonlinear evaluation methods such as 419.9 mg/g for copper, 321.9 mg/g for nickel, 217.3 mg/g for cadmium, and 137.6 mg/g for zinc. The used adsorbent was simply rejuvenated using the 0.2 N HCl solution subsequently with intense agitation. The result of the present research confirms that the produced nanosorbent can be effectively utilized for industrial wastewater management.
This is a preview of subscription content, log in to check access.
Access options
Buy single article
Instant access to the full article PDF.
US$ 39.95
Price includes VAT for USA
Subscribe to journal
Immediate online access to all issues from 2019. Subscription will auto renew annually.
US$ 99
This is the net price. Taxes to be calculated in checkout.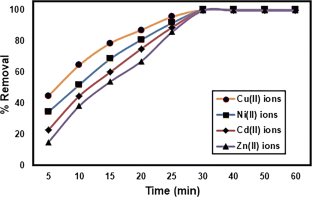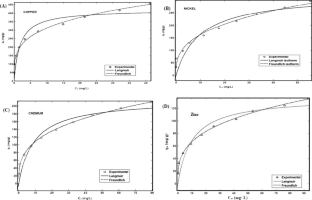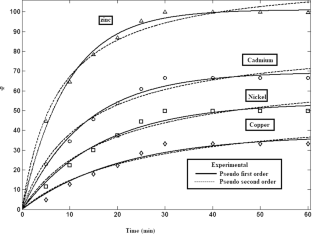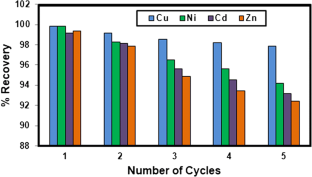 Additional information
Publisher's note
Springer Nature remains neutral with regard to jurisdictional claims in published maps and institutional affiliations.
Research highlights
1. Synthesis of effective novel nanosorbent for toxic metals.
2. Higher adsorption capacity of nanosorbent for Cu(II) ions was 419.9 mg/g.
3. Adsorption is exothermic and obeyed with Freundlich and pseudo-first-order models.
4. Adsorbent regeneration was done by using 0.2 N HCl and many adsorption/desorption cycles were carried out.
5. Scale up of the system is widely advised for industrial wastewater treatment.
Responsible editor: Tito Roberto Cadaval Jr
About this article
Cite this article
Joshiba, G.J., Kumar, P.S., Christopher, F.C. et al. Fabrication of novel amine-functionalized magnetic silica nanoparticles for toxic metals: kinetic and isotherm modeling. Environ Sci Pollut Res (2019). https://doi.org/10.1007/s11356-019-05186-y
Received:

Accepted:

Published:
Keywords
Adsorption

Toxic metals

Nanosorbent

Modeling

Equilibrium

Kinetics