Abstract
Shengjin Lake wetland is located in the middle and lower reaches of the Yangtze River in China. It is a typical lake-type wetland and is also an ideal place for rare cranes to overwintering. The changes of wetland landscape are closely related to the habitat quality of wintering cranes. It is of great significance to study the habitat change of wintering cranes in wetland for wetland ecological restoration and restoration. In this paper, we analyze four kinds of winter cranes and wetland landscape pattern types from the years 1986 to 2015. Also, we adopted the Pearson correlation analysis method to analyze the relationship between wetland landscape types and crane population, and the main landscape types of cranes habitat were obtained. We selected disturbance degree, food richness, vegetation cover, and hydrological condition as the main factors affecting wintering habitat of cranes. We established a habitat suitability index model for wintering cranes and generated habitat suitability assessment maps by ArcGIS. The results show that the change of landscape pattern in Shengjin Lake protected area was obvious, the number of wetland patches increased, the fragmentation degree of landscape increased, the landscape patch difference became smaller, and the diversity index and evenness index increased gradually. From 1986 to 2015, the number of wintering cranes decreased and the habitat suitability index of wintering cranes decreased from 0.845 to 0.465, and the habitat suitability of wintering cranes fell from 13,577.11 to 7424.42 ha, which showed the overall habitat deteriorated significantly and had a positive correlation between the crane population and habitat suitability.
This is a preview of subscription content, log in to check access.
Access options
Buy single article
Instant access to the full article PDF.
US$ 39.95
Price includes VAT for USA
Subscribe to journal
Immediate online access to all issues from 2019. Subscription will auto renew annually.
US$ 99
This is the net price. Taxes to be calculated in checkout.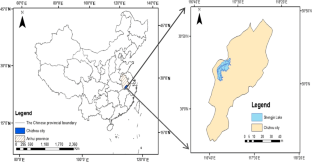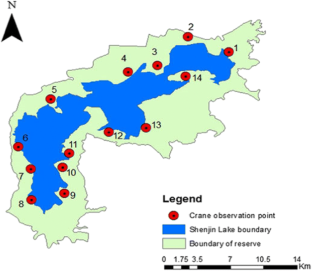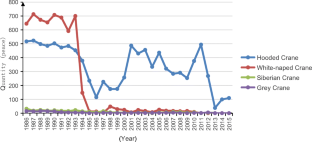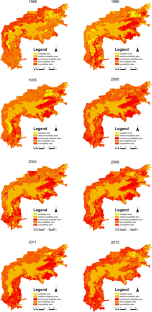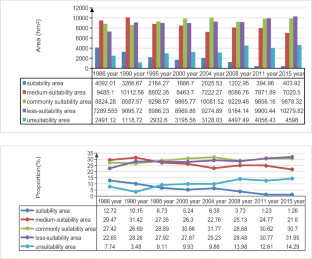 References
Ausseil AG, Shepherd JD (2007) Rapid mapping and prioritization of wetland sites in the Manawa-Wanganui region, New Zealand. Environ Manag 39(3):316–325

Cai CX, Chen Y (2010) Research and prospects of the ecological security. Environ Sci Manag 35(2):126–129

Cao MC, Liu GH (2008) Habitat suitability change of red-crowned crane in Yellow River Delta Nature Reserve (J). J For Res 19(2):141–147

Chapman KA, Reich PB (2007) Land use and habitat gradients determine bird community diversity and abundance in suburban, rural and reserve landscapes of Minnesota, USA. Biol Conserv 135:527–541

Curro TG, Langenberg JA, Deakin L (2015) Radiographic analysis of the development of the pelvic limb of captive-reared cranes (Grus spp.). Zoo Biol 15(2):143–157

Devictor V, Jiguet F (2007) Community richness and stability in agricultural landscapes: the importance of surrounding habitats. Agric Ecosyst Environ 120:179–184

Hinojosa HO, Guzmán OR, Butrón MJ, ButrónRJ J, Calvo FA (2013) Status of marsh birds in the wetlands of the Colorado River delta, México. Ecol Eng 59:7–17

Huang JL (1999) The area change and succession of Dongtinghu wetland. Geophys Res 18(3):297–304

James H, Claire M (2013) A global overview of cranes: status, threats and conservation priorities (J). Chinese Birds 4(03):189–209

Jia JM, Hao XH (2010) Study on index evaluation system of wetland biodiversity (J). Hubei Agricultural Sciences 49(8):1877–1879

Jiang HX, Xu WB et al (2007) Impact of habitat evolvement and human disturbance on wintering water bird in Shengjin Lake of Anhui Province, China. Chin J Appl Ecol 18(8):1832–1836

Jones KL, Henkel JR, Howard JJ, Lance SL, Hagen C, Glenn TC (2010) Isolation and characterization of 14 polymorphic microsatellite DNA loci for the endangered whooping crane (Grus americana) and their applicability to other crane species. Conserv Genet Resour 2(1):251–254

Kujawa K (2002) Population density and species composition changes for breeding bird species in farmland woodlots in western Poland between 1964 and 1994. Agric Ecosyst Environ 91:261–271

Li X, Dong B et al (2014) Study on ecological risk assessment of Shengjing Lake Wetland Land use based on TM Image Pixel (J). Research of Soil and Water Conservation 21(04):114–118+321

Liu J (2011) Diet and activities of wintering tundra bean geese Anser fabalis serrirostris at Shenjin Lake, NNR, Anhui province. University of Science and Technology of China, Hefei

Liu LL, Zhou ZZ, Tian HX et al (2016) Vascular plant community types and flora in Shengjin lake national nature reserve. J Biol 33(5):40–46

Matchett EL, Fleskes JP (2017) Projected impacts of climate, urbanization, water management, and wetland restoration on water bird habitat in california's central valley. PLoS One 12(1):1–23

Mihorski M, Part T, Gustafson T et al (2016) Effects of water level and grassland management on alpha and beta diversity of birds in restoyed wetlands. J Appl Ecol 53(2):587–595

Mistry J, Berardi A, Simpson M (2008) Birds as indicators of wetland status and change in the north Rupununi, Guyana. Biodivers Conserv 17:2383–2409

Na XD, Zang S, Zhang YH, Li W (2015) Assessing breeding habitat suitability for the endangered red-crowned crane ( Grus japonensis ) based on multi-source remote sensing data. Wetlands 35(5):955–967

Peris SJ, Pescador M (2007) Effects of traffic noise on passerine populations in Mediterranean wooded pastures. Appl Acoust 65:357–366

Pino J, Roda F, Ribas J, Pons X (2000) Landscape structure and bird species richness: implications for conservation in rural areas between natural parks. Landsc Urban Plan 49:35–48

Rodgers JL, Nicewander WA (1988) Thirteen ways to look at the correlation coefficient. Am Stat 42(1):59–66

Shao HY, Xian W, Yang WN et al (2008) Research on dynamic change of landscape spatial pattern before and after the construction of three gorges reservoir with 10 years—a case study of Kaixian county in Chongqing (J). Science of Surveying and Mapping 33(6):176–178

Wang L (2015) Landscape dynamics and its impacts on the habitat of black-necked crane in Napa wetland in the last two decades. Yunnan University, Kunming

Wang Q, Dong B (2015) Research on wetland ecological security of Shengjin Lake based on TM images (J). Bulletin of Soil and Water Conservation 35(05):138–143

Wei L, Liu XL (2014) Spatial pattern of land use in Lanzhou city based on GIS (J). Journal of Arid Land Resources and Environment 28(4):54–59

Wu H (2010) Assessment of wetland ecosystem characters and waterfowl habitat suitability in Dongting Lake. Hunan Normal University, Changsha

Wu QM, Zou HF, Jin HY et al (2013) A multi-scale feeding habitat selection of red-crowned crane during spring migration at the Shuangtaikou nature reserve, Liaoning Province, China. Acta Ecol Sin 33(20):6470–6477

Xia SX, Yu XB, Fan N (2010) The wintering habitats of migrant birds and their relationship with water level in Poyang Lake, China. Resour Sci 32(11):2072–2078

Xu WB, Cheng YQ (2005) Preliminary study on Wintering waterbirds and habitat management in Sehngjin Lake(J). Journal of Chizhou Teachers College (05):24–26+28

Xu LL, Xu WB, Sun QY et al (2008) Flora and vegetation in Shengjin Lake. Plant Sci J 26(03):264–270

Yang L, Dong B et al (2015) Habitat suitability change of water birds in Shengjinhu National Nature Reserve, Anhui Province. Lake Sci 27(06):1027–1034

Yu CL (2010) A research on landscape spatial-temporal changes of waterfowl habitat in Xingkai Lake National Nature Reserve (D). Northeast Woodland University

Zhang MY (2008) Landscape change and it's dynamic impacts on the habitat of red-crowned crane (Grus japonensis) in Yangcheng coastal wetland, Jiangsu Province. Northeast Normal University

Zhou AY (2014) Water bird community response to habitat changes and wetland restoration strategies in the Chongming Dongtan wetlands, China. East China Normal University, Shanghai
Funding
This paper was funded by the project of National Natural Science Foundation of China (41571101) and LUCC in Anhui Province (2011-k-23; 2012-k-24; 2013-k-09); the fund project of Anhui Agricultural University (wd2011-07; yj2012-03); and the project of the forest and land resources research in Anhui Province (KJ2012Z108).
Additional information
Publisher's note
Springer Nature remains neutral with regard to jurisdictional claims in published maps and institutional affiliations.
Responsible editor: Philippe Garrigues
About this article
Cite this article
Cui, Y., Dong, B., Chen, L. et al. Study on habitat suitability of overwintering cranes based on landscape pattern change—a case study of typical lake wetlands in the middle and lower reaches of the Yangtze River. Environ Sci Pollut Res 26, 14962–14975 (2019). https://doi.org/10.1007/s11356-019-04697-y
Received:

Accepted:

Published:

Issue Date:
Keywords
Wetland

Habitat impact factors

Habitat suitability evaluation model

Winter cranes

Landscape