Abstract
We evaluated the agronomic quality of loam to clay–loam soils from a Mediterranean area, which have been submitted for more than 10 years to irregular and poorly controlled treated wastewater (TWW) irrigation and sewage sludge (SS) amendment, both TWW and SS issuing from a domestic effluent treatment plant. A soil was submitted to SS amendment only, another to TWW irrigation only, another to both treatments, and another was not submitted to any of these treatments. We found that the agronomic quality of the treated soils has not decreased. In treated soils, it was observed a slight increase of pH, an increase of the cation exchange capacity, and no change of either salinity or electrical conductivity. Sodium adsorption ratio and exchangeable sodium percentage remained satisfactory, below 13 and 15, respectively, and no infiltration problems were observed, indicating that rainwater percolation was sufficient to leach the salt brought by SS or TWW. The soil organic matter (SOM) increased in all SS-amended and/or TWW-irrigated soils, the increase being higher in SS-amended soils. The SOM kept a satisfactory C/N ratio, lower than 15; the SUVA (Specific UV Absorbance) and E2/E3 index showed normal characteristics of the water-extracted organic matter (WEOC). Both SS amendment and TWW irrigation brought high amounts of nutrients in the considered soils and increased the nutrients disponibility, especially regarding K and P, as shown by the nutrient concentrations in the soil water extracts. The pH increase does not seem to be a problem for the bioavailability of trace elements, at least regarding Cu, Zn, Co, and Fe. Complementary studies should be undertaken for Ni. These observations highlight the potential agronomical benefits of application of wastewater and sewage sludge, even without great technicality, the better results being obtained using both SS amendment and TWW irrigation.
This is a preview of subscription content, log in to check access.
Access options
Buy single article
Instant access to the full article PDF.
US$ 39.95
Price includes VAT for USA
Subscribe to journal
Immediate online access to all issues from 2019. Subscription will auto renew annually.
US$ 99
This is the net price. Taxes to be calculated in checkout.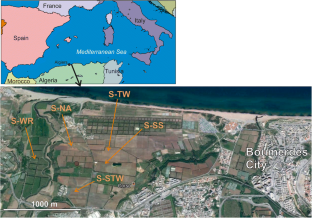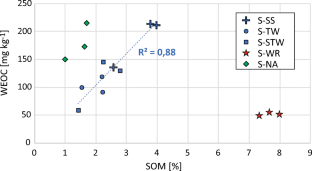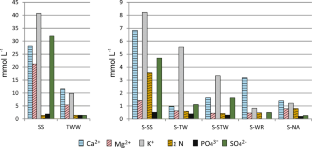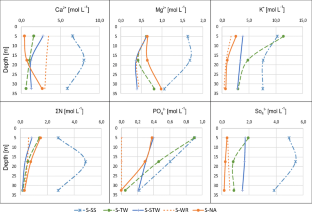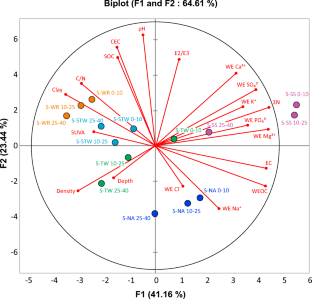 References
Abedie-Koupai J, Mostafazadeh-Fard B, Afyuni M, Bagheri MR (2006) Effect of treated wastewater on soil chemical and physical properties in an arid region. Plant Soil Environ 52:335–344. https://doi.org/10.17221/3450-PSE

Ahmed HK, Fawy HA, Abdel-Hady ES (2010) Study of sewage sludge use in agriculture and its effect on plant and soil. Agric Biol J N Am 1:1044–1049. https://doi.org/10.5251/abjna.2010.1.5.1044.1049

Angers DA, Chantigny MH, Rochette P, Gagon B (2006) Dynamics of soil water-extractable organic C following application of dairy cattle manures. Can J Soil Sci 86:851–858. https://doi.org/10.4141/S05-092

Barton L, Schipper LA (2005) Land application of domestic effluent onto four soil types: plant uptake and nutrient leaching. J Environ Qual 34:635–643. https://doi.org/10.2134/jeq2005.0635

Belaid N, Catherine N, Monem K, Tarek A, Abdelmoneim A, Michel B (2012) Long term effects of treated wastewater irrigation on calcisol fertility: a case study of Sfax-Tunisia. Agric Sci 3:702–713. https://doi.org/10.4236/as.2012.35085

Benmouffouk A (1994) Caractérisation et valorisation agricole des boues résiduaires de Draa Ben Khedda (Algérie). Cah Agric 3:295–299 http://revues.cirad.fr/index.php/cahiers-agricultures/article/view/29849/29609

Brallier S, Harrison RB, Henry CL, Dongsen X (1996) Liming effects on availability of Cd, Cu, Ni and Zn in a soil amended with sewage sludge 16 years previously. Water Air Soil Pollut 86:195–206. https://doi.org/10.1007/BF00279156

Chantigny MH (2003) Dissolved and water-extractable organic matter in soils: a review on the influence of land use and management practices. Geoderma 113:357–380. https://doi.org/10.1016/S0016-7061(02)00370-1

Ćirić V, Belić M, Nešić L, Šeremešić S, Pejić B, Bezdan A, Manojlović M (2016) The sensitivity of water extractable soil organic carbon fractions to land use in three soil types. Arch Agron Soil Sci 62:1654–1664. https://doi.org/10.1080/03650340.2016.1165345

Clapp CE, Stark SA, Clay DE, Larson WE (1986) Sewage sludge organic matter and soil properties. Dev Plant Soil Sci 25:209–253. https://doi.org/10.1007/978-94-009-4426-8_10

de Souza ER, de Melo HF, de Almeida BG, de Melo DVM (2013) Comparação de métodos de extração da solução do solo. Rev Bras Eng Agri Ambiental 17:510–517 http://www.agriambi.com.br/revista/v17n05/v17n05a07.pdf

Delibacak A, Okur EA, Ogun R (2009) Influence of treated sewage sludge applications on temporal variations of plant nutrients and heavy metals in a typical Xerofluvent soil. Nutr Cycl Agroecosyst 83:249–257. https://doi.org/10.1007/s10705-008-9215-x

Elifantz H, Kautsky L, Mor-Yosef M, Tarchitzky J, Bar-Tal A, Chen YN, Minz D (2011) Microbial activity and organic matter dynamics during 4 years of irrigation with treated wastewater. Microb Ecol 62:973–981. https://doi.org/10.1007/s00248-011-9867-y

Fantappiè M, L'Abate G, Costantini EAC (2011) The influence of climate change on the soil organic carbon content in Italy from 1961 to 2008. Geomorph 135:343–352. https://doi.org/10.1016/j.geomorph.2011.02.006

Fernández JM, Plaza C, Hernández D, Polo A (2007) Carbon mineralization in an arid soil amended with thermally-dried and composted sewage sludges. Geoderma 137:497–503. https://doi.org/10.1016/j.geoderma.2006.10.013

Fipps G (1996) Irrigation water quality standards and salinity management strategies. Texas Agricultural Extension Service B-1667, Texas A&M University System, College Station

Fytili D, Zabaniotou A (2008) Utilization of sewage sludge in EU application of old and new methods—a review. Renew Sustain Energ Rev 12:116–140. https://doi.org/10.1016/j.rser.2006.05.014

Gerzabek MH, Haberhauer G, Kirchmann H (2001) Soil organic matter pools and carbon-13 natural abundances in particle-size fractions of a long-term agricultural field experiment receiving organic amendments. Soil Sci Soc Am J 65:352–358. https://doi.org/10.2136/sssaj2001.652352x

Guigue J, Lévèque J, Mathieu O, Schmitt-Kopplin P, Lucio M, Arrouays D, Jolivet C, Dequiedt S, Chemidlin Prévost-Bouré N, Ranjard L (2015) Water-extractable organic matter linked to soil physico-chemistry and microbiology at the regional scale. Soil Biol Biochem 84:158–167. https://doi.org/10.1016/j.soilbio.2015.02.016

Halliwell DJ, Barlow KM, Nash DM (2001) A review of the effects of wastewater sodium on soil physical properties and their implications for irrigation systems. Aust J Soil Res 39:1259–1267. https://doi.org/10.1071/SR00047

Hannachi A, Gharzouli R, Djellouli Tabet Y (2014) Gestion et valorisation des eaux usées en Algérie. Larhyss J 19:51–62

Hassouna M, Massiani C, Dudal Y, Pech N, Theraulaz F (2010) Changes in water extractable organic matter (WEOM) in a calcareous soil under field conditions with time and soil depth. Geoderma 155:75–85. https://doi.org/10.1016/j.geoderma.2009.11.026

Haynes RJ, Naidu R (1998) Influence of lime, fertilizer and manure applications on soil organic matter content and soil physical conditions: a review. Nutr Cycl Agroecosyst 51:123–137. https://doi.org/10.1023/A:1009738307837

He Y, DeSutter TM, Hopkins DG, Wysocki DA, Clay DE (2015) Relationship between 1:5 soil/water and saturated paste extract sodium adsorption ratios by three extraction methods. Soil Sci Soc Am J 79:681–687. https://doi.org/10.2136/sssaj2014.09.0384

Hinsinger P (1998) How do plant roots acquire mineral nutrients? Chemical processes involved in the rhizosphere. Adv Agron 64:225–265. https://doi.org/10.1016/S0065-2113(08)60506-4

Hussain I, Raschid L, Hanjra MA, Marikar F, van der Hoek W (2002) Wastewater use in agriculture: review of impacts and methodological issues in valuing impacts. Working Paper 37, International Water Management Institute, Colombo

Igoud S (2001) Valorisation des Boues Résiduaires Issues des Stations d'Epuration Urbaines par leur Epandage dans les Plantations Forestières. Rev Energ Ren : Production et Valorisation—Biomasse, p 69–74

Jolliffe IT (2002) Principal component analysis, 2nd edn. Springer-Verlag, New York

Jones JB (2012) Plant nutrition and soil fertility manual, 2nd edn. CRC Press, Boca Raton

Kabata-Pendias A, Pendias H (2001) Trace elements in soils and plants, 3rd edn. CRC Press, Boca Raton

Kraemer SM, Crowley DE, Kretzschmar R (2006) Geochemical aspect of phytosiderophore-promoted iron acquisition by plants. Adv Agron 91:1–46. https://doi.org/10.1016/S0065-2113(06)91001-3

Laird DA (2008) The charcoal vision: a win–win–win scenario for simultaneously producing bioenergy, permanently sequestering carbon, while improving soil and water quality. Agron J 100:178–181. https://doi.org/10.2134/agronj2007.0161

Lamond R, Whitney DA (1992) Management of saline and sodic soils. Department of Agronomy MF-1022. Kansas State University, Mahattan

Lehmann J, da Silva JP Jr, Steiner C, Nehls T, Zech W, Glaser B (2003) Nutrient availability and leaching in an archaeological Anthrosol and a Ferralsol of the Central Amazon basin: fertilizer, manure and charcoal amendments. Plant Soil 249:343–357. https://doi.org/10.1023/A:1022833116184

Michael-Kordatou I, Michael C, Duan X, He X, Dionysiou DD, Mills MA, Fatta-Kassinos D (2015) Dissolved effluent organic matter: characteristics and potential implications in wastewater treatment and reuse applications. Water Res 77:213–248. https://doi.org/10.1016/j.watres.2015.03.011

Mtshali JS, Tiruneh AT, Fadiran AO (2014) Characterization of sewage sludge generated from wastewater treatment plants in Swaziland in relation to agricultural uses. Resour Environ 4:190–199. https://doi.org/10.5923/j.re.20140404.02

Odlare M, Arthurson V, Pell M, Svensson K, Nehrenheim E, Abubaker J (2011) Land application of organic waste – Effects on the soil ecosystem. Appl Energy 88:2210–2218

Pastor L, Cathalot C, Deflandre B, Viollier E, Soetaert K, Meysman FJR, Ulses C, Metzger E, Rabouille C (2011) Modeling biogeochemical processes in sediments from the Rhône River prodelta area (NW Mediterranean Sea). Biogeosciences 8:1351–1366. https://doi.org/10.5194/bg-8-1351-2011

Pedrero F, Kalavrouziotis I, Alarcón JJ, Koukoulakis P, Asano T (2010) Use of treated municipal wastewater in irrigated agriculture—review of some practices in Spain and Greece. Agric Water Manag 97:1233–1241. https://doi.org/10.1016/j.agwat.2010.03.003

Pereira LS, Oweis T, Zairi A (2002) Irrigation management under water scarcity. Agric Water Manag 57:175–206. https://doi.org/10.1016/S0378-3774(02)00075-6

Peuravuori J, Pihlaja K (1997) Molecular size distribution and spectroscopic properties of aquatic humic substances. Anal Chim Acta 337:133–149. https://doi.org/10.1016/S0003-2670(96)00412-6

Qadir M, Wichelns D, Raschid-Sally L, McCornick PG, Drechsel P, Bahri A, Minhas PS (2010) The challenges of wastewater irrigation in developing countries. Agric Water Manag 97:561–568. https://doi.org/10.1016/j.agwat.2008.11.004

Ramdani N, Hamou A, Lousdad A, Al-Douri Y (2015) Physicochemical characterization of sewage sludge and green waste for agricultural utilization. Environ Technol 36:1594–1604. https://doi.org/10.1080/09593330.2014.998716

Rehman K, Ashraf S, Rashid U, Ibrahim M, Hina S, Iftikhar T, Ramzan S (2013) Comparison of proximate and heavy metal contents of vegetables grown with fresh and wastewater. Pak J Bot 45:391–400

Roca-Pérez L, Martínez C, Marcilla P, Boluda R (2009) Composting rice straw with sewage sludge and compost effects on the soil–plant system. Chemosphere 76:781–787. https://doi.org/10.1016/j.chemosphere.2008.12.058

Sahnoun AY, Tidjani AEB, Iddou A (2012) Comparative study of the characteristics of three types of sludge from wastewater treatment plant. Energy Procedia 18:99–109. https://doi.org/10.1016/j.egypro.2012.05.022

Singh RP, Agrawal M (2008) Potential benefits and risks of land application of sewage sludge. Waste Manag 28:347–358. https://doi.org/10.1016/j.wasman.2006.12.010

Stevens DP, McLaughlin MJ, Smart MK (2003) Effects of long-term irrigation with reclaimed water on soils of the Northern Adelaide Plains, South Australia. Austr J Soil Res 41:933–948. https://doi.org/10.1071/SR02049

Tarchouna LG, Merdy P, Raynaud M, Pfeifer HR, Lucas Y (2010) Effects of long-term irrigation with treated wastewater part I: evolution of soil physico-chemical properties. Appl Geochem 25:1703–1710. https://doi.org/10.1016/j.apgeochem.2010.08.018

Triberti L, Nastri A, Baldoni G (2016) Long-term effects of crop rotation, manure and mineral fertilisation on carbon sequestration and soil fertility. Eur J Agron 74:47–55. https://doi.org/10.1016/j.eja.2015.11.024

US Salinity Lab Staff (1954) Diagnosis and improvement of saline and alkali soils. USDA handbook 60. Government Printing Office, Washington DC

USDA (1993) Soil survey manual Soil Conservation Service. USDA Handbook 18. Government Printing Office, Washington DC

Warman PR, Termeer WC (2005) Evaluation of sewage sludge, septic waste and sludge compost applications to corn and forage: yields, and N, P and K content of crops and soils. Bioresour Technol 96:955–961. https://doi.org/10.1016/j.biortech.2004.08.003

Weishaar JL, Aiken GR, Bergamaschi BA, Fram MS, Fujii R, Mopper K (2003) Evaluation of specific ultraviolet absorbance as an indicator of the chemical composition and reactivity of dissolved organic carbon. Env Sci Technol 37:4702–4708. https://doi.org/10.1021/es030360x

Xing M, Li X, Yang J, Huang Z, Lu Y (2012) Changes in the chemical characteristics of water-extracted organic matter from vermicomposting of sewage sludge and cow dung. J Hazard Mat 205-206:24–31. https://doi.org/10.1016/j.jhazmat.2011.11.070

Zebarth BJ, McDougall R, Neilsen G, Neilsen D (2000) Availability of nitrogen from municipal sewage sludge for dryland forage grass. Can J Plant Sci 80:575–582. https://doi.org/10.1016/j.jhazmat.2011.11.070

Zeng G, Wu H, Liang J, Guo S, Huang L, Xu P, Liu Y, Yuan Y, He X, He Y (2015) Efficiency of biochar and compost (or composting) combined amendments for reducing Cd, Cu, Zn and Pb bioavailability, mobility and ecological risk in wetland soil. RSCAdv 5:34541–34548. https://doi.org/10.1039/C5RA04834F

Zsolnay A (2003) Dissolved organic matter: artefacts, definitions, and functions. Geoderma 113:187–209. https://doi.org/10.1016/S0016-7061(02)00361-0
Acknowledgments
We thank the Algerian Ministry of High Education and Scientific Research (MESRS) and the Mouloud Mammeri University for the doctoral scholarship and facilities that allowed this work.
Additional information
Responsible editor: Zhihong Xu
About this article
Cite this article
Cherfouh, R., Lucas, Y., Derridj, A. et al. Long-term, low technicality sewage sludge amendment and irrigation with treated wastewater under Mediterranean climate: impact on agronomical soil quality. Environ Sci Pollut Res 25, 35571–35581 (2018). https://doi.org/10.1007/s11356-018-3463-3
Received:

Accepted:

Published:

Issue Date:
Keywords
Wastewater reuse

Sewage sludge reuse

Mediterranean zones

Soil quality

Water-extractible nutrients

Metal bioavailability