Abstract
The process of ice crystal formation by ejecting salt into a pore solution increases the solution's concentration. However, the redistribution law of solutes in ice-containing soils is not well understood. We designed new equipment to obtain the unfrozen solution and study the nitrate redistribution. Our work investigates the mechanism of nitrate redistribution during the freezing of a saturated medium system. The results showed that the polysized grain samples had a higher freezing rate and lower salt discharge efficiency than the monosized grain samples. The influence of the freezing temperature and the initial concentration on the nitrate redistribution was dependent on the medium's particle size. For the samples with particle sizes between 150 and 250 um, the ejection efficiency decreased with the increase of the freezing temperature and decreased with the increase of the initial concentration at the same frozen ratio. However, for the samples with particle sizes between 250 and 500 um, the two factors had no significant effect on the nitrate expulsion. These results will provide a theoretical basis for the treatment of nitrate in groundwater.
This is a preview of subscription content, log in to check access.
Access options
Buy single article
Instant access to the full article PDF.
US$ 39.95
Price includes VAT for USA
Subscribe to journal
Immediate online access to all issues from 2019. Subscription will auto renew annually.
US$ 99
This is the net price. Taxes to be calculated in checkout.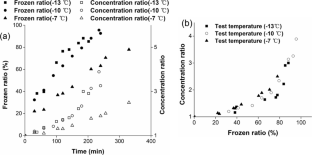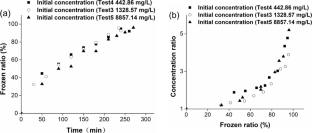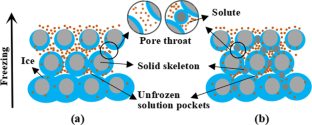 References
Adeniyi A, Mbaya RKK, Onyango MS, Popoola API, Maree JP (2016) Efficient suspension freeze desalination of mine wastewaters to separate clean water and salts. Environ Chem Lett 14(4):1–6. https://doi.org/10.1007/s10311-016-0562-6

Akyurt M, Zaki G, Habeebullah B (2002) Freezing phenomena in ice–water systems. Energy Convers Manag 43(14):1773–1789. https://doi.org/10.1016/S0196-8904(01)00129-7

Arenson LU, Sego DC (2006) The effect of salinity on the freezing of coarse-grained sands. Can Geotech J 43(3):325–337. https://doi.org/10.1139/t06-006

Arias M, Barral MT, Mejuto JC (2002) Enhancement of copper and cadmium adsorption on kaolin by the presence of humic acids. Chemosphere 48(10):1081–1088. https://doi.org/10.1016/S0045-6535(02)00169-8

Aziz MJ (1982) Model for solute redistribution during rapid solidification. J Appl Phys 53(2):1158–1168. https://doi.org/10.1063/1.329867

Baker GC, Osterkamp TE (1989) Salt redistribution during freezing of saline sand columns at constant rates. Water Resour Res 25(8):1825–1831. https://doi.org/10.1029/WR025i008p01825

Cheng GD, Jin HJ (2013) Groundwater in the permafrost regions on the Qinghai-Tibet plateau and it changes. Hydrogeol Eng Geol 40(1):1–11

Fu H-M, Jin YX (2009) Primary discussion on nitrate contamination of groundwater. Ground Water 19(7):1275–1279

Hui B, Ping H (2008) Experimental study of water and salt redistribution of clay soil in an opening system with constant temperature. Environ Geol 55(4):717–721. https://doi.org/10.1007/s00254-007-1023-0

Hui B, Wei M (2011) Laboratory investigation of the freezing point of saline soil. Cold Reg Sci Technol 67(1):79-88. https://doi.org/10.1016/j.coldregions.2011.02.008

Hui B, He P, Zhang Y (2015) Cyclic freeze–thaw as a mechanism for water and salt migration in soil. Environ Earth Sci 74(1):675–681. https://doi.org/10.1007/s12665-015-4072-9

Jin ZF, Tumarbay H, Mou HC, Mujiang M, Wen-Juan LI (2013) Soil water and salt migration in cotton field under soil freezing-thawing temperature. Arid Zone Res 30(4):623–627

Kadlec RH, Li XM, Cotten GB (1988) Modeling solute segregation during freezing of peatland waters. Water Resour Res 24(2):219–224. https://doi.org/10.1029/WR024i002p00219

Konrad JM, Mccammon AW (1990) Solute partitioning in freezing soils. Can Geotech J 67(6):726–736. https://doi.org/10.1139/t90-086

Kvajić G, Brajović V (1971) Anisotropic segregation of (k+) by dendritic ice crystals. J Cryst Growth 11(1):73–76. https://doi.org/10.1016/0022-0248(71)90164-3

Lorain O, Thiebaud P, Badorc E, Aurelle Y (2001) Potential of freezing in wastewater treatment: soluble pollutant applications. Water Res 35(2):541–547. https://doi.org/10.1016/S0043-1354(00)00287-6

Mtombeni T, Maree JP, Zvinowanda CM, Asante JKO, Oosthuizen FS, Louw WJ (2013) Evaluation of the performance of a new freeze desalination technology. Int J Environ Sci Technol 10(3):545–550. https://doi.org/10.1007/s13762-013-0182-7

Ostroumov V, Hoover R, Ostroumova N, Vliet-Lanoë BV, Siegert C, Sorokovikov V (2001) Redistribution of soluble components during ice segregation in freezing ground. Cold Reg Sci Technol 32(2–3):175–182. https://doi.org/10.1016/S0165-232X(01)00031-3

Panday S, Corapcioglu MY (1991) Solute rejection in freezing soils. Water Resour Res 27(1):99–108. https://doi.org/10.1029/90WR01785

Suh HS, Yun TS (2017) Modification of capillary pressure by considering pore throat geometry with the effects of particle shape and packing features on water retention curves for uniformly graded sands. Comput Geotech 95(2018):129–136. https://doi.org/10.1016/j.compgeo.2017.10.007

Terwilliger JP, Dizon SF (1970) Salt rejection phenomena in the freezing of saline solutions. Chem Eng Sci 25(8):1331–1349. https://doi.org/10.1016/0009-2509(70)80010-0

Wan X, Lai Y, Wang C (2015) Experimental study on the freezing temperatures of saline silty soils. Permafr Periglac Process 26(2):175–187. https://doi.org/10.1002/ppp.1837

Wei K, Leung S, Carmichael GR (1984) Solute redistribution during normal freezing. Water Air Soil Pollut 21(1–4):141–150. https://doi.org/10.1002/ppp.1837

Williams PM, Ahmad M, Connolly BS, Oatley-Radcliffe DL (2015) Technology for freeze concentration in the desalination industry. Desalination 356(3):314–327. https://doi.org/10.1016/j.desal.2014.10.023

Xue S, Wen Y, Hui X, Zhang L, Zhang Z, Wang J, Zhang Y (2015) The migration and transformation of dissolved organic matter during the freezing processes of water. J Environ Sci 27(1):168–178. https://doi.org/10.1016/j.jes.2014.05.035

Zhang DF, Zheng QH, Dong ZY (2005) Mechanism of soil salt-moisture transfer under freeze-thawing condition. Bull Soil Water Conserv 25(6):14–18
Funding
This study was financially supported by the National Natural Science Foundation of China (No. 41572225) and National Science and Technology Major Project in the 13th 5-Year Plan Period under Grant (No. 2016ZX05040-002-003).
Additional information
Responsible editor: Angeles Blanco
About this article
Cite this article
Huang, H., Liu, M., Chen, C. et al. Laboratory studies on nitrate redistribution during the freezing process of a water-saturated sand system. Environ Sci Pollut Res 26, 13818–13824 (2019). https://doi.org/10.1007/s11356-018-3251-0
Received:

Accepted:

Published:

Issue Date:
Keywords
Freezing

Nitrate redistribution

Concentration ratio

Soil particle size

Polysized grain

Unfrozen solution pockets