Abstract
The present study considers the impact of the alternating electric current on the viability and biological activity of denitrifying bacteria in a microbial electrochemical system (MES). The bio-stimulation using low-frequency low-voltage alternating current (AC) was studied in terms of the adenosine triphosphate (ATP) level of bacteria, viability, morphological characteristics, cell size, and complexity. Apoptosis assays by flow cytometry revealed that 81–95% of the cells were non-apoptotic, and cell membrane damage occurred < 18%. The applied AC could affect the bacterial metabolic activity and ATP content in the denitrifying bacteria depending on characteristics of the alternating electric current. Scanning electron microscopy (SEM) analysis of cell morphology illustrated low cell deformations under AC stimulation. The obtained results revealed that the applied alternating electrical current could increase the metabolic activity of denitrifying bacteria, leading to a better denitrification.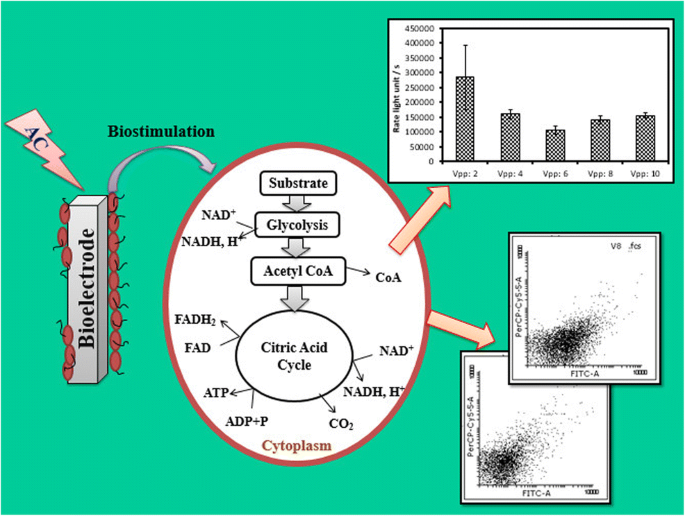 This is a preview of subscription content, log in to check access.
Access options
Buy single article
Instant access to the full article PDF.
US$ 39.95
Price includes VAT for USA
Subscribe to journal
Immediate online access to all issues from 2019. Subscription will auto renew annually.
US$ 99
This is the net price. Taxes to be calculated in checkout.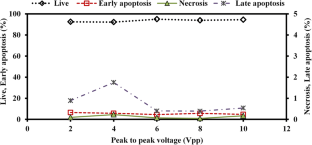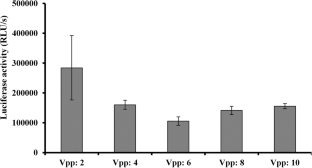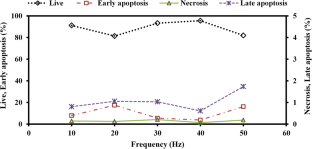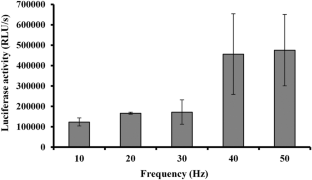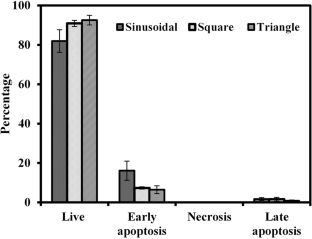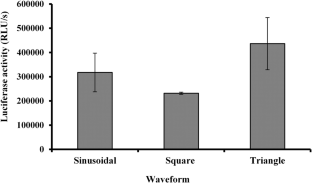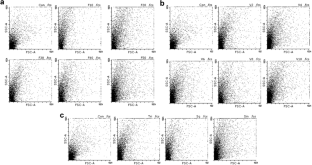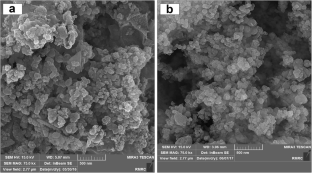 References
Adibzadeh A, Rezaee A, Salehi Z (2016) Enhancement of lipase activity for the oily wastewater treatment by an electrostimulation process. RSC Adv 6:115290–115297

Ailijiang N, Chang J, Liang P, Li P, Wu Q, Zhang X, Hua X (2016) Electrical stimulation on biodegradation of phenol and responses of microbial communities in conductive carriers supported biofilms of the bioelectrochemical reactor. Bioresour Technol 201:1–7

Alshawabkeh AN, Shen Y, Maillacheruvu KY (2004) Effect of DC electric fields on COD in aerobic mixed sludge processes. Environ Eng Sci 21:321–329

Asadi MR, Torkaman G (2014) Bacterial inhibition by electrical stimulation. Adv Wound Care 3:91–97

Dehghani S, Rezaee A, Hosseinkhani S (2018a) Biostimulation of heterotrophic-autotrophic denitrification in a microbial electrochemical system using alternating electrical current. J Cleaner Prod 200:1100–1110

Dehghani S, Rezaee A, Moghiseh Z (2018b) Phenol biodegradation in an aerobic fixed-film process using conductive bioelectrodes: biokinetic and kinetic studies. Desalin Water Treat 105:126–131

Feng H, Zhang X, Guo K, Vaiopoulou E, Shen D, Long Y, Yin J, Wang M (2015) Electrical stimulation improves microbial salinity resistance and organofluorine removal in bioelectrochemical systems. Appl Environ Microbiol 81:3737–3744

Hammes F, Goldschmidt F, Vital M, Wang Y, Egli T (2010) Measurement and interpretation of microbial adenosine tri-phosphate (ATP) in aquatic environments. Water Res 44:3915–3923

Hones I, Pospischil A, Berg H (1998) Electrostimulation of proliferation of the denitrifying bacterium Pseudomonas stutzeri. Bioelectrochem Bioenerg 44:275–277

Hoseinzadeh E, Rezaee A, Farzadkia M (2017a) Enhanced biological nitrate removal by alternating electric current bioelectrical reactor: selectivity and mechanism. J Mol Liq 246:93–102

Hoseinzadeh E, Rezaee A, Farzadkia M (2017b) Low frequency-low voltage alternating electric current-inducedanoxic granulation in biofilm-electrode reactor: a study of granuleproperties. Process Biochem 56:154–162

Hoseinzadeh E, Rezaee A, Farzadkia M (2018) Nitrate removal from pharmaceutical wastewater using microbial electrochemical system supplied through low frequency-low voltage alternating electric current. Bioelectrochemistry 120:49–56

Hossini H, Rezaee A, Ayati B, Mahvi AH (2015) Simultaneous nitrification and denitrification using a polypyrrole/microbial cellulose electrode in a membraneless bio-electrochemical system. RSC Adv 5:72699–72708

Lee SY, Ryu S, Kang DH (2013) Effect of frequency and waveform on inactivation of Escherichia coli O157: H7 and Salmonella enterica serovar Typhimurium in salsa by ohmic heating. Appl Environ Microbiol 79:10–17

Li H, Zuo W, Tian Y, Zhang J, Di S, Li L, Su X (2017) Simultaneous nitrification and denitrification in a novel membrane bioelectrochemical reactor with low membrane fouling tendency. Environ Sci Pollut Res 24:5106–5117

Liu H, Chen N, Feng C, Tong S, Li R (2017) Impact of electro-stimulation on denitrifying bacterial growth and analysis of bacterial growth kinetics using a modified Gompertz model in a bio-electrochemical denitrification reactor. Bioresour Technol 232:344–353

Loloi M, Rezaee A, Sabour Roohaghdam A, Aliofkhazraei M (2017) Conductive microbial cellulose as a novel biocathode for Cr (VI)bioreduction. Carbohydr Polym 162:56–61

Maadi H, Haghi M, Delshad R, Kangarloo H, Nezhady MA, Hemmatyar GR (2010) Effect of alternating and direct currents on Pseudomonas aeruginosa growth in vitro. Afracian J Biotechnol 9:6373–6379

Mesquita N, Portugal A, Pinar G, Loureiro J, Coutinho AP, Trovão J, Nunes I, Botelho ML, .Freitas H (2013) Flow cytometry as a tool to assess the effects of gamma radiation on the viability, growth and metabolic activity of fungal spores. Int Biodeterior Biodegrad, 84, 250–257

Neumeyer A, Hübschmann T, Müller S, Frunzke J (2013) Monitoring of population dynamics of Corynebacterium glutamicum by multiparameter flow cytometry. Microbiol Biotechnol 6:157–167

Nguyen VK, Park Y, Yu J, Lee T (2016) Bioelectrochemical denitrification on biocathode buried in simulated aquifer saturated with nitrate-contaminated groundwater. Environ Sci Pollut Res 23:15443–15451

Rezaee A, Godini H, Bakhtou H (2008) Microbial cellulose as support material for the immobilization of denitrifying bacteria. Environ Eng Manag J 7:589–594

Rezaee A, Safari M, Hossini H (2015) Bioelectrochemical denitrification using carbon felt/multiwall carbon nanotube. Environ Technol 36:1057–1062

Safari M, Rezaee A, Ayati B, Jonidi-Jafari A (2014) Bio-electrochemical reduction of nitrate utilization MWCNT supported on carbon base electrode: a comparision study. J Taiwan Inst Chem Eng 45:2212–2216

Tzur A, Moore JK, Jorgensen P, Shapiro HM, Kirschner MW (2011) Optimizing optical flow cytometry for cell volume-based sorting and analysis. PLoS One 6:e16053

Velasco-Alvarez N, González I, Damian-Matsumura P, Gutiérrez-Rojas M (2011) Enhanced hexadecane degradation and low biomass production by Aspergillus niger exposed to an electric current in a model system. Bioresour Technol 102:1509–1515

Wang T, Huang X (2006) Biodegradation of high concentration phenol containing heavy metal ions by functional biofilm in bioelectro-reactor. J Environ Sc 18:639–643

Wang H, Ren ZJ (2013) A comprehensive review of microbial electrochemical systems as a platform technology. Biotechnol Adv 31:1796–1807

Wang H, Hang Q, Crittenden J, Zhou Y, Yuan Q, Liu H (2016a) Combined autotrophic nitritation and bioelectrochemical-sulfur denitrification for treatment of ammonium rich wastewater with low C/N ratio. Environ Sci Pollut Res 23:2329–2340

Wang X, Zhou L, Lobo FL, Li N, Wang H, Park J, Ren ZJ (2016b) Alternating current influences anaerobic electroactive biofilm activity. Environ Sci Technol 50:9169–9176

Wei V, Elektorowicz M, Oleszkiewicz J (2011) Influence of electric current on bacterial viability in wastewater treatment. Water Res 45:5058–5062

Zeyoudi M, Altenaiji E, Ozer LY, Ahmed I, Yousef AF, Hasan SW (2015) Impact of continuous and intermittent supply of electric field on the function and microbial community of wastewater treatment electro-bioreactors. Electrochim Acta 181:271–279

Zhang B, Liu Y, Tong S, Zheng M, Zhao Y, Tian C, Liu H, Feng C (2014) Enhancement of bacterial denitrification for nitrate removal in groundwater with electrical stimulation from microbial fuel cells. J Power Sources 268:423–429
Acknowledgments
The authors gratefully acknowledge Mrs. Maryam Moradi, Mr. Yousefi, Mrs. Mohseni, and Mrs. Masoudi from Tarbiat Modares University for technical assistance.
Funding
This study was supported by Tarbiat Modares University, Ph.D. thesis support. This study was financially supported by grant no: 950603 of the Biotechnology Development Council of the Islamic Republic of Iran.
Additional information
Responsible editor: Philippe Garrigues
About this article
Cite this article
Dehghani, S., Rezaee, A. & Hosseinkhani, S. Effect of alternating electrical current on denitrifying bacteria in a microbial electrochemical system: biofilm viability and ATP assessment. Environ Sci Pollut Res 25, 33591–33598 (2018). https://doi.org/10.1007/s11356-018-3170-0
Received:

Accepted:

Published:

Issue Date:
Keywords
Electrostimulation

Alternating current

Viability

ATP

Microbial electrochemical system

Bioprocess engineering