Abstract
Multi-level porous amorphous-activated carbon with excellent adsorption performance was prepared by a ZnCl2-assisted pyrolysis of waste polyester textiles. Experimental parameters were optimized by using orthogonal design. Result of orthogonal design revealed that pyrolysis temperature and pyrolysis time were the dominant individual factors. Samples prepared at the optimal condition were systematically characterized by Brunauer-Emmett-Teller (BET) porosity analyzer, FT-IR spectroscopy (FT-IR), X-ray diffraction (XRD), scanning electron microscope (SEM), and transmission electron microscope (TEM). Iodine (I2), methylene blue (MB) and phenol (PhOH) were selected as target dyes to measure the adsorption performance. Experimental results showed that porous-activated carbon with multi-level pores could be obtained by optimizing experimental parameters. The specific surface area and total pore volume were calculated to be 846.37 m2 g−1 and 0.726 cm3 g−1, respectively. Benefit from its multi-level rich porosity, the optimized sample possessed attractive adsorption performance toward different types of dyes. The corresponding adsorption capacity toward I2, MB, and PhOH were calculated to be 980.48, 384.00, and 300.62 mg g−1, respectively.
This is a preview of subscription content, log in to check access.
Access options
Buy single article
Instant access to the full article PDF.
US$ 39.95
Price includes VAT for USA
Subscribe to journal
Immediate online access to all issues from 2019. Subscription will auto renew annually.
US$ 99
This is the net price. Taxes to be calculated in checkout.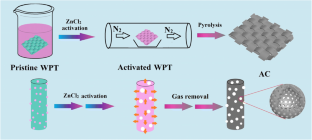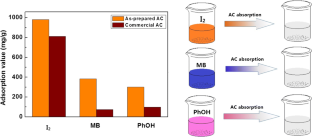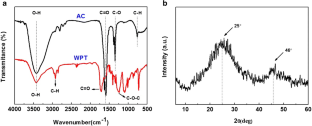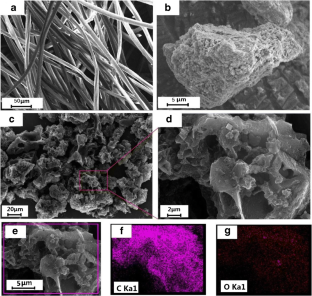 References
Alkhatib MF, Mamun AA, Akbar I et al (2015) Application of response surface methodology (RSM) for optimization of color removal from POME by granular activated carbon. Int J Environ Sci Technol 12:1295–1302

Bakkal M, Bodur MS, Sonmez HE et al (2017) The effect of chemical treatment methods on the outdoor performance of wastetextile fiber-reinforced polymer composites. J Compos Mater 21:2009–2021

Byamba-Ochir N, Wang GS, Balathanigaimani MS et al (2016) Highly porous activated carbons prepared from carbon rich Mongolian anthracite by direct NaOH activation. Appl Surf Sci 379:331–337

Chen WF, Qu Y, Xu ZH et al (2017) Heavy metal (Cu, Cd, Pb, Cr) washing from river sediment using biosurfactant rhamnolipid. Environ Sci Pollut Res 24:16344–16350

Huang YX, Sun YR, Xu ZH et al (2017) Removal of aqueous oxalic acid by heterogeneous catalytic ozonation with MnOx/sewage sludge-derived activated carbon as catalysts. Sci Total Environ 575:50–57

Huang YX, Yang YF, Jiang JW et al (2018) Visible light photocatalytic ozonation of oxalic acid by MnOx-g-C3N4 composite. J Environ Eng 8:04018063

Inal G II, Holmes SM, Banford A et al (2015) The performance of supercapacitor electrodes developed from chemically activated carbon produced from waste tea. Appl Surf Sci 357:696–703

Kan YJ, Yue QY, Gao BY et al (2015) Preparation of epoxy resin-based activated carbons from waste printed circuit boards by steam activation. Mater Lett 159:443–446

Liu LL, Kumar S, Wang ZH et al (2017) Catalytic effect of metal chlorides on coal pyrolysis and gasification part I. Combined TG-FTIR study for coal pyrolysis. Thermochim Acta 655:331–336

Lv D, Liu Y, Zhou JS et al (2018) Application of EDTA-functionalized bamboo activated carbon (BAC) for Pb(II) and Cu(II) removal from aqueous solutions. Appl Surf Sci 428:648–658

Ma C, Huang ZW, Zhu YM et al (2017) Production and in vitro evaluation of a lamotrigine extended release tablet based on a controlled-porosity osmotic pump system. Pharmazie 72:511–517

Naveed AQ, Rahmana MM, Wonc S et al (2017) Bio-char properties and eco-friendly applications for climate change mitigation, waste management, and wastewater treatment: a review. Renew Sust Energ Rev 79:255–273

Pal S, Bhattacharjee P (2018) Spray dried powder of lutein-rich supercritical carbon dioxide extract of gamma-irradiated marigold flowers: process optimization, characterization and food application. Powder Technol 327:512–523

Sing KSW (1985) Reporting physisorption data for gas/solid systems-with special reference to the determination of surface area and porosity. Pure Appl Chem 57:603–619

Song M, Wei YX, Cai SP et al (2018) Study on adsorption properties and mechanism of Pb2+ with different carbon based adsorbents. Sci Total Environ 618:1416–1422

Sun LN, Li DX, Gao GL et al (2010) Textile waste recycled to prepare activated carbon by phosphoric acid activation. Environ Sci Technol 33:161–164

Tir M, Moulai-Mostefa M, Nedjhioui M (2015) Optimizing decolorization of methylene blue dye by electrocoagulation using Taguchi approach. Desalin Water Treat 55:2705–2710

Tserki V, Matzinos P, Panayiotou C et al (2003) Effect of compatibilization on the performance of biodegradable composites using cotton fiber waste as filler. J Appl Polym Sci 88:1825–1835

Wang XJ, Song JK, Huang JY et al (2016) Activated carbon-based magnetic TiO2 photocatalyst codoped with iodine and nitrogen for organic pollution degradation. Appl Surf Sci 390:190–201

Wu AJ, Yan JH, Xu WP et al (2016) Fabrication of waste biomass derived carbon by pyrolysis. Mater Lett 173:60–63

Wu XF, Sun Y, Li H, Wang YJ, Zhang CX, Zhang JR, Su JZ, Wang YW, Zhang Y, Wang C, Zhang M (2018) In-situ synthesis of novel p-n heterojunction of Ag2CrO4-Bi2Sn2O7 hybrids for visible-light-driven photocatalysis. J Alloys Compd 740:1197–1203

Xu ZH, Zhang DF, Chen WF et al (2016) Nanoscale iron oxides loaded granular activated carbon (GAC-NSIO) for cadmium removal. Desalin Water Treat 57:3559–3571

Xu ZH, Zhang DF, Yuan ZH et al (2017) Physicochemical and adsorptive characteristics of activated carbons from waste polyester textiles utilizing MgO template method. Environ Sci Pollut Res 24:22602–22612

Xu ZH, Yuan ZH, Zhang DF et al (2018) Highly mesoporous activated carbon synthesized by pyrolysis of waste polyester textiles and MgCl2: physiochemical characteristics and pore-forming mechanism. J Clean Prod 192:453–461

Yu XY, Wang SH, Zhang J (2018) Preparation of high adsorption performance activated carbon by pyrolysis of waste polyester fabric. J Mater Sci 53:5458–5466

Yuan ZH, Xu ZH, Zhang DF et al (2018a) Box-Behnken design approach towards optimization of activated carbonsynthesized by co-pyrolysis of waste polyester textiles and MgCl2. Appl Surf Sci 427:340–348

Yuan ZH, Xu ZH, Zhang DF et al (2018b) Mesoporous activated carbons synthesized by pyrolysis of waste polyester textiles mixed with Mg-containing compounds and their Cr (VI) adsorption. Colloids Surf A Physicochem Eng Asp 549:86–93

Yuan ZH, Xu ZH, Zhang DF et al (2018c) Box-Behnken design approach towards optimization of activated carbon synthesized by co-pyrolysis of waste polyester textiles and MgCl2. Appl Surf Sci 427:340–348

Zamani B, Svanstr M, Peters G et al (2015) A carbon footprint of textile recycling a case study in Sweden. J Ind Ecol 19:676–687

Zhang L, Liu LS, Qiu GX et al (2013) Research progress of recycled use of waste textiles. J Text Res 3:153–160

Zhang J, Chu RX, Chen YL et al (2018) Electrodeposited binder-free NiCo2O4 @carbon nanofiber as a high performance anode for lithium ion batteries. Nanotechnology 29:125401

Zhao DD, Yu Y, Chen JP (2016) Fabrication and testing of zirconium-based nanoparticle-doped activated carbon fiber for enhanced arsenic removal in water. RSC Adv 6:27020–27030

Zhao J, Ma CH, Zhao XG (2018) Spatio-temporal dynamic analysis of sustainable development in China based on the footprint family. Int J Environ Res Public Health 15:246
Funding
The study was financially supported by the Scientific Research Fund of Taiyuan University of Technology (Project No.20504020203) and Research Initiation Funds for the returned Chinese scholars (Project No.2017048).
Additional information
Highlights
In this work, multi-level porous-activated carbon with high adsorption performance to various types of dyes was prepared via an orthogonal design-guided pyrolysis of waste polyester textiles.
(1) The introduction of orthogonal design could effectively improve the efficiency in experimental parameters optimization.
(2) Abundant pores in multiple levels endow the as-prepared-activated carbon attractive adsorption performance to different types of dyes.
(3) The use of waste polyester textiles as raw material could not only alleviate its negative impact on environment but also make full use of waste resource.
Responsible editor: Tito Roberto Cadaval Jr
About this article
Cite this article
Yu, X., Wang, S., Gao, Y. et al. Orthogonal design-guided preparation of multi-level porous-activated carbon by pyrolysis of waste polyester textiles. Environ Sci Pollut Res 25, 30567–30574 (2018). https://doi.org/10.1007/s11356-018-3002-2
Received:

Accepted:

Published:

Issue Date:
Keywords
Orthogonal design

Waste polyester textiles

Activated carbon

Adsorption