Abstract
The overall objective of this study is to estimate, detect and specify the main sources of variance which affect the contents of the different elements in overbank sediments across Spain. These sources of variance were assessed and compared by means of a series of analyses of variance (ANOVAs), by regarding two parameters: their significance and their contribution to the total variance. Overbank sediments, sampled in erosion banks, were studied in several locations, in basins which drain different types of geological backgrounds and land uses (urban, mining, agricultural or pristine) across the Iberian Peninsula. Forty-eight elements (mostly in the < 63 μm fraction) were analysed by ICP-OES, ICP-MS and INAA. After an isometric log ratio (ilr) transformation of the data, three ANOVA analyses were performed considering three perspectives: (1) local scale, (2) regional scale: within-profile perspective and (3) regional scale: inter-profile perspective. On a local scale, it was observed that the variability of rare earth elements (REE) depends mostly on the grain size and that heavy metals are also influenced by depth. In the analysis carried out on a regional scale, from a within-profile perspective, depth and duplicates do not influence significantly the variability of the element contents. Finally, from an inter-profile perspective, the selected sources of variance were land use and provenance, whose significance is the highest. While grain size and the selection of depth are of crucial importance in the final results, on local studies, land use and provenance are the ones that influence the most the composition of sediments in regional studies.
This is a preview of subscription content, log in to check access.
Access options
Buy single article
Instant access to the full article PDF.
US$ 39.95
Price includes VAT for USA
Subscribe to journal
Immediate online access to all issues from 2019. Subscription will auto renew annually.
US$ 99
This is the net price. Taxes to be calculated in checkout.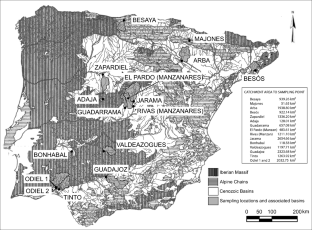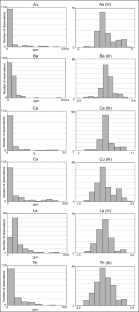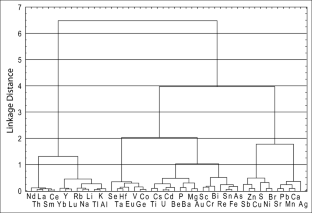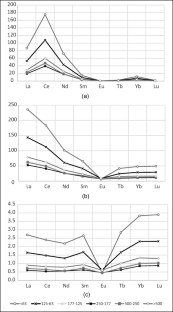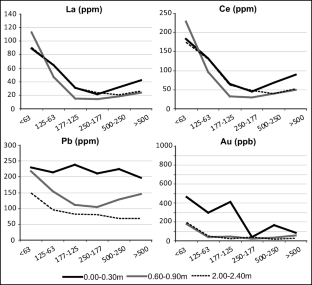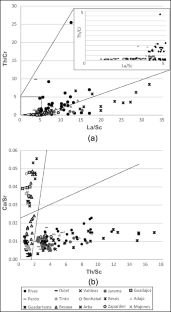 References
Adánez P (2012) La geoquímica de los sedimentos de llanuras de inundación como guía para la valoración ambiental en España. PhD Thesis. Universidad Politécnica de Madrid

Adánez Sanjuán P, Llamas Borrajo J, Locutura Rupérez J, García Cortés A (2014a) A geochemical study of overbank sediments in an urban area (Madrid, Spain). Environ Geochem Health 36(6):1129–1150

Adánez Sanjuán P, Llamas Borrajo J, Locutura Rupérez J, García CA (2014b) Estudio geoquímico de los sedimentos de llanura de inundación en la cuenca de los ríos Tinto y Odiel (Huelva). Bol Geol Min 125(4):585–599

Adánez Sanjuán P, Flem B, Llamas Borrajo J, Locutura Rupérez J, García Cortés A (2016) Application of lead isotopic methods to the study of the anthropogenic lead provenance in Spanish overbank floodplain deposits. Environ Geochem Health 38:449–468

Allen JRL (1965) A review of the origin and characteristics of recent alluvial sediments. Sedimentology 5:89–191

Barać N, Škrivanj S, Bukumirić Z, Živojinović D, Manojlović D, Barać M, Petrović R, Ćorac A (2016) Distribution and mobility of heavy elements in floodplain agricultural soils along the Ibar River (southern Serbia and northern Kosovo). Chemometric investigation of pollutant sources and ecological risk assessment. Environ Sci Pollut Res 23(9):9000–9011

Cánovas CR, Hubbard CG, Olías M, Nieto JM, Black S, Coleman ML (2008) Hydrochemical variations and contaminant load in the Río Tinto (Spain) during flood events. J Hydrol 350:25–40

Carmichael ISE, Turner FJ, Verhoogen J (1974) Igneous petrology. McGraw-Hill Book Company, New York

Cullers RL (2000) The geochemistry of shales, siltstones and sandstones of Pennsylvanian-Permian age, Colorado, USA: implications for provenance and metamorphic studies. Lithos 51:181–203

De Vos W, Ebbing J, Hindel R, Schalich J, Swennen R, Van Keer I (1996) Geochemical mapping on overbank sediments in the heavily industrialised border area of Belgium, Germany and the Netherlands. J Geochem Explor 56:91–104

Demetriades A, Volden T (1997) Reproducibility of overbank sediment sampling in Greece and Norway. J Geochem Explor 59:209–217

Filzmoser P, Hron K, Reimann C (2009) Univariate statistical analysis of environmental (compositional) data: problems and possibilities. Sci Total Environ 407:6100–6108

He Q, Walling DE (1997) Spatial variability of the particle size composition of overbank floodplain deposits. Water Air Soil Pollut 99(1–4):71–80

Higueras P, Oyarzun R, Biester H, Lillo J, Lorenzo S (2003) A first insight into mercury distribution and speciation in soils from the Almadén mining district, Spain. J Geochem Explor 80:95–104

Huertas E, Folch M, Salgot M, Gonzalvo I, Passarell C (2006) Constructed wetlands effluent for streamflow augmentation in the Besós River (Spain). Desalination 188:141–147

Langedal M (1996) Fluvial dispersion of particle-bound heavy metals: an evaluation of overbank sediments as sampling medium for regional geochemical mapping and environmental studies. PhD Thesis. Norges Teknisk-Naturvitenskapelige Universtet

Leistel JM, Marcoux E, Thiéblemont D, Quesada C, Sánchez A, Almodóvar GR, Pascual E, Sáez R (1998) The volcanic-hosted massive sulphide deposits of the Iberian Pyrite Belt. Review and preface to the thematic issue. Mineral Deposita 33:2–30

Locutura J, Bel-Lan A, García Cortés A, Martínez S (2012) Atlas geoquímico de España. Instituto Geológico y Minero de España, Madrid

Macklin MG (1996) Fluxes and storage of sediment-associated heavy metals in floodplain systems: assessment and river basin management issues at a time of rapid environmental change. In: Anderson MG, Walling DE, Bates PD (eds) Floodplain processes. John Wiley and Sons, Chichester, pp 441–460

Macklin MG, Ridgway J, Passmore DG, Rumsby BT (1994) The use of overbank sediment for geochemical mapping and contamination assessment: results from selected English and Welsh floodplains. Appl Geochem 9:689–700

Matys Grygar T, Popelka J (2016) Revisiting geochemical methods of distinguishing natural concentrations and pollution by risk elements in fluvial sediments. J Geochem Explor 170:39–57

Ottesen RT, Bogen J, Bolviken B, Volden T (1989) Overbank sediment: a representative sample medium for regional geochemical mapping. J Geochem Explor 32:257–277

Piper D, Bau M (2013) Normalized rare earth elements in water, sediments, and wine: identifying sources and environmental redox conditions. AJAC 4:69–83

Pizzuto JE (1987) Sediment diffusion during overbank flows. Sedimentology 34:301–317

R Core Team (2014) R: a language and environment for statistical computing. R Foundation for Statistical Computing, Vienna http://www.R-project.org/

Ridgway J, Fligth DMA, Martiny B, Gómez-Caballero A, Macias-Romo C (1995) Overbank sediments from Central Mexico: an evaluation of their use in regional geochemical mapping and in studies of contamination from modern and historical mining. Appl Geochem 10:97–109

Roddaz M, Viers J, Moreira-Turcq P, Blondel C, Sondag F, Guyot JF, Moreira L (2014) Evidence for the control of the geochemistry of Amazonian floodplain sediments by stratification of suspended sediments in the Amazon. Chem Geol 387:101–110

Sáez R, Pascual E, Toscano M, Almodóvar GR (1999) The Iberian type of volcano-sedimentary massive sulphide deposits. Mineral Deposita 34:549–570

Sánchez España J, López Pamo E, Santofimia E, Aduvire O, Reyes J, Barettino D (2005) Acid mine drainage in the Iberian Pyrite Belt (Odiel river watershed, Huelva, SW Spain): geochemistry, mineralogy, and environmental implications. Appl Geochem 20:1320–1356

Taylor SR, McLennan SM (1985) The continental crust: its composition and evolution. Blackwell, Oxford

Taylor KG, Owens PN (2009) Sediments in urban river basins: a review of sediment-contaminant dynamics in an environmental system conditioned by human activities. J Soils Sediments 9:281–303

Walling DE, He Q, Nicholas AP (1996) Floodplains as suspended sediment sinks. In: Anderson MG, Walling DE, Bates PD (eds) Floodplain processes. John Wiley and Sons, Chichester, pp 399–440

Wolman MG, Leopold LB (1957) River flood plains: some observations on their formation. Physiographic and hydraulic studies of Rivers. 282-c:87–108
Acknowledgements
The authors thank the Geological Survey of Spain (IGME) for financing this research.
Additional information
Responsible editor: Severine Le Faucheur
About this article
Cite this article
Adánez Sanjuán, P., Ortega, M., Llamas Borrajo, J.F. et al. Statistical evaluation of the geochemical variability in overbank sediments in Spain. Environ Sci Pollut Res 25, 29468–29480 (2018). https://doi.org/10.1007/s11356-018-2853-x
Received:

Accepted:

Published:

Issue Date:
Keywords
ANOVA analysis

Geochemistry

Ilr transformation

Overbank sediments

Regional/local scale

Spain